Simple Revopoint POP 2 Review – Worth Buying or Not?
Revopoint has updated their original POP scanner with the Revopoint POP 2 Scanner with some interesting upgrades and features. I decided to give this scanner a review to see how well it can perform to scan objects for 3D printing.
In this review, I'll look at the features, specifications, benefits, downsides, other customer reviews, then show the unboxing and scanning process. I've got some real results of 3D scans and 3D prints so you can see the results.
Now, let's get started with the features.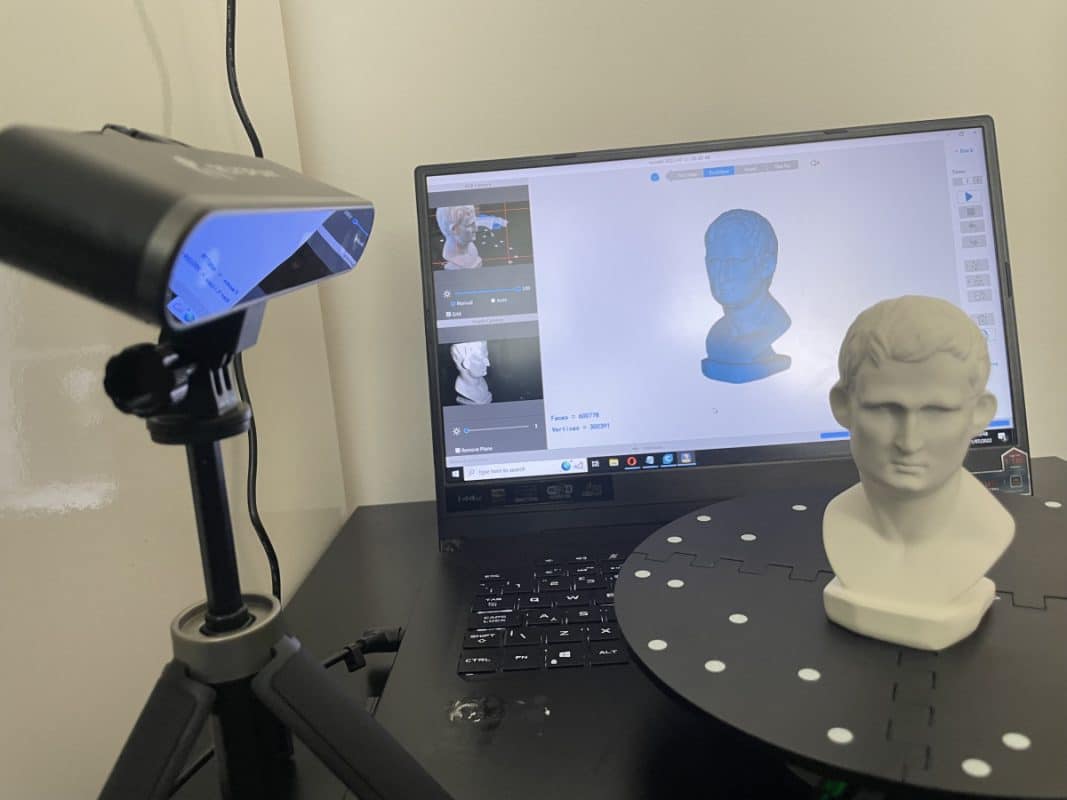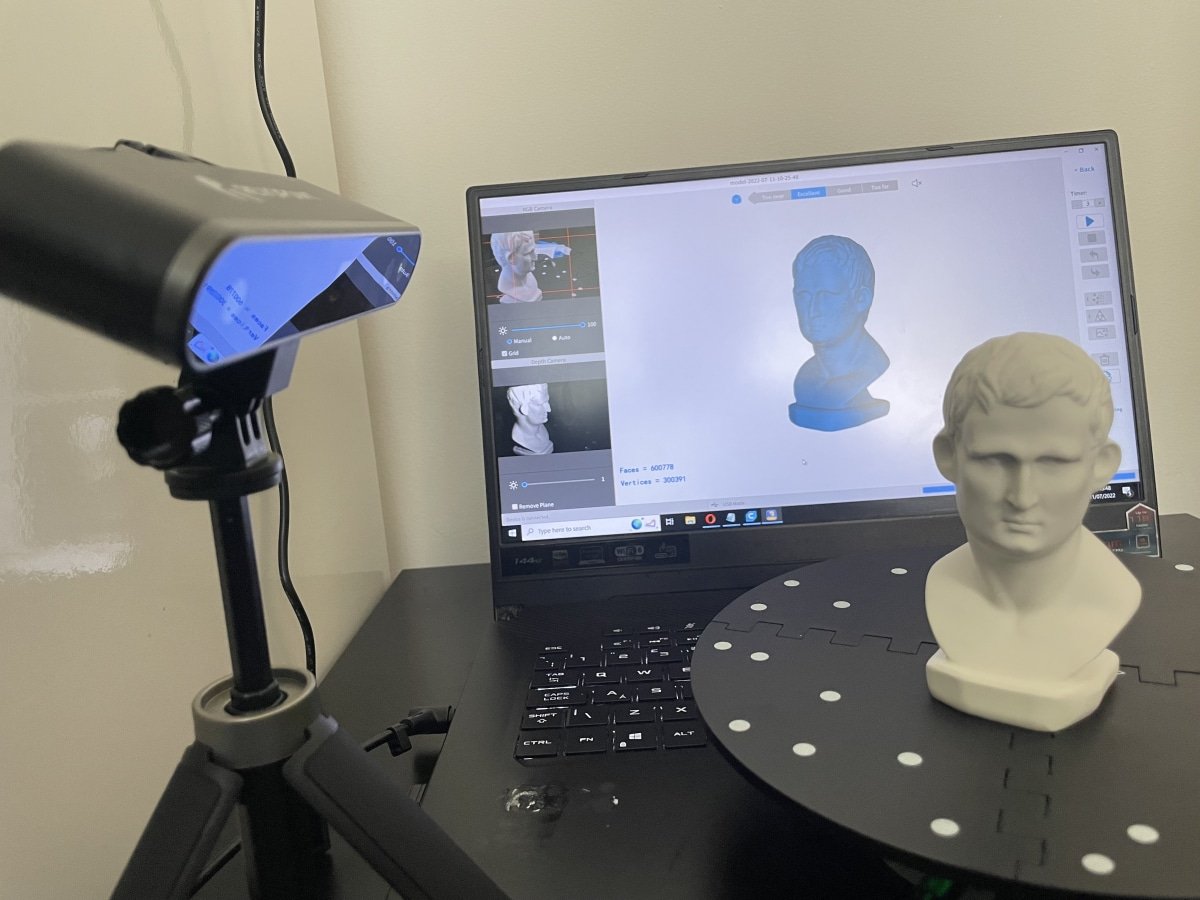 Features of the Revopoint POP 2
Binocular Micro-Structured Light
High Precision – Up to 0.05mm, 0.15mm Point Distance
10Hz FPS & 6DOF Gyroscope
Global Exposure RGB Sensors
2-In-1 Handheld & Turntable Scanning
Compact & Lightweight
Simple Connectivity & Power Bank
Binocular Micro-Structured Light – High Precision
The Revopoint POP 2 uses a unique form of light called binocular micro-structured light as the foundation for scanning objects. It's their latest hardware upgrade and is used along with their proprietary micro projecting chip.
This combination allows the POP 2 to acquire 3D point cloud data at a fast rate, along with having a high accuracy. In terms of the single-frame accuracy, it has an amazing reach of 0.05mm.
There are upgraded projector and IR cameras within the POP 2 that give it a higher resolution than normal 3D scanners. In terms of the point distance, it has a precision of 0.15mm.
You can really capture some amazing dimensional accuracy and detail from your 3D scans, all at a consumer grade price.
10Hz FPS
Being able to scan frames at a fast rate is important for 3D scanning. The POP 2 enables your scanning frame rate to reach 10 frames.
This leads to less stitching errors, improves how smooth the scans are, as well as making the whole scanning process easier and quicker. With these updated features, you can expect a smooth workflow for scanning models, especially with the marker points and color feature point cloud stitching.
Global Exposure RGB Sensors
There are some useful global exposure RGB sensors that provide you with an amazing color effect on your scans. This high resolution global exposure sensor has a great synchronization with the depth camera through hardware triggering.
It means that you can generate detailed 3D models for 3D animation, color 3D printing, AR, VR, and more.
2-In-1 Handheld & Turntable Scanning
Being able to use a 3D scanner in a handheld fashion, along with having a turntable scanning option are available with this device. You no longer have to use separate handheld and turntable scanning devices because the POP 2 have these both built into the design.
Both methods give excellent accuracy when done correctly so you won't even need a different scanner to get various objects scanned in.
Compact & Lightweight
The POP 2 was made with the user in mind, ensuring that people can easily operate and handle it. Standard 3D scanners are known to be quite chunky, power-hungry and require a lot of cables.
Revopoint made sure to address this issue by making sure the POP 2 only needs one USB cable to power the scanner, which can be connected to your smartphone, tablet, or laptop for easier 3D scanning.
It's a compact and portable 3D scanner, only weighing 195g and coming with a specialized carrying case that holds your POP 2 and all the accessories.
Simple Connectivity & Power Bank
Connecting to your chosen device is easy and you also have a useful 5,000 mAh power bank that provides an extra store of battery so you can 3D scan items for longer. It's an efficient device that has power-saving technology.
Specifications of the Revopoint POP 2
Technology: Dual camera infrared structured light
CPU: Dual Core ARM Cortex-A7
Single Capture: Precision Up to 0.05mm
Single Capture Range: 210mm x 130mm
Working Distance: 150 ~ 400mm
Minimum Scan Volume: 20 x 20 x 20mm
Scan Speed: Up to 10 FPS
Light Source: 1 class infrared Laser 1
Alignment: Feature, marker and color
Output Format: PLY, OBJ, STL
Scanner Weight: 195g
Dimensions: 154.6 x 38.2x 25.6mm
Computer Requirements: Windows 8\10, 64-bit, Android, iOS, MAC
Wi-Fi & Bluetooth: 2.4GHz
Connector Type: Micro USB
Benefits of the Revopoint POP 2
Very affordable scanner that can compete with professional scanners such as dental scanners
Easy to use even for beginners
Assembly & setup is simple, enabling you to start scanning in just 5 minutes
Allows you to scan objects 1:1 for great dimensional accuracy
Post-processing of 3D scans is simple with the Revo Studio software
Downsides of the Revopoint POP 2
It's difficult to capture hair and face in the same scan but you can adjust lights according to your hair color.
Captures good detail but not at a really small scale (smaller than 20 x 20 x 20mm)
The software could use improvements with the user interface.
Scanning alignment can cause issues – when alignment is lost, they could start a new point cloud then align the scans using points.
Customer Reviews of the Revopoint POP 2
When you look at the customer reviews of the Revopoint POP 2, you'll see plenty of positive reviews with people saying how accurate the 3D scanning is, and how easy it is to operate.
One user who had it for just a few days said he loved it. He scanned a few things and mentioned that it's an easy-to-use to use device, even though he's new to 3D scanning. The POP 2 comes neatly packaged and setup is simple, as well as using the Revo Scan software.
There is a slightly learning curve if you are a complete beginner, but after reading through the manual, watching a few walkthrough videos and trying it out yourself, you'll quickly get the hang of it.
Another user said he's a vehicle dynamics engineer and wanted to use a 3D scanner to reverse engineer his race car's suspension as a side project. Before purchasing the POP 2, he used manual method of measurement but couldn't get the best results.
After getting the POP 2 scanner, he found that the accuracy was levels better. One of the main things was how he could easily replicate the object in a 1:1 ratio which is very important for that specific project.
The curved surfaces scanned a lot better than he expected. He did have to use some scan spray for the POP 2 to get a better scan of the object. After that, he used the Revo Studio software to do some post-processing for just five minutes and it came out great.
This was done from the first day and with little experience with the scanner and software.
A simpler review said that he could scan his face within just 5 minutes of opening the Revopoint POP 2 Scanner and the precision was great, being around ±0.2mm.
You can use this scanner for sculptures, decorative pieces, or even for practical scanning for part references that you can later design in a CAD software. For 3D printer hobbyists, engineers, or CAD enthusiasts, this scanner has many uses.
Many scanners only scan small objects well, but this can do small, medium and large models to a good degree.
Unboxing of the Revopoint POP 2
Here is what the packaging looks like for the POP 2. If you have the premium package, it will come with the gray carrying case as well. It's a compact and well-designed box that holds the device and all the accessories.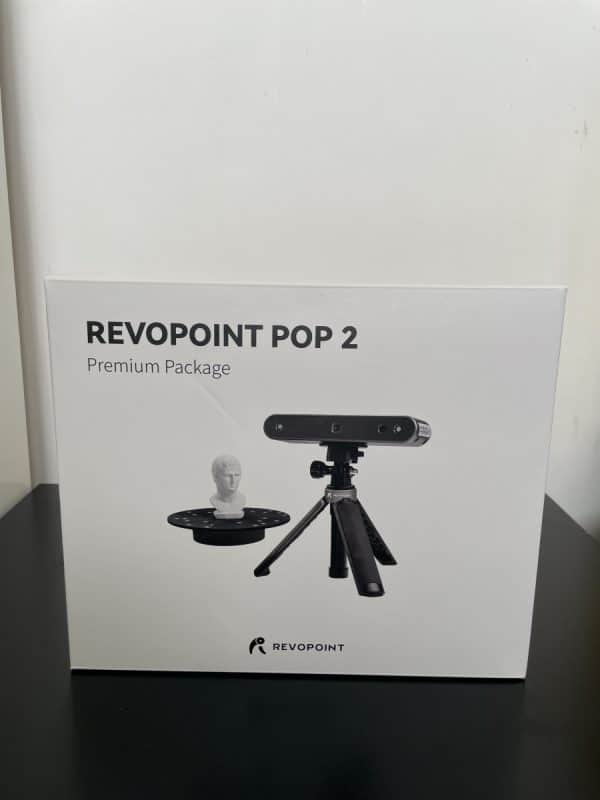 Standard Package
Premium Package
POP 2 3D Scanner
Tripod
Quick Setup Kits
USB A/C
Phone Holder
2-in-1 Mobile Cable
POP 2 3D Scanner
Tripod
Quick Setup Kits
USB A/C
Phone Holder
2-in-1 Mobile Cable
Carrying Case
Power Bank
Portable Turntable
Once you open the carrying case, you can see just how many parts there are.
Setting things up is very easy and it just a matter of connecting the cables to the POP 2 scanner with your computer and the turntable if you are using it to scan an object.
Then you get the tripod and connect it to the POP 2 scanner with the quick release hinge that just slides in.
The manual is really useful in getting things up and running.
Scanning Process with the Revopoint POP 2
You'll want to download the Revo Scan software to get started with scanning the test object.
Once you download it and open it, you should see a new user guide after pressing the right arrow a few times where you can find more information about scanning tutorials and other useful tips.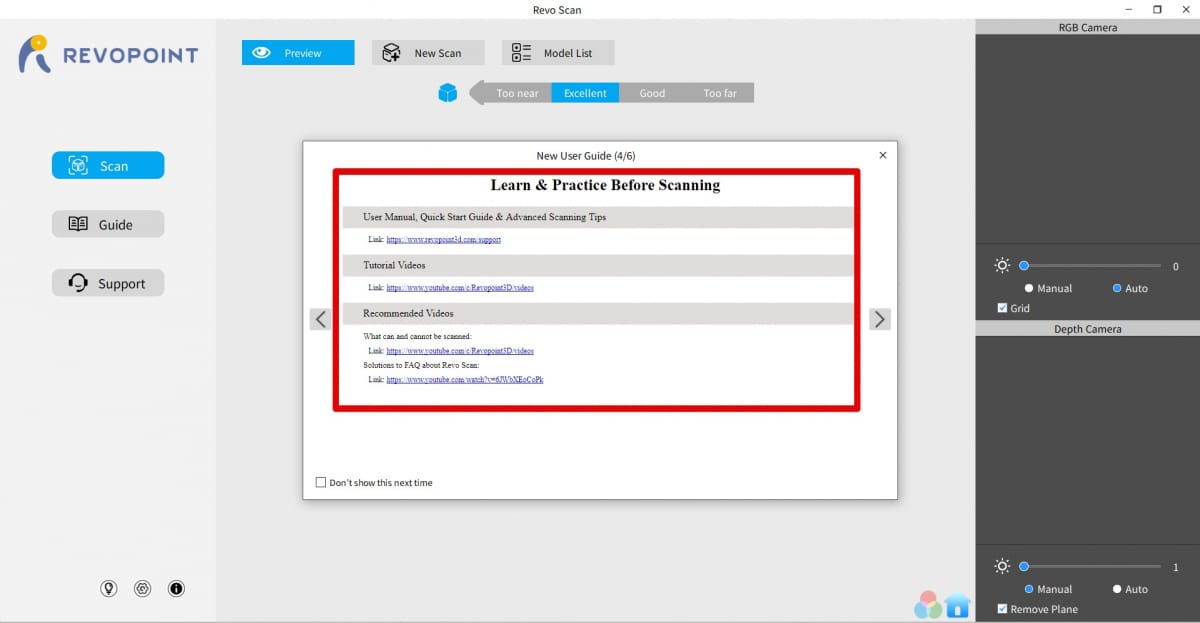 Insert the cable from the Revopoint POP 2 scanner into your laptop or computer and the 3D scanner camera should show in the software. Then take the turntable out with the platform, insert the cable into a USB that can power it, and switch the turntable on.
You want to press "New Scan" at the top middle of the software to get a fresh 3D scan started. There are various options you can choose.
With the test model, you'll want to use the following settings:
Accuracy: High Accuracy Scan
Scan Mode: Features
Texture: No Color
These should be the default settings. I did scan the test model first, but used this new Black Panther model to take these pictures for a walkthrough afterwards.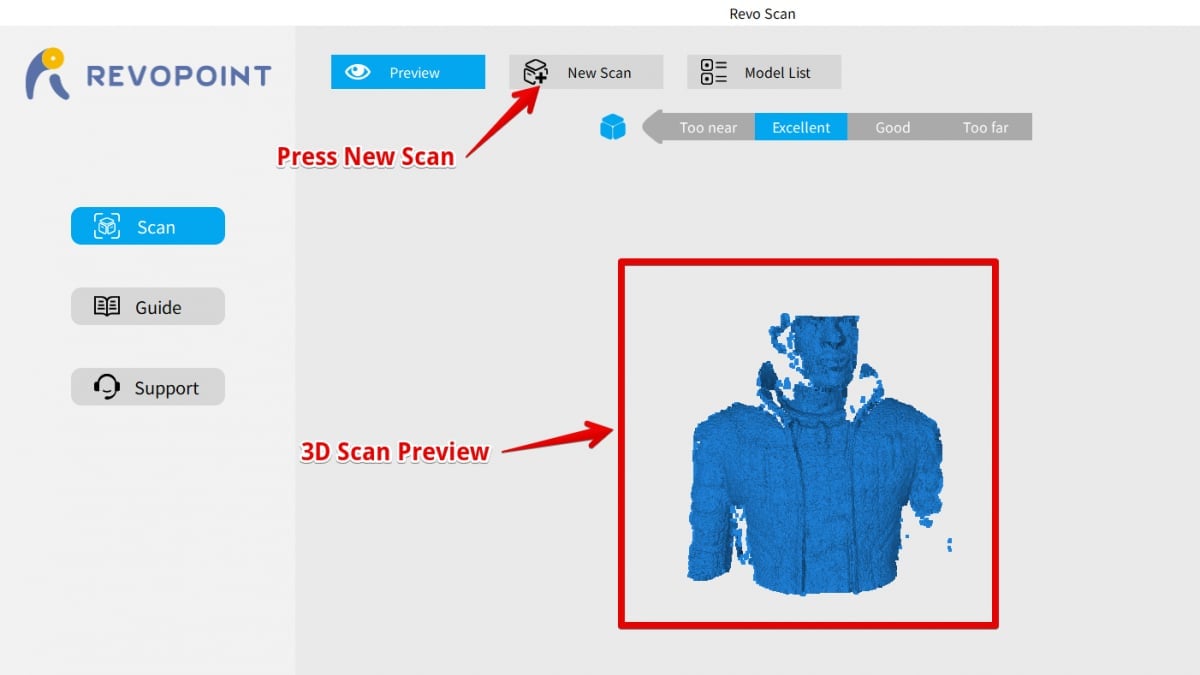 After that, you just press the Play button at the top right to get the scan started.
When you start your scan, it will quickly start to build up a model in the software. The green highlighted areas are where current areas are being recorded for the model.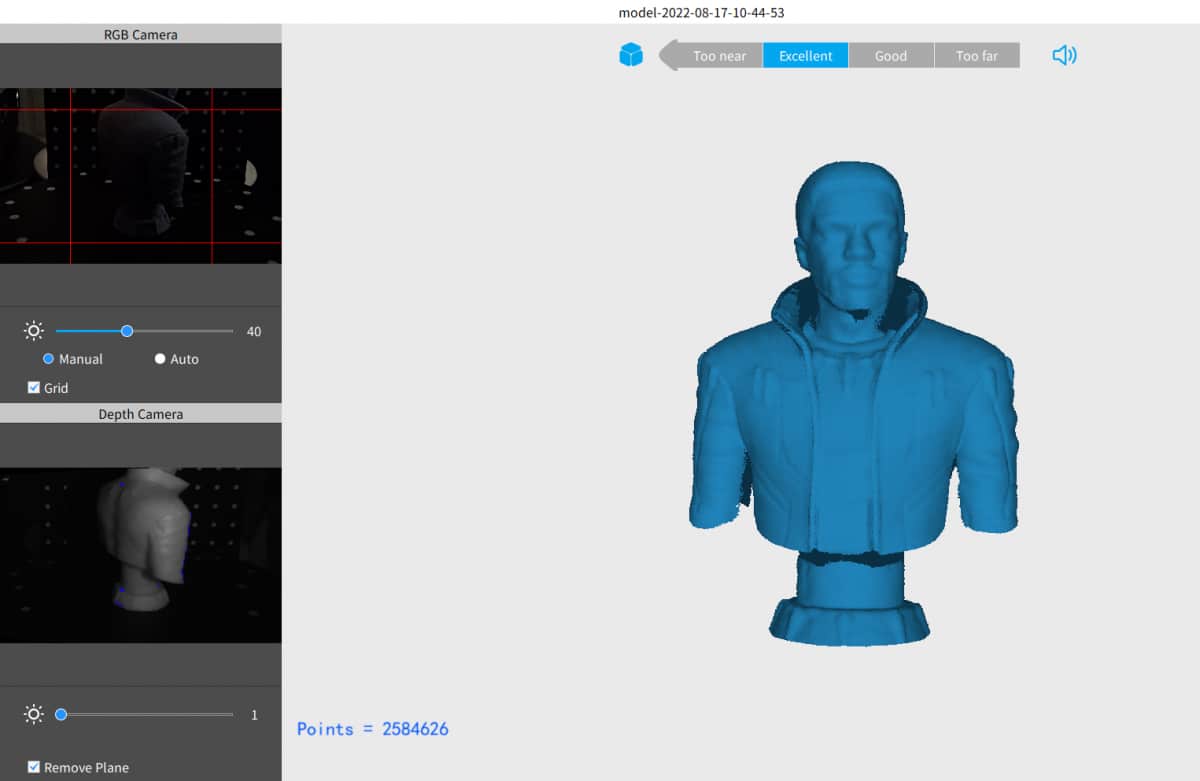 Once the scan has done a full rotation, you can reposition the model on it's side or back for example, or the scanner to get areas that weren't captured.
If your scan is giving you some issues where scans aren't lining up, you can actually pause the 3D scan and undo the 3D scan captures in increments.
After your scans are completed, you want to process the 3D scan meshes and clean up the model. Make sure to hit the arrow and enable "Fill Holes" since it's off by default.
Once the post-processing is complete, you'll have a cleaned up model that can be exported as an STL file.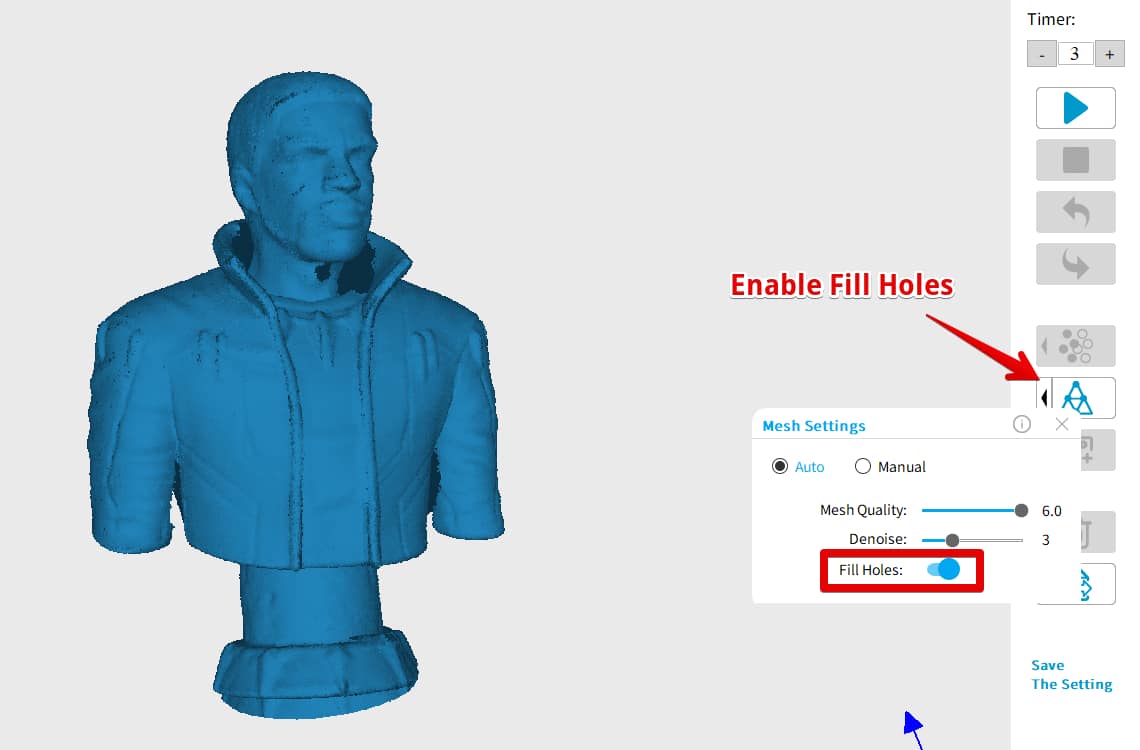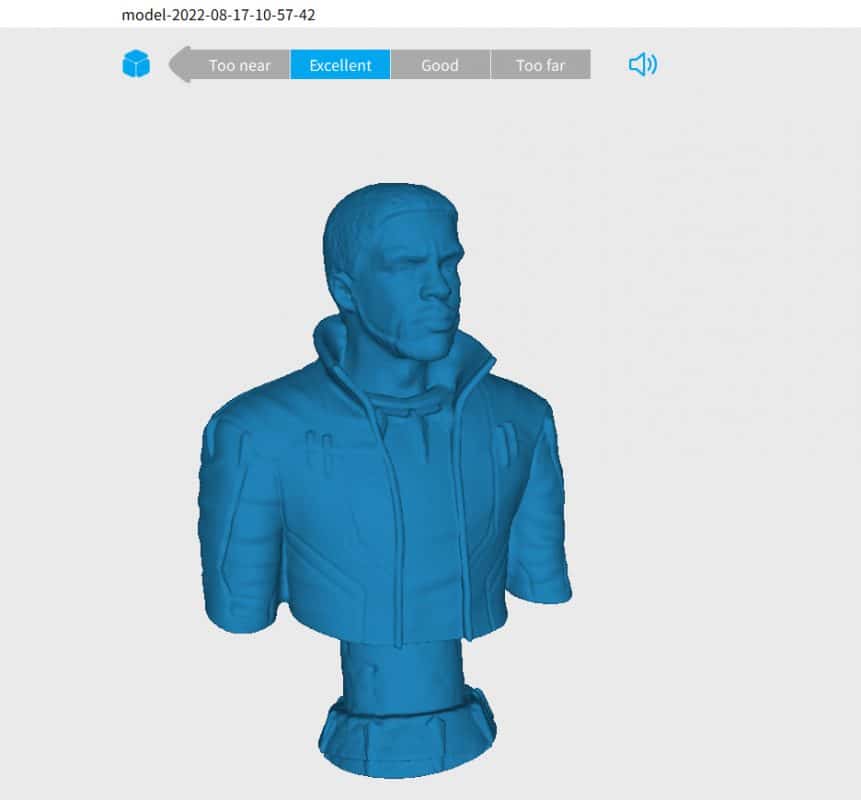 The export process is very simple. Just click the Export button on the bottom right and select the dropdown menu in File Explorer to .stl.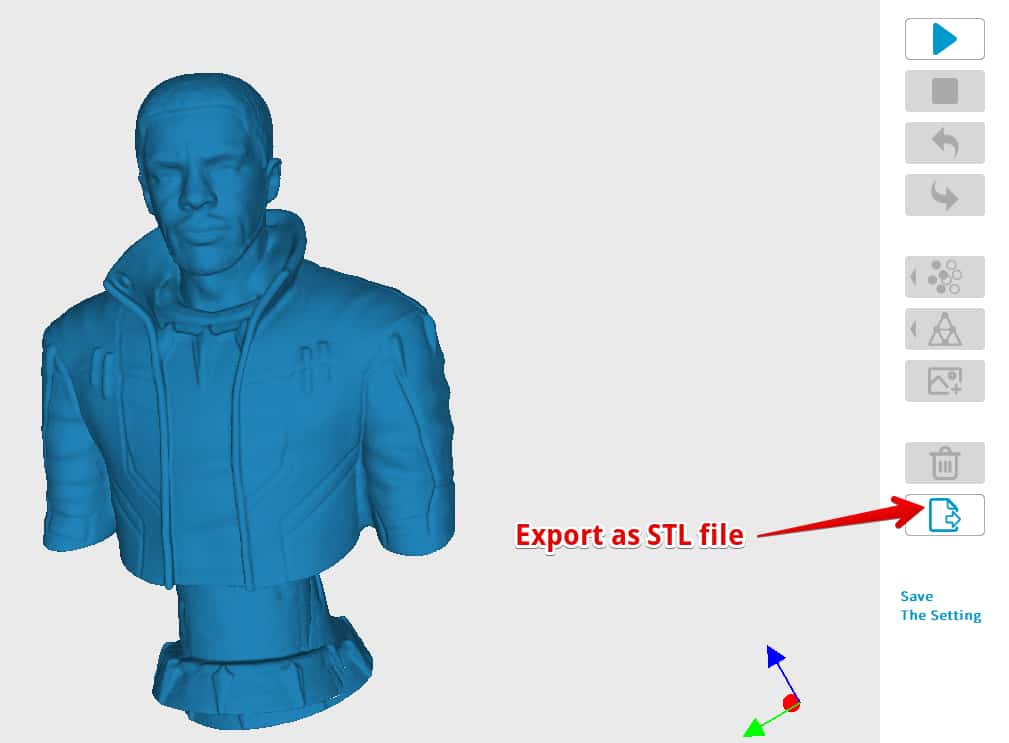 I ended up re-scanning this Black Panther model because the base had moved while I was scanning it, causing it to scan it onto the existing model. What I should have done is undone that part of the scan to correct it.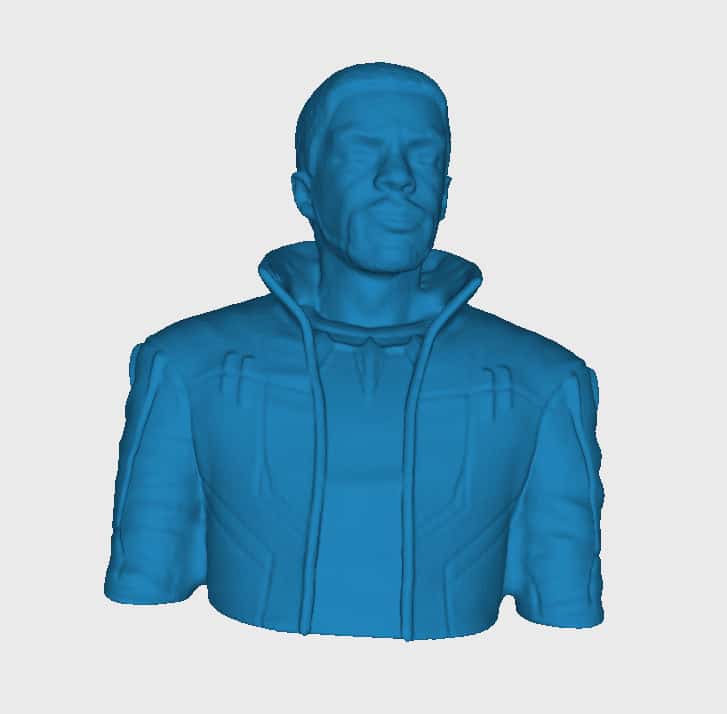 Here is the 3D printed model of the 3D scan side by side with the original model at a 0.05mm layer height.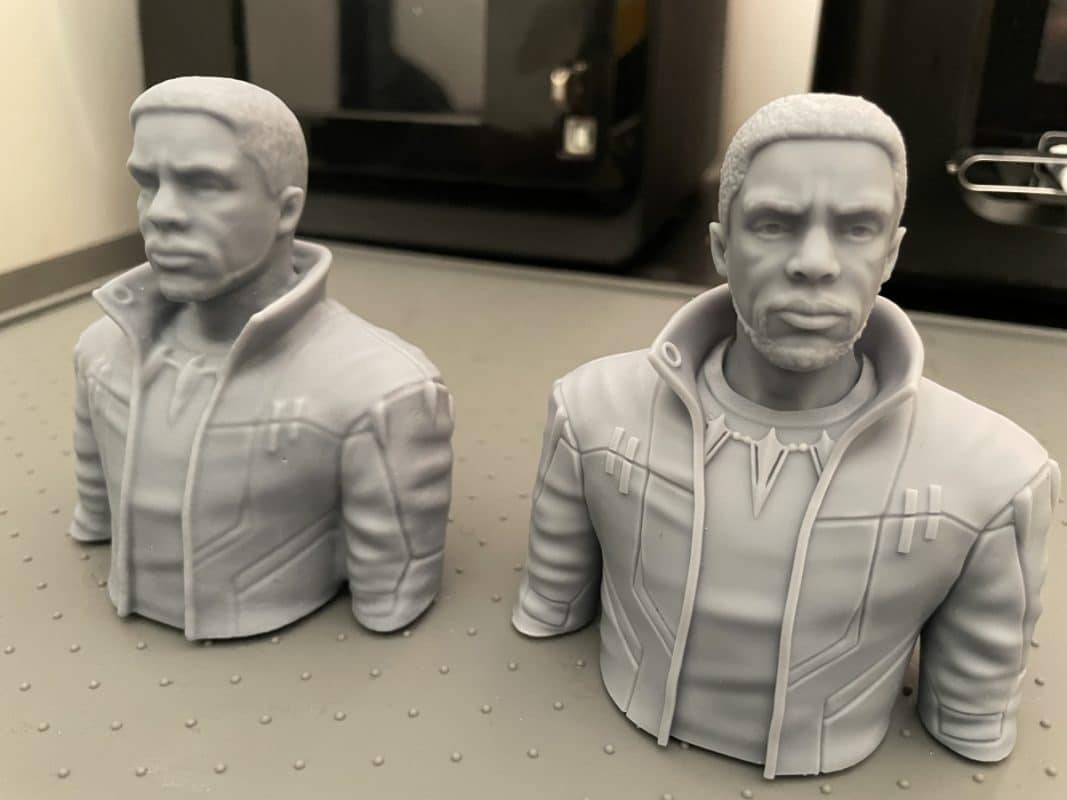 Here are some pictures of me scanning the test model.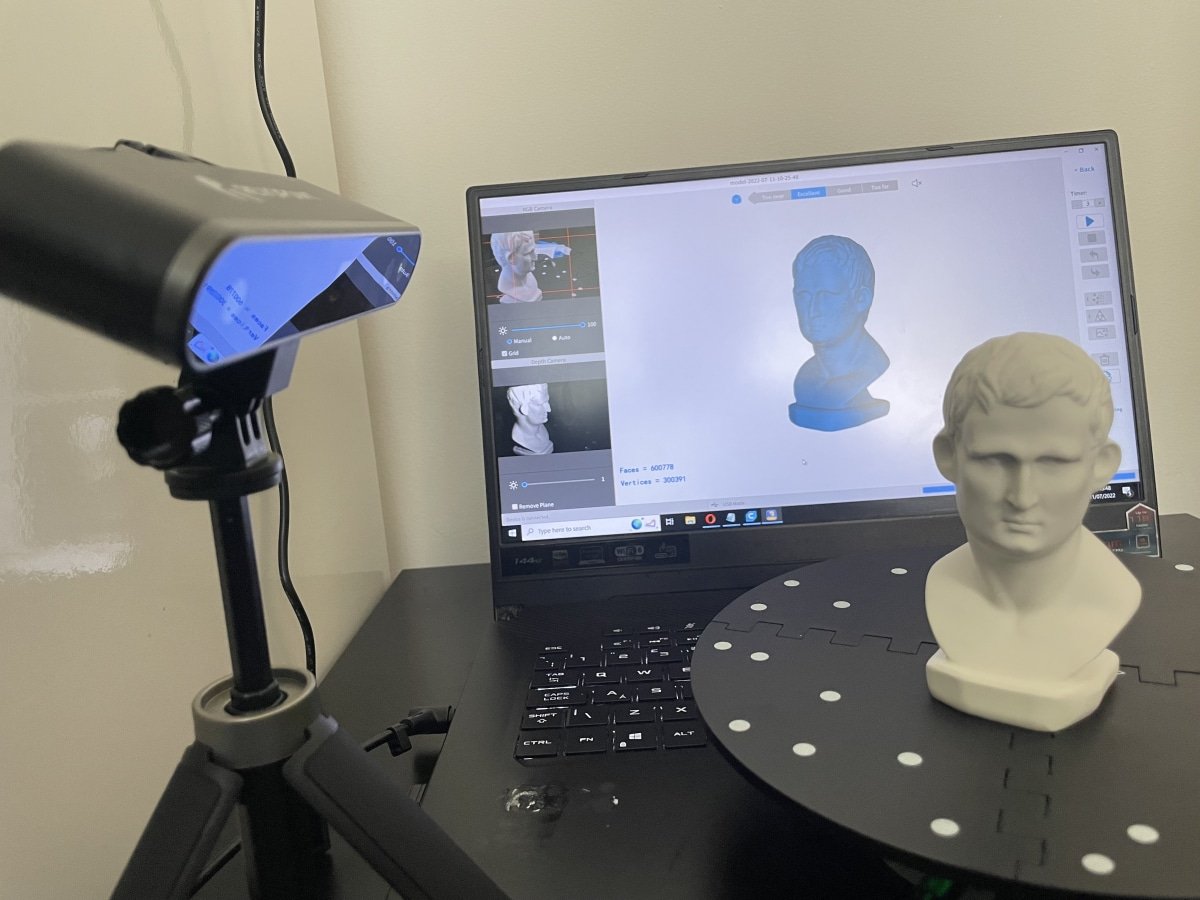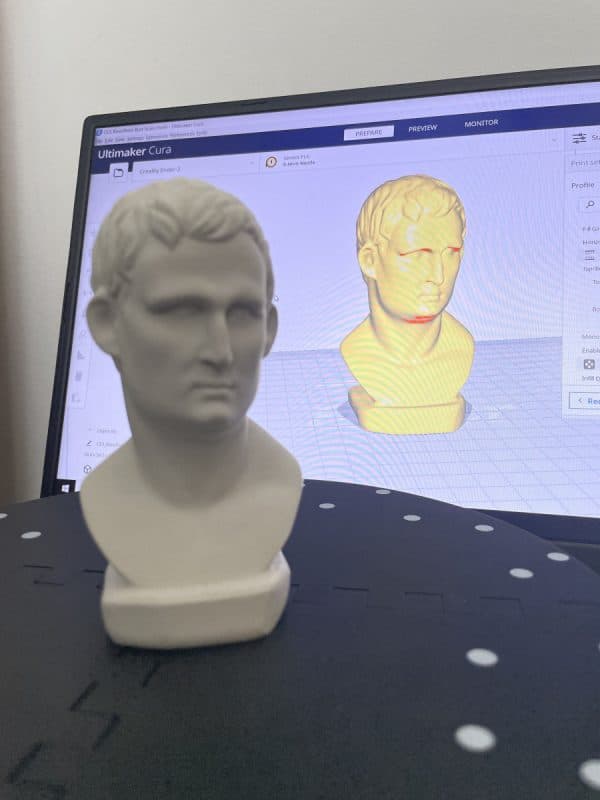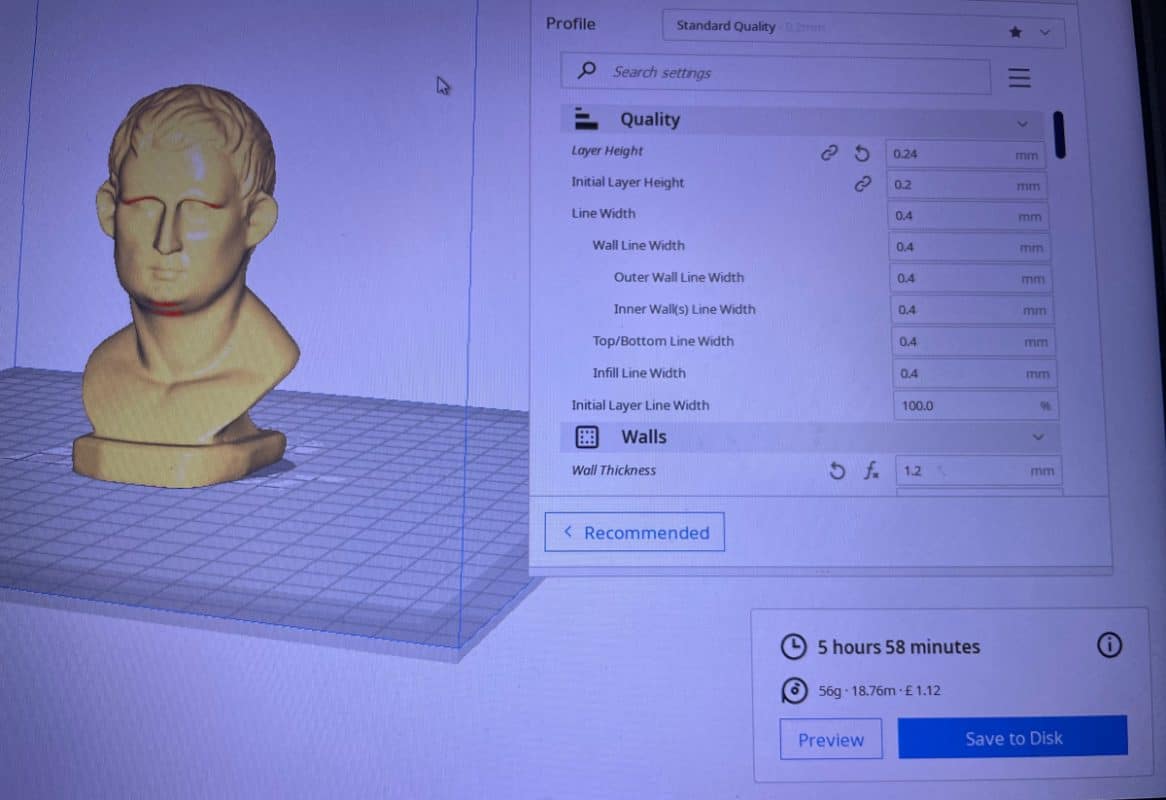 Here's how the 3D printed test model turned out with a filament 3D printer with a 0.2mm layer height.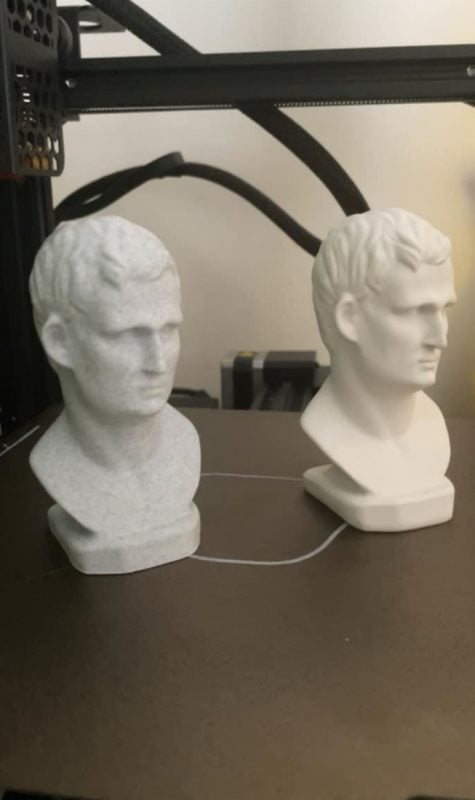 Verdict
Based on my experience with the Revopoint POP 2 Scanner, I'd say it's worth buying if you are looking for a consumer grade 3D scanner at a competitive price that can scan at a decent level. Professional 3D scanners will produce more detailed results, but they can easily be 10x the price.
You can still get great 3D scans with this scanner.
Get yourself the Revopoint POP 2 Scanner from the official website today.