Simple Elegoo Mars 3 Pro Review – Worth Buying or Not?
I've been testing out the Elegoo Mars 3 Pro and decided to do a review on it so people can decide whether they think it's worth buying or not.
I'll go through aspects of this 3D printer such as the features, specifications, benefits, downsides, current customer reviews, the process of assembly and setup, down to the print quality.
If this is what you are looking for, then keep reading on to learn more. Let's start off with the features.
Disclosure: I received a free Elegoo Mars 3 Pro by Elegoo for review purposes, but opinions in this review will be my own and not bias or influenced.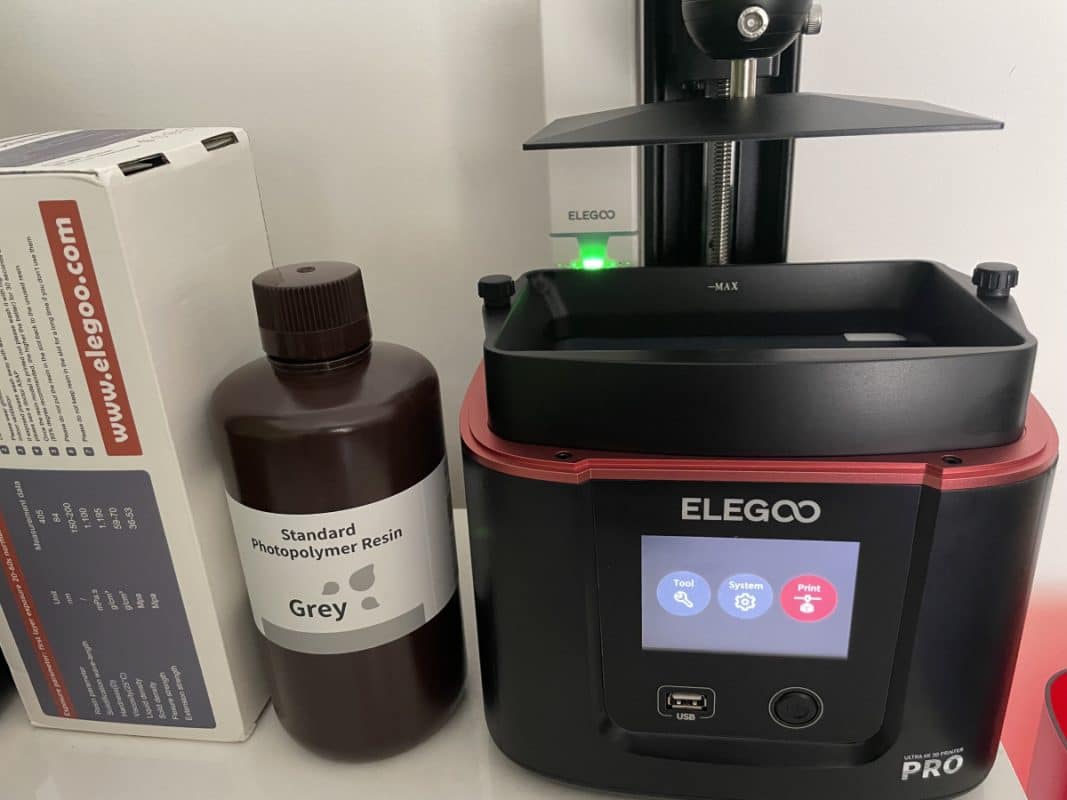 Features of the Elegoo Mars 3 Pro
6.6″4K Monochrome LCD
Powerful COB Light Source
Sandblasted Build Plate
Mini Air Purifier with Activated Carbon
3.5″ Touchscreen
PFA Release Liner
Unique Heat Dissipation and High-Speed Cooling
ChiTuBox Slicer
6.6″4K Monochrome LCD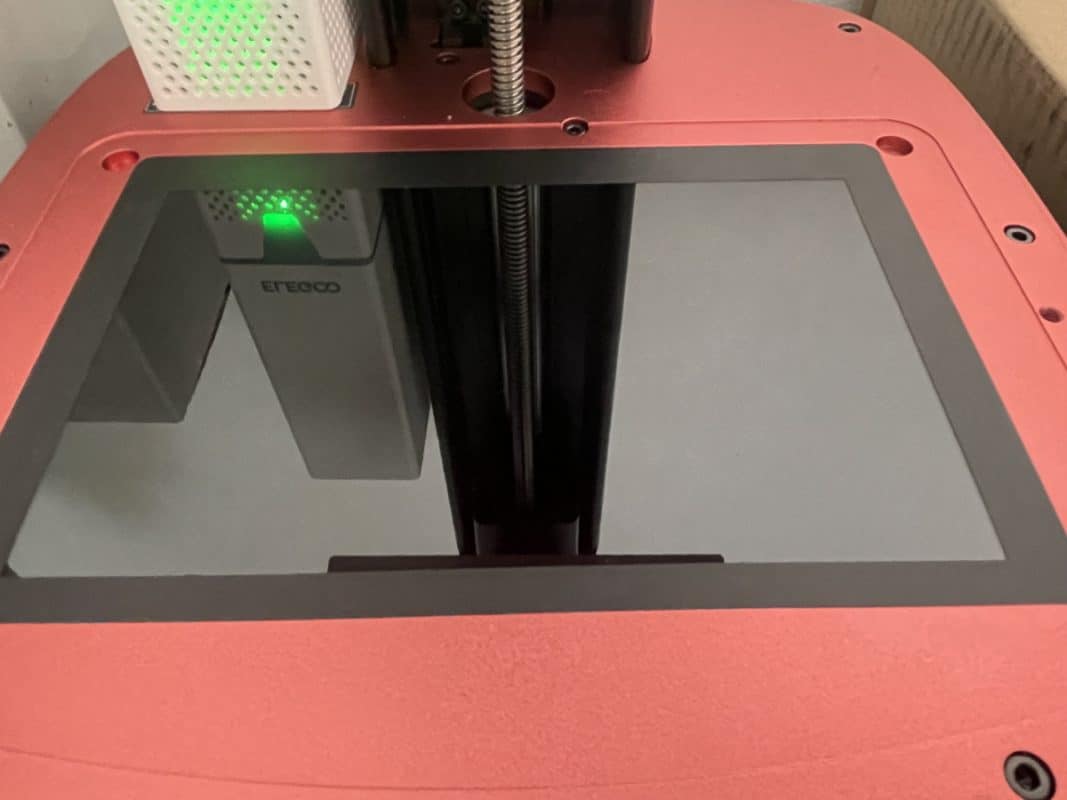 The Elegoo Mars 3 Pro has a 6.6″ 4K monochrome LCD that transmit the light which creates your resin 3D prints. The screen has a replaceable anti-scratch tempered glass with 9H hardness for better light transmittance and protection.
It also has a high resolution of 4098 x 2560 pixels. The LCD screen has an XY resolution of just 35μm or 0.035mm which provides you with really fine details and amazing precision in your models.
Powerful COB Light Source
The light source is very powerful, formed with 36 highly integrated UV LED lights and a Fresnel lens that emits a uniform beam of 405nm wavelength and 92% light uniformity. This gives your 3D models a smoother surface and great printing quality.
Sandblasted Build Plate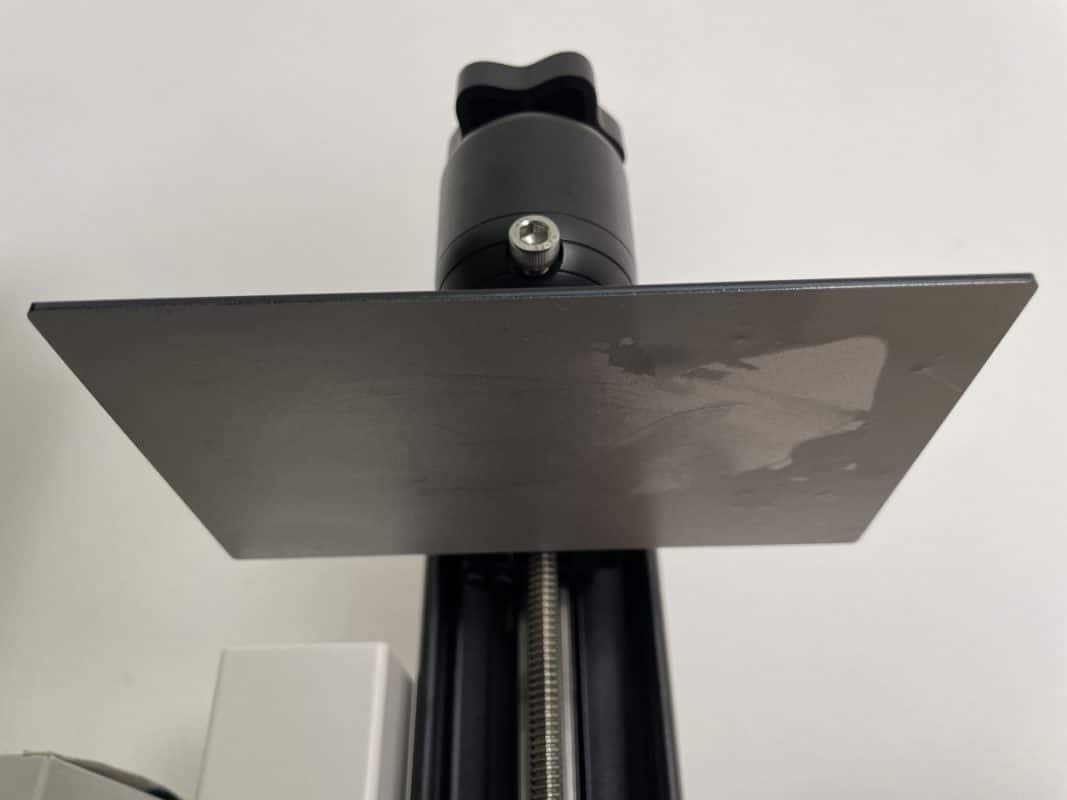 The build plate on the Mars 3 Pro works really well since it is sandblasted and designed with adhesion in mind. In terms of leveling, there are non-slip hexagon socket screws to make your job easier and for more stability, whether you have a large model or several small models on the build plate.
The build volume is 143 x 90 x 175mm.
Mini Air Purifier with Activated Carbon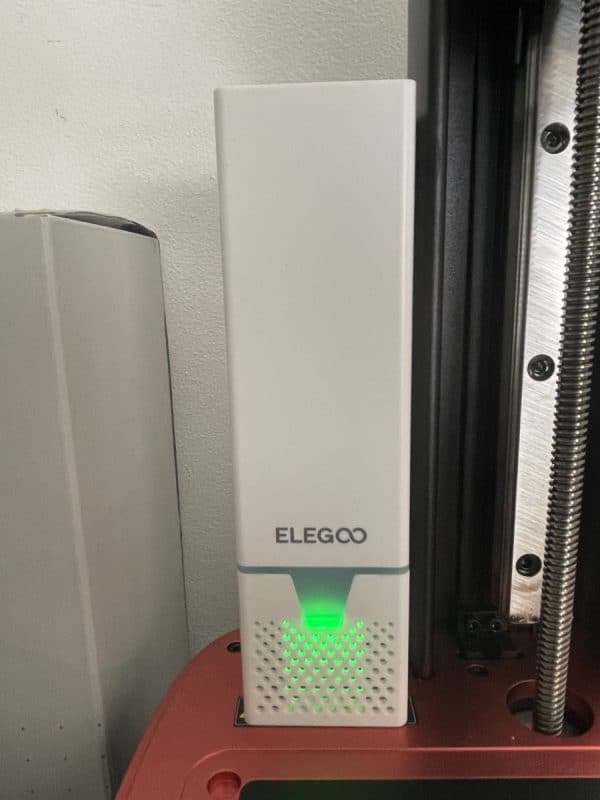 There is a useful air purifier that has a built-in active carbon filter. It effectively absorbs and filters those resin odors so you have a cleaner 3D printing experience. The air purifier is connected to your 3D printer via a USB connection that is in the main base of the 3D printer beside the resin vat.
3.5″ Touchscreen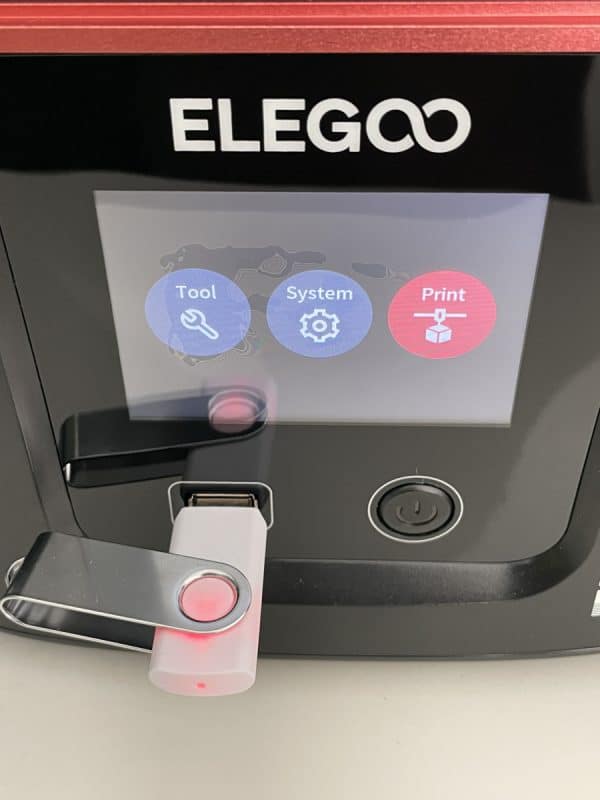 The Mars 3 Pro features a pretty standard 3.5″ touchscreen that controls the 3D printer. You can do your usual tasks such as selecting the model to 3D print, homing and leveling the build plate, adjusting settings, checking the time remaining on the model and much more.
PFA Release Liner
There is a PFA release liner film that help release decrease the release tension on your 3D prints so they don't stick to the FEP film. With resin 3D printing, the suction pressure from the build plate and FEP film can mess up your models so this is a useful feature to have.
You also have some modern FEP 2.0 films that have great UV light transmission and makes changing it easier.
Unique Heat Dissipation and High-Speed Cooling
Having a good heat dissipation system and cooling is a great feature that the Elegoo Mars 3 Pro has. There are copper heat tubes along with a powerful cooling fan that gives faster heat transfer and more efficient cooling. This leads to your 3D printer's life span extending.
After testing, it was found that there would be less than 5% of light decay after 6,000 hours of continuous printing.
ChiTuBox Slicer
You have a few slicer options that you can go with. There is the native ChiTuBox slicer which has many new features added constantly such as automatic support algorithms, model repair, simple hollowing, and object manipulation, or you can with Lychee Slicer.
They are both really popular slicer software for resin 3D printing.
Specifications of the Elegoo Mars 3 Pro
LCD Screen: 6.6″ 4K Monochrome LCD
Technology: MSLA
Light Source: COB with Fresnel Lens
Build Volume: 143 x 89.6 x 175mm
Machine Size: 227 x 227 x 438.5mm
XY Resolution: 0.035mm (4,098 x 2,560px)
Connection: USB
Supported Formats: STL, OBJ
Layer Resolution: 0.01-0.2mm
Printing Speed: 30-50mm/h
Operation: 3.5″ Touchscreen
Power Requirements: 100-240V 50/60Hz
Benefits of the Elegoo Mars 3 Pro
Produces high quality 3D prints
Low energy consumption and heat emission – increased service life of the monochrome display
Fast print speeds
Easier surface cleaning and higher corrosion resistance
Easy-to-grip Allen head screw for easy leveling
The built-in plug filter works well reduce odors
Operation is simple and easy to use for beginners
Replacements are easier to source than other 3D printers
Downsides of the Elegoo Mars 3 Pro
There aren't really any significant downsides I could really gather for the Elegoo Mars 3 Pro!
Customer Reviews of the Elegoo Mars 3 Pro
Pretty much every user who has purchased the Elegoo Mars 3 Pro is more than satisfied with their purchase, mentioning that it works great right out of the box. The test print rooks that come on the USB shows a snippet of just how high the quality of the models are.
The software and firmware is made really well and done in a way that makes operation simple for users. The touchscreen operation is pretty standard for resin 3D printers and works well.
The overall build quality of the 3D printer is very sturdy, not having any flimsy or rattling parts on there. Having the air filter is a great feature that has been added to the Elegoo Mars 3 Pro that users love, as well as the dedicated USB port that it goes into.
One user commented on how he loves that the firmware supports having folders on the USB drive so you can separate your files into specific subjects, as well as nothing having to scroll through a bunch of files to find your specific models.
The leveling process is very easy, having only two main screws to tighten. When taking models off the build plate, it's a good idea to either do this gently with the metal scraper, or just stick with the plastic tools so you don't scratch the build plate.
Having a sandblasted build plate rather than a textured one is a bonus that helps your models get some better adhesion as well.
The modern Fresnel lens is useful addition that cures flat surfaces printed at an angle and shows them more clearly.
Unboxing & Assembly
The Elegoo Mars 3 Pro comes packaged up very nicely, making sure that it arrives to you without damage. There's plenty of styrofoam all throughout the parts.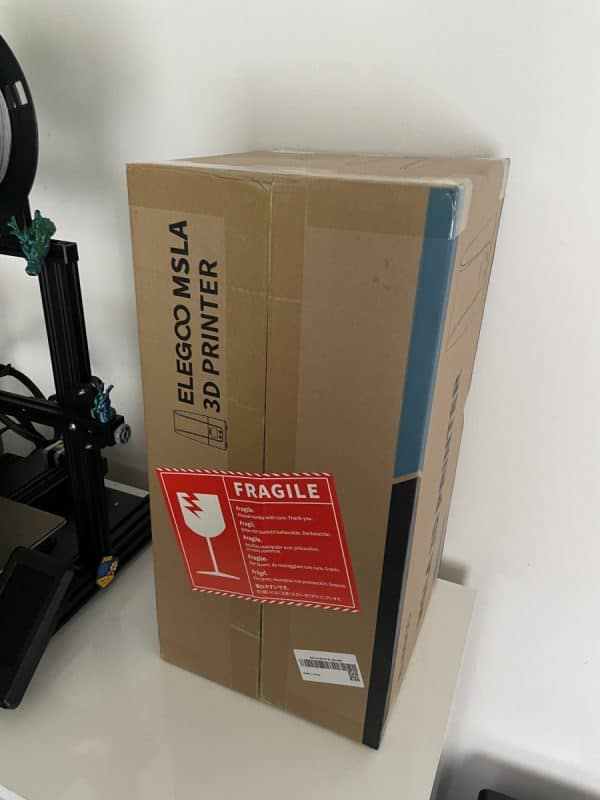 It has a great-looking red lid that is common with Elegoo resin 3D printers, but this has a unique curved design that looks modern.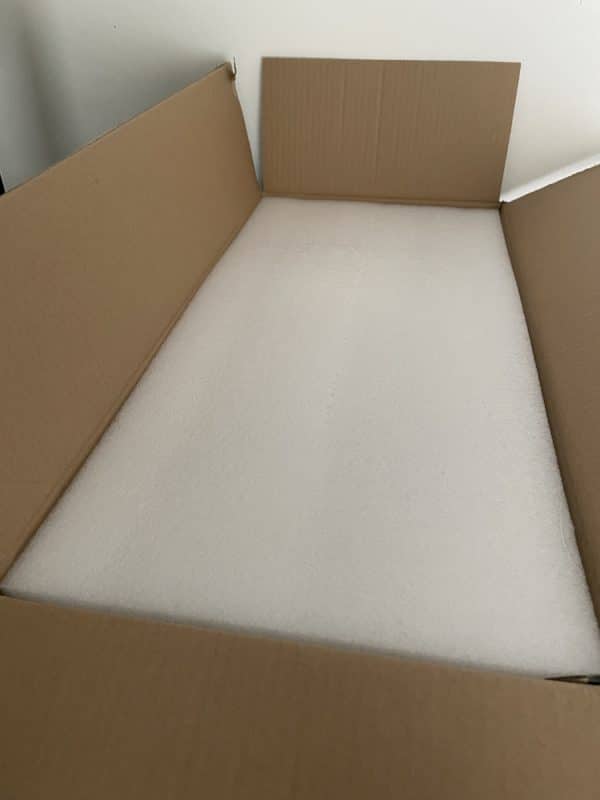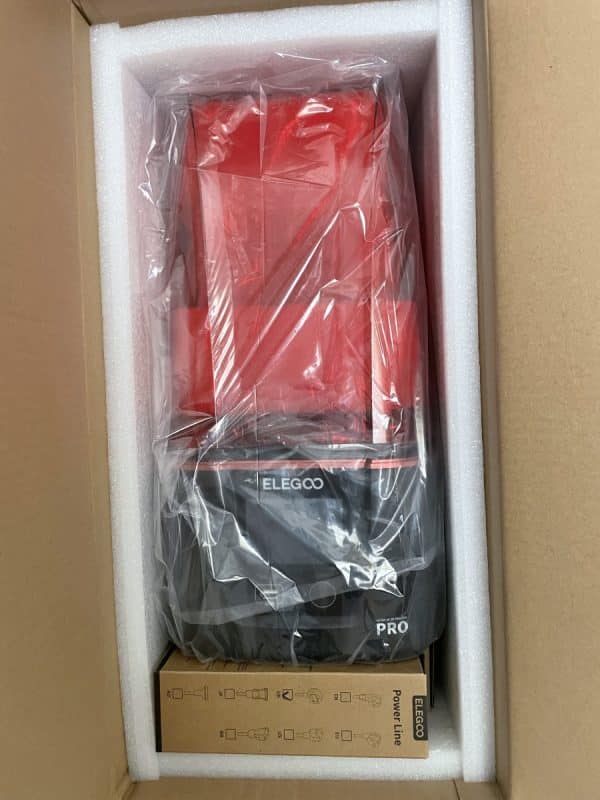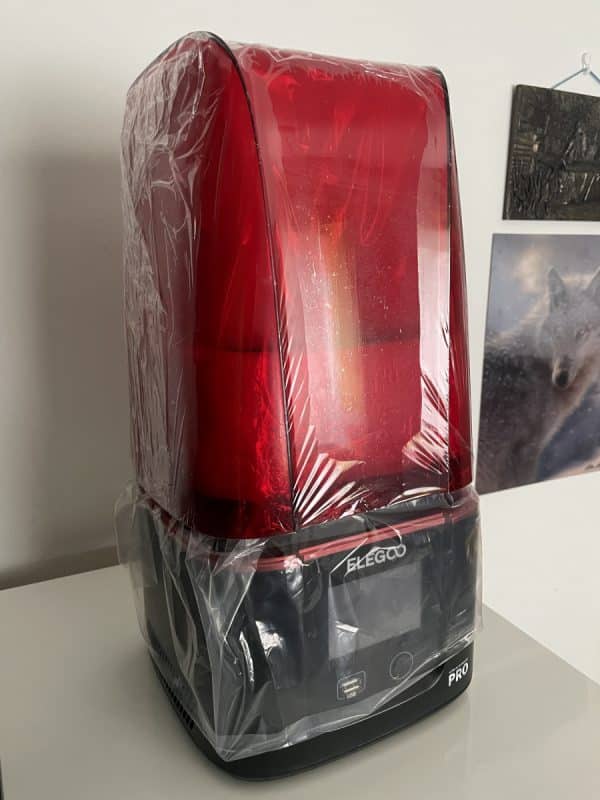 Here's the Elegoo Mars 3 Pro unboxed with all the parts and accessories such as gloves, filters, a mask, flush cutters, a fixing kit, scrapers, the air purifier, a USB stick, the manual and replacement FEP film.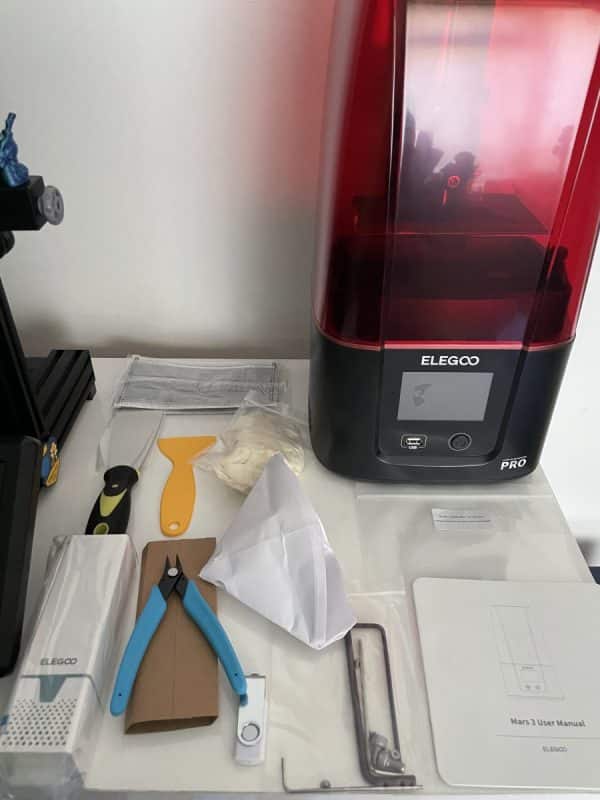 Leveling Process & UV Test
The leveling process for the Elegoo Mars 3 Pro is pretty simple.
Insert the build platform onto the 3D printer
Tighten the rotary knob and loosen the two screws with your Allen Wrench
Remove the resin vat
Put an A4 paper between the build plate and LCD screen
Go to "Tools" > "Manual" > press the Home icon to move Z-axis to 0
Use one hand to press the build plate so it's central while you tighten the two screws (start with front screw)
Calibrate the height again using the "0.1mm" setting and using the up and down arrows until the paper has some resistance to being pulled out.
Now you click "Set Z=0" and select "Confirm"
Raise up your Z-Axis with the "10mm" setting and the up arrow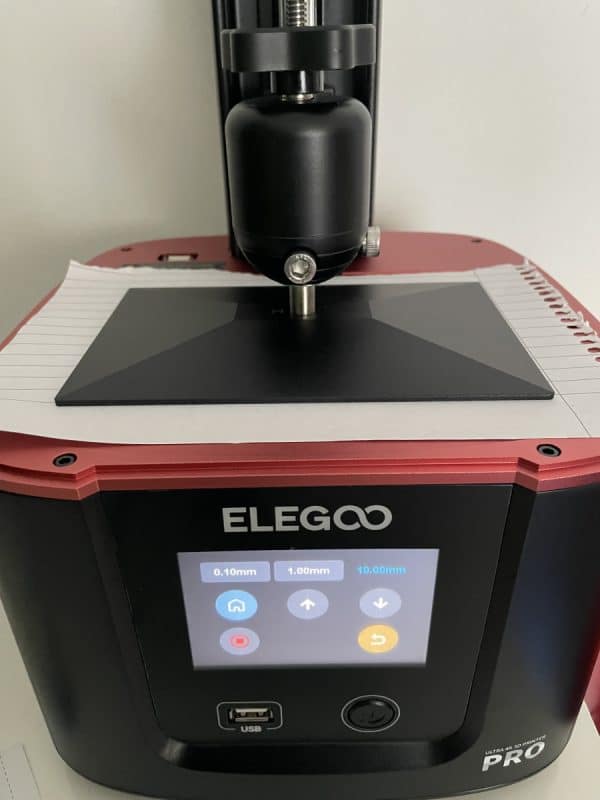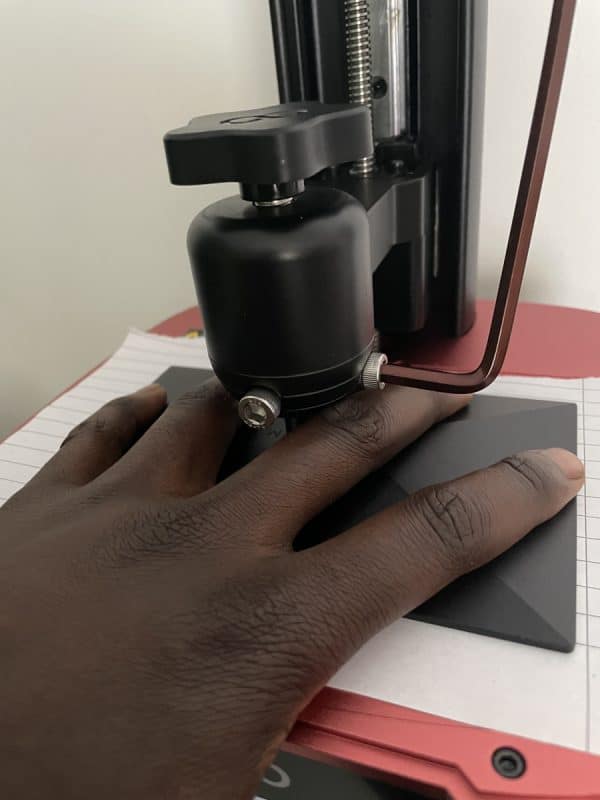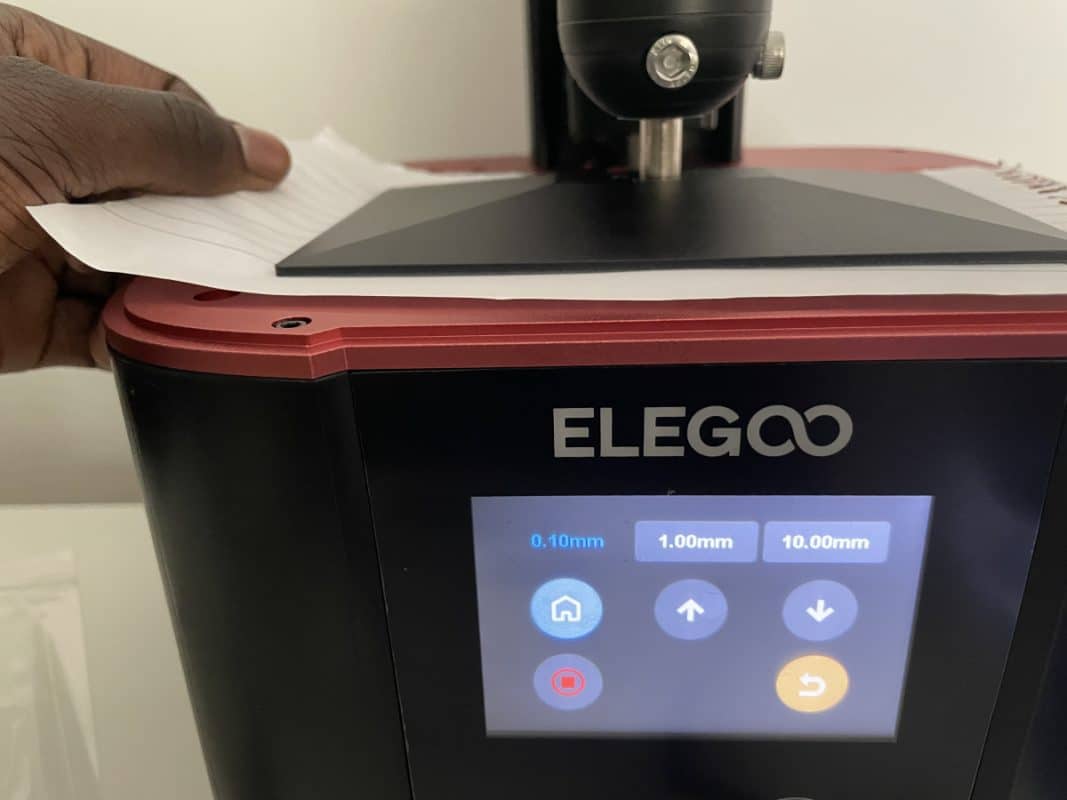 Testing your UV light is also a simple but important process to get started 3D printing.
Select the "Tools" setting at the main screen then hit "Exposure"
Set your time for the UV test and press "Next"
Your 3D printer should display the ELEGOO TECHNOLOGY sign to show it's working properly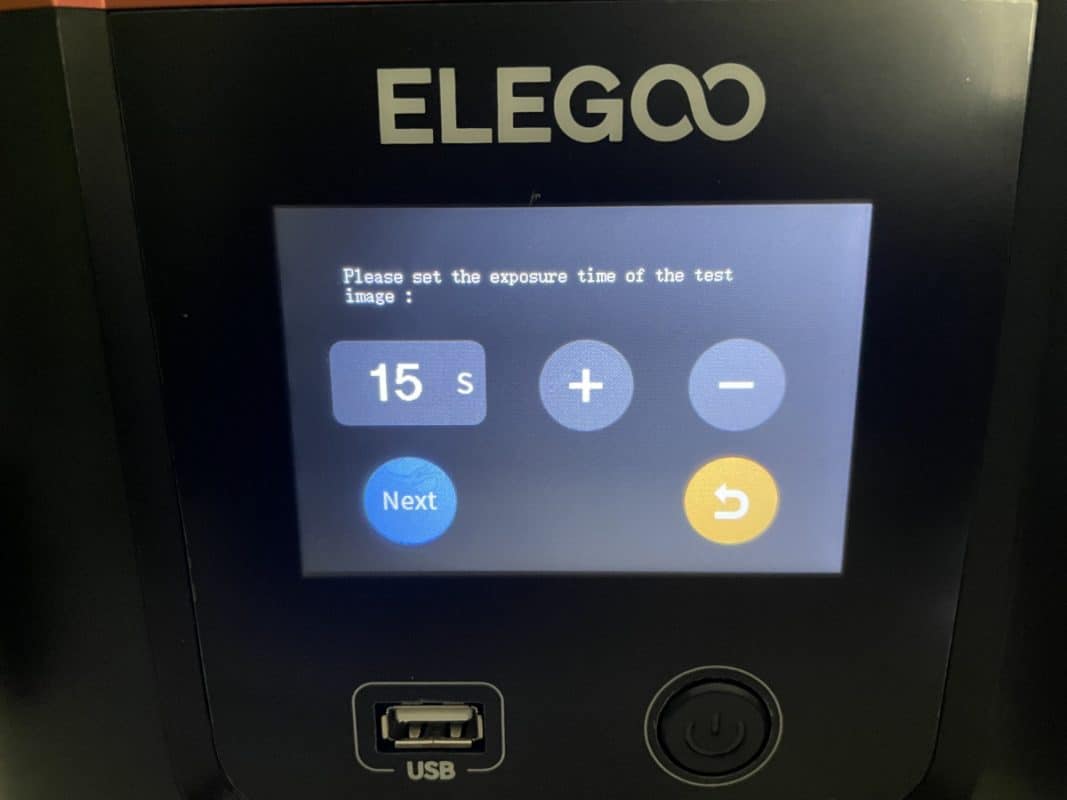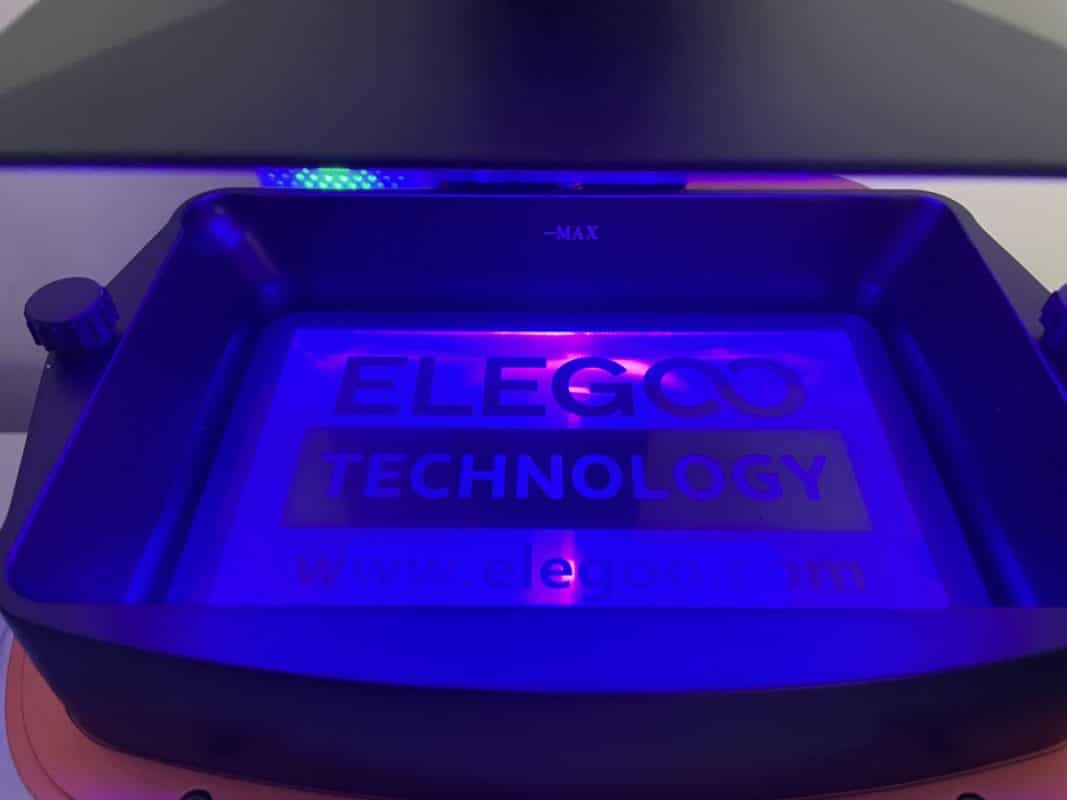 Print Results of the Elegoo Mars 3 Pro
Elegoo Rooks
These are the initial test print that you'll find on the USB that comes with the package. The rooks came out really nicely as you can see. It has some intricate details such as the writing, the stairs, and the spiral in the middle.
I used some of the Elegoo Standard Polymer Grey Resin which you can get from Amazon.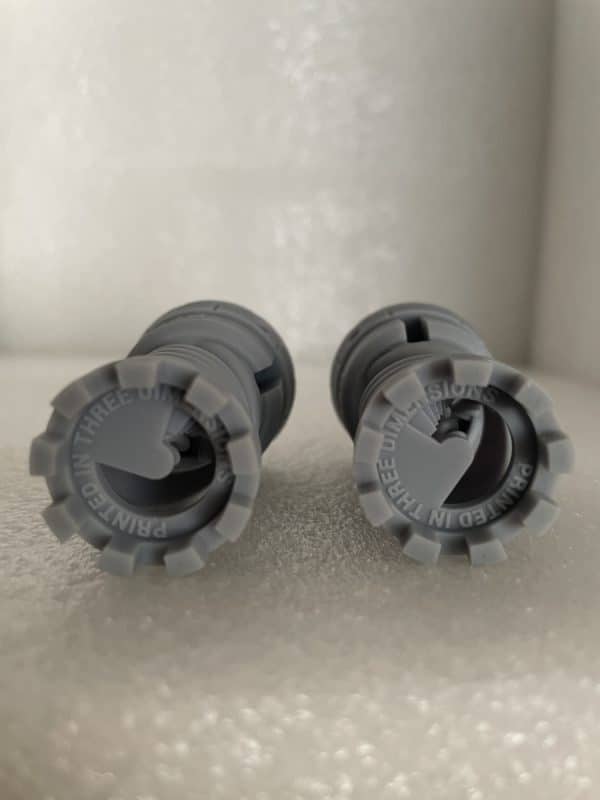 Heisenberg (Breaking Bad)
This is probably my favorite model, being a big fan of Breaking Bad! I'm amazed at how this one came out, especially with the glasses and overall texture. The Elegoo Mars 3 Pro can produce some seriously high quality models that will impress many.
You can find this model on Fotis Mint's Patreon.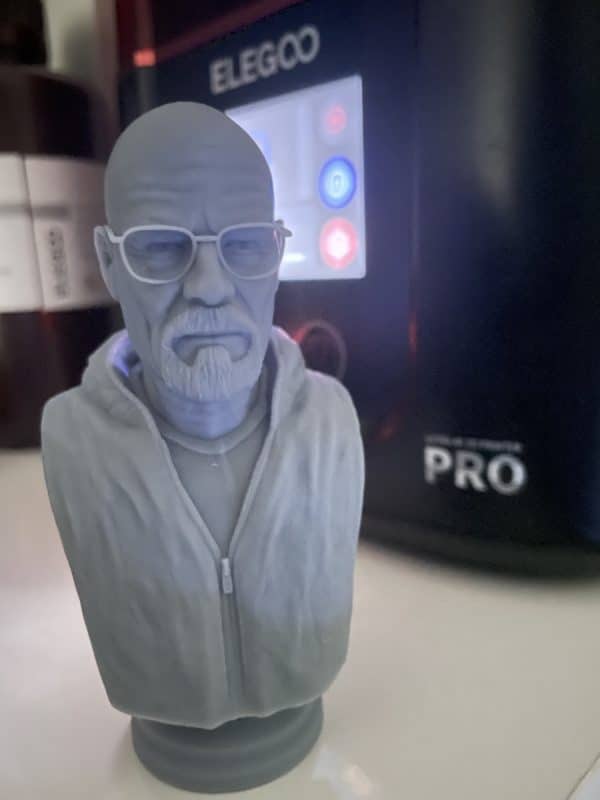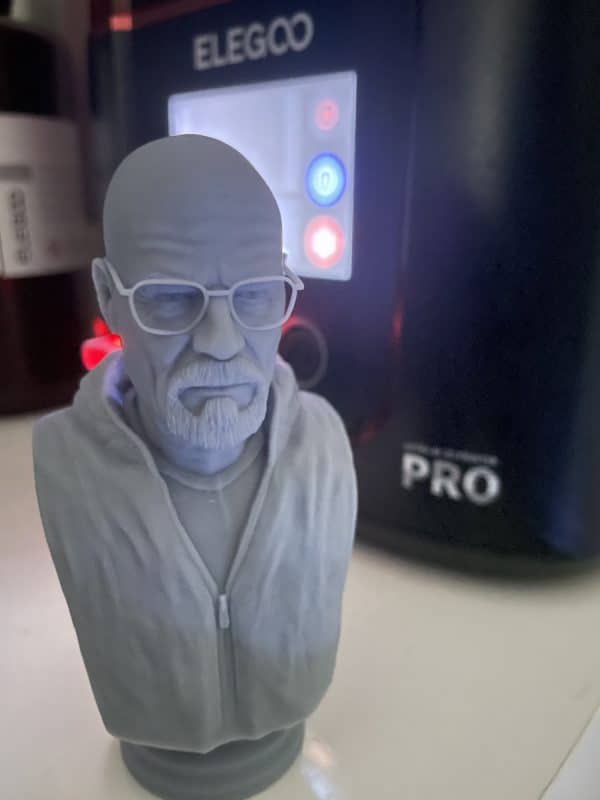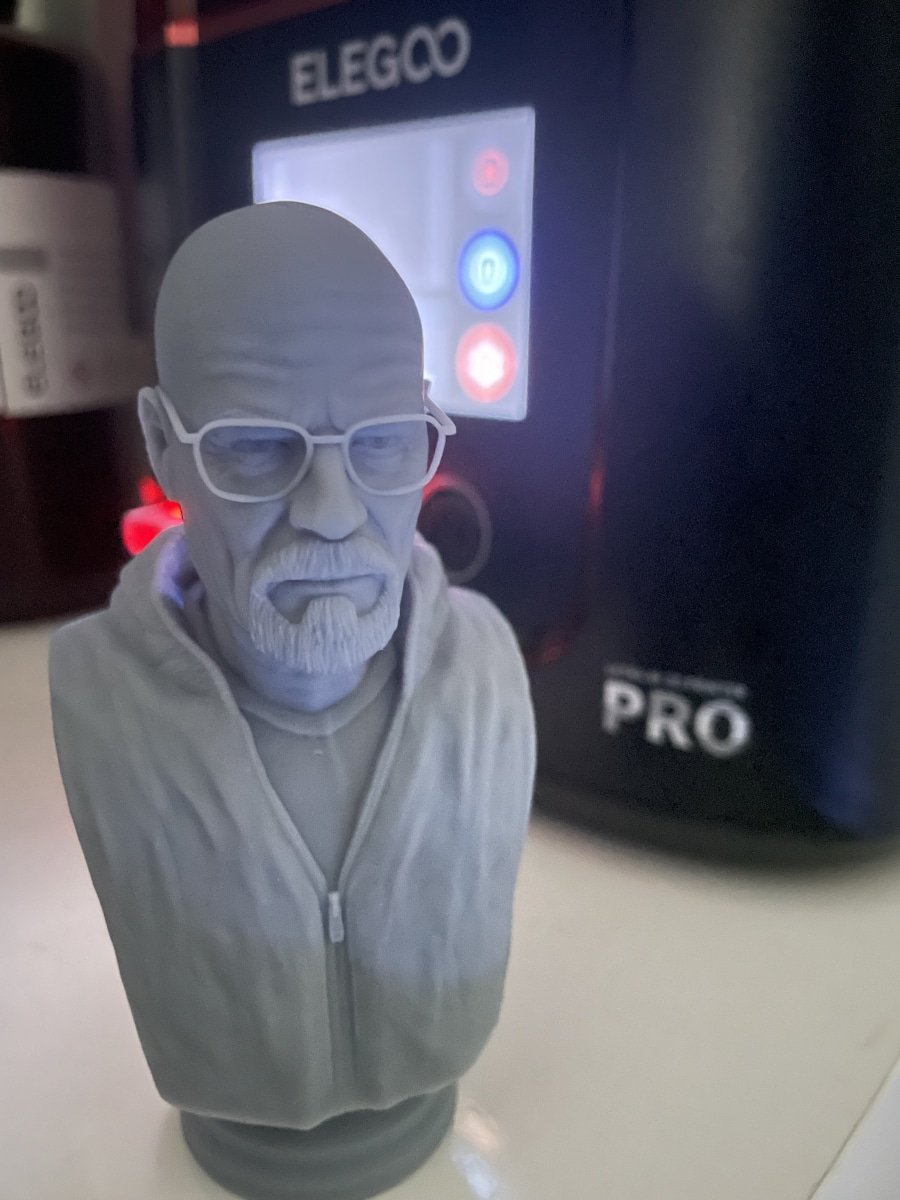 Leonidas (300)
This Leonidas model came out really nicely too. It even inspired me to watch 300 again, a great movie! You can see the details in the hair, the face, even down to the abs and cape.
Another model on Fotis Mint's Patreon that you can create with the Mars 3 Pro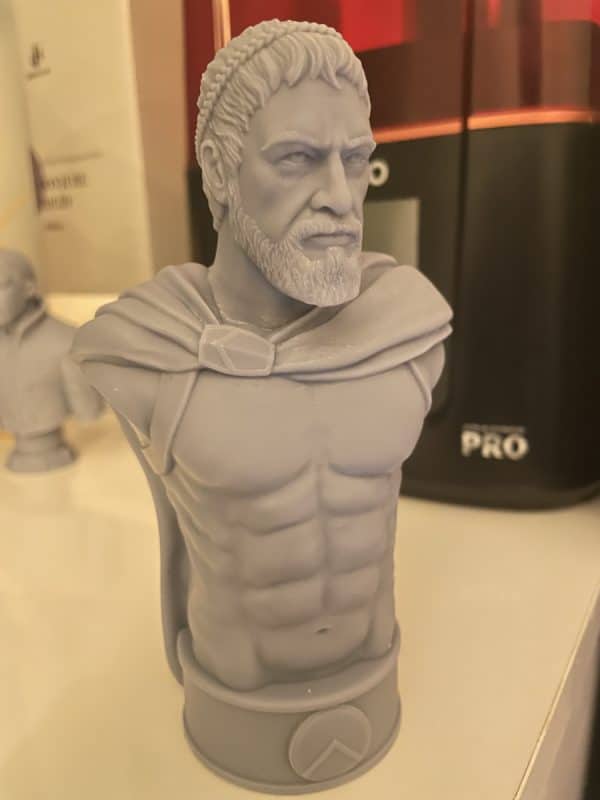 Black Panther (Marvel Movie)
This Black Panther model is top quality stuff.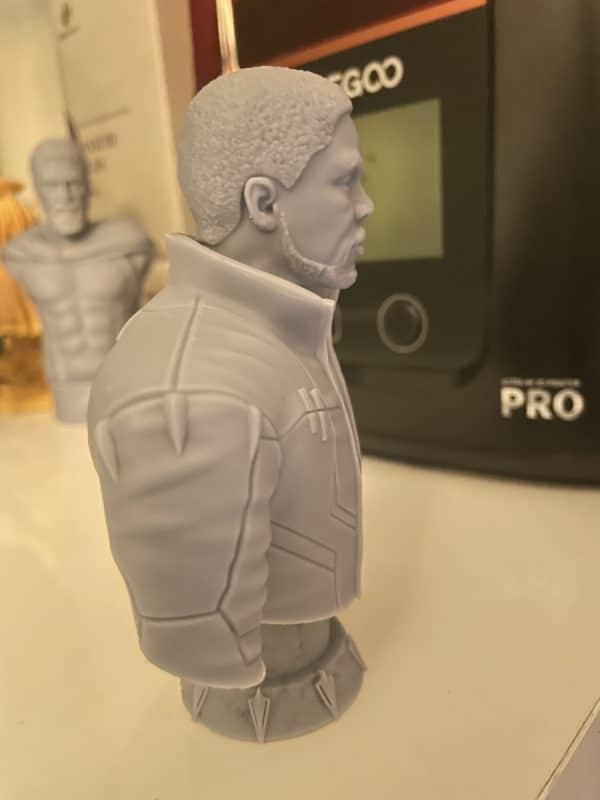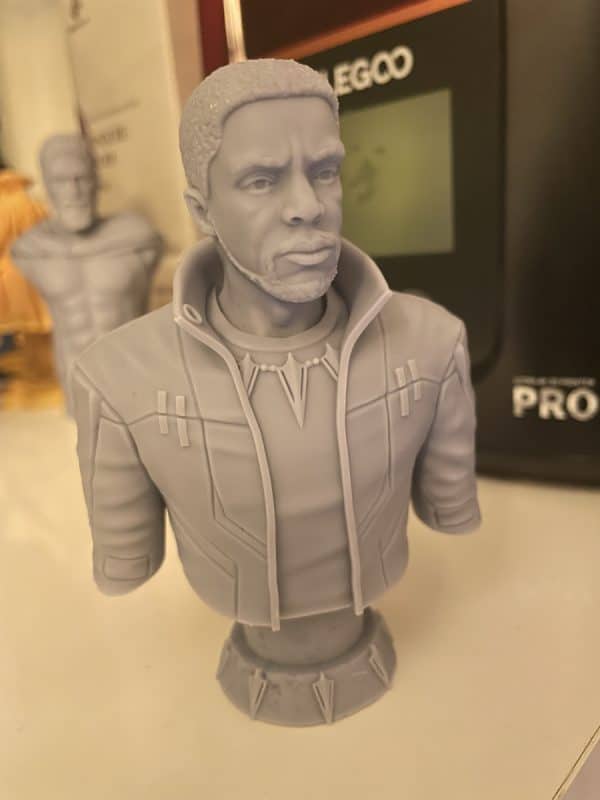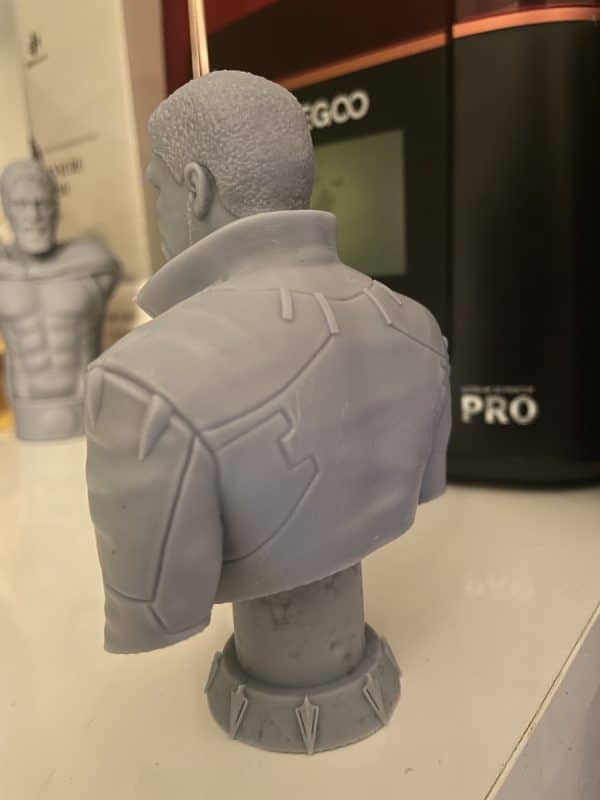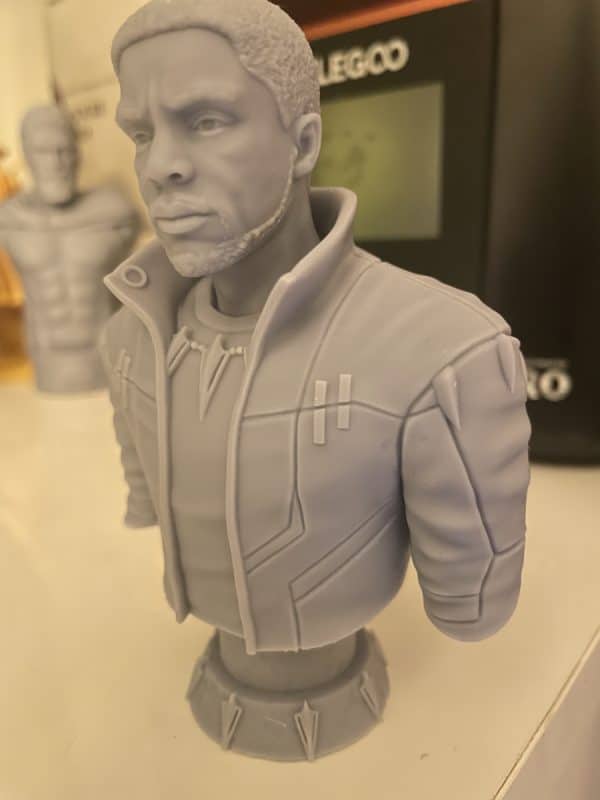 Verdict – Elegoo Mars 3 Pro – Worth Buying or Not?
As you can see in the features, specifications, operation and print quality of the Elegoo Mars 3 Pro, it's a 3D printer that I would definitely recommend to anyone out there interested in buying a resin 3D printer. They have really improved several aspects of their previous versions of resin printers to create one that has basically no real downsides, and plenty of positives.
You can get yourself the Elegoo Mars 3 Pro from Amazon today for a competitive price.