Simple Creality Halot-One Plus Review – Worth Buying or Not?
Creality is making a mark in the resin printing industry with a modern model called the Creality Halot-One Plus. I decided to give this 3D printer a review to test out its capabilities and see how well it performs.
This review will look at various things such as the features, specifications, benefits, downsides, current customer reviews, the unboxing and leveling process, as well as the print quality of the machine.
Keep on reading to find out more about the Halot-One Plus resin 3D printer.
Features of the Halot-One Plus
Large 7.9″ 4K Monochrome LCD Screen
Integral Light Source
Creality Cloud App
Dual Linear Z-Axis Rails
5″ HD Full View Multi Touch Screen
ARMCortex-M4 Processor
Compatible with Multiple Slicing Software
Air Filtration System
Large 7.9″ 4K Monochrome LCD Screen
The Halot-One Plus is known for its large LCD screen, coming in with a 7.9-inch 4K monochrome LCD screen. It has a 73% increase in volume compared to 6-inch LCD screens, so you can expand your printing capabilities with larger models, even with great details.
Integral Light Source
There is an Integral Light Source that is made up of five lights, each with four emission chips. This gives you a light evenness of up to 90% and won't even be affected if you experience a broken LED unit.
Creality Cloud App
Having access to a remote connection method is a great feature of the Halot-One Plus. You can look forward to using the Creality Cloud App where you can easily pick and slice a model, as well as click to print it.
You can even monitor your print progress using the app. It allows you to easily handle your resin prints and gives efficient management.
Dual Linear Z-Axis Rails
It's important to have dual linear Z-axis rails when you are using larger scale 3D printers, which this machine does. The movements are much more stable with these linear rails, resulting in a higher rate of success for your models, even for complex ones.
You also have a T-shape screw rod which further helps for accuracy and steady movements.
I'm not getting layer shifts that might be more common with 3D printers without dual linear Z-axis rails, so it's definitely doing its job.
5″ HD Full View Multi Touch Screen
For operation of the Halot-One Plus has a 5-inch HD full view and multi touchscreen that is easy to use. You'll have a clear model preview and selection process so you can see what the model looks like.
There are 14 supported languages within.
I find that the touchscreen is very simply to use and does have great colors.
ARMCortex-M4 Processor
Being able to process data and images at a fast rate is a useful feature. This machine has a ARMCortex-M4 Processor with a 64-bit Quad Core CPU/GPU. These are powerful parts that help improve the overall 3D printing experience.
Compatible with Multiple Slicing Software
There is compatibility with many slicing software with the Halot-One Plus such as Halot Box, Lychee Slicer and ChiTuBox. For some reason, I was having errors with using Lychee Slicer, so I switched to ChiTuBox and it worked perfectly.
Air Filtration System
There is an air filtration system within this 3D printer that contains activated carbon to absorb resin odors. It reduces the smell of harsh resins to provide you with a cleaner printing environment.
Specifications of the Halot-One Plus
Build Volume: 172*102*160mm 7.9 inches
XY Resolution: 4320 x 2560 (4K)
XY Accuracy: 0.04mm
Printing Speed: 1-4s/layer
Layer Resolution: 0.01-0.2mm
Touchscreen: 5-Inch Touchscreen
Light Source: Integral Light Source (Wavelength 405nm)
Rated Voltage: 100-240Va.c 50/60Hz
Rated Power: 100W
Machine Size: 236 x 243 x 418mm
Net Weight: 6.8kg
Gross Weight: 8.6kg
Printing Method: USB stick, Creative Cloud
Benefits of the Halot-One Plus
Easy to use and operate, even for beginners
Large build area allows you to create bigger models
USB port is at the front for easier access
Great print quality with the 4K screen and dual linear rails
Resin odors are absorbed with the air filtration system
It copies the files before printing so you can remove the USB and even make setting changes.
The vat can hold up to 650ml which is plenty
Downsides of the Halot-One Plus
Hard to see through the dark blue lid
The 3D printer has to reload and verify each file every time you want to print something
Customer Reviews of the Halot-One Plus
Most customer reviews of the Halot-One Plus are positive, with many of the users being beginners to resin printing and having a great experience. The setup and operation of this 3D printer are very simple and you can get things up and running pretty quickly.
Resin printing is quite messy at first, but once you get the hang of things, you can have a clean workflow. People enjoy the larger build area since resin 3D printers are usually known for having smaller build plates.
Users appreciate that the USB port is at the front rather than the side so they don't have to turn the 3D printer around. One of the bigger improvements that people mentioned are the dual linear rails that improve stability.
It makes for more reliable 3D prints.
The 4K monochrome LCD screen is one of the biggest features that separate the Halot-One Plus from other machines. One user whose first resin 3D printer was an Elegoo Mars showed a comparison of the same model with the same layer height, and the difference was significant.
Another key thing this user enjoyed was how you can adjust settings directly from the printer, so if you need to adjust settings, you don't have to re-slice the file.
People do like the functionality of the Creality Cloud App that's built-in to the Halot-One Plus and say there's a lot of potential there.
The build quality of the 3D printer is mentioned a few times, being built solidly and feeling fantastic.
One user did unfortunately have issues with his FEP sheet and models not sticking to it. He found that adding some lubricant to it helped models stick down better to the build plate rather than the FEP sheet.
He talked about how the Halot Box slicer has a nice interface that's easy to use, though it can be slow to load models when they are over-sized since you have to re-size them. Another thing he mentioned is that the software doesn't always tell you when a model might need repairs.
Unboxing & Assembly of the Halot-One Plus
The unboxing process is a simple one since it's pre-assembled. The items come nicely packaged and everything is secured with custom padding to fit the parts.
It comes with:
Halot-One Plus
Build plate
Resin vat & thumbscrews
Metal scraper
Plastic scraper
Filters
Power cable
Fixing kit (Allen Keys)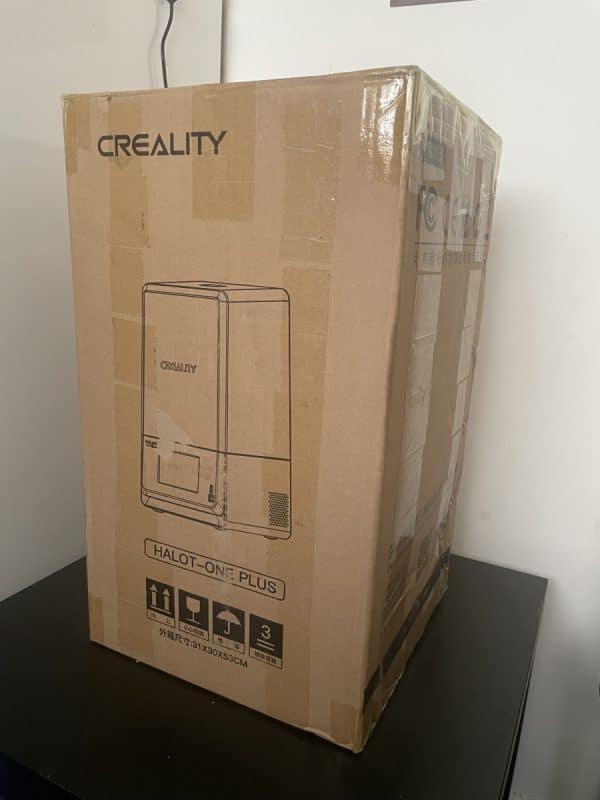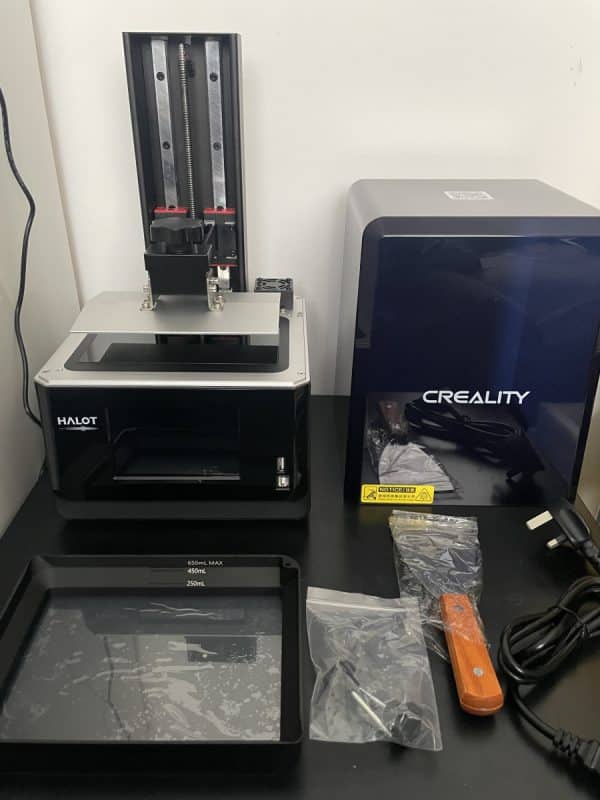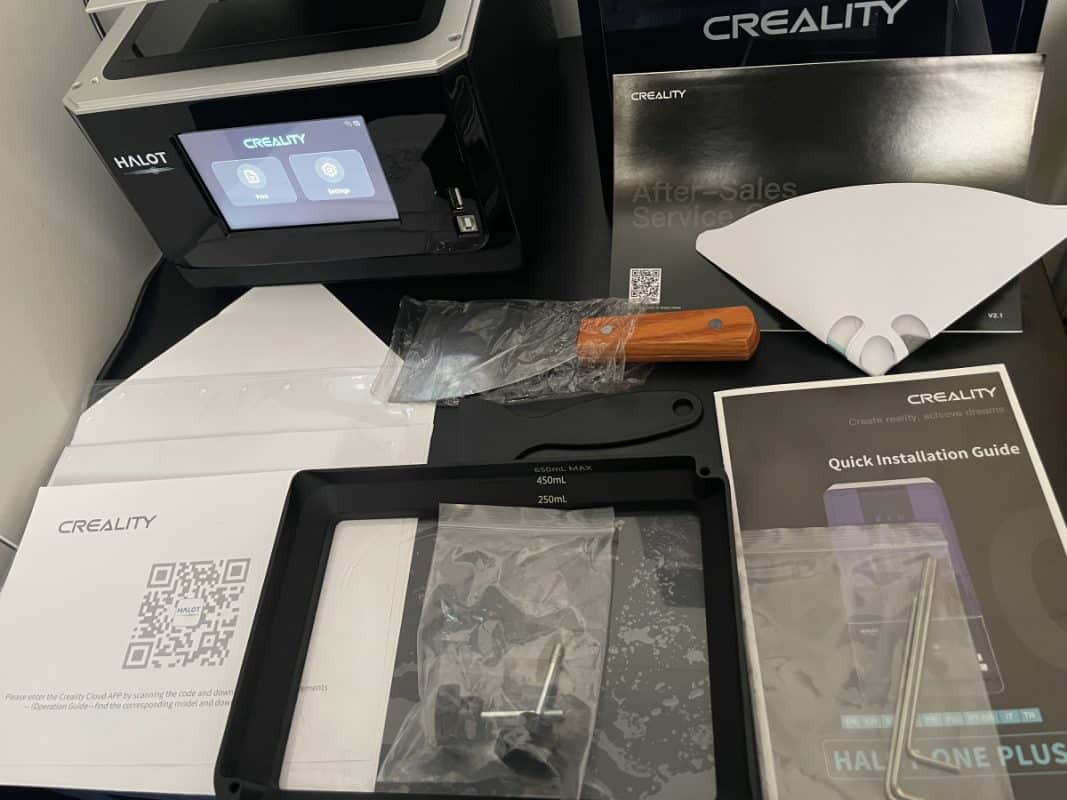 Leveling Process of the Halot-One Plus
The leveling process for the Halot-One Plus is pretty simple and like most resin printers.
Place your leveling paper on the LCD screen with the vat removed
Loosen the four screws above the build plate
Press "Settings" > "Print Settings" > "Z-Axis Movement" > "Leveling"
Make sure the calibration leveling paper is flat
Press "Leveling" and the platform will move down to the calibration paper
Gently press down on the build plate and slightly tighten the screws until you feel resistance (in this order: top right, bottom left, bottom right, top left)
After that, you take the shorted end of the Allen Key and tighten up the screws fully
Press "Back to Zero" to raise up the platform, then remove the calibration paper
Print Quality of the Halot-One Plus
Captain Jack Sparrow
This Captain Jack Sparrow model is in the Creality Cloud App within the Halot-One Plus and it's a fantastic model to create. It has amazing details and looks just like the character.
It does use quite a lot of resin because the model isn't hollowed, so it's built solid all the way through.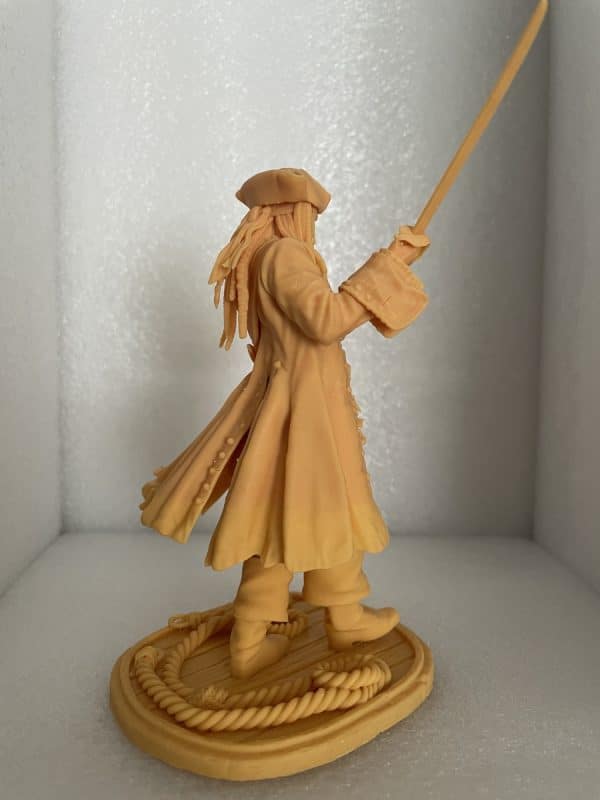 Devil Cat
This Devil Cat model is also on the Creality Cloud App and can be accessed through the printer. This is a lovely model that shows how smooth a high quality resin printer can be.
It's also built as a solid without being hollowed.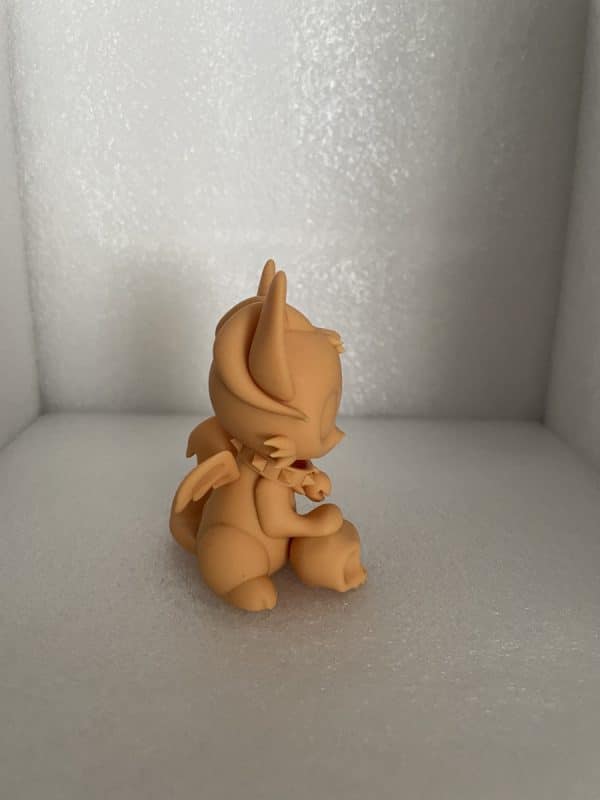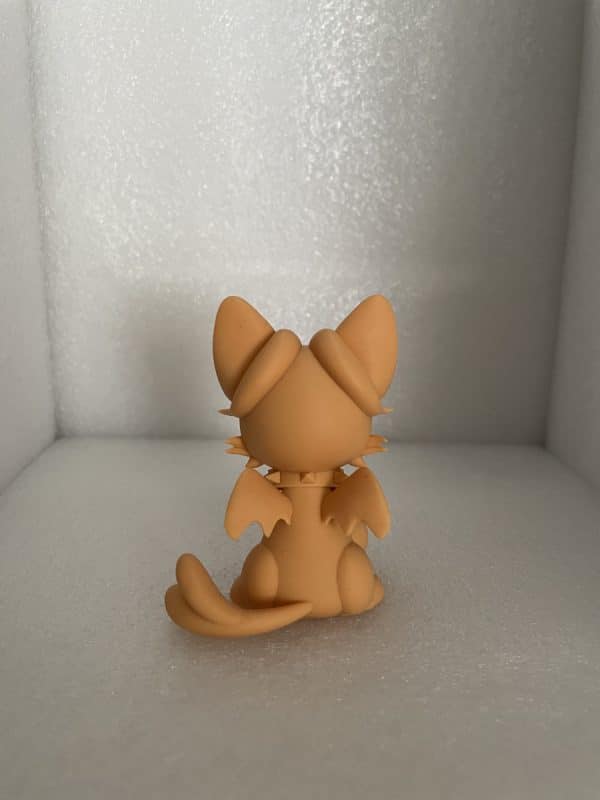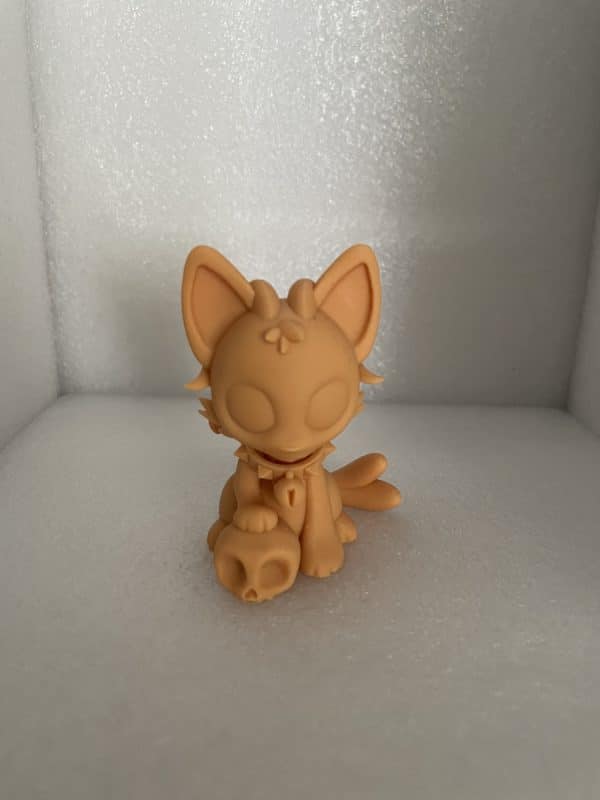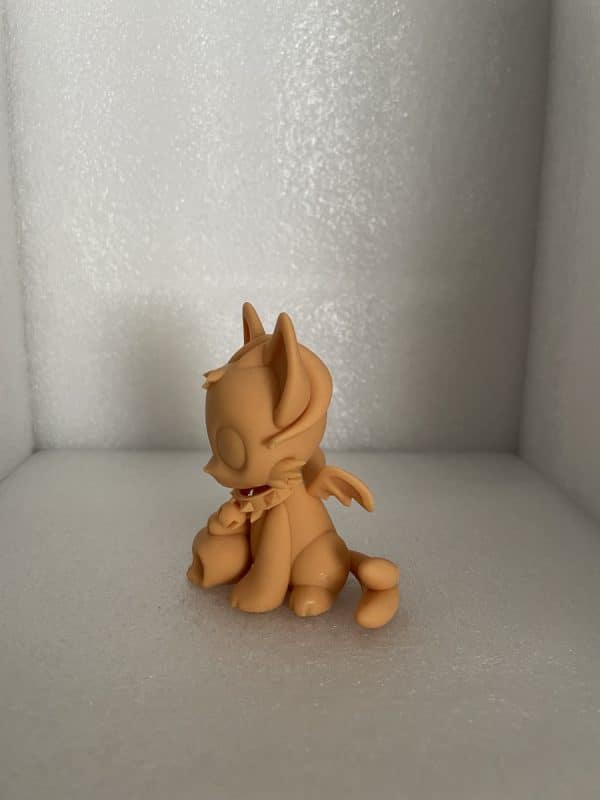 I 3D printed this Venom model from a great designer a stumbled upon. After I saw the detail in the model itself, I thought it would be a great model to show how well the Halot-One Plus could perform.
Check out the intricate details!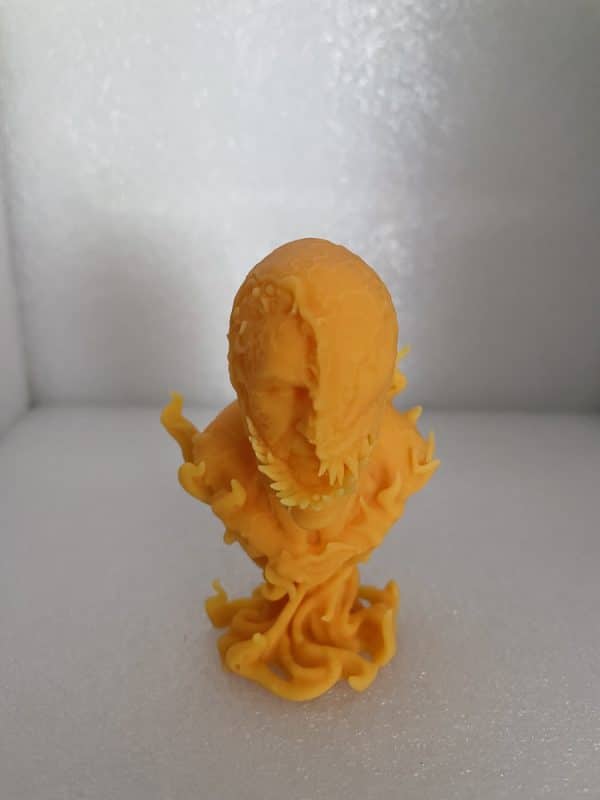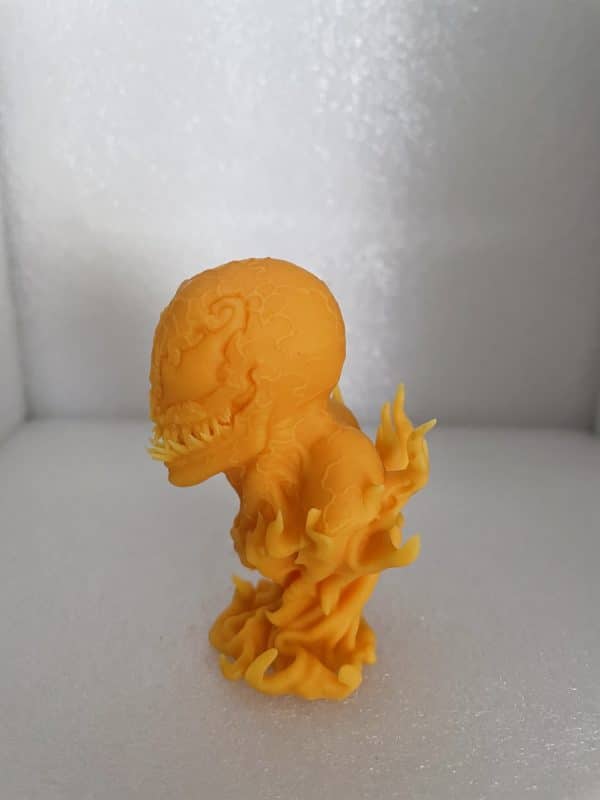 The horse model from Thingiverse looks great. You can see the excellent detail in the hair and lines in the body with ease.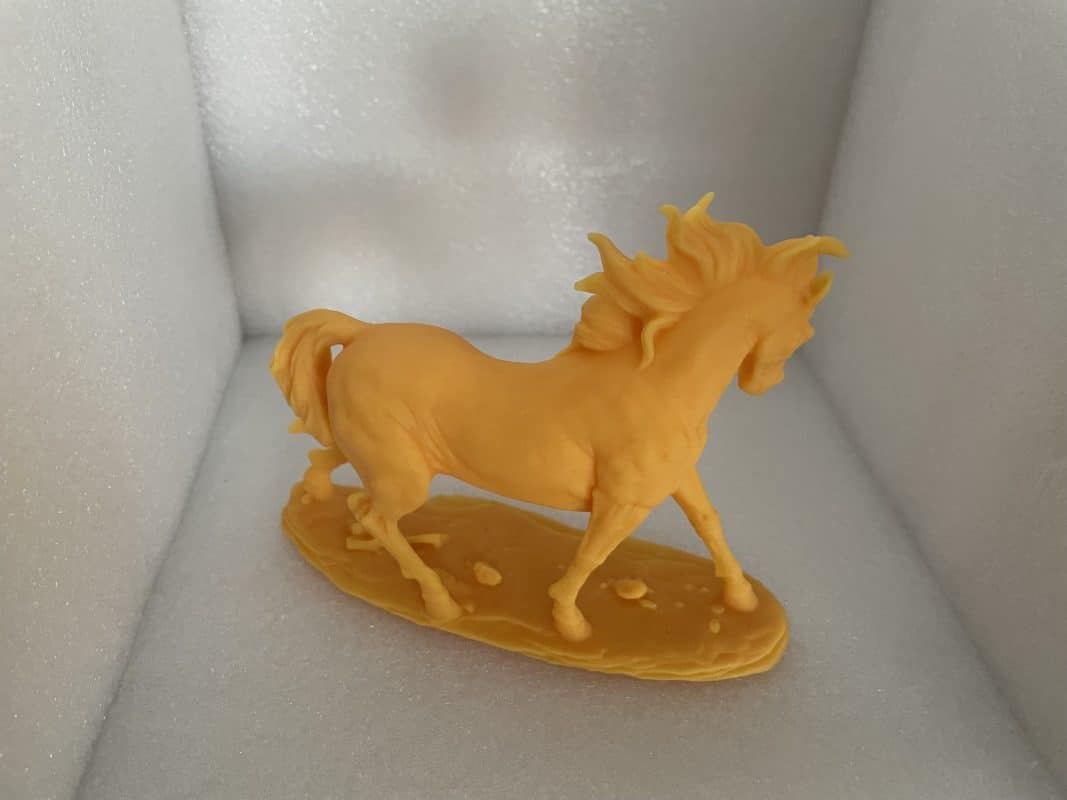 Verdict – Worth Buying or Not?
Based on my testing and experience with the Halot-One Plus, Creality has done a great job to produce a high quality 4K resin 3D printer that performs well.
I did enjoy my experience with this 3D printer and it checks the necessary boxes to create top tier resin models. The functionality and overall operation is great for both beginners and experts.
You can get yourself the Creality Halot-One Plus from Amazon today.