Should Your Hotend Fan Always Be On? Ender 3 & More
The hotend fan runs all the time even when the printing process is on pause. This can be annoying for a lot of users especially if the 3D printer is placed in your room and you are heading to bed.
I decided to write an article answering whether your hotend fan should always be on and ways that it can be turned off.
Should Your Hotend Fan Always Be On?
There are two fans that run on your hotend, one for the part cooling and another for the heatsink cooling. The heatsink cooling fan should always be on. This is because the filament in the heat sink might cool down and lead to a bad clog.
After the completion of a print, the fan is working to cool down the hotend where the filament is. Turning OFF the fan before the complete cooling process will allow the heat to move up to the filament and cause a jam.
In this situation, you will have to clean the hotend to remove stuck filament before printing your next model,
The front fans that keep the hotend cool will always be ON (as long as the 3D printer is ON) because they are continuously provided 12V without any circuit in between. It is a design choice safety feature and cannot be controlled using the 3D printer firmware, software, or screen.
If you were to turn this fan ON and OFF, you experience clogs in the throat tube that can negatively affect your hotend. The filament inside can soften and can lead to clogging and heat creep.
For the bottom or other fans, you can turn them OFF because there is no benefit of keeping them ON in the 3D printer's idle state.
One user suggested using Kapton tape to prevent air from flowing to the build plate if your prints are having warping issues.
If you are annoyed by noise, upgrade the stock Ender 3 fan with a low-noise fan such as Noctua NF-A4x10 Premium Quiet Fan which you can buy on Amazon.
Since the Ender 3 stock fan runs on 24V while the Noctua fans have a voltage of 12V, you need to buy a buck converter from Amazon to bring the voltages to the right level.
Something like the Songe LM2596S with LED Display Buck Converter from Amazon should work well.
However, the fan that cools down the heatsink or heated block should always be ON even if you are not printing.
It's possible to set your hotend fan to turn off once it reaches a low enough temperature like 50°C by using a command in your G-Code, but you don't want to do this unless you are experienced at 3D printing.
An example is to use the following command:
M109 S200 T0; #Waits for hotend temperature to increase to 200 degrees Celsius
M109 R50 T0; #Waits for hotend temperature to decrease to 50 degrees Celsius. It uses "R" instead of the usual "S" for other commands including this one.
You'll also want to have an M106 command to set the fan speed at a value between 0 and 255 (where 128, or half of 255 would be 50% speed).
It's also possible to get certain types of mainboards that allow the fan to be turned off while not printing. One user suggested the TH3D aftermarket boards.
How to Turn Off Extruder Fan on 3D Printer – Ender 3
Here's how to turn off the extruder fan on an Ender 3:
Turn Off the Ender 3
Use a Custom Circuit
Wire it Up with Other Fans
1. Turn Off the Ender 3
The actual and safest way to turn OFF the extruder fan is to wait for the hotend to cool down to a certain temperature after completion of a print and then shut down your Ender 3. To turn off Ender 3 right after a print:
Go to "Prepare"
Select "Cooldown"
Wait for the cooling down process to complete
Turn OFF the 3D printer
You can directly unplug the switch if the print has been completed a few minutes ago. The main aim is to let the hotend cool down to a lower temperature before the fans turn off.
You can also set a specific waiting time or a certain temperature by updating the Ender 3 "End G-Code" in Cura.
Open the Cura Slicer
Go to Settings > Printer > Manage Printers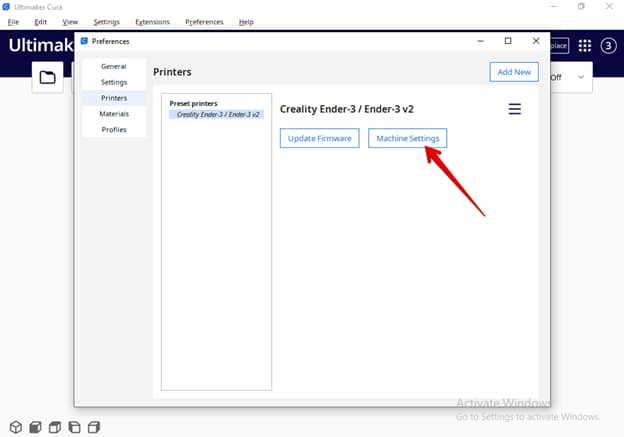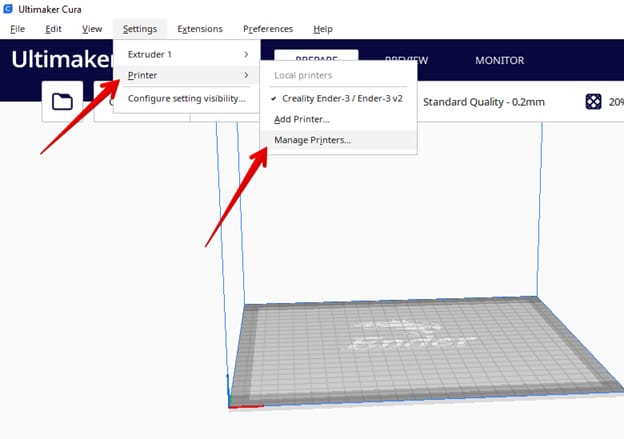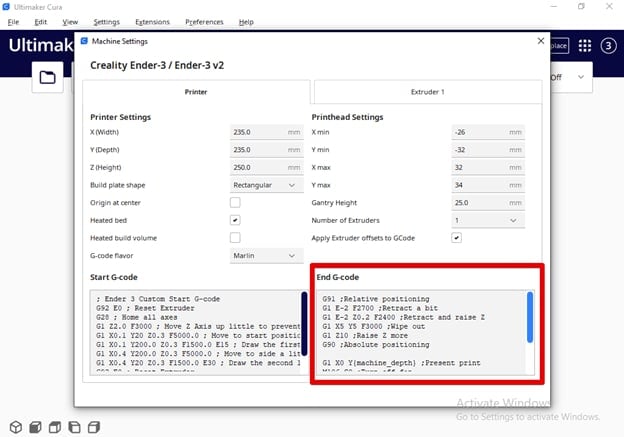 For setting a specific waiting time: G4 P (enter time in milliseconds)
For setting a certain temperature: G10 R (enter temperature in Celsius)
G4 P600000 – for 1 minute. Some firmware accepts S60 for 60 seconds.
G10 R50
2. Use a Custom External Circuit
Another way to turn OFF the extruder fan on your Ender 3 is by adding a DIY external circuit in the fan wires that can monitor temperature and turn the extruder fan ON and OFF based on that temperature.
One user said that using this circuit by patching up a thermistor and a transistor to cut power at a certain temperature is more reliable than adding a custom G-Code which you can forget.
The working scenario is that when the temperature on the thermistor decreases, the resistance will go up and the voltage at the voltage divider will go down.
This will drop the current to the thermistor through the resistor and it will turn OFF along with the fan.
Here is a video by CHEP that will guide you on how to do it.
3. Wire it Up with Other Fans
One way suggested by some users to turn OFF the extruder fan on Ender 3 is by wiring it in parallel to the part cooling or other fans. You can then adjust its settings in the firmware just like you do for other fans on Ender 3.
One user said that generally, the extruder fan is connected to the +24 and ground on the mainboard. You can wire it up to an external MOSFET and one of the LCD screen pins. Compile the firmware to enable the automatic fan on that LCD pin and you will be able to modify its settings.
Another user also mentioned connecting the fan cable with the extruder pin so that the fan can only run when the extruder starts.
One user said that this method will work but it is not recommended. Upgrading the fans to less noisy fans such as Noctua is a better option. This is some pretty technical stuff so I'd only recommend doing it under expert guidance or a good technical video that shows you the steps.