Revopoint MINI Launches 3D Scanner with Incomparable Precision of 0.02mm (Sponsored)
Revopoint, a respected company leading the industry in 3D scanning technology, just launched their latest Blue Light 3D scanner.
Once reserved for industrial scanners, their ultra-precise structured blue light technology now gives consumers increased detail and unrivaled precision up to 0.02mm for high-resolution 3D modeling.
This game-changing 3D scanner is live on Kickstarter.
Revopoint has been turning heads with its game-changing products for years. They are the most-funded 3D scanner brand on Kickstarter with funding of over 5 million USD and are trusted by users worldwide thanks to their professional performance and feature-rich design.
Now, the Revopoint team has announced their first blue light 3D scanner- Revopoint MINI, which adopts the latest high-resolution Blue Light scanning technology that is widely used in industrial-level 3D scanners.
Here's an example of the scanner at work, just look at the level of detail it can capture in this small ring.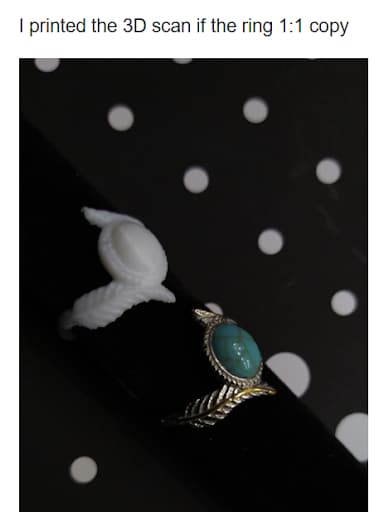 Compared with traditional scanners, blue light scanners deliver more accurate results with high resolution and less distortion.
The MINI is released to better reach professional practitioners and consumers in related industries, such as the scenarios of reverse engineering, industrial measurement, jewelry design, and other professional areas.
Plus, blue light scanners are less sensitive to ambient light, achieving greater detail even in lighted environments, resulting in more accurate 3D modeling at the touch of a button.
The 3D point cloud maps the object surface at a point distance of 0.05mm and delivers super-detailed 3D models with a precision of 0.02mm, precise enough for professional inspection and analysis.
"At Revopoint, we have a long history of innovations in the field of optical scanners. Makers and hobbyists appreciate our scanners for their ease of use and high-quality results.

With our latest product, the Revopoint MINI, our goal was to do something revolutionary – to utilize the power and precision of blue light scanning so that consumers can realize the high resolution and incredible detail of this technique for their 3D modeling projects.

With a precision of 0.02mm, Revopoint MINI is capable of advanced applications such as reverse engineering, quality control, traceable 3D measurement, relic digitalization, and medical applications. Now, everyone has an affordable, portable, and reliable option for user-friendly optical scanning." – Revopoint CEO
Revopoint MINI boasts an outstanding frame rate of 10fps and delivers depth and color at a professional level, ensuring that even the smallest details are reproduced exactly like the original subject.
Its lightweight, 160g design is compact enough to make it a portable solution and unlike laser scanners, it doesn't require a special setup or positioning to achieve perfect scans. It can be held manually or placed on the included tripod as needed.
After scanning, the 3D file can be directly streamed to any smart device for post-processing and Revopoint is compatible with all major engineering and design software for convenient cross-platform workflow.
Revopoint MINI: Blue Light 3D Scanner with industry-grade accuracy provides pros, hobbyists, and consumers alike the power and precision for incredible accuracy, speed, and ease of use for professional applications and daily work.
This powerful new scanner is available now on Kickstarter with discounts for early adopters.
MINI Application Areas
Reverse engineering
Dental modeling
Jewelry design
Industrial measurement
Professional 3D printing
MINI and POP 2 Comparison
MINI – this latest blue light 3D scanner that is designed for professional applications, it features a higher precision of 0.02mm with better details.
Compared with POP2, MINI's single capture range is smaller, which means it's more suitable for smaller objects with higher accuracy requirements (recommended size: larger than 10 x 10 x 10mm, and smaller than 500 x 500 x 500mm).
Product Name
3D Scanner
3D Scanner
Product Model
POP 2
MINI
Technology
Dual Camera Infrared Structured Light
Dual Camera Blue Light
CPU
Dual Core ARM Cortex-A7  
Dual Core ARM Cortex-A7
Single-Frame Precision
Up to 0.05mm
Up to 0.02mm
Single-Frame Accuracy
Up to 0.1mm
Up to 0.05mm
Single Capture Range
130mm x 230mm
64mm x 118mm
Working Distance
150~400 (mm)
100mm ~ 200mm
Minimum Scan Volume
20 × 20 × 20 (mm)
10 × 10 × 10 (mm)
Scan Speed
Up to 10 fps
Up to 10 fps
Light Source
Class 1 Infrared Laser
Class 1 Blue Light
Gyroscope
Yes
No
Alignment
Feature, Marker, and Color
Feature, Marker
Structure
Die-cast aluminum
Die-cast aluminum
Scanning Environment
Indoor and Outdoor
Indoor
Special Object Scanning
For the transparent and highly reflective objects, please use scanning spray powder.
For the transparent and highly reflective objects, please use scanning spray powder.
Scanner Weight
195g
160g
Dimensions
154.6 ×38.2 × 25.6 (mm)
120 × 38.5 × 25 (mm)
Press Button
Yes
Yes
Tripod Holder
One-Button Quick Installation  
One-Button Quick Installation  
Required System Configurations
Windows 8\10\11 (64-bit), Android, iOS, Mac
Windows 8\10\11 (64-bit), Android, iOS, Mac
Printable Data Output
Yes
Yes
Wi-Fi
5G
5G
Note


*The aforesaid accuracy is acquired in standard lab environment, which might vary subject to actual operating environment.                                

  * Windows 7 is out of support.