Learn How to 3D Scan With Your Phone: Easy Steps to Scan
We all use our smartphones a lot and there is an app for literally everything. So it struck me; is it possible to scan an object with your device and make a model out of it? It turns out to be very possible.
The best way to scan with your phone is to download a 3D scanning software and follow their specific instructions to create a functional 3D model. It can range from taking several pictures all around the main object, or taking a smooth video. You can also use a 3D printed turntable for 3D scanning.
3D scanning is very possible with the help of smartphones.
There are dedicated free and paid apps for this purpose. Scanning is done by taking a video of the object to be scanned from different angles. It requires you to move the phone around the object to capture it from all angles.
Most 3D scanning apps are designed to guide you through the process of scanning by giving directions.
There are many things to be considered for 3D scanning. Just capturing the images is not enough to get a good 3D scan and there are many apps in the market for this purpose.
This makes it is a difficult task to find the best one that suits your needs. To get a better understanding of what factors to consider while doing a 3D scan and choosing an app, we need to familiarize ourselves with the topic. Keep reading to know more.
What is 3D Scanning?
3D scanning is the process of capturing the physical features and all the necessary data of an object to recreate it as a 3D model. 3D scanning uses a method called photogrammetry to scan an object.
Levels.io has a great article about 3D scanning on your smartphone which goes into some great details.
Photogrammetry is a method used to make measurements or a 3D model of an object from multiple photographs of it taken from different angles.
It can be done through the use of a laser, structured light, a touch probe, or a photo camera.
This was practiced with the help of DSLRs and other dedicated devices. But as smartphones became more popular and came up with powerful cameras, photogrammetry became possible with it.
When I wanted to make a model of an artwork or a sculpture that I saw, it was nearly impossible for me as I was not good at 3D modelling.
How Is 3D Scanning Done?
So if this is possible with a phone, it brings us to the next question. How can you make a 3D scan with your phone?
For 3D scanning, you are required to take many pictures of the object from different angles. This is done by the app by taking a long continuous video.
The app tells you which parts of the object needs to be captured from which angles. It uses AR (augmented reality) to display 3 dimensional tracking paths you should move your phone through.
Usually, it would require the app to find around 20 – 40 pictures from the video to process.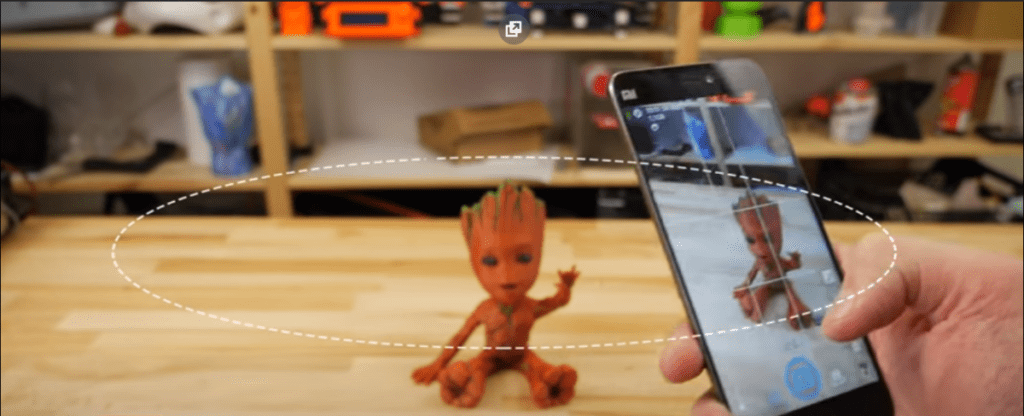 If you are not using an android or iOS app, you can still do it by taking pictures with your smartphone and importing it to computer based photogrammetry software or cloud based rendering services.
If you like to follow the second method, it is a challenging task as there is no AR based tracking to help you find the best shots. In this case, you need to pull out the photographer in you and be the judge.
Here you would be required to take about 80 pictures or above. This is to give the software the freedom to pick the best from all of your shots.
This is a really cool way of 3D scanning using your phone and a little money to put towards a DIY project. It was created by daveyclk on Thingiverse and was officially featured on there, showing how good the design is.
It turns your smartphone into a cheap, portable 3D scanner which uses 3DF Zephyr software, a free one you'll be glad to know.
Put simply, this DIY 3D scanner works by using your phone's internal camera to take several pictures as the turn table spins around. 
The full tutorial for this amazing DIY 3D Scanner project can be found at Hackster.io.
Now you're probably wondering where the $30 cost comes in. This is simply the approximate cost of the filament that this project will require, so you don't need any other special extras.
One 3D printing enthusiast managed to design their own 3D scanner, with an effort to make the design as minimalist as they could.
This is a more advanced version of the DIY 3D scanner above, because it goes that step further to make things automated. 
It does require more of course, such as:
All the 3D printed parts
A stepper motor & motor driver board
An android phone
A computer along with some software preparations
It does get fairly technical, but the guide should take you through the process just fine.
You can find the AAScan Fully Automated 3D Scanner on Thingiverse.
Things to be Considered For a Better Scan
Sometimes the app requires us to take close shots on places with more features
This is usually done after completing a scan around the object keeping equal distance
Conduct your scanning under good lighting
Try using outdoors or good sunlight during the day to get a good render
If you are scanning it during the nighttime, try to direct the interior lighting in such a way that maximum shadows are prevented
Scan opaque objects and avoid transparent, translucent or objects with a highly reflective surface
Take into consideration that scanning and rendering thin and small features are difficult to achieve and do not produce good results.
Anything that interacts with its background or environment is hard to render.
When you are scanning an object with your smartphone always try to keep an equal distance from the object when you are scanning.
Try to avoid dark shadows formed on the object because shadowed areas cannot be rendered properly by the app. That is why if you have seen a 3D scanning video, a good amount of light is used around the model to be scanned.
You don't want light shining too bright on the object though. You want the lighting to be fairly natural-looking.
This allows the software to identify and relate the proportion of the object in each image quickly which in turn returns quick render with high quality.
Uses of 3D Scanning
3D scanning is a very powerful tool to replicate and make 3D printed models from other reference objects.
This would save the time to model that object manually in 3D modelling software before printing it. Many professionals can take several hours and even longer to model objects from scratch, so 3D scanning makes that process so much easier.
Although you might not get the same level of quality, you get a massive shortcut into creating that final 3D model that you can 3D print with ease.
The technology of 3D scanning can be used to make a virtual avatar of you for VR and VR projection. It's also useful in making rough models for making 3D modelling artist's job easy.
It's an amazing feature for prototyping, especially based off of a complex object. With a good amount of fine-tuning, you can really get some high quality models straight from a 3D scan from your smartphone.
Best Apps for 3D Scanning
There are many apps available in the market for 3D scanning. It can be paid or free. We will look into some of the best known apps for 3D scanning.
Qlone
Qlone is a free app to install and it is available in both android and iOS. It contains in-app purchases on exporting in different formats only. It renders the models locally and does not require cloud based services.
The app requires a Qlone mat which contains a QR code. This mat can be printed on paper.
The object to be scanned is placed on the mat and scanned from different angles. Qlone uses the mat to reference its pattern and project AR guidelines to navigate the user to the right angles to scan.
Trnio
Trnio  is a very user-friendly app. It is only available on iOS. It provides AR based guidelines to scan. This app comes with two modes, one for scanning objects and one for scanning scenes.
Scandy Pron
Scandy Pron is a free iOS based app that gives top-notch performance. It has an AR based guide that is very user-friendly. If you are using an iPhone X or the newer version, it is possible to use the front-facing camera to scan objects.
There are some limitations and restrictions within the app and this can be removed with the help of in-app purchases.
Scann3D
Scann3D is a free 3D scanning app for android. It has an interactive interface that is beginner-friendly. The rendering after taking the pictures is done locally in the device.
Are There Limitations In 3D Scanning With a Phone?
Professional 3D scanners operate very well, regardless of the levels of lighting but with 3D scanning on a phone, we need a very well-lit environment.
Ambient lighting is the ideal, so you don't want sharp lights shining on an object to get a good 3D scan.
3D scans from a phone can have a bit of trouble with certain objects such as shiny, translucent or reflective ones because of the way light is processed by your phone.
If you have performed a few 3D scans, you might notice holes throughout them because of display issues. It just means you might have to edit the scans after which isn't too difficult to do.
For a good 3D scan, it might take a few attempts and it does take several pictures so you'll need some patience.
Photogrammetry isn't the best for larger places because the process requires knowing where the overlap of each picture is. Using a phone to 3D scan these larger rooms can be difficult and would usually require a professional 3D scanner.