How to Sell Your 3D Printer (Used & New) – Where to Sell It
Selling your 3D printer can be tough but there are some strategies that you can use to sell your used 3D printer. This article will help you figure out the places where you can sell your 3D printer as well as how to sell it.
To sell your 3D printer, you can try to sell it locally to places such as a community college, an engineering organization, or try and pitch it to another hobbyist. Many people choose to sell their 3D printers online in general marketplaces like eBay and Gumtree, as well as Facebook and even forums.
There is more information that you'll want to know about selling your 3D printer so keep on reading to find out.
Where to Sell Your 3D Printer
 Selling your used 3D printer can be an easy thing to do if you check out the right places both online and in physical stores. Here is a list of places where you can sell your used 3D printer which I have compiled for you.
1. General Market Place Websites
You can check out general marketplace sites such as eBay, Gumtree, and Craigslist (choose your location). This is a great platform to sell your old 3D printer as you get the opportunity to display your printer to a vast audience.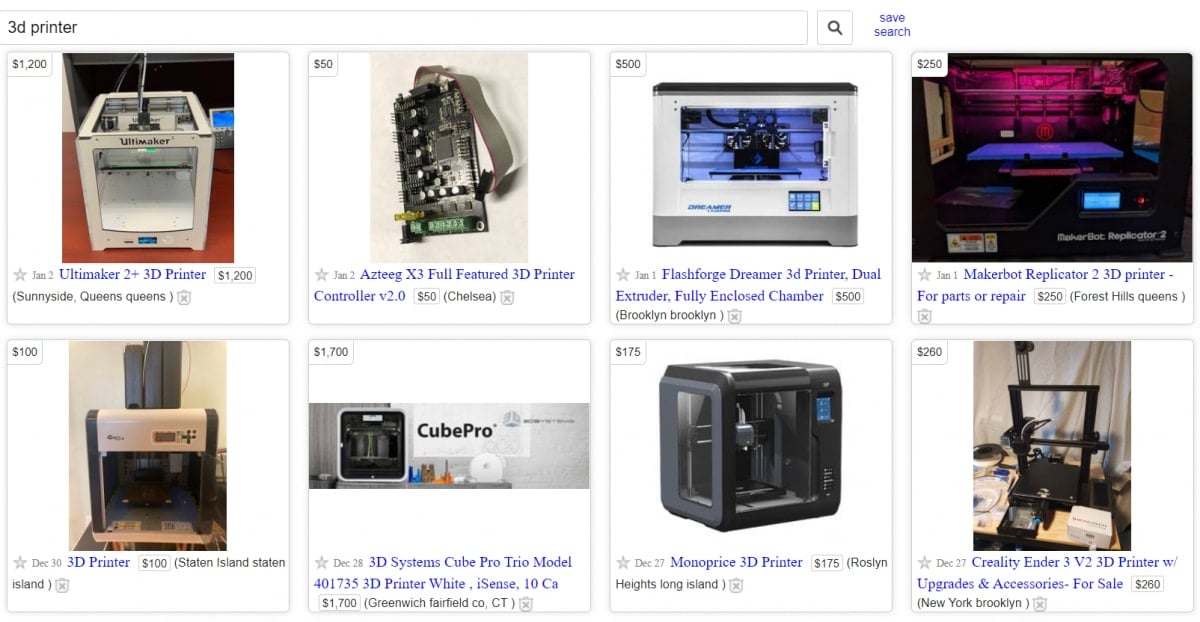 You would still have to ship the printer depending on the arrangement. They can either pick it up in person if they are willing to travel or you pack it up and send it out to them.
However, you should get enough information about the terms and conditions of the platform you choose as they have different policies. Some of them take commissions off sales and you should factor that in.
For instance, you will not be able to sell on eBay if you don't have a verified address or if your country or region is not among the listed countries.
Another thing is, once you make a sale, you pay eBay about 9% of the selling price and you also pay a fee for listing your item which is a fixed-price listing fee.
Unlike eBay, you can list your used 3D printer for free on Gumtree so you can keep the full sale price. If you choose to, they offer paid options that let you increase your visibility to potential buyers.
Craigslist gives the chance of keeping the full sale price as there are no extra charges either for listing or making a sale. You can just make a post with the 3D printer details and wait for engagement or responses.
The general marketplace websites are proven and effective places to sell your items as many users are known to have successfully sold their old 3D printers there.
Do keep in mind that people will try to make you offers so have a price range in mind when you go to sell your machine. Maybe you can throw in some accessories like filament and spare nozzles for negotiating power.
Remember to keep safe when using these online marketplaces if you are meeting people in person.
2. 3D Printing Forums
Even though 3D printing forums are commonly used as platforms where users connect and share their 3D printing experiences, you can also sell your 3D printer on these platforms.
Here, you can get your old 3D printers right in front of the right community that may need it. You have a higher chance of selling it off since this is a gathering of actual users who are more involved in 3D printing and creation.
However, you may not be able to upload photos or post ads on some 3D printing forums as these actions may be restricted. You may also have to message people on the forum by sending them a direct message which may be time-consuming.
You can take advantage of the forums to both connect and cart off your used 3D printer.
3. Facebook Market Place
The Facebook marketplace is another platform where you can sell your used 3D printer. A user mentioned how they sold their Prusa 3D printer without hassle on a Prusa Facebook group.
You can also contact local businesses on Facebook that rent out used 3D printers to sell yours since they are always looking for units to buy. Another user recalled how they sold a PrintrBot 3D printer in no time by simply pinging them up.
You can have immediate results on Facebook as you have access to an unlimited number of users and 3D printers available for sale.
A Facebook group by Vincent Puthoff with about 11,000 members called 3D Printers Buy Sell Trade connects 3D printer buyers and sellers. All you have to do is join the group and post your 3D printer with a price and description and wait for responses.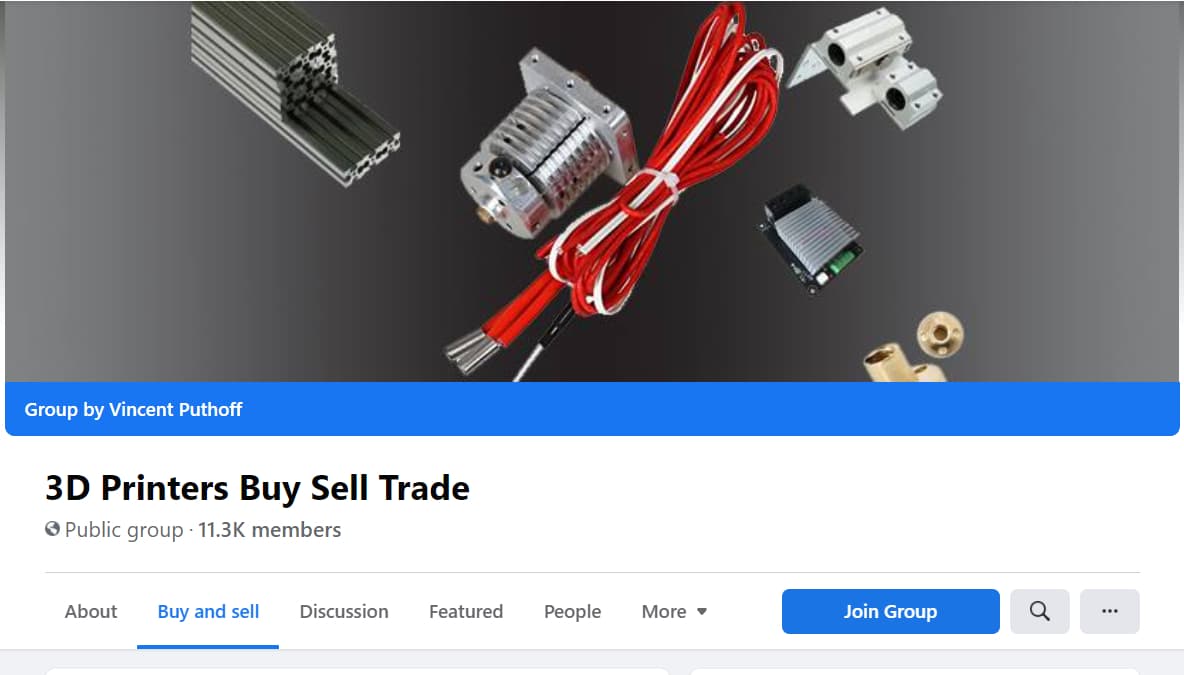 How to Sell Your 3D Printer
Your used 3D printer may not look so new or may be a bit worn out but there are certain procedures that are needed if you want to sell your used 3D printer. The first thing you want to do is to get your printer in a good shape since it is fairly used.
You also want to make sure that it is well functioning as buyers may want to test it out before offering to buy it.
After ensuring that it is in a good state, you can try to box it up either in a new unlabeled box or the box or package that came with the printer if it is still in a good and presentable state. This is so it can be easily sent out for delivery if your buyer is not in your region or country.
This is also where you ensure that you pack all the parts that came with your printer if they are still available or in a good shape. There are some 3D printers that come with extra screws and parts so may want to pack up all of that too.
Then find a good platform from one of the marketplaces listed above where you can easily list your printer for sale. As mentioned earlier, you should ensure to check out the policies and terms of the marketplace before making your choice.
A user suggested returning your 3D printer to the place you bought it from and that way you can have your money back for the printer. Most companies also have warranties and you may be able to take it back if you are still within the given timeframe if there are issues.
You can also decide to join various 3D printing groups on social media where you can put up your printer for sale.
Is Owning a 3D Printer Illegal?
No, it is absolutely legal to own a 3D printer. There are no laws against owning a 3D printer in all countries of the world including countries like China, Iran, North, South Korea, and many others where one can be tempted to think that it is illegal.
3D printers have proven to be very useful to society and even in the medical space as they are used in printing prosthetics so they may not be easily written off.
It is also not voluntary to get a license to own or use a 3D printer.
You may only have to be careful with the models you 3D print as there are laws surrounding this especially when they are models that are owned by a licensed 3D printing company or registered works of private individuals.