How to Replace Ender 3/Pro/V2 Nozzles Easily
Learning how to replace the nozzle on your Ender 3/Pro or V2 is an important part of 3D printing, especially if you are experiencing printing failures or imperfections. This article will walk you through the process simply.

How to Remove & Replace the Nozzle on Your Ender 3/Pro/V2
This section will go through all minor to major aspects of removing, changing or replacing a nozzle on your Ender 3 3D printer. Although it is labeled just for Ender 3, you can practice this same procedure on almost all kinds of 3D printers because there will be minimal to no variations in the process.
Make sure that you don't unscrew the nozzle while it is cold as it can lead to major damages and issues and can ruin the nozzle, heater block, and sometimes the whole hot end as well.
Gather All the Required Tools and Equipment
Heat the Hot End to High Temperature (200°C)
Unscrew and Move the Fan Shroud to a Side
Remove the Silicone Sleeve from Hot End
Remove the Nozzle By Unscrewing it from Hot End
Screw the New Nozzle
Test Print
1. Gather All the Required Tools and Equipment
Usually, the Ender 3 comes with almost all the tools required for the nozzle replacement process.
The required tools for removing and replacing nozzle in Ender 3 include:
An Adjustable Wrench, Crescent Pliers, Regular Pliers, or Channel Locks
Allen Keys
6mm Spanner
New Nozzle
Pliers or wrenches will help you hold and grip the heater block so that you can easily unscrew or tighten the nozzle without damaging anything while all other tools will simply be used to remove the nozzle and fan screws.
You can actually get a set of 0.4mm nozzles, cleaning needles, tweezers and a nozzle changing tool to make things much easier. Get yourself the LUTER 10 Pcs 0.4mm Nozzles Set from Amazon.
One reviewer mentioned how he's been 3D printing for around 9 months and should have bought this set a lot sooner. It makes the nozzle changing process a lot easier, not requiring the cheaper stock tools that comes with typical 3D printers.
2. Heat the Hot End to High Temperature (200°C)
As said earlier, heating the hot end is essential but firstly you should disable the steppers motors to have free access to move the arm upon which the extruder, fan shroud, and nozzle are attached. Moving the arm up will allow you to easily follow the process with enough space to move pliers and wrenches.
Now it is recommended to get rid of filament first if there is any and then heat the nozzle up to 200°C as suggested by many experts. You can heat the hot end either by going into options like:
Prepare > Preheat PLA > Preheat PLA End
Or you may go into settings as
Control > Temperature > Nozzle and set the intended temperature
Although most experts and users recommend 200°C as the best suitable temperature for this purpose, some users mention that you should heat the nozzle to the highest temperature as it will mitigate the chance of tearing up the nozzle threads or heater block.
I've changed the nozzle using just 200°C, so that should be fine.
3. Unscrew and Move the Fan Shroud to a Side
The fan is attached directly to the print head and removing it will uncover the nozzle fully while making it easy for you to remove it without damaging the hot end, nozzle, or fan.
The fan is equipped with two screws, one on the top and the second on the left side of the fan's cover.
Use an Allen key to remove those screws
Make sure you don't push too much as it can damage the cover
Once the screws have been removed, simply push the fan shroud to one side until you can see the nozzle clearly.
4. Remove the Silicone Sleeve from Hot End
If there is a silicone sleeve (also known as a silicone sock) on the hot end, you should remove it with a tool before moving forward. You should be careful since the hotend is at a high temperature.
5. Remove the Nozzle By Unscrewing it from Hot End
Now it's time to get the old nozzle out of the hot end.
Start by holding the hotend using the adjustable wrench or channel locks to ensure the hot end doesn't move while you are unscrewing the nozzle.
Now with your second hand, get the spanner or nozzle changing tool and start unscrewing the nozzle by rotating it in an anti-clockwise manner. A 6mm spanner can fit with all nozzles used in Ender 3 3D printers.
The nozzle will be extremely hot so don't touch this with your hand, or place it on top of something with low heat resistance. Brass conducts heat very quickly and that heat can transfer to other objects easily.
Some people recommend that you let the hotend cool down completely to reduce damage to the threads of the nozzle and hotend before screwing the new nozzle in.
6. Screw the New Nozzle in
Now you only have a simple task left which is to just put the new nozzle in its place and screw it into the hot end.
You can cool down the 3D printer then get your new nozzle and screw it in until you feel some resistance. Make sure to hold the hotend with the adjustable wrench so it doesn't move.
Try not to overtighten the nozzle as it can either result in damaged/broken threads or some other issues during the printing process.
Now that the nozzle is almost tightened at its place, heat the hot end to the same high temperature.
Once the hot end reaches the set temperature, give another spin to tighten the nozzle completely but with care because you don't want to end up damaging its threads.
Some people choose to just tighten it all the way instead, which can still work but it's potentially safer to do it this way.
7. Test Print
Try to print out a small test like a calibration print or a miniatures to see if the nozzle is working properly. Changing nozzles doesn't usually result in issues, but it's a good idea to do a test print to ensure things are all good.
You can watch the YouTube video as well for better clarity of the step-by-step procedure to Replace Ender 3/Pro/V2 Nozzle.
How Do You Change the Nozzle Size in Cura?
If you choose to change your nozzle diameter, you'll want to make changes directly in Cura to account for that.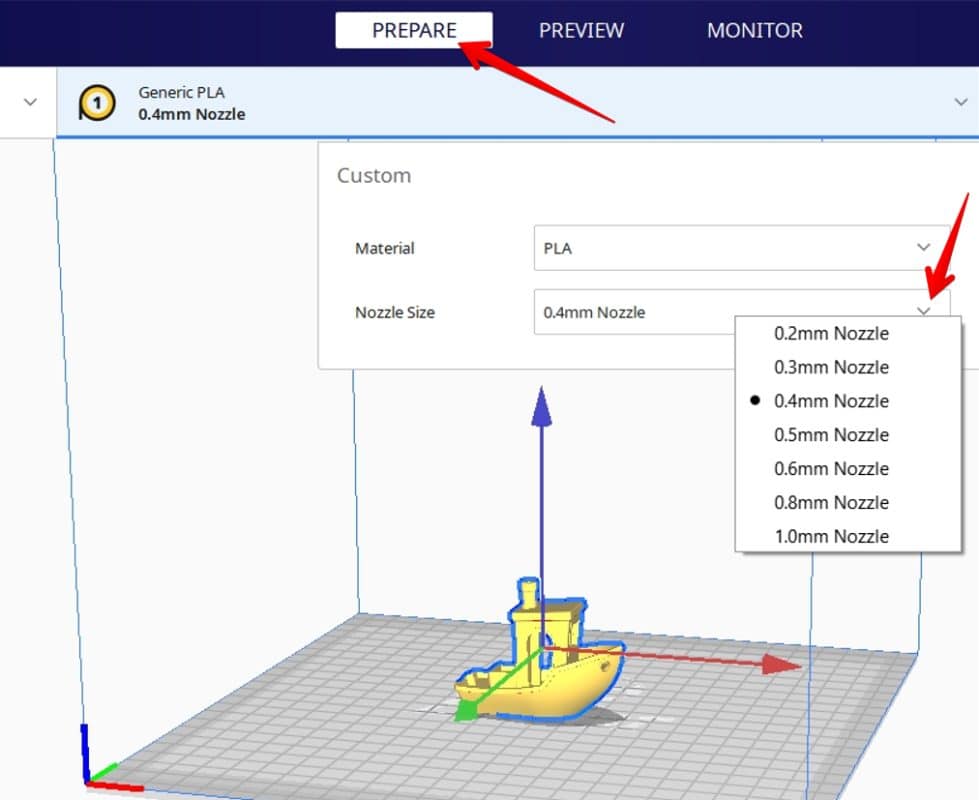 Here's how to change the nozzle size in Cura:
Start by getting to the "Prepare" view which is usually the default on Cura.
Click on the middle block showing "Generic PLA" & "0.4mm Nozzle"
A window will appear with two main options as "Material" and "Nozzle Size", click on the latter one.
Once you click on the Nozzle Size, a drop-down menu will appear listing all the nozzle size options available.
Simply select the one that you have changed to and that should be done – the settings that depend on the nozzle diameter will automatically change also.
If you had changed some settings that are different from the default profile, you will be asked whether you want to keep those specific settings, or go back to the default settings.
When you change the nozzle size, make sure you review the settings of your print as they will be changed with changing the nozzle size. If the settings are just as you want, well and good, but if they are not, you can adjust them as well.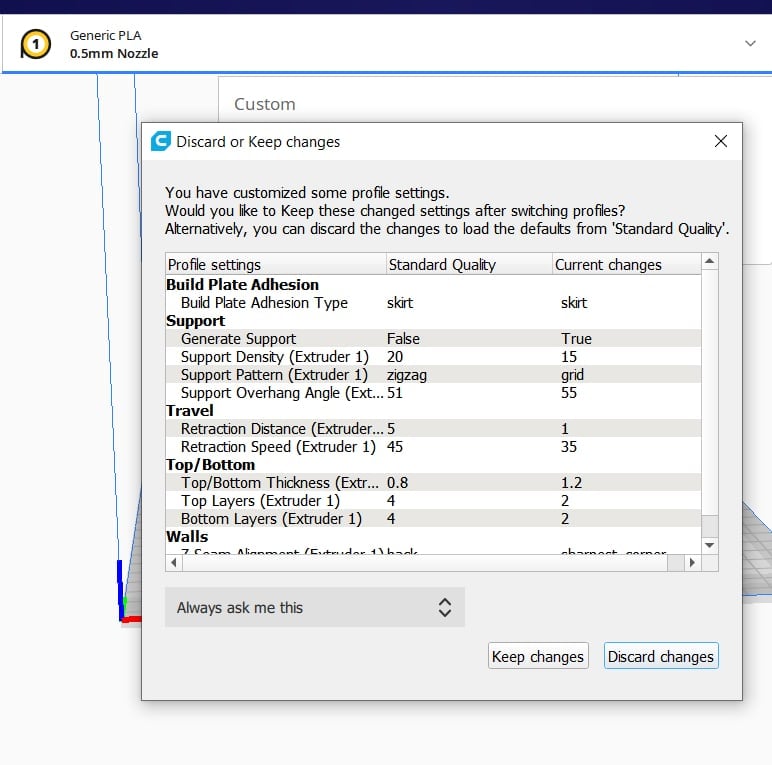 You can take a look at a detailed video of the whole step-by-step procedure for a better understanding of the process.
What Size Nozzle is Best for Ender 3/Pro/V2?
The best nozzle size for an Ender 3/Pro/V2 3D printer is 0.4mm for high quality models at a 0.12mm layer height, or faster prints at a 0.28mm layer height. For miniatures, a 0.2mm nozzle is great for quality to get a 0.05mm layer height for high-res 3D printers. A 0.8mm nozzle can be great for vases and large models.
Although 0.4mm is the best nozzle size, you can go with bigger sizes as well such as 0.5mm, 0.6mm, and so on up to 0.8mm. This will allow you to get your prints in a much faster way with much better strength and rigidity.
Do keep this fact in mind that using bigger nozzle sizes on Ender 3 will result in visible layers in the printed model and will require high temperature on the hot end to melt as much filament as required.
You can actually use a 0.05mm layer height with a stock 0.4mm Ender 3 nozzle surprisingly, as shown in the video below. Usually, the general rule is you can use a layer height between 25-75% of your nozzle diameter.
Check out the video below to see how to 3D print really high quality miniatures with smaller nozzles.