How to 3D Print on Fabric (8 Steps)
Many people who enjoy 3D printing and dressing up in cosplay outfits are curious about the new trend of 3D printing on fabric. They want to use this technique to create cool cosplay costumes. However, they don't know how to get started so I wrote this article to teach you how to 3D print on fabric.
To 3D print on fabric, you need to source the model from Thingiverse, or you can design one. Then, upload the model to your slicer software to print. After printing a few layers, you can now pause your print, place the fabric on the model and hold it in place with some adhesive. Then, you can continue your printing.
While this is just a short answer, the rest of this article will walk you through a step-by-step process of how to 3D print on fabric. Keep reading to learn more.

How to 3D Print on Fabric
Get your preferred model
Prepare the 3D model
Adjust your slicer settings
Prepare your fabric
Print a few layers of your model
Insert your fabric
Resume your print
Post-processing
1. Get Your Preferred Model
The first step in printing on fabric is to get the design of the model you want to print. This would enable you to confirm if the design can fit on your print bed and your fabric.
Online platforms like Thingiverse and MyMiniFactory are good places for you to get these models. Make sure the model you choose is of excellent quality and can be easily printed.
You may also get high-quality models from Etsy, Cults3D, and Patreon to be on the safe side, but there is a catch. The models from these platforms may seem expensive, but you can rest assured of the quality and printability of the models.
Here is a list of popular models that you can print on fabric.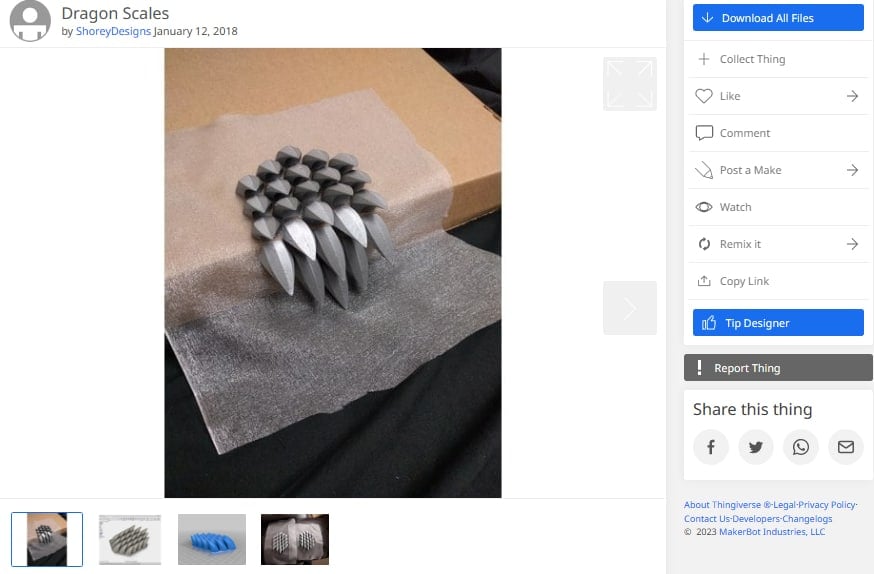 This Dragon scale pattern is one that cosplay lovers would love to print. This simple pattern can be used by cosplayers to create realistic and captivating outfits, making them stand out at conventions or themed events.
Also, this design can be used for creating unique accessories like bags, scarves, or even home decor items such as throw pillows and curtains, adding a mystical touch to your living space.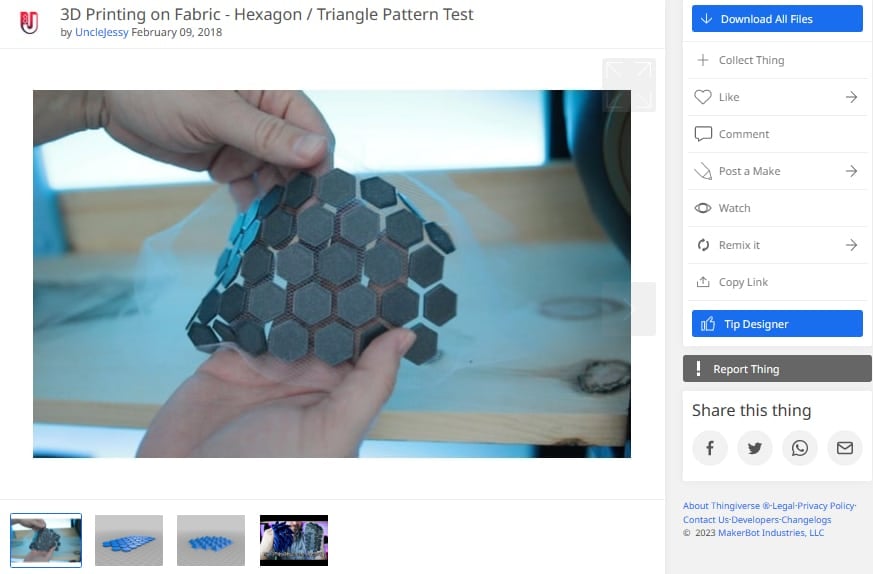 Another design you can print is the hexagon pattern. This reasonably simple pattern can be added to costumes to make unique clothing that would catch the attention of everyone.
Also, with the right filament color, this design pattern can act as a light diffuser when paired with some LEDs. It can also be attached to home decor accessories like tablecloths, curtains, etc., to elevate your home's decor.
You can also source your models by creating your own designs using 3D modeling software. You can create stunning designs or patterns based on your imagination or based on your favorite comic character costumes.
2. Prepare the 3D Model
The next step is to get the model ready for printing after choosing the model you wish to print. You must first load your model into your slicer program so that you may start making adjustments before printing.
You may need to either rescale the model depending on its size. If the designs are too large, you can use the "scale" option in your slicer menu to adjust its size. This may be done to reduce the size of the design to fit the build plate or for aesthetic purposes.
Also, depending on how the model is saved, you may need to reorient the position of the model with respect to any of the axes. This is to ensure that the model is properly positioned to print successfully.
3. Adjust Your Slicer Settings
The next step is to adjust your slicer settings for your model. Your slicer settings play a huge role in the quality and details of your print. It also determines if your model will print successfully.
One thing to consider when tweaking your slicer settings is the type of filament. For this project, since you'd either be printing with PLA or TPU, ensure your slicer settings tallies with the filament you plan to use.
Some important slicer settings you need to tweak for these filaments include:
Printing Temperature: This determines the temperature of the extruder during printing. For best results, a temperature of 200-210°C is recommended for for TPU and PLA, respectively. However, since these filaments are produced by various manufacturers, their chemical composition may differ, which may lead to a variation in their print temperature. You can print a temperature tower to help pick the best temperature for your filament.
You can check out this video from Rickey Impey on how to print a temperature tower on Cura.
Print Speed: This is the speed at which printing occurs. I'd recommend a print speed of about 40-60mm/s for PLA and 20mm/s for TPU for best results.
Retraction Distance: The retraction distance refers to the length of filament retracted or pulled back during printing. This particular setting is key to printing flexible filaments like TPU, as improper setting could lead to stringing. A retraction distance of about 5-9mmm is optimal for TPU and between 2 to 5mm for PLA.
Retraction Speed: The speed at which filament is retracted and primed during a retraction move. I'd recommend a retraction speed of 25mm/s for TPU and about 45mm/s for PLA.
Here's a video from 509 Drone that goes into detail on slicer settings for TPU filament.
Check out this video from Matter Hackers that goes into detail on slicer settings for PLA filament.
4. Prepare Your Fabric
Once your model is ready for printing, you need to get your fabric ready. To be able to print on a fabric, you need to get the right type of material for this purpose.
For best results, the perfect choice of fabric would be a heat-resistant porous or meshy fabric, for example, Tulle, Lace, Power Mesh, etc.
This type of filament ensures that the printed layers of filament bond with each other through the holes in them.
After selecting your preferred fabric, you need to cut it into the right size to ensure that it fits the dimensions of the model. Once the fabric is cut to size, you can straighten it out with an iron so that the fabric is uniform when placed on the model during printing.
You can purchase this Roll of Tulle Fabric today from Amazon.
[amalinkspro type="showcase" asin="B07TDKD91R" apilink="https://www.amazon.com/dp/B07TDKD91R?tag=3dly-20&linkCode=osi&th=1&psc=1″ new-window="true" addtocart="false" nofollow="true" sc-id="6″ img-sizes="500:500″ imgs="https://m.media-amazon.com/images/I/51F9Cy9ak3L._SL500_.jpg" link-imgs="false" specs="Lightweight & Durable Mesh Tulle Spool: Soft Polyester netting tulle, 6 inch x 100 yards (300ft)." btn-color="#ff9900″ btn-text="Buy on Amazon" alignment="alignnone" hide-prime="0″ hide-image="0″ hide-price="0″ hide-button="0″ width="600″ banner="" alt="White Tulle Fabric Rolls 6 Inch by 100 Yards (300 ft) Tulle Ribbon Netting Spool for Tutu Skirt Wedding Baby Shower Birthday Party Decorations Halloween DIY Crafts Gift Wrapping, 28 Colors (White)"]White Tulle Fabric Rolls 6 Inch by 100 Yards (300 ft) Tulle Ribbon Netting Spool for Tutu Skirt Wedding Baby Shower Birthday Party Decorations Halloween DIY Crafts Gift Wrapping, 28 Colors (White)[/amalinkspro]
5. Print a Few Layers of Your Model
The next step is to print a few layers of your design. This is because the fabric you want to print on would be sandwiched in between the layers of the model.
To get your 3D printer to pause after a few layers, you can:
Edit your slicer's G-Code
Pause your print the printer's LCD control
Edit your Slicer's Start Code
Here's how to edit your Slicer's G-Code on Cura:
Locate the "Extensions" section on the toolbar at the top and click on it.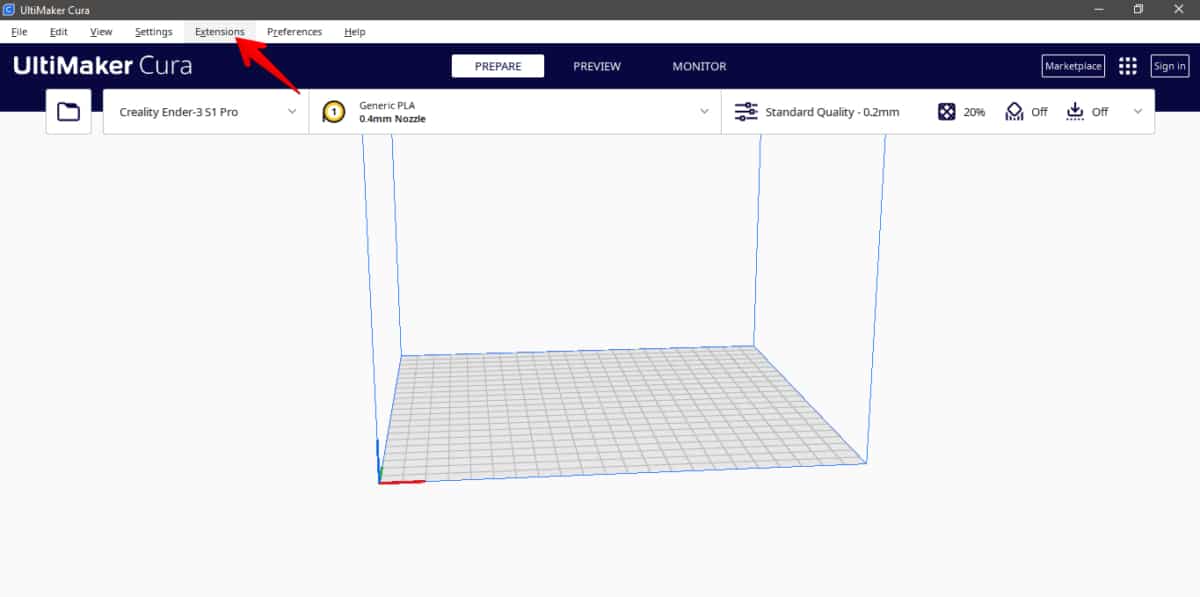 On the drop-down menu, select "post-processing" and then click on "Modify G-code." A new window should pop up with the option of adding a script.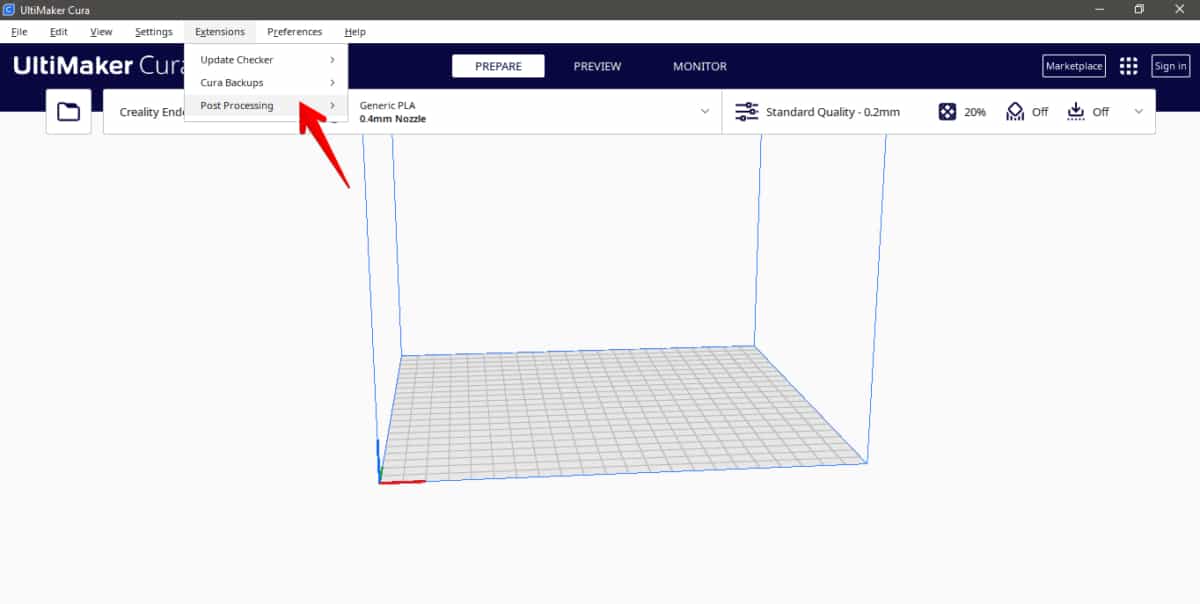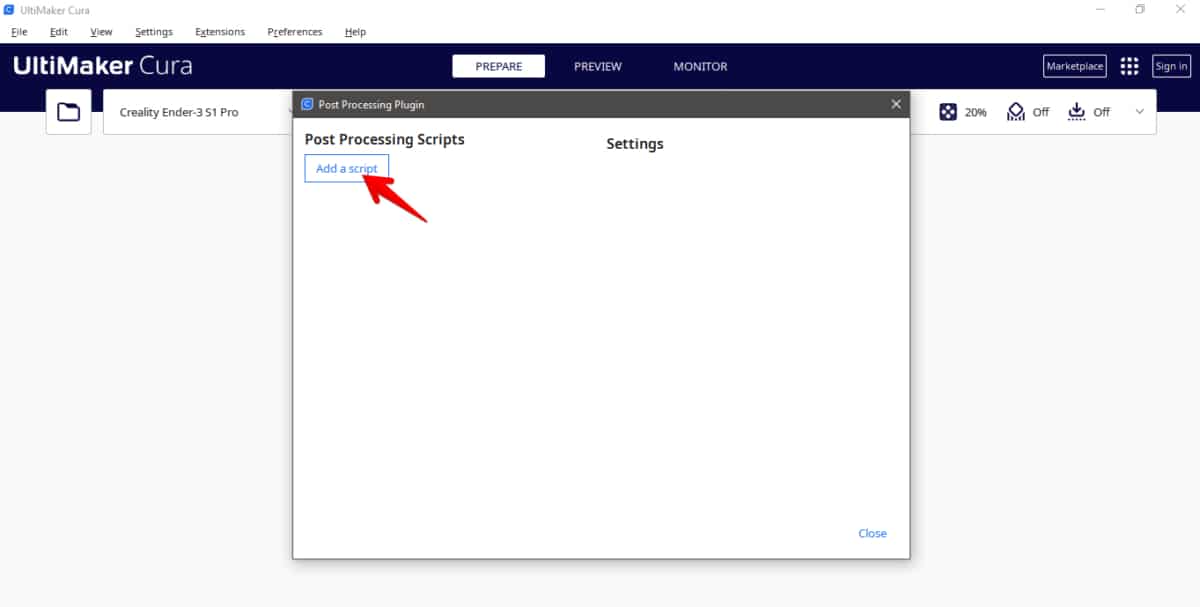 From the list of options available, click on the "Pause at Height Option."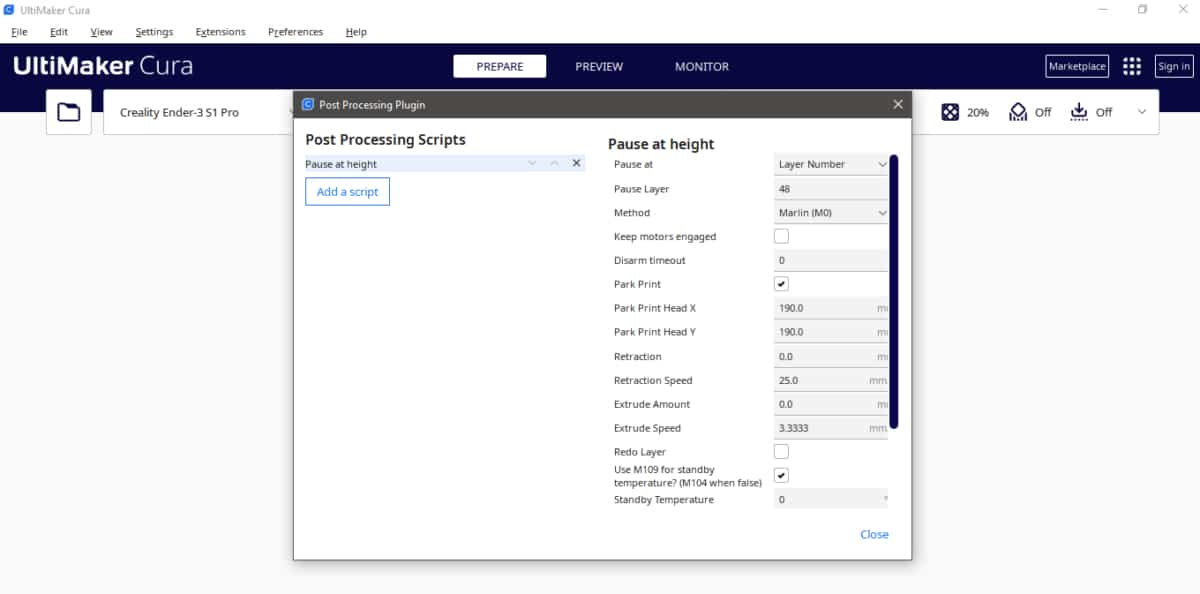 Under the "Pause at " option, you can either choose "Pause at Height" or "Pause at Layer" on Cura. But in this case, I will recommend you click on "Pause at Layer."
Input the layer number (between 3 and 5) where you want the print head to stop.
Then you can tweak other related settings like Park Print Head X, Y, Standby temperature, Retraction Distance, etc.
If you intend to use this method, ensure you do this procedure before you begin printing the model. Once you're done editing these settings, slice the model again so that the changes in the settings can be affected.
Also, make sure to delete the "Pause at Layer Height" script once you are done printing. Otherwise, your subsequent prints will pause at that preset layer height.
Here's a video from Technivorous 3D printing on how to use the Cura "Pause at" setting.
Pause Your Print with the Printer's LCD Control
Another method to stop your printing is to do so with the printer's LCD control. This is fairly straightforward, as you only need to click on pause on your LCD control. The only downside to this method is that you may miss the layer or height you want to pause the print.
One user shared the print results of the necklace she made with this technique. The necklace was very unique since it appeared to be floating on the wearer's neck. She used Tulle fabric to make the model and stated that it also works on cotton as well.
She said you can also print with flexibles like TPU since it would allow you to wash it a few times. Also, she stated that she usually inserts the fabric after printing about 1 or 2 layers.
6. Insert Your Fabric
Now that the print is paused, you can now go ahead to insert the fabric on the print. With your preferred fabric, mount the fabric on your print and secure it in place with either some tape, binder clips, or even magnets.
Ensure that the fabric is tight and pressed down into the print so that the extruder doesn't get caught by the fabric or cause other issues.
Also, when mounting the fabric, ensure that you do not move the print bed. This is because the printer would assume that it's still in its original resting position, whereas it has changed.
One user shared a great tip for you to try when mounting the fabric on your print. He said he took a 600-grit sandpaper and glued it to large popsicle sticks. He now laid those on top of the fabric and used clamps to hold down both sides of the stick.
He's been doing this for a bit and only once had a failed print with how he set up his printer.
Another user suggested applying unscented super-hold hairspray to the mesh to hold it down. Also, another tip is to print the object first and then heat it later on and press it into the fabric.
Here's a video from Core Electronics for tips and tricks when printing on fabric and how he attached these printed designs to clothing.
7. Resume Your Print
Once the fabric is properly secured in place, you can resume your print. On your LCD screen, simply click on Resume to get the print started. You may need to wait for a few seconds before it resumes printing or if there is any retraction to be made.
Before you resume the 3D print, kindly remove any blobs that may have formed on the extruder nozzle before printing. As the print is ongoing, keep a close eye on how the filament is deposited onto the fabric to ensure that the printing is going as planned.
Once you're done Printing, you can repeat the entire process if you'll need multiple parts for the project you're working on.
One thing to note when you're done printing is to allow the print to cool off before taking it off the print bed. This ensures that the fabric does not rip when taking it off the bed.
One user shared the results of the Dragon scales she printed for her Halloween costume. After she was done printing, she attached it to her costume with some superglue to the bottom of the scales through the Tulle and used needle and thread for the surrounding area.
She did have some minor rips when taking it off the print bed due to the weight of the scales. She just advised you to be gentle when taking it off the bed.
Check out this video from Uncle Jessy to see how he printed various designs on fabric.
8. Post-Processing
At this point, you should have your print completed with the fabric embedded. Now, you can remove any excess material from the edges or unwanted areas using scissors or a craft knife.
You may decide to sand and paint the model to remove the layer lines if needed. You can start sanding with 100 grit to remove the glaring layer lines and other defects on the model's exterior. Then, you can work your way up in steps until you get to a 2,000-grit sandpaper.
Once you're done sanding, wash the model to observe for any irregularities that didn't come off. After washing, you can restart the entire sanding process if you discover any defects in any area of the model.
Remember to use a facemask when sanding to avoid inhaling any dust particles. Once you're doing sanding, you can now apply your preferred paint.
You can also transfer this design onto your clothes to create stunning and unique designs for your outfit. You can attach the design with a needle and thread or with a sewing machine if possible.
For people who love cosplay, this is a wonderful way to bring your favorite costumes to life.
One user shared his print results for this scale armor he printed with black PLA filament.
Another user shared his print results of the hexagonal pattern he printed on Tulle. The print results were fantastic.
Check out this video from Modern Hobbyist for more information on how to 3D print on fabric.