How to 3D Print Keycaps Properly – Can It Be Done?
3D printed keycaps are a unique way to create keycaps that many people don't know about. The best part is how you can customize the keycaps and the many designs that are already out there.
This article will take you through how to 3D print keycaps.
Can You 3D Print Keycaps?
Yes, you can 3D print keycaps. Many users have 3D printed them using filament and resin 3D printers. Resin keycaps are the better choice because they give better details and surface finishes. There are many readily available designs that you can download for 3D printed keycaps that are character inspired.
Check out the picture below of some unique 3D printed keycaps using a filament 3D printer.
Here's another post from a user who printed his keycaps using a resin printer. You can compare both posts and see the differences between them. You can get some really cool translucent keycaps, even in colors.
Some custom keycaps can be purchased for specific keyboards.
How to 3D Print Keycaps – Custom Keycaps & More
The following steps can aid you can print your 3D keycaps:
Download or create a keycaps design
Import your design into your preferred slicer
Adjust your print settings and layout
Slice the model & save to USB
Print your design
Download or Create a Keycaps Design
Most people are going to want to download a keycaps 3D file since designing your own would be pretty difficult without experience. You can download some free versions, or buy unique custom ones for a price.
If you do want to create keycaps, you can use CAD software like Blender, Fusion 360, Microsoft 3D Builder and more.
Here's a cool video showing the design process for 3D printed custom keycaps.
There are some really useful tutorials that will teach you how to design your own keycaps, so I'd definitely recommend checking that out. This one below looks good, by the same user.
You do have to make sure you take the dimensions of your keycaps such as the height, stem size, depth, and wall width to help your keycaps fit properly when attached. Keep the measurement units consistent as well.
A useful tip one user mentioned is to actually model a gap for the lettering in your keycaps, then fill the gap up with paint and sand it down for a cleaner lettering.
The easier route here is for you to search for already made keycap STL files and download them. Some sources for this website include Thingiverse, Printables, and MyMiniFactory.
You can see some examples on Thingiverse.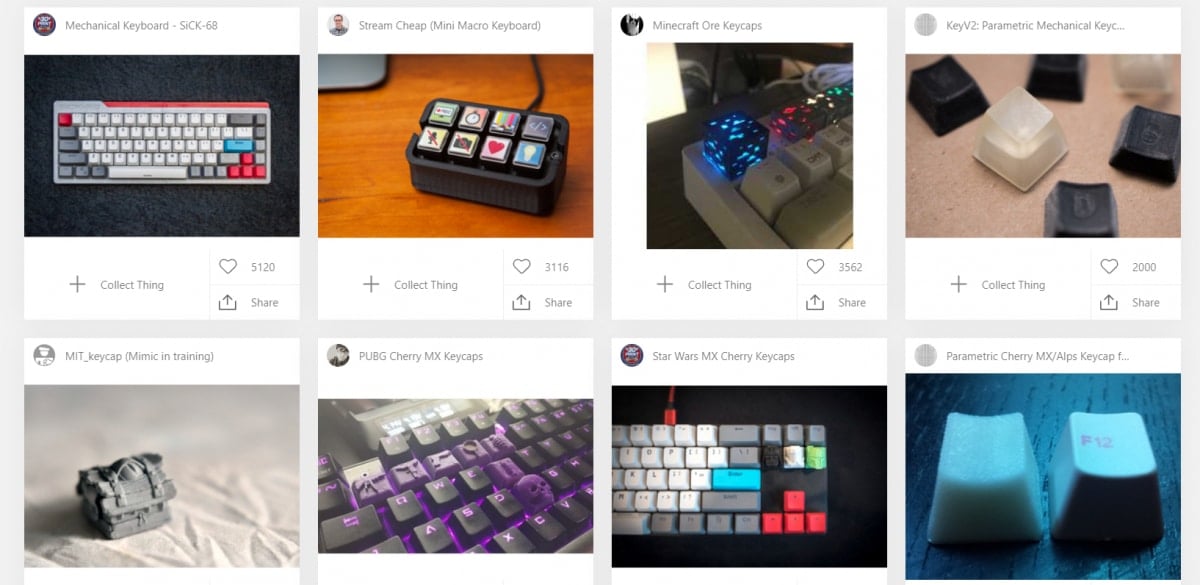 Here are some examples:
Import Your Design into Your Preferred Slicer
After you must have created your design or downloaded one, you want to import the STL file into your slicer software.
Some popular choices for filament 3D printers are Cura and PrusaSlicer, while some for resin 3D printers are ChiTuBox and Lychee Slicer.
You can simply drag and drop your file into the slicer or open it from the file menu in your slicer.
Adjust Your Print Settings and Layout
Once the file is in your slicer, you want to figure out the right print settings and layout. Since keycaps are quite small, I'd recommend using a fine layer height like 0.12mm for filament 3D printers and 0.05mm for resin 3D printers.
You want to get the orientation right to minimize the supports and get a cleaner surface finish. Usually printing it upright on the build plate works well. Using a raft can help with getting better adhesion as well.
Slice the Model & Save to USB
Now you simply have to slice the model and save it to your USB or SD card.
After you made the necessary adjustments to the model, you would need to save your design on a storage device in preparation to print.
Print Your Design
Insert your SD card containing the STL files of the model into your printer, and begin printing.
SLA Resin 3D Printed Keycaps
SLA resin 3D printed keycaps are more refined and have a more appealing outlook compared to FDM prints since the layer resolution is much higher. The layer lines are far less visible and have a smoother feel when you type with them.
One thing to keep in mind though is that you want to coat your resin 3D printed keycaps with a clear coat or a silicone for protection. It makes them scratch resistant and safer to the touch.
Best 3D Printer for Keycaps – Artisan & More
The following is a list of FDM and SLA Resin 3D printers you can make use of to print your keycaps:
Elegoo Mars 3 Pro
Creality Ender 3 S1
Elegoo Mars 3 Pro
The Elegoo Mars 3 Pro is a great choice for 3D printing keycaps successfully. It has had many upgrades since the original Elegoo Mars and it performs very well. Let's look into this 3D printer's specs, features, pros and cons.
Specifications
LCD Screen: 6.6″ 4K Monochrome LCD
Technology: MSLA
Light Source: COB with Fresnel Lens
Build Volume: 143 x 89.6 x 175mm
Machine Size: 227 x 227 x 438.5mm
XY Resolution: 0.035mm (4,098 x 2,560px)
Connection: USB
Supported Formats: STL, OBJ
Layer Resolution: 0.01-0.2mm
Printing Speed: 30-50mm/h
Operation: 3.5″ Touchscreen
Power Requirements: 100-240V 50/60Hz
Features
6.6″4K Monochrome LCD
Powerful COB Light Source
Sandblasted Build Plate
Mini Air Purifier with Activated Carbon
3.5″ Touchscreen
PFA Release Liner
Unique Heat Dissipation and High-Speed Cooling
ChiTuBox Slicer
Pros
High Print Quality is far greater than FDM printers
Compatibility with various slicer software like Chitubox and Lychee
Very light (~5kg)
Models stick firmly to the Sand Blasted build plate.
Efficient Heat dissipation system
Great value for money
Cons
Here's a video on the features of the Elegoo Mars 3 Pro printer.
Creality Ender 3 S1
The Ender 3 S1 is an FDM printer made by Creality for printing various 3D models. It has a Sprite Dual Gear extruder which ensures smooth feeding and extracting of your filaments without slipping when printing keycaps.
Specification
Build Size: 220 x 220 x 270mm
Printing Speed: 150mm/s
Printing Precision +-0.1mm
Net Weight: 9.1KG
Display Screen: 4.3-Inch Color Screen
Nozzle Temperature: 260°C
Heatbed Temperature: 100°C
Printing Platform: PC Spring Steel Sheet
Connection Types: Type-C USB/SD Card
Supported File Format: STL/OBJ/AMF
Slicing Software: Cura/Creality Slicer/Repetier-Host/Simplify3D
Features
Dual Gear Direct Drive Extruder
CR-Touch Automatic Bed Leveling
High Precision Dual Z-Axis
32-Bit Silent Mainboard
Quick 6-Step Assembling – 96% Pre-Installed
PC Spring Steel Print Sheet
4.3-Inch LCD Screen
Filament Runout Sensor
Power Loss Print Recovery
XY Knob Belt Tensioners
International Certification & Quality Assurance
Pros
Relatively cheap due to the number of features baked in.
Easy to assemble
Compatible with quite a number of filament types, for example, ABS, PETG, PLA, and TPU.
Very quiet while in operation.
Compatible with upgrades such as Laser Engraving, LED light strips, and a Wi-Fi Box.
Filament runout sensor helps to pause your printing when you run out of filament or when changing the filament color.
Cons
The adhesion quality of the bed plate wanes the more the bed is printed on.
Poor positioning of the fan
Absence of all metal hot end
Here's a video on the features and specifications of the Ender 3 S1.
Best 3D Printed Keycap STLs
Here's a list of popular keycaps: