How to 3D Print a Face From a Photo or Picture (6 Steps)
3D printing is a remarkable art that can enable you to turn an ordinary photo into a three-dimensional masterpiece. Imagine having your face, or that of a loved one, preserved in a 3D printed piece. That is why I wrote this article to take you through the process of 3D printing a face from a photo.
To 3D print a face from a photo, download the picture in JPG format and use an image editor to make its background transparent. Next, convert the image into a lithophane model, import it into Meshmixer, and repair errors. Lastly, export the STL file to Cura, adjust the print settings, slice, and print.
This is just a brief overview of what you'll need to do. Continue reading if you want to learn more about the whole process.

How to 3D Print a Face From a Photo
To 3D print a face from a photo, you will need to create a lithophane model. Basically, this is a molded photo that your 3D printer makes. You can see the face once you shine a light from behind the model. Below are the steps that you can follow to create one:
Download the photo in JPG or PNG format
Use an image editor to make the background of your photo transparent
Convert Your Image into a lithophane model
Import the 3D model into Meshmixer and repair all errors
Import your STL file into Cura, adjust print settings, and slice
Transfer the G-Code file to an SD card, load it into your 3D printer, and print
1. Download the Photo in JPG or PNG Format
Before you can begin 3D printing a face from a photo, you must download an image online or retrieve one you had taken yourself. To make the process smoother, you should use a picture with a very simple background.
Many sites allow you to download face photos for free online, so you can choose the one that offers the best options. I downloaded my face image from Shopify Stock Photo.
I started by doing a simple Google search for "Free face photos" and clicking the Shopify link.

 

 

 

 

 

 

 
From the download page, I chose a photo with a simple background and selected it.
I chose the high-resolution version of the photo and clicked "Download free photo". You can even give credit
to the person who shot the image.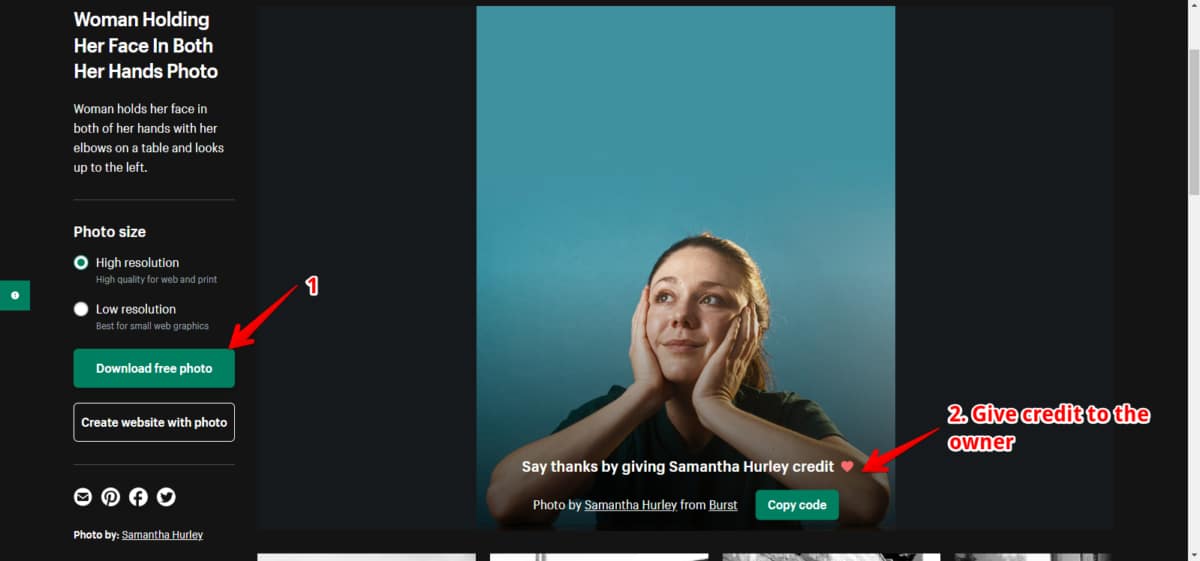 I saved the photo in JPG format in a folder I had created on my computer.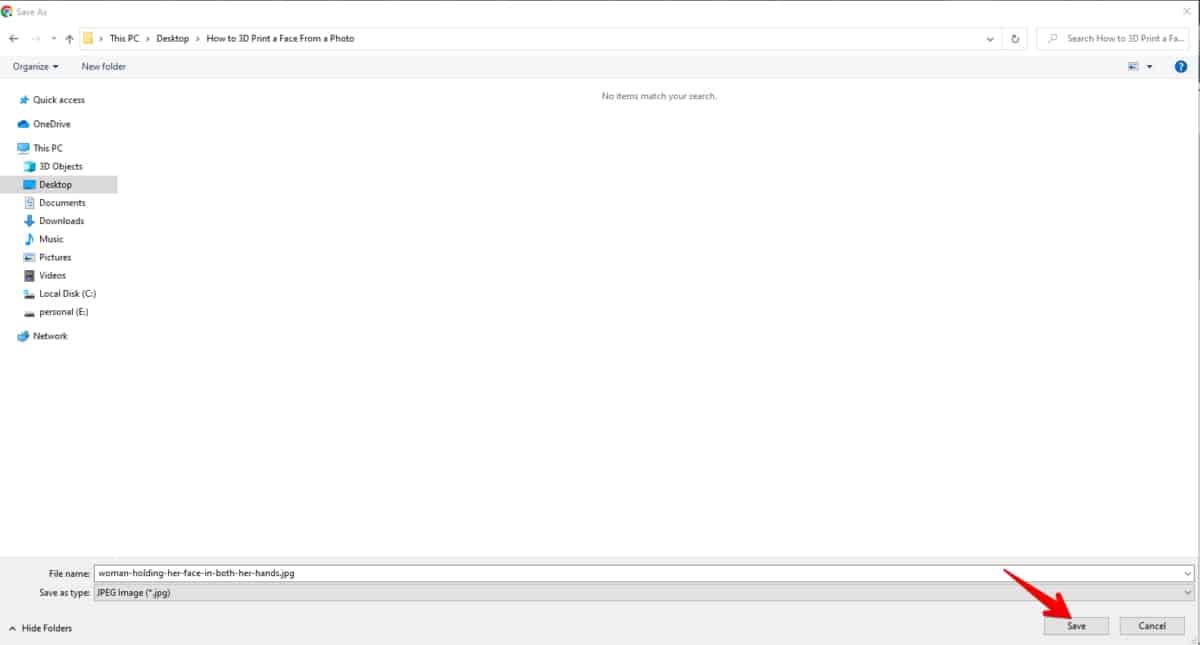 2. Use an Image Editor to Make the Background of Your Photo Transparent
The next thing you need to do is make the background of your face image transparent. This will help to create sufficient contrast between the image and the background for printing. You can use an image editing software such as Adobe Photoshop, Affinity Photo, or Gimp.
However, they might be a bit expensive or difficult to use. If you're a beginner, I would recommend Pixlr, a free editing software you can use on your web browser.
Go to Pixlr and select the "Start photo editing" option.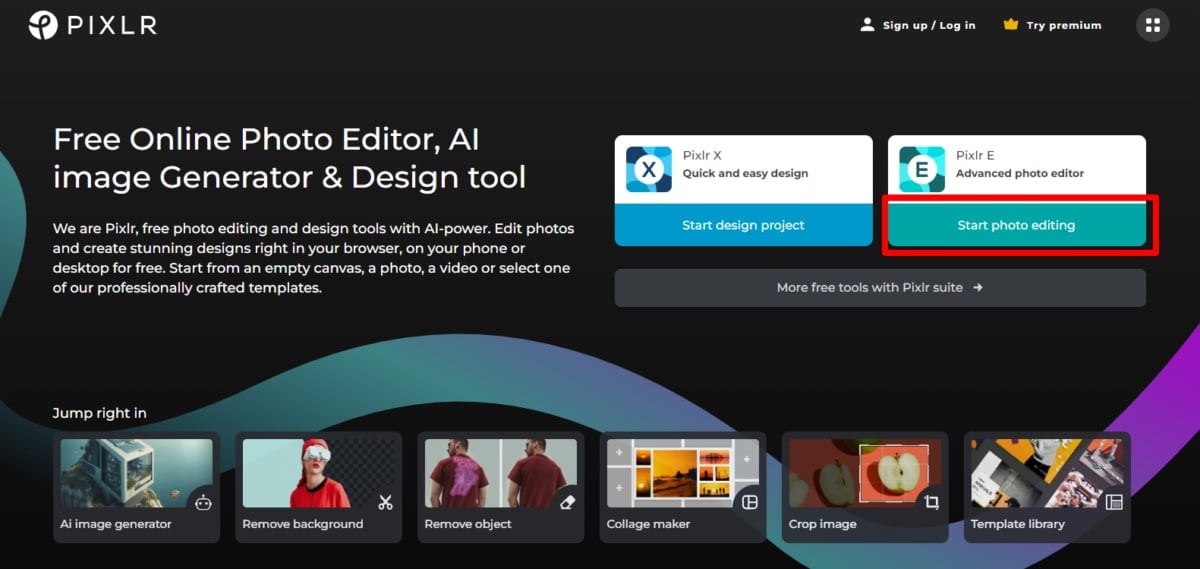 Click "Open image", select it from the folder you stored it, and click "open".

Next, select "Full HD" to resize your image and click "Apply".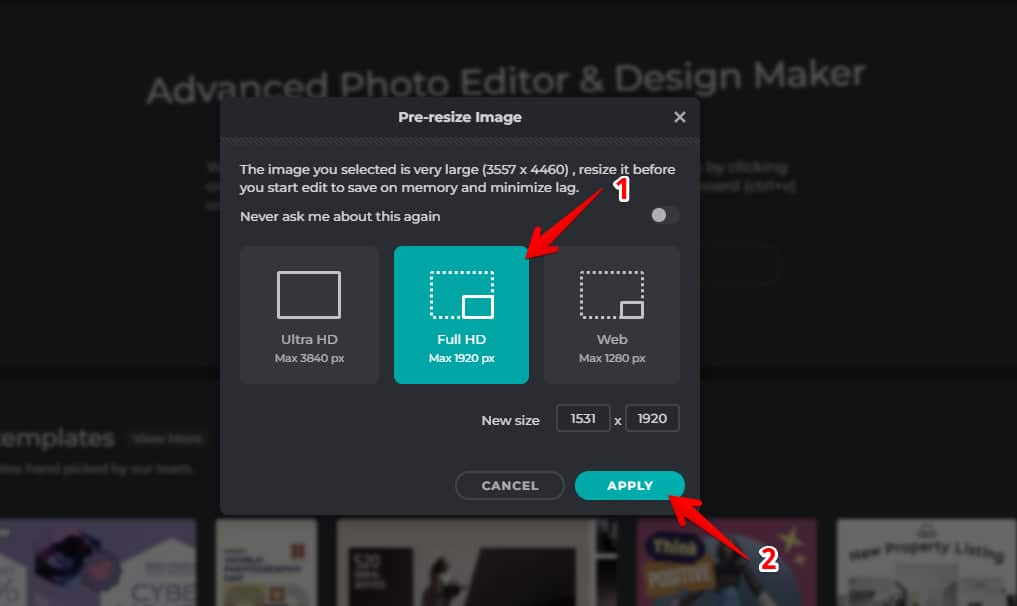 To remove the background/ make it transparent, use the cutout feature. Select the scissor icon and click "AI Auto".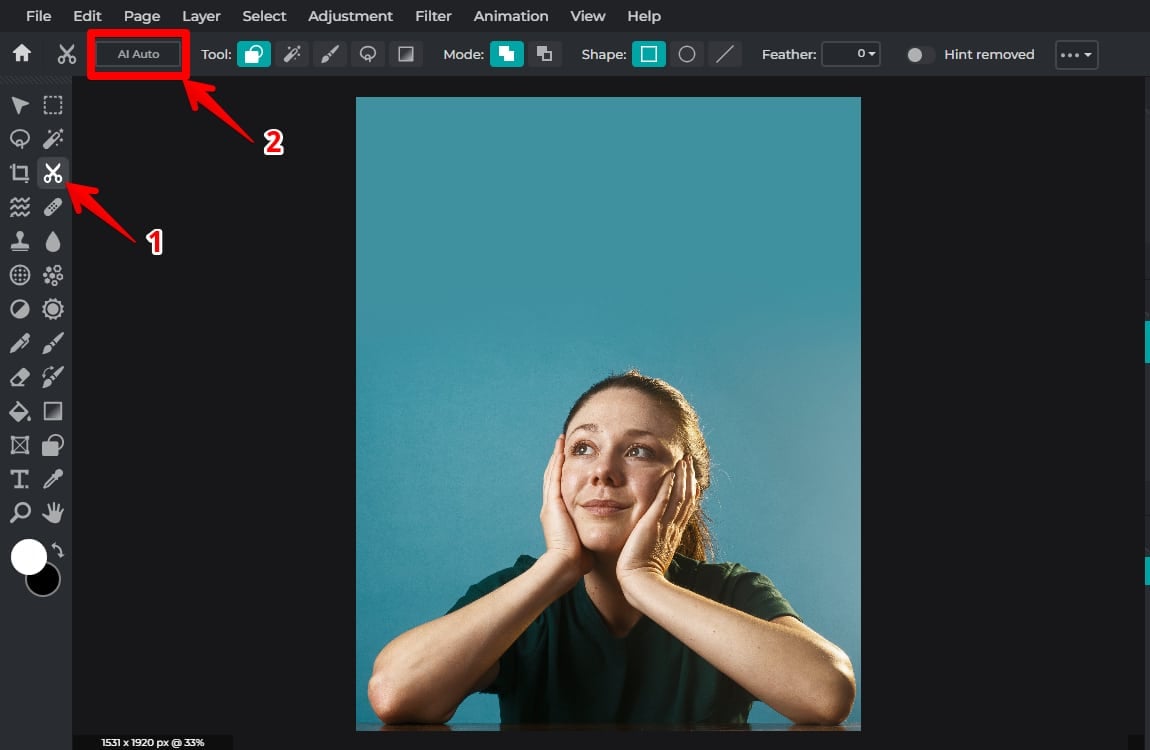 After the background has been cut out, click the "Save" button.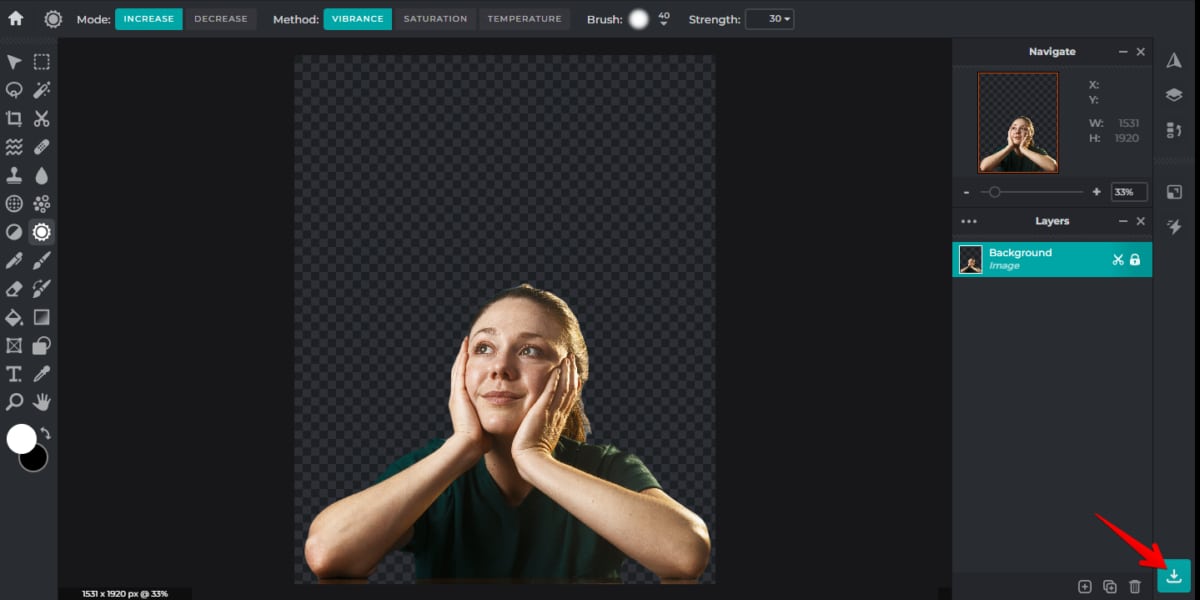 Select the "PNG" option so your background can remain transparent, and click "Save As". Give your file a name and store it in a folder on your computer.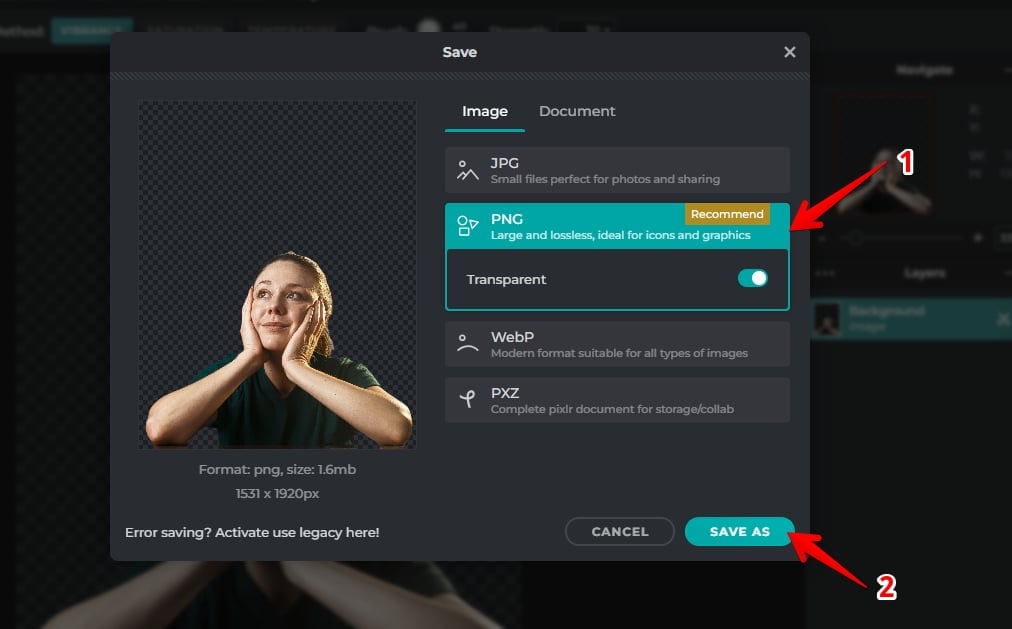 Check out this video by Make With Tech that explains how you can use Pixlr to make the background of your image transparent.
3. Convert Your Image into a Lithophane Model
Once you have cut out the background from your image, you'll need to convert it into a lithophane model and download the STL file for slicing. There are several Image-to-Lithophane converters online, but I found that 3DP Rocks works best.
Go to 3DP Rocks, click the "Images" button, and then "Choose Files". Select the PNG file from your stored folder and click "open".
You can also drag and drop the files in the box below the "Choose Files" button.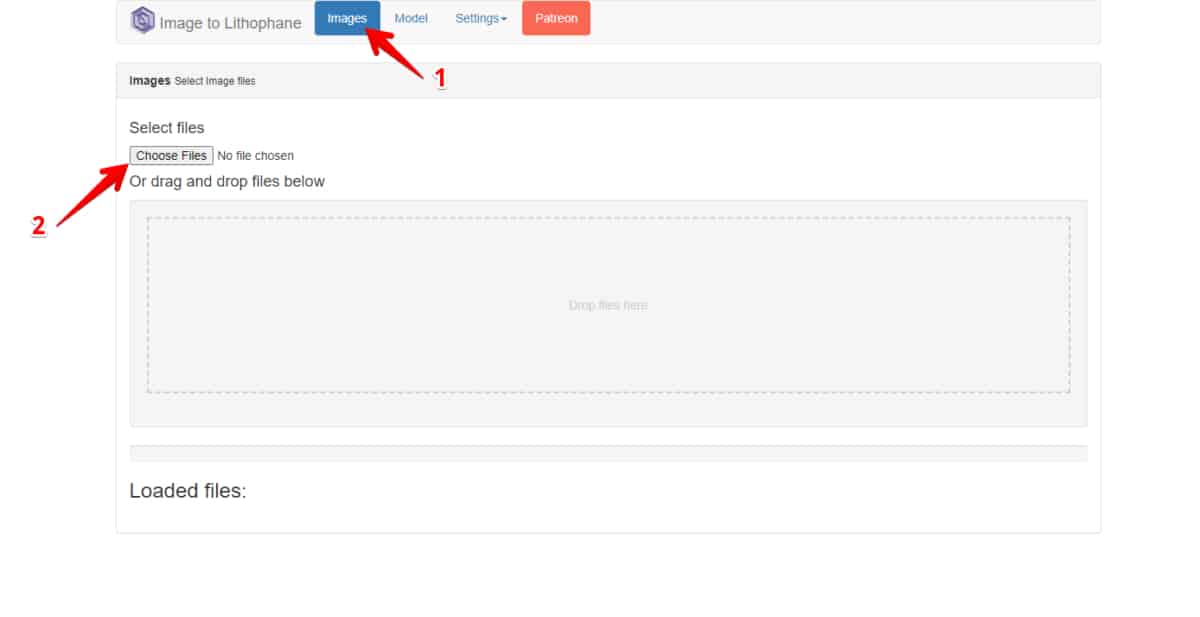 Once your image has been loaded onto the platform, select "Outer Curve" and click "Refresh".
Lithophane models are best printed while standing upright, so selecting "Outer Curve" orients it vertically.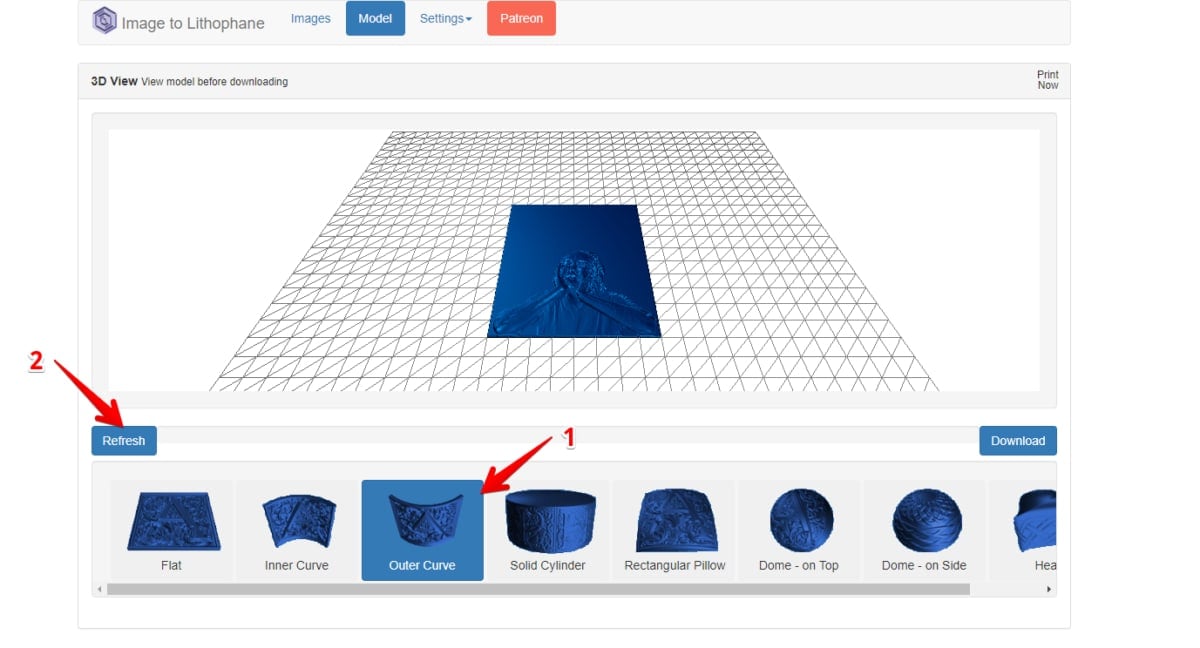 You can adjust Model Settings such as Thickness, Curve, and Stand Depth. I usually leave the default settings for most of them and increase the border and thickness a bit.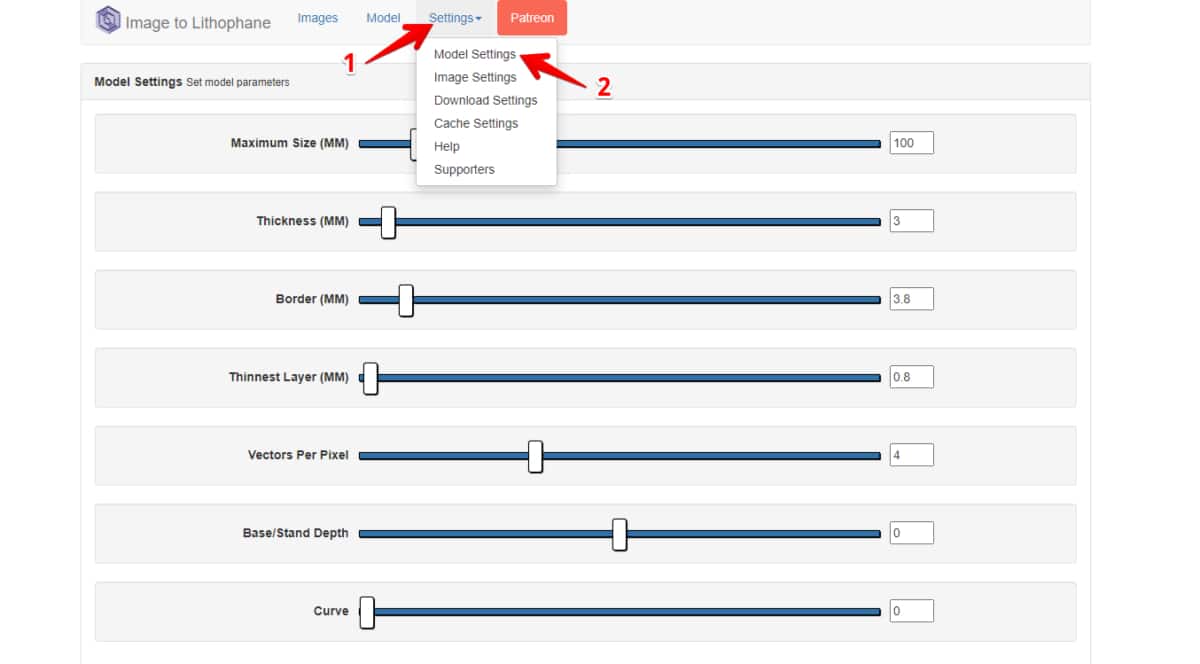 Once you're done adjusting the settings, return to your model, click "Download", and store the STL file on your computer.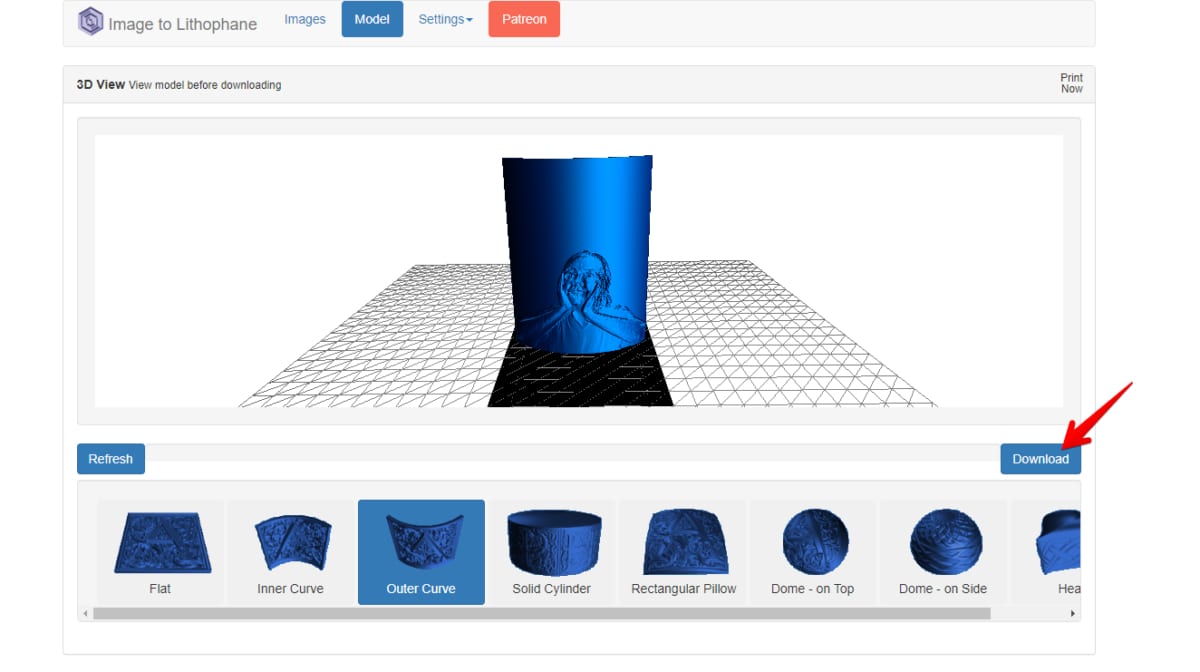 You can check out the video I linked above to learn how to convert your PNG image into a lithophane model.
4. Import the 3D Model into Meshmixer and Repair All Errors
Another critical step is loading the lithophane face model's STL file into Meshmixer to repair any errors it contains. If you load an STL file with errors into Cura, it might fail to slice. So, it's better to correct all the errors before moving to that step.
First, launch Meshmixer and click the "Import" button.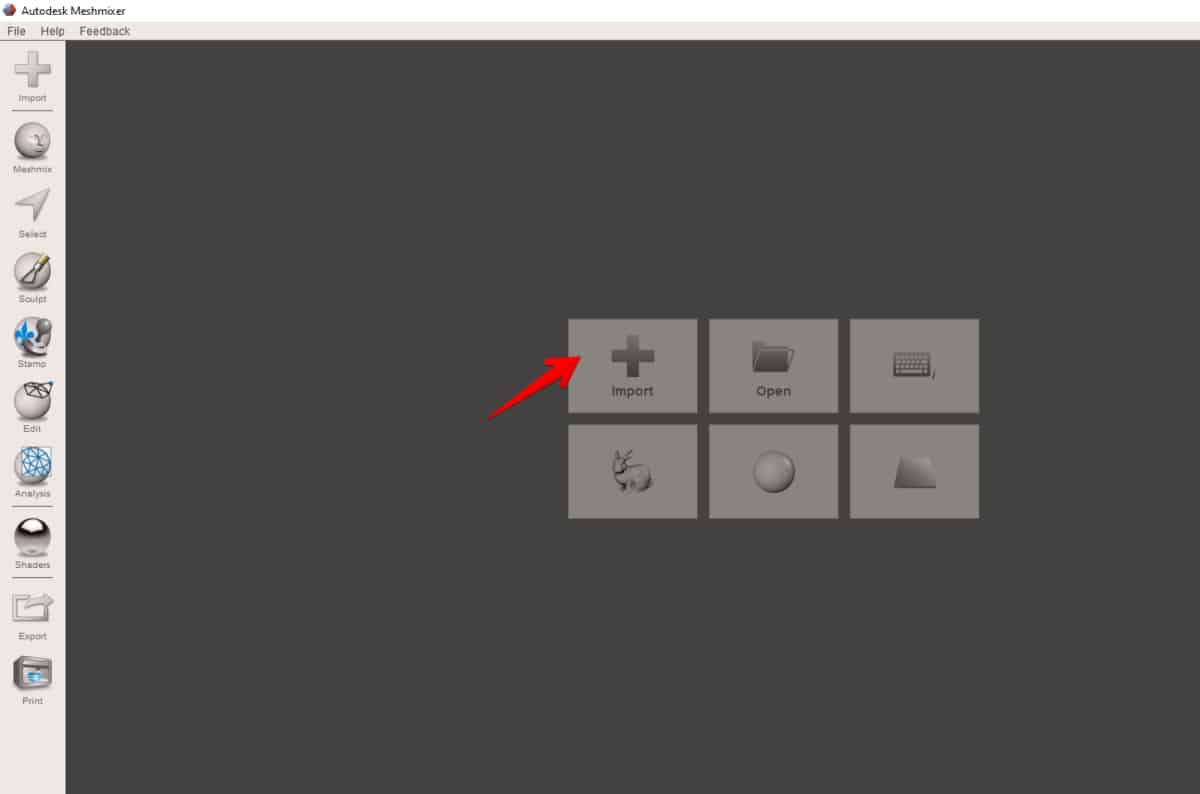 Select the STL file from where you saved it and click "open".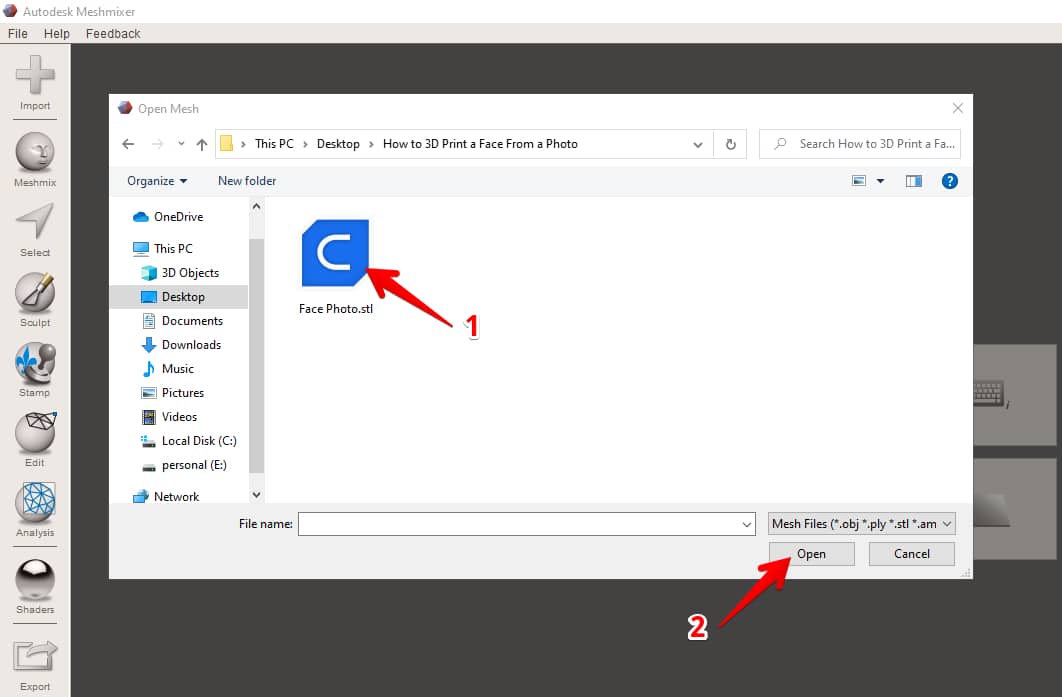 Once the model is loaded onto the platform, click on "Analysis", select "Inspector", and click on "Auto Repair All". This will correct any defects or errors preventing the model from slicing.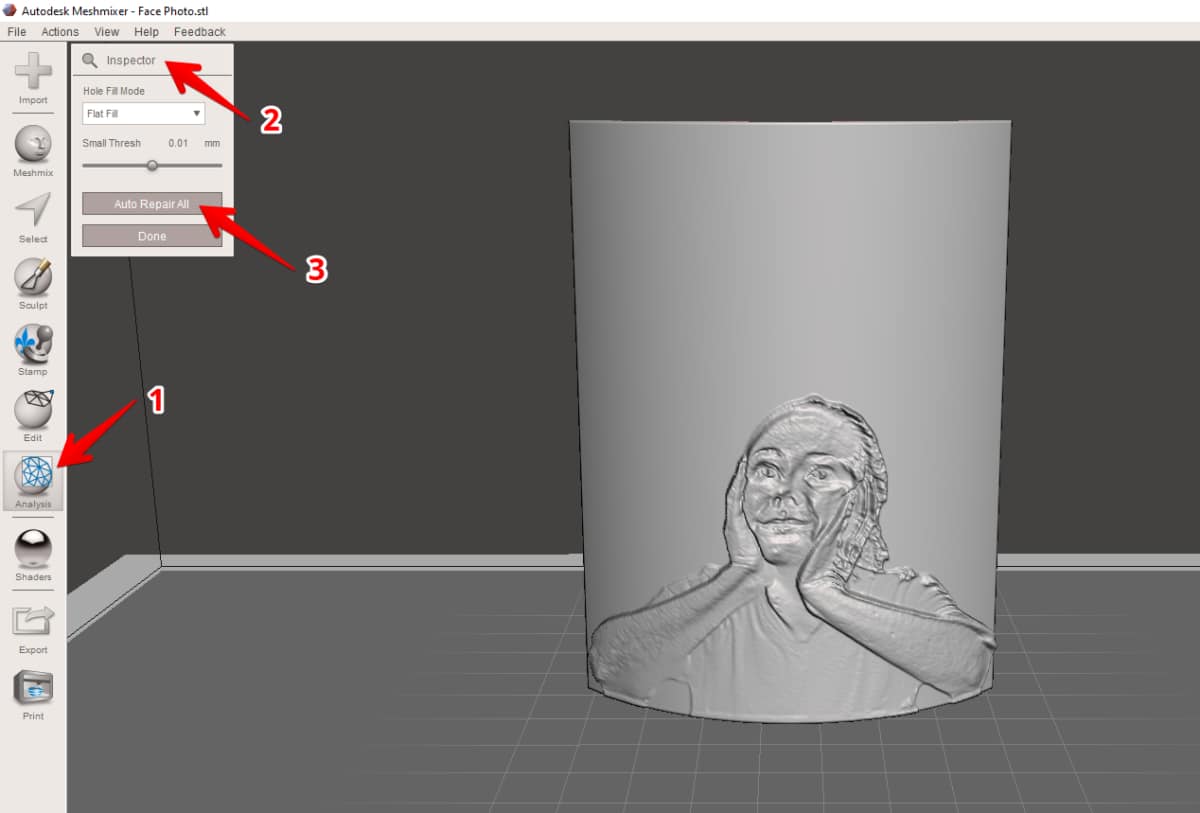 Next, go to "Export", give your file a new name, choose the STL format, and then click "Save.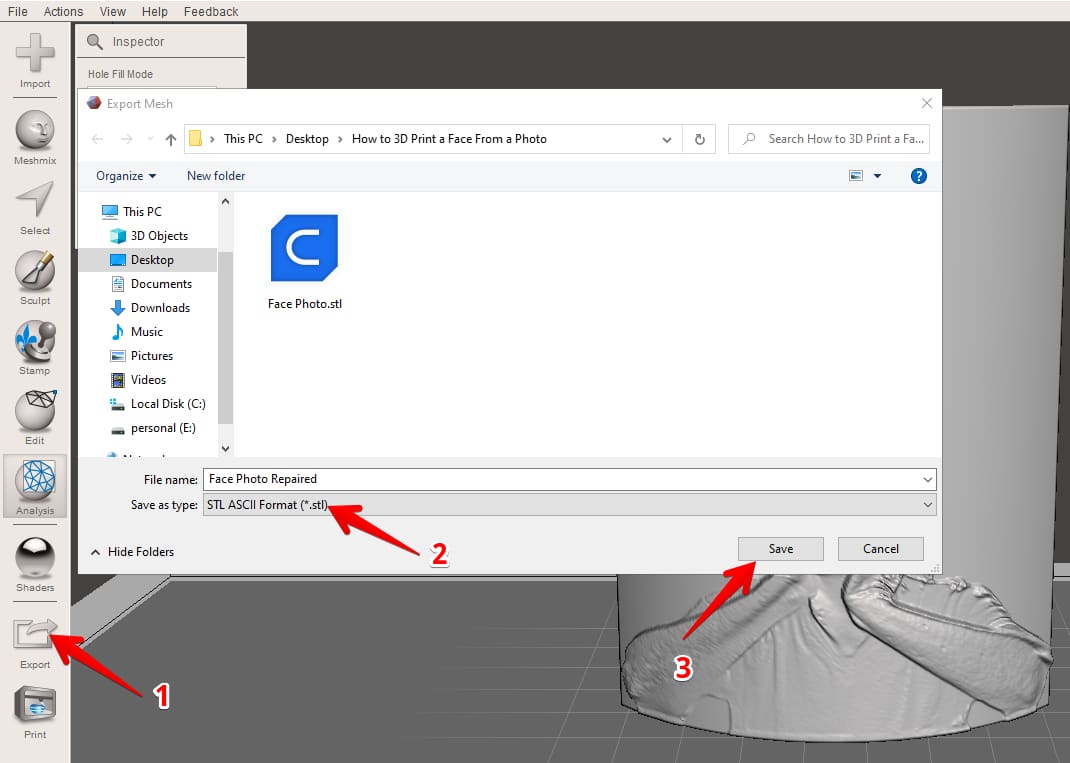 5. Import Your STL File into Cura, Adjust Print Settings, and Slice
The next step of 3D printing a face from a photo is importing the STL file into Cura, adjusting the print settings, and slicing. Here is how to go about it:
Launch Cura, click the import button, choose the repaired STL file, and click "Open".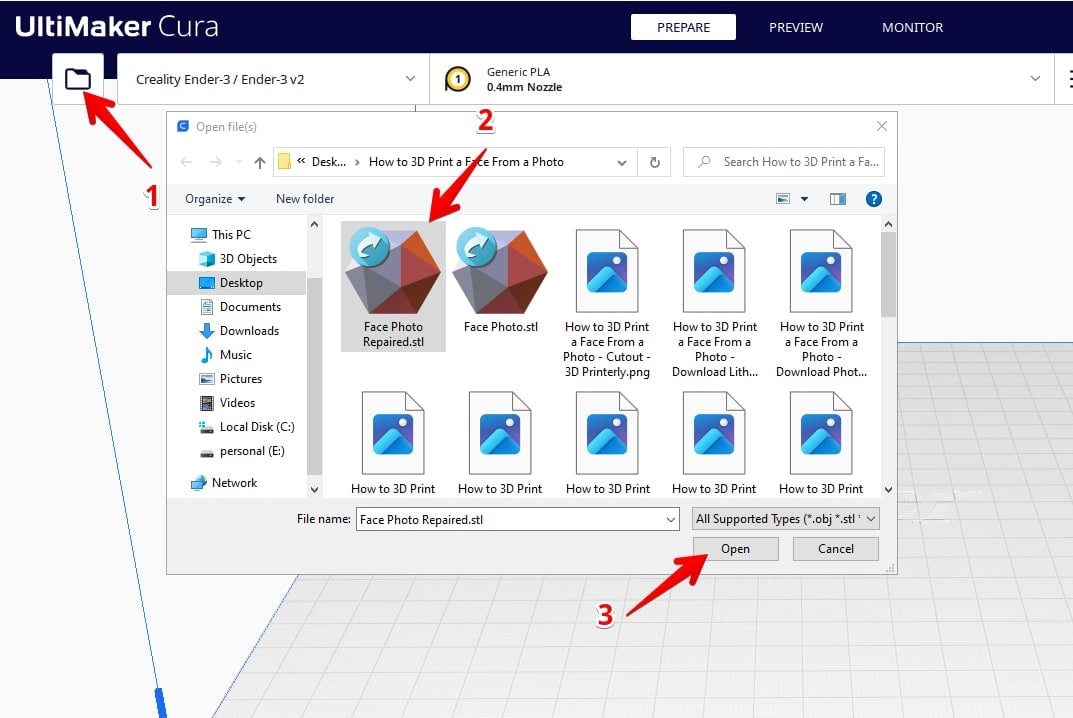 The repaired lithophane model of your face will be imported and loaded onto your workplane.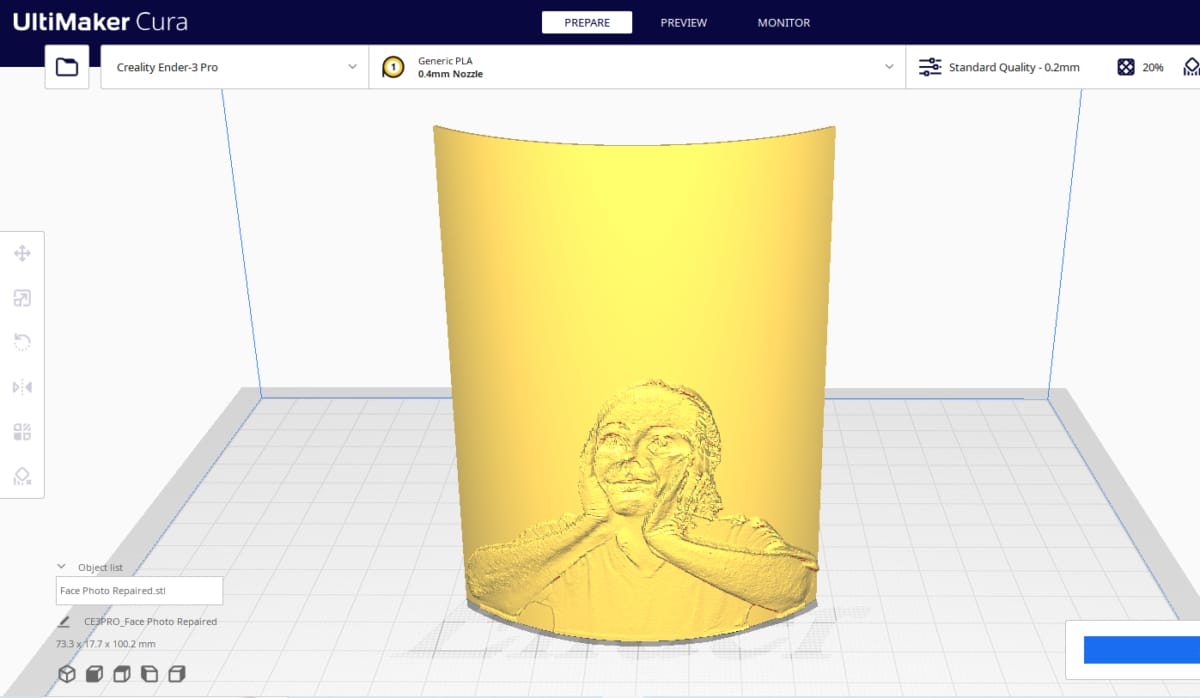 Rotate it 90 degrees so that it prints sideways. This will prevent layer lines as you get higher up your print, thus improving quality.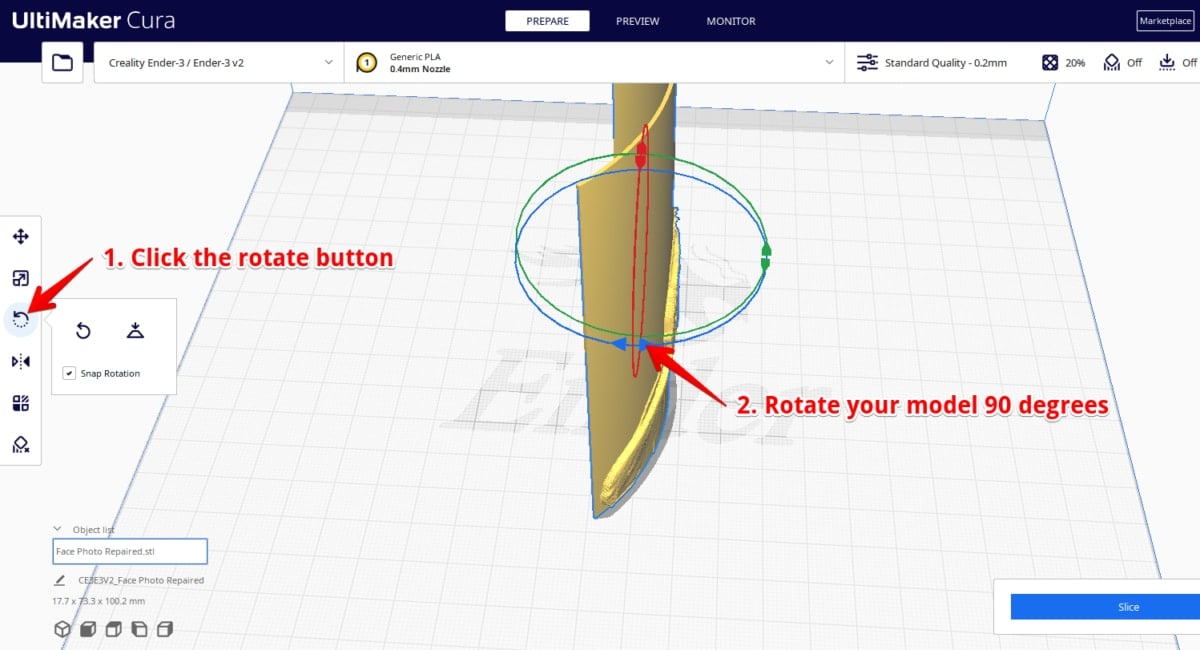 After that, click the Print Settings tab, adjust various settings, and then click "Slice".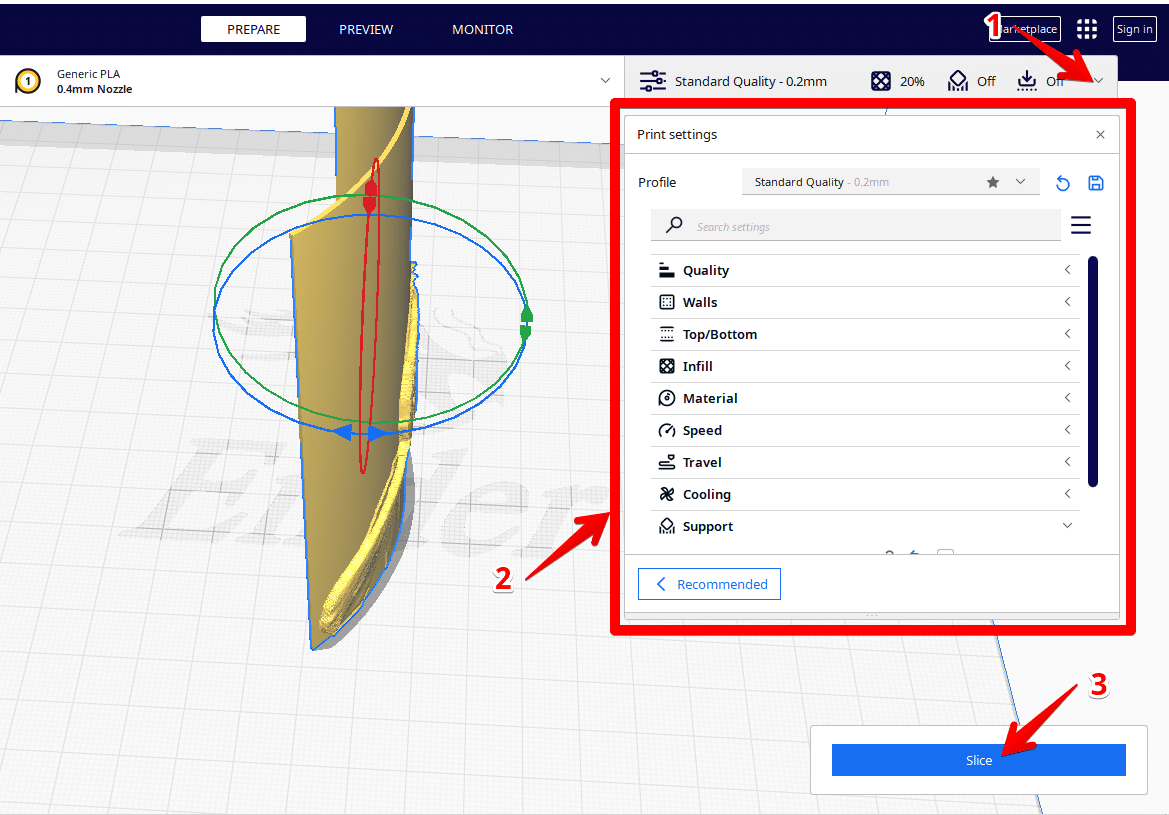 After slicing, preview the model to see how each layer will print and then click the "Save to Disk" button. This will allow you to store your file in G-Code format on your computer.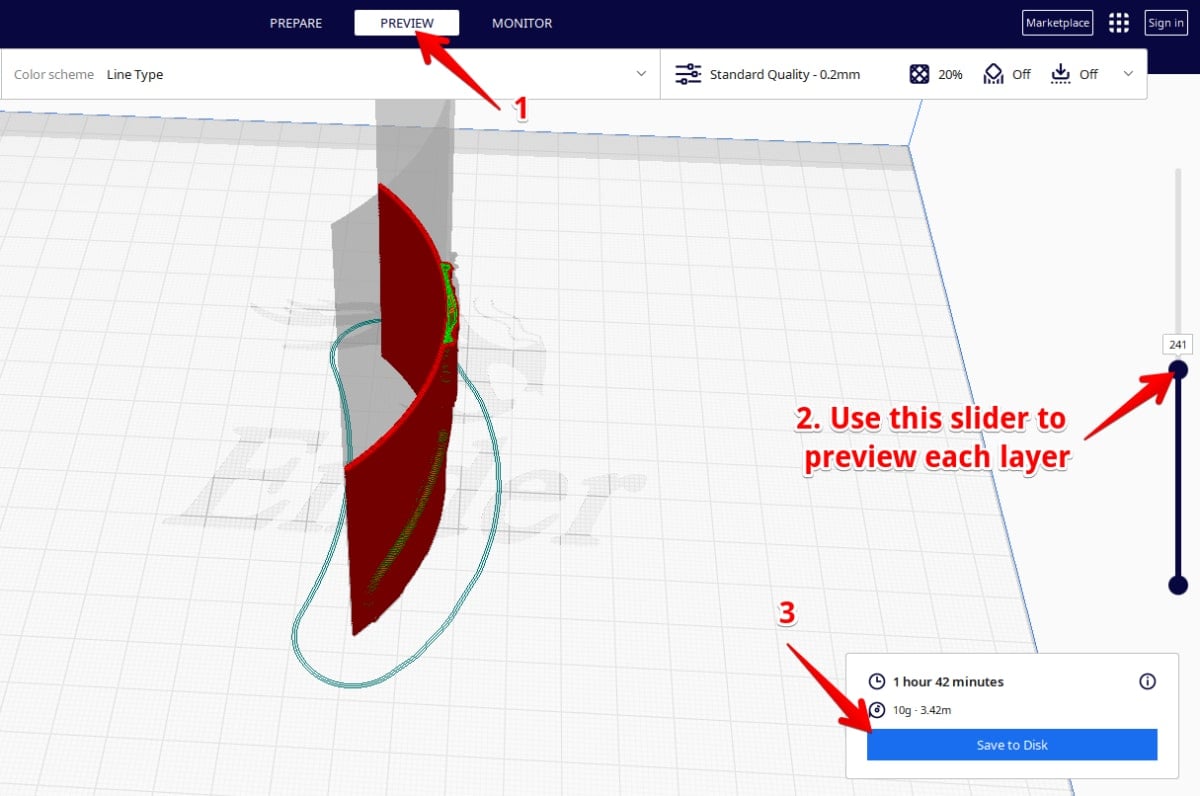 This video shows you some of the best settings to adjust to 3D print lithophanes on a Creality CR 10S Pro.
One user said that you will not need any supports for lithophanes, although a 5-15mm brim would be a good idea.
From the video above.
6. Transfer the G-Code File to an SD Card, Load it into Your 3D Printer, and Print
Finally, transfer the G-Code file to an SD card, load it into a 3D printer, and fire it up. You can also print directly from your computer using a USB if your printer has the capability. This White Overture PLA Filament would be great for 3D printing a face from a photo.
[amalinkspro type="showcase" asin="B07PGZNM34″ apilink="https://www.amazon.com/dp/B07PGZNM34?tag=3dly-20&linkCode=osi&th=1&psc=1″ new-window="true" addtocart="false" nofollow="true" sc-id="6″ img-sizes="419:500″ imgs="https://m.media-amazon.com/images/I/41bVTqks6UL._SL500_.jpg" link-imgs="false" specs="【Clog-Free & Bubble-Free】– Designed and manufactured with clog-free patent to guarantee a smooth and stable printing experience with these PLA refills. Complete drying for 24 hours before packaging and vacuum sealed with desiccants in a transparent bag" btn-color="#ff9900″ btn-text="Buy on Amazon" alignment="alignnone" hide-prime="0″ hide-image="0″ hide-price="0″ hide-button="0″ width="600″ banner="" alt="OVERTURE PLA Filament 1.75mm PLA 3D Printer Filament, 1kg Cardboard Spool (2.2lbs), Dimensional Accuracy +/- 0.03mm, Fit Most FDM Printer (White 1-Pack)"]OVERTURE PLA Filament 1.75mm PLA 3D Printer Filament, 1kg Cardboard Spool (2.2lbs), Dimensional Accuracy +/- 0.03mm, Fit Most FDM Printer (White 1-Pack)[/amalinkspro]
However, PETG can also work, although it would print slightly slower.