Can You Print-in-Place Resin 3D Prints? Articulated Resin Models
Print-in-Place resin 3D printing has become popular nowadays. Yet, some users still doubt whether they can print-in-place articulated resin, 3D models.
This article will detail whether you can print-in-place 3D prints for articulated resin models, as well as some techniques for doing it. Keep on reading this article for more valuable information about Print-in-Place resin 3D printing.

Can You Print-in-Place Models with Resin
Yes, you can print-in-place models with resin. Resin printing is one of the most accurate 3D printing techniques available. You can make print-in-place models with a lot of detail. These articulated 3D models (also known as print-in-place 3D models) are a unique type of 3D model that you can make with resin 3D printing.
The fact that 3D print models are made up of a variety of joints, hinges, and links to form moving pieces that are printed all at once makes them quite special and fun to create.
An experienced user of Anycubic Photon stated that you can print in place on resin printers. Only the resin between the pieces needs to be cleaned out before post-curing.
When extending the light-off delay and adding a hole near the top of the model, so the resin can flow out, the part will need to be oriented to leave a sizeable gap and a method for the resin to flow out in the Z direction.
He managed to do this with hinges at a 0.05mm distance between the parts but it was very hard and took him several tries on post-curing to get it working.
Here are some of the tips and ideas from users on how to 3D print an articulated resin model:
Bottom Exposure – this factor will determine how well the 3D print will stick to the build plate.
Exposure Setting – will have a great impact on print quality and tolerances.
Temperature – the room temperature should be 20-22°C (68-72°F). It can have negative effects on 3D prints if it's too hot or too cold.
Build Plate – use a flexible build plate for easy removal of the 3D prints.
Pre-Curing – soaking the finished 3D prints in isopropyl alcohol for about 3 minutes will make it thoroughly clean.
I wrote an article called Ways How to Fix Resin Prints Sticking to FEP & Not Build Plate that you might find useful.
Another user of Elegoo Mars 2 Pro and Elegoo Saturn stated that these tips were very helpful for him to 3D print an articulated dragon.
Just be aware that if you're printing with a translucent resin, then you must have a decent curing chamber, as one user who owns an Anycubic Photon S pointed out.
Check out the video below for more information on how to print-in-place models with a resin 3D printer.
Best Print-in-Place SLA & Articulated Resin Prints
There are undoubtedly numerous fantastic tales regarding dragons, whether they be found in books or movies. We can see that one of the most cherished mythological and gorgeous creatures is the dragon.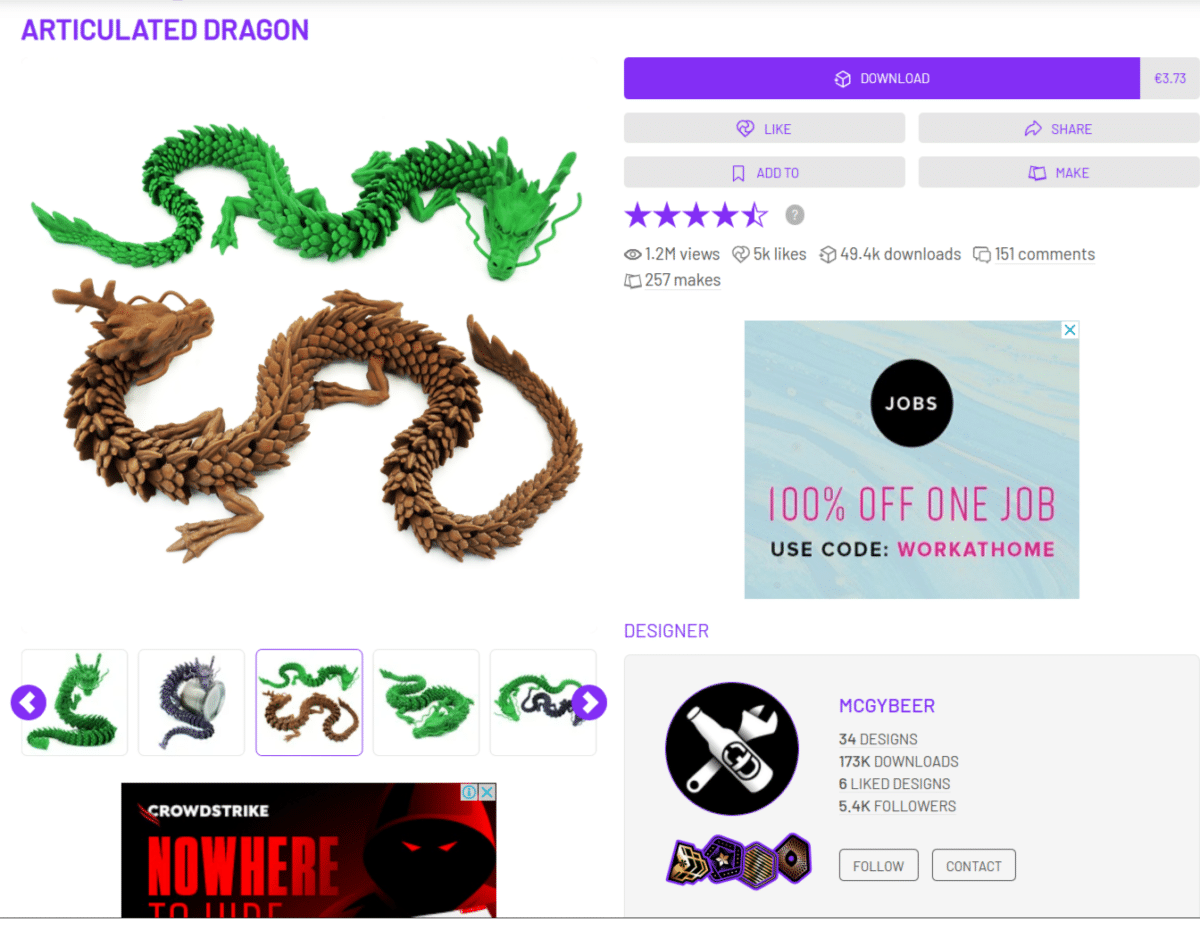 One user who 3D printed this model in resin on his Creality LD-002H stated that he had to downscale the model 60%, but the end result was beautiful as the model looks and feels great printed on resin.
Another user recommended printing with Icy Blue Resin if you want to make it become an "ice dragon".
Here is a video to see what the articulated dragon looks like in 3D prints.
This model features an articulated slug that looks like a large worm and has two eye stalks that resemble snail shells for vision. It makes for a great toy that is completely articulated, and playing with it can be quite pleasurable.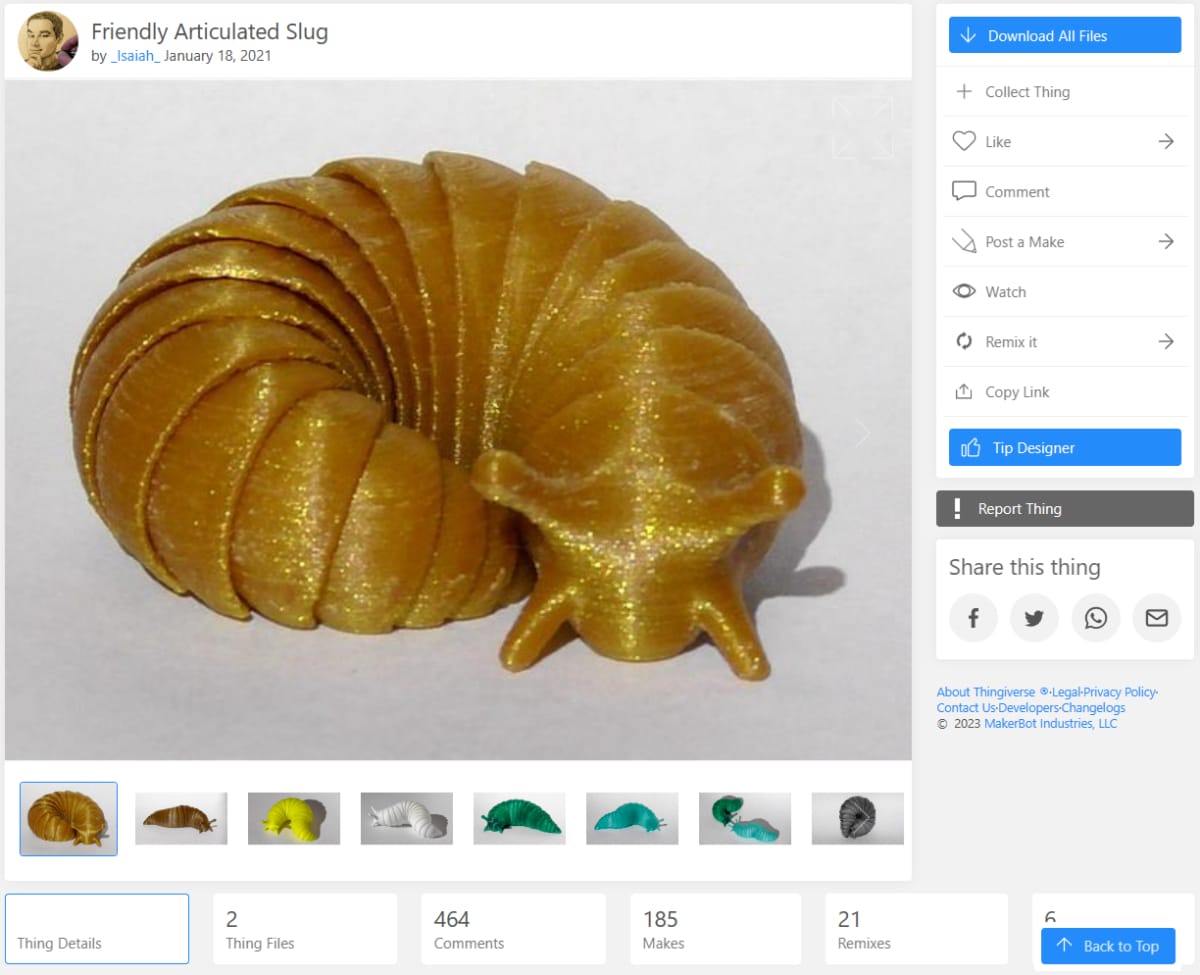 One user has successfully printed three copies of this model using resin printers – two on a Photon Mono and one on a Mono X, which was scaled up by 220%.
To print this model, he recommends loading the original STL file into Meshmixer and selecting the "Separate Shells" option to break it into 19 individual segments.
These segments can be arranged on the build plate with enough distance between them to prevent fusion, then washed and assembled by sliding one half in sideways and then pushing the other half in.
The printing process seems to work better when the model is printed larger, as the smaller version has very thin connections. To avoid messing up the arrangement, the user suggests adding numbers to each segment.
Here is a short video of the Friendly Articulated slug.
This model is perfect for people who enjoy printing different animals and using them as decoration. The cute mini octopus will make a wonderful fidget for when you are when working at a desk or attending a lecture.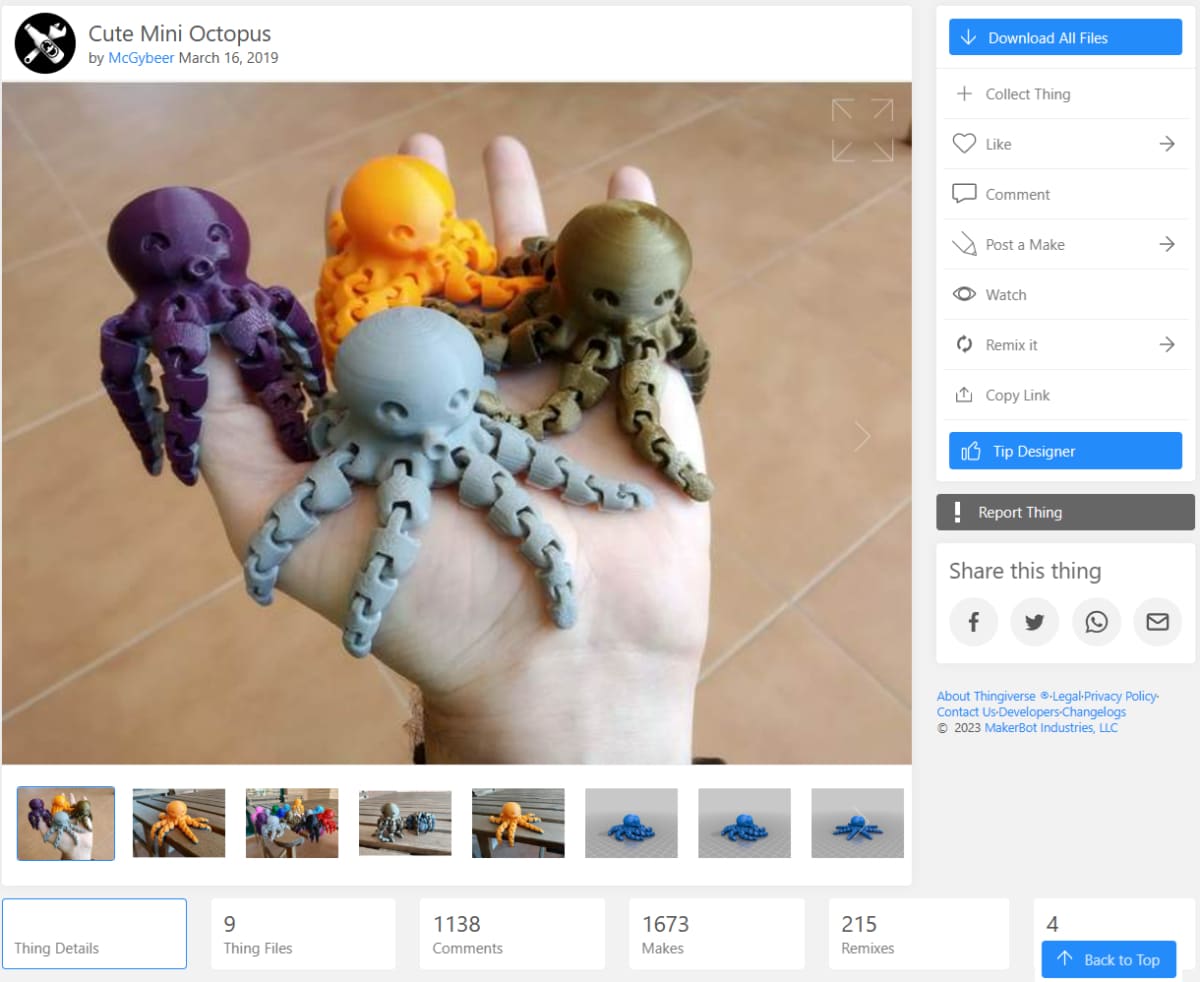 One user printed this model on his Elegoo Mars SLA printer and stated that the result was great. He had to scale it down a bit to fit the build plate and he recommends taking it out of the UV light every 20 seconds and moving all the legs so they won't stick together.
Check out the video below to see a printed version of this model.
This articulated lizard looks fantastic on a shelf or as a simple laying toy. It makes a great toy for little kids or just a cool decorative piece to have around your house.
One user printed this model in his Creality LD-002R resin printer and stated that he had to reduce the model to 70% so it could fit his build plate. He really enjoyed the end result and stated that he fell in love with the model.
He printed the model using the Anycubic Eco Transparent Green Resin, which is available at Amazon for a great price.
[amalinkspro type="showcase" asin="B08XN65RW7″ apilink="https://www.amazon.com/dp/B08XN65RW7?tag=3dly-20&linkCode=osi&th=1&psc=1″ new-window="true" addtocart="false" nofollow="true" sc-id="6″ img-sizes="500:500″ imgs="https://m.media-amazon.com/images/I/41Pz7I2hvrL._SL500_.jpg" link-imgs="false" specs="✦Excellent Use Effect: The model printed with ANYCUBIC resin has very pure and amazing color effects, presenting you a more perfect printed model." btn-color="#ff9900″ btn-text="Buy on Amazon" alignment="alignnone" hide-prime="0″ hide-image="0″ hide-price="0″ hide-button="0″ width="600″ banner="" alt="ANYCUBIC 3D Printer Resin, 405nm UV Plant-Based Rapid Resin, Low Odor, Photopolymer Resin for LCD 3D Printing,1kg Grey"]ANYCUBIC 3D Printer Resin, 405nm UV Plant-Based Rapid Resin, Low Odor, Photopolymer Resin for LCD 3D Printing,1kg Grey[/amalinkspro]
Check out the video below to see a printed version of this model.
https://www.youtube.com/watch?v=_KVDNUb0NsM