3 Best Resin 3D Printers for Miniatures
Resin 3D printers are slowly gaining popularity as its abilities are noticed by people more often. Thousands of high quality miniatures have been created using resin printers and more people are turning to them to do the same.
This post will look into which resin 3D printers are the best for creating those miniatures and objects that gamers love.
Many factors go into making high quality miniatures, so I've taken these factors into account when coming up with a list of the best to get the job done. The main factors have to be print resolution which translates into layer height, and having a monochrome screen for good printing speed.
The Elegoo Mars 3 is a well respected and high quality resin 3D printer that is perfect for creating miniatures. It comes after many iterations and developments of the original Elegoo Mars, producing a much higher resolution and even speed.
It's an MSLA 3D printer with very high precision, equipped with a 6.6-inch mono LCD with an ultra 4K HD resolution. There is a 30% higher XY resolution at 0.035mm and a 37% larger build volume than the Elegoo Mars 2.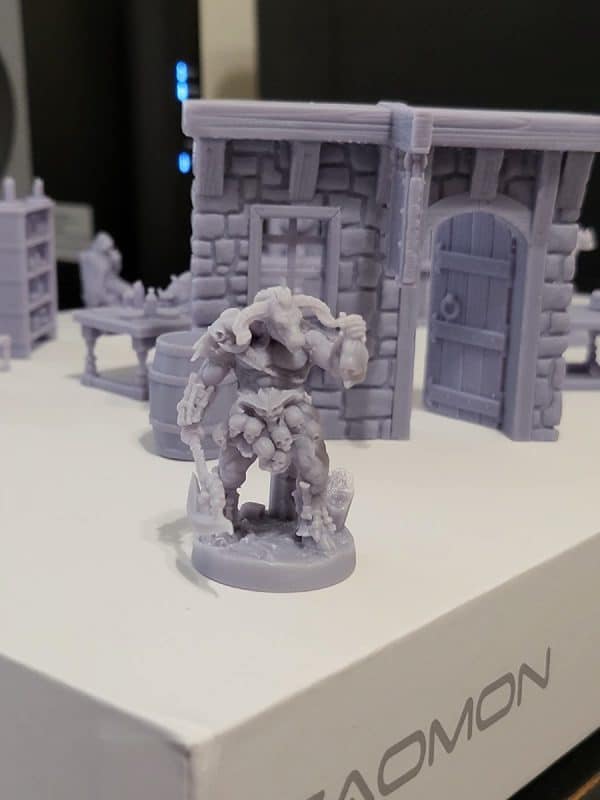 In terms of the light source, it has been upgraded with 36 integrated LED lights and a new COB lens that delivers over 90% uniformity of UV light, improving printing accuracy for your 3D printed minis.
They have even optimized the heat sink unit with copper tubes and a high quality cooling fan to improve the heat dissipation performance. The light decaying of this resin printer is set to be less than 5% after 6,000 hours of printing, extending the durability of the UV LED lights.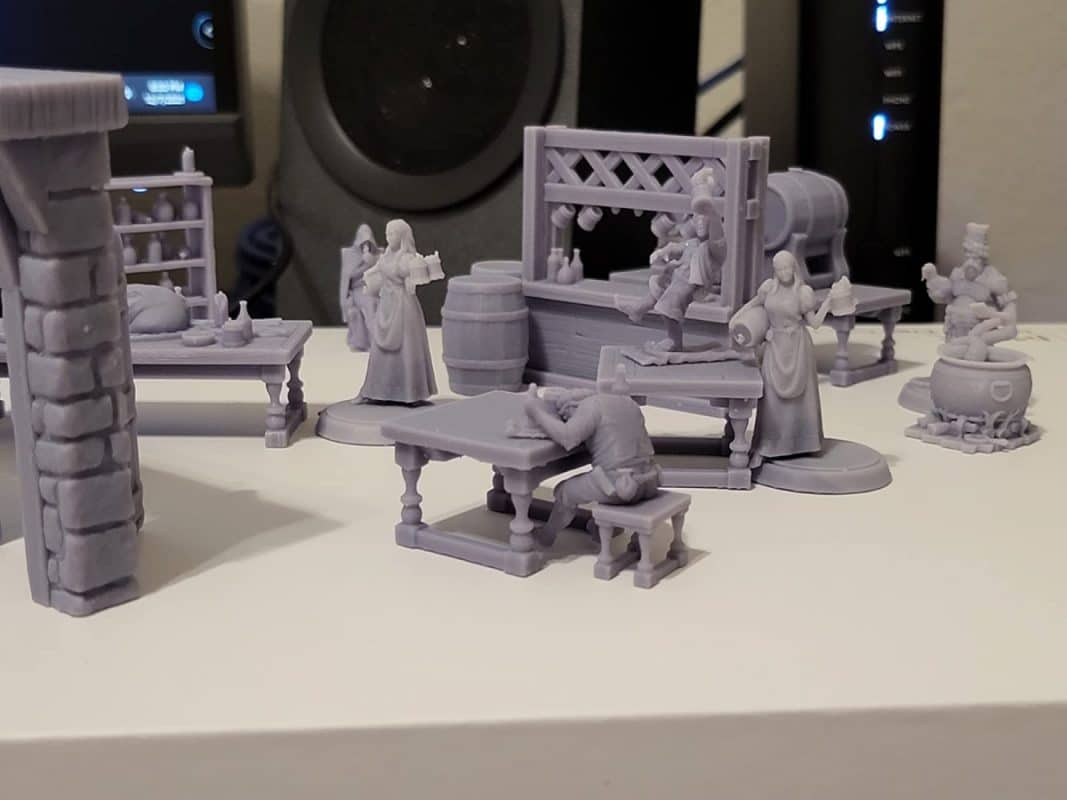 When you get the Elegoo Mars 3, they also throw in a 1-year free trial of ChiTuBox Pro, worth $169 at time of writing. This slicer has many upgrades such as automatic supports to model repair tools, perfect whether you are a beginner or a pro.
One user who purchased the Elegoo Mars 3 with the main goal of creating custom miniatures for a D&D campaign said that it performed fantastically for the job. Even just using the default settings with a water washable resin worked well, but when you dial in the settings, it gets even better.
You can create miniatures faster, with more successful prints, and with even more detail.
He did run into an issue with the FEP film after around 20 full plates of prints, but managed to get a nice replacement by reaching out to Elegoo, who were very quick to respond.
You can find the Elegoo Mars 3 from Amazon for creating high quality minis.
The Anycubic Photon Mono is a machine that has a printing speed 2.5x faster than regular 3D printers, ensuring that you save plenty of time when creating your miniatures. It has a 6.08″ 2K monochrome LCD that can cure layers in just 1.5 seconds.
It's a cheaper option than the Elegoo Mars 3, but you'll most likely get less quality and detail, though it's still pretty high up there. It has strong stability and high accuracy due to the parallel light source with 15 lamp beads, along with uniform exposure.
There is a nice Z-axis guide rail structure with stepper motors, built to have good stability and accuracy. They mention how it's a great 3D printer for creating characters from movies, games, and for miniatures.
The operation of the Anycubic Photon Mono is pretty easy and has a build volume of 130 x 80 x 165mm. The acrylic cover blocks up to 99.95% of UV light so any outside like doesn't cure the resin and the UV light doesn't travel outside the cover.
Replacing the FEP film is a lot easier on the Photon Mono due to the one-piece FEP design that is used.
One user who purchased the Anycubic Photon Mono mentioned how it only took minutes to set up and was very easy to do, even as a complete beginner. They recommended to start with a simple resin print like a keychain rather than going for something more complex and detailed.
It's perfect for figurines, miniatures, and small detailed items, giving users very high quality. Whether you're a crafter, a gamer, or simply a hobbyist, the Anycubic Photon Mono is a great resin printer to create amazing models.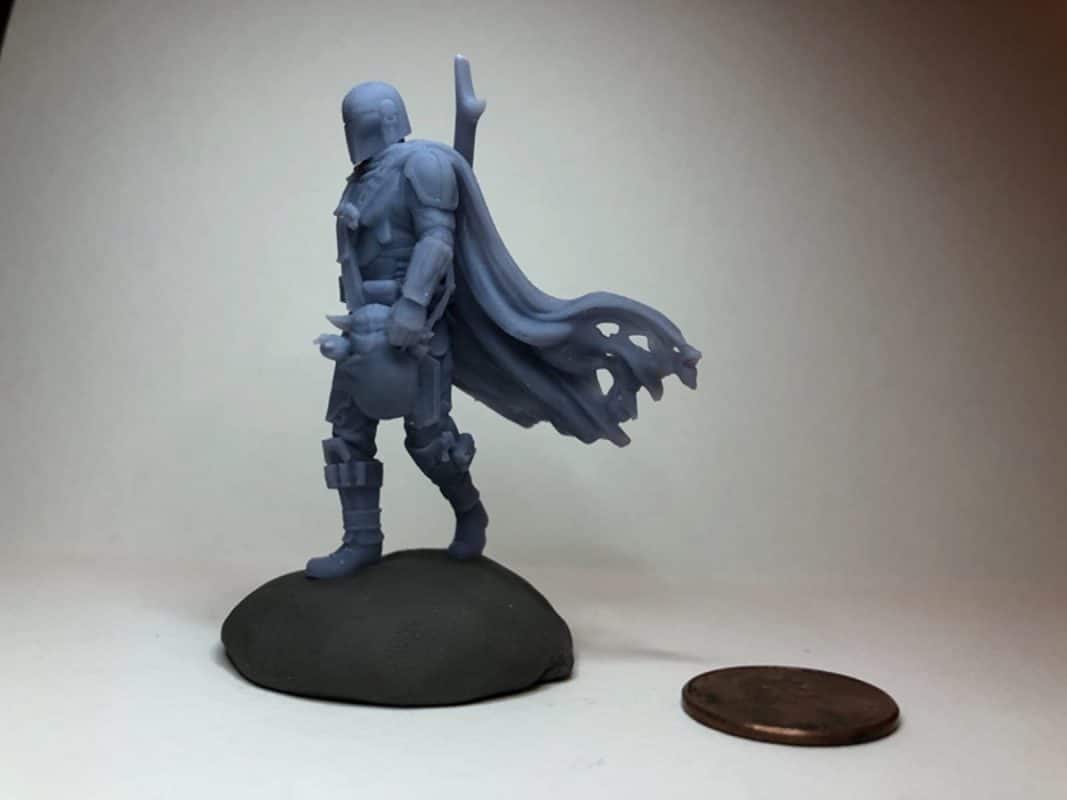 The price is very competitive and should bring plenty of value over the long-run.
Get yourself the Anycubic Photon Mono from Amazon for your miniature creation today.
The Elegoo Saturn is a very popular, larger resin 3D printer that comes with an 8.9-inch 4K Monochrome LCD with an HD resolution of 3,840 x 2,400. It has the effect of reducing your normal layer exposure to around 2-3 seconds, which is 60% faster than the Mars Pro.
In terms of the build volume, you'll get 192 x 120 x 200mm, allowing you to print several miniatures at the same time so you can improve your productivity and efficiency with making models. It's 290% larger than the Elegoo Mars 2.
Since it's a larger 3D printer, Elegoo have implemented a double linear guide-way structure to achieve steadier motion, as well as higher moving accuracy. One really cool feature is how you can transfer files through your local area network with the Ethernet port at the back.
Looking at the light source, it has a matrix of 54 UV LED lights with uniform light emission, allowing for better quality miniatures and accurate dimensions. Unlike some other resin printers out there, it has some solid set screws so the build plate stays level and doesn't need frequent leveling.
They made sure to sandblast the surface of the build plate to create more of a rougher surface for the resin to adhere to so it provides a stronger hold to the build plate.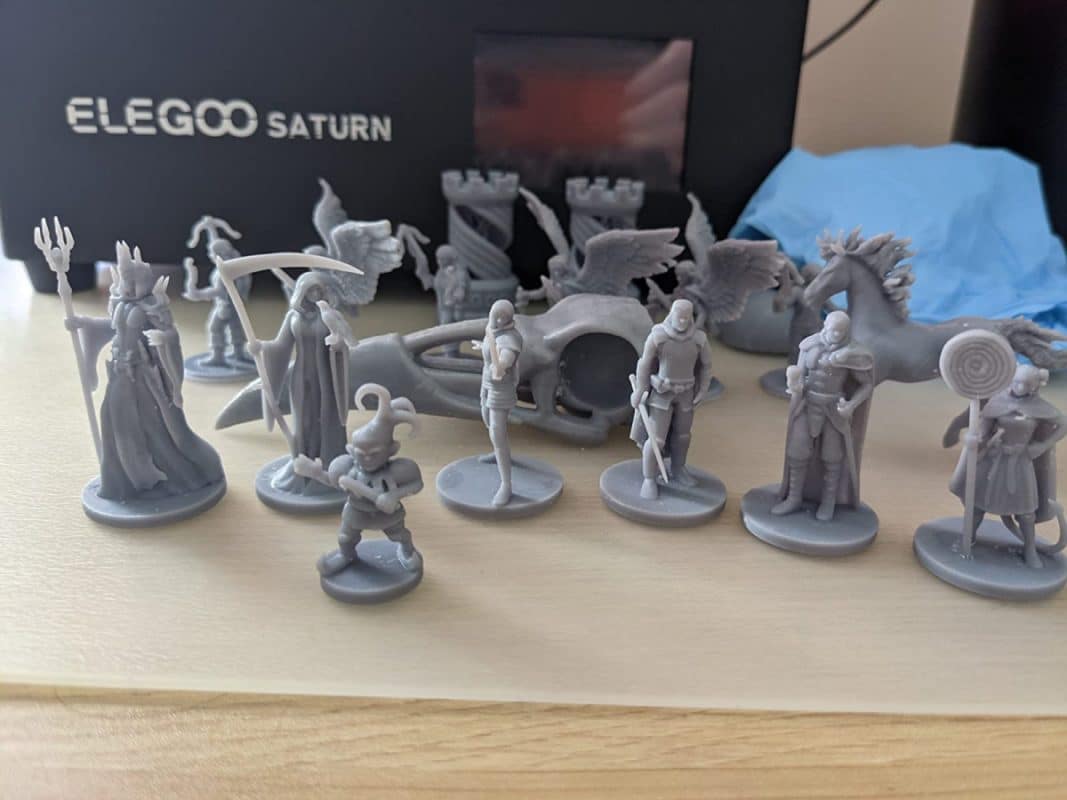 You have a pretty solid XY resolution of 50 microns, which many users are happy with.
One user said that the print quality he has been getting is an A+. The setup was very easy, from unboxing to printing only taking around 10 minutes. Elegoo have really good packaging so your printer arrives in one piece.
He could fit around 15 32mm models on the build plate, taking around 3-4 hours to print tall miniatures, working out to around 4 miniatures per hour. When you look at the price of minis, they can be anywhere from $5-$30 so you'll get your moneys worth very quickly.
Check out the Elegoo Saturn from Amazon.
Are Resin Printers Better for Miniatures?
Yes, resin printers are better for 3D printing miniatures because you can reach much lower layer heights for higher quality and resolution. Resin printers can easily reach 0.02mm or 20 microns in layer height while filament printers can have trouble reaching 0.05mm or 50 microns in resolution.
When people move from filament printers to resin for creating miniatures, they quickly notice just how much higher the quality and detail is. The SLA technology with the light delivers a level of precision that filament printers can't reach, though you can still get some high quality filament miniatures.
Another highlight for resin miniatures is how it doesn't matter whether you print one miniature or several on the build plate, it will take the same amount of time since it cures whole layers at a time.
You can create one miniature in 4 hours or 15 miniatures in 4 hours with a resin 3D printer, but with a filament printer, it would take significantly longer to do this.
Check out the video below for a better look.