Resin 3D printers are slowly gaining popularity as its abilities are noticed by people more often. Thousands of high quality miniatures have been created using resin printers and more people are turning to them to do the same.
This post will look into which resin 3D printers are the best for creating those miniatures and objects that gamers love.
If you aren't too strung up on quality, a fine-tuned FDM printer will be okay, but if you want professional looking minis, a reliable resin 3D printer is the solution.
Many factors go into making high quality miniatures, so I've taken these factors into account when coming up with a list of the best to get the job done. The main factor has to be print resolution which translates into layer height.
Which Resin 3D Printers are the Best for Miniatures?
ANYCUBIC Photon
ELEGOO Mars
NOVA3D Elfin
ANYCUBIC Photon S
QIDI TECH Shadow 5.5S

The Anycubic Photon is an SLA 3D printer with excellent print quality, high enough for the most detailed of miniature prints. It's a huge step up from standard FDM printers and once you have this in your arsenal you'll see exactly why it's so popular.
For people that want to get straight into printing and don't want to go through the hassle of tinkering, upgrading and fine-tuning all kinds of settings, this is the best choice you can make for printing your miniatures.
It really was made to be easy to use so don't worry about being tech-savvy or an expert 3D printer, just get it out the box, set it up and get to printing high quality minis! A plug-and-play type of machine to a certain extent.
The build volume for this 3D printer is relatively small coming in at 4.52″ x 2.56″ x 6.1″ (115 x 65 x 155mm), but for its intended use that shouldn't be any issue for you.
As previously mentioned, the materials for this type of printer can be fairly pricey, but I've seen some budget resin brands out there that tackle this problem, still giving you solid quality to be proud of.
The cheapest resin I could find on Amazon was Siraya Tech's 1KG Fast ABS-Like Resin (great ratings) at almost the same price as 1KG of PLA so the difference isn't as much as most people would think. It's non-smelly, durable and prints with a great finish.
More manufacturers have been focusing on this form of 3D printing so prices of resin have been gradually lowering over time.
Technical support and community support isn't hard to find and since it's known to be a very reliable machine, you most likely won't need much support in the first place.
Steps to set up the Anycubic Photon:
Assemble the build platform
Level your printer
Assemble resin vat & begin printing!
You'll find no shortage of positive reviews and testimonies of this 3D printer so make this your choice and join in on the amazing prints for years to come!
The detail these printers can achieve still amazes me… from PrintedMinis
Anycubic Photon Slicer – this is a specific slicer for this 3D printer as you can probably tell! It's required to create the .photon file this printer can read.

Let's get the main features clear with the ELEGOO Mars, it's a #1 best seller in 3D printers on Amazon so you know it's a machine to be respected. This 3D printer has been described as professionally designed, user-friendly and is semi-assembled allowing you to start printing within just 5 minutes of receiving your package.
You'll get a very modern slicing software called the ChiTuBox which is optimized for speed, slicing files extremely quick (1 minute for 30Mb .stl models) and is also very user-friendly, a common theme. The software allows you to save resin by hollowing out models before slicing it so it's not only high quality, but efficient too.
It uses UV photocuring technology with a UV integrated light within the printer.
Technology: MSLA

XY Resolution: 0.047mm (2560*1440)

Z Axis Accuracy: 0.00125mm

Layer Thickness: 0.01-0.2mm (very high quality)

Printing Speed: 22.5mm/h

Build Volume: 4.72 x 2.68 x 6.1 inches (120 x 68 x 155mm)
You can see the amazing quality below!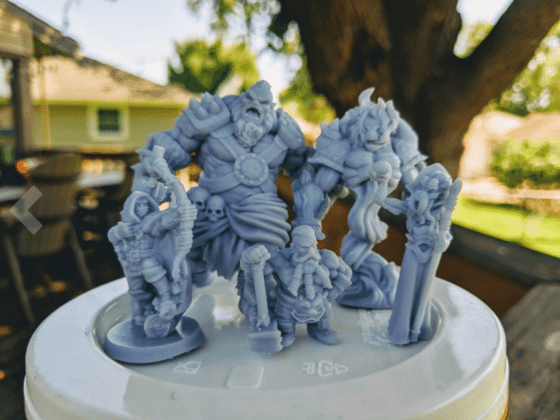 Not only is the print quality phenomenal, there are tons of features and benefits that come along with it.
Unique Industrial Design – You only need the Z-axis to return to zero, lock the leveling screw, then start printing
Large Screen Interface – Allows from previewing models from your SD card with real-time display printing process
Off-Line Printing – The integrated computer board means you can print directly from a USB
Precision – Has a 2560 x 1440 2K HD masking LCD, XY resolution of 0.00185 inches (0.047mm)
Sturdy Structure – Durable and rigid structure that provides long-term printing success
It does come with some useful items such as a measuring cup, gloves, a mask and a toolkit for your 3D printing needs.
If you want to reduce the effects of the fumes and particles the ELEGOO Mars gives off, I'd recommend getting a large, high flow HEPA machine. A very popular and reliable HEPA air purifier is the LEVOIT Air Purifier – LVPUR 131. It's relatively quiet and only costs around $15 a year in electricity.
You'll have an easy time bringing fresh air as it removes up to 99.97% of harmful germs, allergens and dust, as small as 0.3 microns. It's 30% faster than normal air cleaners with a smart auto mode that automatically adjusts between 3 fan speed settings in response to real-time air quality readings.
This machine is an LCD 3D printer with resolution that you can be proud of at a good price. It's got a whole host of features that make your life easier when it comes to creating miniatures. You have online Wi-Fi support as well as offline print operation so you can choose which ever option is best for you.
The specialized slicer software for the NOVA3D Elfin is Novamake which is a breeze to get the hang of so you don't need expertise to jump on board. Many first-time 3D printer users have this as their initial machine into the field and there are many great reviews and experiences out there.
Being able to use this out the box with minimal setup is one of the main features that you will appreciate, with leveling done before delivery. A little bonus that you get with this printer is 250ml of clear green resin when you use the promo code detailed on the Amazon page.
Features
Smart Display – 4.3 inch color display screen with real-time monitoring
WiFi Printing – In-built 8GB storage as well as WiFi printing so you avoid losing any bits and pieces
Innovative Light Source – 2560 x 1440 2K HD LCD screen, with resolution of 0.00185 in (0.05mm) for excellent precision
Special Resin Vat Design – Resin recycle is easier and makes it easier to pour left over resin back into the bottle
Perfect Warranty & Caring – 12 months warranty & lifetime technology support for your printer. Responses within 24 hours.
Specifications
Equipment Size: 270 x 260 x 420mm

Printing Precision: About 50 x 50um

Printing Speed: 30-40mm height

Build Size: 130 x 70 x 150mm(5.2*2.9*6.9 in)

Input Formats: .stl, .obj, .3mf, .nmk
The packaging is strong and rigorous so it should get to you in one peace. Get ready to experience flawless prints with the amazing NOVA3D Elfin resin 3D printer so you can make plenty of miniatures for yourself and others!
The Anycubic Photon S is the supposed upgrade to the Anycubic Photon but there are differences you might like and not so much like.
The original Photon is all-metal rather than the Photon S which has a plastic case but the actual printing parts are all-metal for both, so it's more of a cosmetic issue.
I think the biggest change is the UV lighting system which is more powerful, and so cuts down printing time. Overall if you aren't worried about price so much I'd go with the Photon S over the original Photon. You're going to have this 3D printer for years so it makes sense to spend that extra to get a better machine.
This 3D printer, like most of the other ones comes almost entirely pre-assembled along with all the necessary tools to start your miniature-making journey. It has a leveling system where you only need to adjust a single grub screw instead of each corner which can be tedious.
Machine size: 230 x 200 x 400 mm

Build volume:: 115 x 65 x 165 mm (4.56″ x 2.56″ x 6.49″)
It features a dual Z-axis linear rail which makes it sturdy and avoid any negative printing accuracy from any external movement. The last thing you want is your bed moving in the middle of a print!
What the Photon S does very well is it's UV lighting upgrade, giving it the ability to optimize accuracy, resolution and precision in your prints. It goes above and beyond to give amazing detail, even in very small prints.
Features
Dual Z-axis rails – Increases sturdiness and durability
Upgraded LED Array – very strong light cuts down exposure and printing time
Touchscreen – Very response and has great accuracy
Sanded Aluminum Platform – Enhances adhesion to build plate for more stable printing
Double-Air Filtration System – Activated carbon filtration reduces odor levels greatly for a safer environment
You'll be glad to know there is a great online community with the Photon line of resin printers, so any questions or assistance you might need in the future will be easy to come by. They are very knowledgeable and eager to help other people out.
It comes with extra film screens for the resin for your convenience.
Once you get set up and printing, you'll realise just how easy it is to get high quality prints without tinkering with too many settings. You'll soon get used to the resin printing process and be printing with ease.
Get the Anycubic Photon S for yourself from Amazon!
QIDI is no brand to be underestimated, they have 6 years of manufacturing experience with high performance, durable 3D printers with a focus on quality.
The first thing you notice about this resin printer is just how awesome it looks! Sort of like an Iron Man booster kit, but it's not just all looks for sure. The QIDI Tech Shadow is the underdog of the resin 3D printing machines.
Lets start off with the features this printer holds:
Double Z-Axis Linear Guides – a must have for a steady build plate
Upgraded Air Filtration System – comes with two charcoal filters
2K HD Masking Screen
Professional Slicing Software – ChiTuBox (same as ELEGOO Mars)
Strong UV-LED Light Source (405nm)
CNC-Machined Parts – gives accuracy and a smooth, aesthetic finish
One of the main highlights is it's ease of access. Some of the other resin printers put regularly accessed parts in hard to reach places, like putting the USB slot at the back of the printer.
It feels sturdy and well put together, a real great bang for your buck if you will.
People that search up 3D printers to begin their miniature printing journey aren't always going to have experience with this kind of technology, so having a easy to operate, print out of the box type of system is essential. This printer does exactly that.
The video below is a detailed review on it's positives and negatives (mainly positives!) so feel free to check it out for some more useful information.
Benefits of the QIDI Tech Shadow:
Fast Slicing & Printing
Operates Quietly – no ones like a loud 3D printer!
Professional Customer Service After Sale – countless glowing reviews by customers
Top-Tier Precision – XY Resolution 0.047mm (2560 x 1440), Z-Axis Accuracy 0.00125mm
Layer Thickness as low as 0.01, up to 0.2mm
Many people were excited for the release of this 3D printer and for very good reason. It's basically what the Anycubic Photon S should have been, so QIDI definitely took onboard the feedback from 3D printer users around the globe to create an amazing resin 3D printer.
This will change the game for creating your favorite miniatures and parts for any table top games out there so get your QIDI Tech Shadow 5.5 S today from Amazon.
Why Resin 3D Printers Over FDM Printers?
Resin
Higher Quality Models
Although FDM printing is more suited to beginners, resin printing has been known in the 3D printing community to be able to produce higher quality models but usually at a higher price.
Some people argue that you can get high quality minis with an FDM printer, which is quite true but when comparing the two, resin 3D printers always come out on top.
Very little upgrades for improving quality; works great out of the box without spending $ or time on upgrades.
I'd recommend to leave FDM printing for terrain or large prints that you have in mind because it's more cost-effective and can print at much faster rates with wider nozzles.
Research & Development is Improving Resin Printing
Keep in mind that resin does give off toxic fumes while printing and it can get quite messy, so if you are in an apartment or small office space, you may have to rethink this purchase. Resin 3D printers should be in well-ventilated spaces with additional air-filtering devices to ensure your safety.
Development of resin has actually produced non-smelly products so it's not as much of a worry.
Resin is a toxic material to the touch so it's advised to handle resin with gloves and a mask for the smell.
After printing your minis, resin prints have to be bathed in acetone then cured in UV light.
FDM
Post-Processing can be Tedious
Using a resin 3D printer does take relatively more post-processing and extra knowledge to get printing start, but once you get the hang of it, you won't regret it.
After some experience you could probably get the processing timing down to 5 minutes for a batch of minis.
With FDM prints, supports can be a huge issue especially when removing them off weaker parts such as a weapon handle or arms.
Lower Cost Per Mini
Depending on how efficient you make your 3D printer and how cheap you can get resin, minis on a resin 3D printer can cost anywhere from $0.30 per mini upwards of $1.50 and even more in some cases.
---
All factors considered, price and print quality being the main ones I would without a doubt recommend the QIDI Tech Shadow 5.5 S.