7 Best Resin 3D Printers for Beginners in 2022 – High Quality
3D printing is steadily growing as time goes on as a way to create high quality models, whether they are items related to one of your hobbies or for some cool miniatures, figurines and plenty more.
Resin 3D printers are getting a lot easier to use for beginners and novices, so I decided to put together a simple article that gives you some great options that you can get for yourself or as a gift for someone else.
These resin (SLA) printers are different from filament (FDM) 3D printers as they use a photopolymer liquid resin as the main building material rather than spools of plastic such as PLA or ABS.
You have multiple types of resin that have different properties like water washable resin, flexible resin and tough resin which can reach layer heights of just 0.01-0.05mm.
The quality difference between resin and filament is very noticeable, as filament usually has layer heights of 0.1-0.2mm.
So now that we have the basics out of way, let's get into the 7 of the best resin 3D printers for beginners.
Anycubic is a very popular resin 3D printer manufacturer that several people love, so the release of the Anycubic Photon Mono was a great experience. I think it was Anycubic's first Mono resin printer, allowing for an LCD screen that lasts around 2,000 hours of printing rather than 600 hours.
The Photon Mono is packed with features such as a fast printing speed and a great light source.
Features of the Anycubic Photon Mono
6" 2K Monochrome LCD
Large Build Volume
New Matrix Parallel 405nm Light Source
Fast Printing Speed
Easy to Replace FEP
Own Slicer Software – Anycubic Photon Workshop
High Quality Z-Axis Rail
Reliable Power Supply
Top Cover Detection Safety
Specifications of the Anycubic Photon Mono
Display Screen: 6.0-Inch Screen
Technology: LCD-Based SLA (Stereolithography)
Light Source: 405nm LED Array
Operating System: Windows, Mac OS X
Minimum Layer Height: 0.01mm
Build Volume: 130 x 80 x 165mm
Max Printing Speed: 50mm/h
Compatible Materials: 405nm UV Resin
XY Resolution: 0.051mm 2560 x 1680 Pixels (2K)
Bed Leveling: Assisted
Power: 45W
Assembly: Fully Assembled
Connectivity: USB
Printer Frame Dimensions: 227 x 222 x 383mm
Third-Party Materials: Yes
Slicer Software: Anycubic Photon Workshop
Weight: 4.5 KG (9.9 Pounds)
User Experience of the Anycubic Photon Mono
The Anycubic Photon Mono is a great entry for beginners to start resin printing for many reasons. The first is its affordable price, being around $250 which is competitive for the features it has.
Another reason is how fast you can cure each layer, with Anycubic stating that you can cure layers in just 1.5 seconds.
Users have rated the Anycubic Photon Mono very highly on Amazon, currently having a rating of 4.5/5.0 with over 600 reviews at time of writing.
The packaging and delivery comes securely packaged to a high standard to ensure safe delivery. The instructions and assembly process are really simple to follow, so you don't have to take hours to put things together.
It comes with all the things you need to get started such as gloves, filters, a mask, and so on, but you'll need to purchase your own resin.
Once you get things up and running, the print quality of the models are excellent, as many users have mentioned in their reviews of the Anycubic Photon Mono.
Many beginners chose this 3D printer as their first and didn't regret it one bit. One review even says it's a "perfect first time user's machine" and he had it printing within 30 minutes of it arriving to his house.
Pros of the Anycubic Photon Mono
Comes with an efficient and convenient acrylic lid/cover
With a resolution of 0.05mm, it produces an excellent build quality
Build volume is a bit larger than its advanced version Anycubic Photon Mono SE.
Offers a very fast printing speed which is normally 2 to 3 times faster than other traditional resin 3D printers.
It has a high 2K, XY resolution of 2560 x 1680 pixels
Has quiet printing, so it doesn't disturb work or sleep
Once you get to know the printer, it is quite easy to operate and manage
An efficient and extremely easy bed leveling system
Focusing on its print quality, printing speed, and build volume, its price is quite reasonable as compared to other 3D printers.
Cons of the Anycubic Photon Mono
It only supports a single file type which can be inconvenient sometimes.
Anycubic Photon Workshop is not the best software, but you have the options to use Lychee Slicer which can save in the required extension for the Photon Mono.
It's hard to tell what's going on until the base comes above the resin
The odors aren't ideal, but this is normal for many resin 3D printers. Get some low-odor resin to combat this downside.
There is a lack of Wi-Fi connectivity and air filters.
The display screen is sensitive and prone to scratches.
Easy replace FEP means you have to buy the whole FEP film set rather than individual sheets which costs more, but you can get the Sovol Metal Frame Vat from Amazon to replace FEP film.
Get yourself the Anycubic Photon Mono from Amazon as your first resin 3D printer today.
Elegoo is another reputable resin 3D printer manufacturer with plenty of experience making popular resin printers. The Mars 2 Pro also has a Mono screen like the Photon Mono. It is a mostly aluminum printer, with an aluminum body and aluminum sanded build plate.
There is also a built-in carbon filtration to help reduce odors.
Features of the Elegoo Mars 2 Pro
6.08″ 2K Monochrome LCD
CNC-Machined Aluminum Body
Sanded Aluminum Build Plate
Light & Compact Resin Vat
Built-In Active Carbon
COB UV LED Light Source
ChiTuBox Slicer
Multi-Language Interface
Specifications of the Elegoo Mars 2 Pro
System: EL3D-3.0.2
Slicer Software: ChiTuBox
Technology: UV Photo Curing
Layer Thickness: 0.01-0.2mm
Printing Speed: 30-50mm/h
Z Axis Accuracy: 0.00125mm
XY Resolution: 0.05mm (1620 x 2560)
Build Volume: 129 x 80 x 160mm
Light Source: UV Integrated Light (wavelength 405nm)
Connectivity: USB
Weight: 13.67lbs (6.2kg)
Operation: 3.5-Inch Touch Screen
Power Requirements: 100-240V 50/60Hz
Printer Dimensions: 200 x 200 x 410mm
User Experience of the Elegoo Mars 2 Pro
Resin printing on the Elegoo Mars 2 Pro is a great experience that many users have enjoyed.
The quality is described by current users as stunning. One user described the experience of creating the first resin 3D print as "incredible". This is a great competitively-priced resin 3D printer that is practically ready out of the box, requiring little assembly.
When it comes to resin 3D printing though, it's important to learn the ropes on how to get things working to a good standard. One of the key things is learning how to support resin models, which does take some time and practice.
Once you learn this skill, you can take a variety of cool STL files from a website like Thingiverse and start processing some models to 3D print.
Some models do come pre-supported which is pretty useful, but learning how to do it yourself is ideal.
Admittedly, resin can be troublesome to deal with, especially if you don't have a low-odor resin that doesn't smell as bad as others. You should operate the Elegoo Mars 2 Pro in a ventilated room at minimum, and ensure you have a proper workspace.
After some research, one user who is a full-time woodwind maker, and famous for Irish Flutes decided to purchase the Elegoo Mars 2 Pro. Filament printing couldn't achieve the quality he wanted, but resin printing definitely could.
The 0.05mm resolution was more than enough to fulfill he needs, but he did run into a small issue with the Z-axis height. He needed a larger height so he actually ended up changing the leadscrew to allow for 350mm Z-axis capabilities, which worked out well.
He praised the final output and quality of this 3D printer, so I'm sure you'll love it too.
Another user who was experienced at 3D printing D&D miniatures for tabletop gaming with filament decided to give resin 3D printing a try. After getting this machine, he considered selling his Ender 3 because the quality was so much better.
He said he had nothing but a positive experience using the Elegoo Mars 2 Pro. Setting it up was easy along with leveling the build plate and printing the first test print.
Pros of the Elegoo Mars 2 Pro
Outstanding printing quality
Fast layer curing time
Inclusion of an angled plate holder
Rapid printing process
Large build volume
Less to no maintenance
High accuracy and precision
Robust build and sturdy mechanism
Supports multiple languages
Long lifespan and high reliability
Stable performance during long-term printing
Cons of the Elegoo Mars 2 Pro
LCD screen lacks a protective glass
Loud, noisy cooling fans
Z-axis does not have a limiter switch
A slight decrease in pixel-density
No top-down removable vat
The Anycubic Photon Mono X was a significant entry into larger resin printers for Anycubic. There were other larger resin printers, but at quite premium prices. This machine had a large influence on other resin printer today that come at competitive prices.
It has a large build volume for a resin printer at 192 x 120 x 245mm, plenty of room for a high detailed statue or bust, as well as for a gang of miniatures for tabletop gaming. Your creativity is your limit.
Features of the Anycubic Photon Mono X
8.9″ 4K Monochrome LCD
New Upgraded LED Array
UV Cooling System
Dual Linear Z-Axis
Wi-Fi Functionality – App Remote Control
Large Build Size
High Quality Power Supply
Sanded Aluminum Build Plate
Fast Printing Speed
8x Anti-Aliasing
3.5″ HD Full Color Touch Screen
Sturdy Resin Vat
Specifications of the Anycubic Photon Mono X
Build Volume: 192 x 120 x 245mm
Layer Resolution: 0.01-0.15mm
Operation: 3.5″ Touch Screen
Software: Anycubic Photon Workshop
Connectivity: USB, Wi-Fi
Technology: LCD-Based SLA
Light Source: 405nm Wavelength
XY Resolution: 0.05mm, 3840 x 2400 (4K)
Z Axis Resolution: 0.01mm
Maximum Printing Speed: 60mm/h
Rated Power: 120W
Printer Size: 270 x 290 x 475mm
Net Weight: 10.75kg
User Experience of the Anycubic Photon Mono X
I've got the Anycubic Photon Mono X myself and it was actually my first resin 3D printer. As someone who was a beginner, this was a great choice to get started because it was very easy to assemble and operate afterwards.
The larger build size is a significant feature, especially with a resin printer which tend to be smaller. Assembly probably took 5 minutes, while calibration took 5-10 minutes to get it right. Once you have done both of those things, you can get started pouring the resin in and starting your first print.
In terms of the quality of the models that come off the build plate, the 4K resolution is really seen in the resulting 3D prints, especially for miniatures that have finer details.
It's quite a heavy machine but once you set it in place, you shouldn't have to move it very often. The design looks very professional and the yellow acrylic lid allows you to still view your prints while it is printing.
One of my favorite features is the ability to adjust settings during the print such as exposure times, lift heights and speeds. This gives you more control over your prints if you notice you put in any incorrect settings beforehand or for any other reason.
The resin vat has a small lip in the corner that allows you to pour resin out a little easier. One thing that I'd like to see though is the acrylic lid to have a better airtight connection with the printer, since it doesn't sit in place so well.
Pros of the Anycubic Photon Mono X
You can get printing really quickly, all within 5 minutes since it's mostly pre-assembled
It's really easy to operate, with simple touchscreen settings to get through
The Wi-Fi monitoring app is great for checking on the progress and even changing settings if desired
Has a very large build volume for a resin 3D printer
Cures full layers at once, resulting in quicker printing
Professional looking and has a sleak design
Simple leveling system which stays sturdy
Amazing stability and precise movements that lead to almost invisible layer lines in 3D prints
Ergonomic vat design has a dented edge for easier pouring
Build plate adhesion works well
Produces amazing resin 3D prints consistently
Growing Facebook Community with plenty of helpful tips, advice, and troubleshooting
Cons of the Anycubic Photon Mono X
Only recognizes .pwmx files so you may be limited in your slicer choice
The acrylic cover doesn't sit in place too well and can move easily
Touchscreen is a little flimsy
Fairly pricey compared to other resin 3D printers
Anycubic doesn't have the best customer service track record
You can get the Anycubic Photon Mono X from Amazon for a competitive price. You may be eligible for a coupon depending on when you buy it, so click the link to see if it's available.
Phrozen have been creating some great resin 3D printers lately, so with the addition of the Phrozen Sonic Mighty 4K, they have been putting in some great work. This printer has a large 9.3-Inch 4K monochrome LCD, along with very fast printing speeds of up to 80mm per hour.
It has most things you'd want as a beginner for resin printing, especially if you want one with good size to it.
Features of the Phrozen Sonic Mighty 4K
Large Build Size
4K 9.3 Inch Monochrome LCD
ParaLED Module
Compatible with 3rd Party Resins
Easy Assembly
User Friendly
Fast Curing at 1-2 Seconds Per Layer
Speeds Up to 80mm Per Hour
52 Micron Precision & Resolution
Specifications of the Phrozen Sonic Mighty 4K
System: Phrozen OS
Operation: 2.8in Touch Panel
Slicer Software: ChiTuBox
Connectivity: USB
Technology: Resin 3D Printer – LCD Type
LCD Specification: 9.3″ 4K Mono LCD
Light Source: 405nm ParaLED Matrix 2.0
XY Resolution: 52µm
Layer Thickness: 0.01-0.30mm
Printing Speed: 80mm/ hour
Power Requirement: AC100-240V~50/60Hz
Printer Size: 280 x 280 x 440mm
Print Volume: 200 x 125 x 220mm
Printer Weight: 8kg
VAT Material: Plastic
User Experience of the Phrozen Sonic Mighty 4K
The Phrozen Sonic Mighty 4K is a well-respected resin 3D printer that has created plenty of high quality models for many users, including beginners. It has a fantastic rating on Amazon of 4.5/5.0 at time of writing.
Plenty of people who are using this machine are beginners, and they mention how it wasn't too hard to get the hang of.
There is some troubleshooting and learning involved, but once you learn some tips such as warming and shaking up your resin between uses, you can get many successful prints. The quality, as well as the large build plate are the main reasons why users love this printer.
One user who is very familiar with Phrozen products said the quality of the Sonic Might 4K is excellent. It works faster than standard resin 3D printers by far, even taking half the time to print as the Sonic Mini in some cases.
This same user mentioned that after just 4 days of printing, they managed to create over 400 vehicles without even one failed print. He says the support from Phrozen is top class, so you can rely on their customer service if needed.
Some users have unfortunately had quality control issues in the past, but it seems as though they have fixed these issue since the recent reviews are looking great. Other than the resin smells, people absolutely love the Phrozen Sonic Mighty 4K.
Pros of the Phrozen Sonic Mighty 4K
Amazing print quality
Easy handling and operation
Printer comes well packaged up
You can print larger models than regular resin printers that tend to be smaller
Great company reputation with many trusted products
Works great out of the box
Set up is really easy
Has a large build plate, where you can fill the plate with plenty of models
Cons of the Phrozen Sonic Mighty 4K
Known to be some quality control issues such as loose screws and LED scratches in some cases based on reviews
Z-axis design is a little troublesome since you have to screw the thumbscrew in a decent amount to hold it in place.
The LCD screen doesn't come with a screen protector so it can be prone to scratches
You can find the Phrozen Sonic Mighty 4K from Amazon for a respectable price.
Creality are probably the most popular 3D printing manufacturer in the world, but with most experience on filament printers. They decided to try their hand at resin printing and it has been going very well so far, with the release of the Creality Halot One.
This is perfect for a beginner, being a budget 3D printer with good features and a decent build volume. It's a 2K screen 3D printer with enough resolution to provide you with great resin models.
Features of the Creality Halot One
High Precision Integral Light Source
Powerful Motherboard Performance
6-Inch 2K Monochrome Screen LCD
Dual Cooling Systems
Creality Slicing Software
Supports Wi-Fi Control
Simple Elegant Design
Specifications of the Creality Halot One
Printing Size: 127 x 80 x 160mm
Machine Size: 221 x 221 x 404mm
Machine Weight: 7.1kg
UV Light Source: Integral Light Source
LCD Pixels: 1620 x 2560 (2K)
Printing Speed: 1-4s per layer
Leveling: Manual
Printing Material: Photosensitive Resin (405nm)
XY-Axis Resolution: 0.051mm
Input Voltage: 100-240V
Power Output: 24V, 1.3A
Power Supply: 100W
Control: 5-Inch Capacitive Touchscreen
Engine Noise: < 60dB
Operating System: Windows 7 & Above
User Experience of the Creality Halot One
The Creality Halot One is a lesser known resin printer, but since it's made by Creality, it is choice that is easy to make for beginners. It currently is rated 4.9/5.0 on Amazon, but with only around 30 reviews.
People's experiences with the Halot One are mostly positive. They love the ease of setup and assembly, as well as the overall print quality that they can get with models. Several reviews come from beginners who really appreciate how simple the printing process was.
Even though this is a great device for beginners, resin printing still has its learning curve, but it is made simpler with this machine.
Most printers are shipped successfully, but one printer that came with a defective lid to one user promptly had it replaced after contacting customer service. This shows that Creality are happy to work with users if any issues arise.
The Halot One barely requires any assembly, just inserting the USB stick, peeling off the films, leveling the print bed, then you should be able to start printing successfully.
One user said he was printing within just 10 minutes of unboxing this printer. He recommends it to anyone who is looking for their first resin 3D printer.
Pros of the Creality Halot One
Great print quality
Very little assembly required
Easy to get started from unboxing to printing
Bed leveling is very simple compared to filament printers
Creality slicer works well and is simple to operate
File transfer is easy since it is natively wireless
Has carbon filters to help reduce odors in the environment
The touchscreen works well and is easy to clean
Navigation and the user interface is simple
Cons of the Creality Halot One
Some users don't really like the slicer that comes with the printer – constant crashes, can't set up profiles, exposure has to be set on the printer rather than the slicer. You can use Lychee Slicer which has a profile for the Halot One.
Trouble with setting up the Wi-Fi and getting a proper connection
Not supported by ChiTuBox at time of writing
Some people had issues getting the first prints, then got there with some basic troubleshooting
Treat yourself with a great first resin printer with the Creality Halot One from Amazon.
Elegoo outdid themselves with the release of the Elegoo Saturn, a direct competitor to the Anycubic Photon Mono X. They do have very similar features such as the double linear Z-axis rails and 4K monochrome LCD, but there are a few differences such as the look and file transfer feature.
Features of the Elegoo Saturn
8.9″ 4K Monochrome LCD
54 UV LED Matrix Light Source
HD Print Resolution
Double Linear Z-Axis Rails
Large Build Volume
Color Touch Screen
Ethernet Port File Transfer
Long-Lasting Leveling
Sanded Aluminum Build Plate
Specifications of the Elegoo Saturn
Build Volume: 192 x 120 x 200mm
Operation: 3.5-Inch Touch Screen
2Slicer Software: ChiTu DLP Slicer
Connectivity: USB
Technology: LCD UV Photo curing
Light source: UV Integrated LED lights (wavelength 405nm)
XY Resolution: 0.05mm (3840 x 2400)
Z Axis Accuracy: 0.00125mm
Layer Thickness: 0.01 – 0.15mm
Printing Speed: 30-40mm/h
Printer Dimensions: 280 x 240 x 446mm
Power Requirements: 110-240V 50/60Hz 24V4A 96W
Weight: 22 Lbs (10 Kg)
User Experience of the Elegoo Saturn
The Elegoo Saturn is probably one of the most top-rated resin 3D printers out there, having an excellent rating of 4.8/5.0 with over 400 reviews at time of writing. Elegoo have a really great reputation as a company and even more for the Saturn itself.
Initially, it was so popular that it constantly ran out of stock since so many people were trying to get one for themselves. Now they have kept up with the demand, so you can get your hands on one a lot easier than before.
The packaging is the first thing you'll notice when unboxing this machine, and it is very well-packaged, with layers of protection and precision foam inserts that hold all the items in place properly. It's an all-metal machine other than the orange acrylic lid, giving you top quality parts.
Setting up the Elegoo Saturn is a very simple process just like the other resin printers. You simply have to install the build plate, loosen the two screws on there, level the plate with the leveling paper and clear instructions, then pour resin in and start printing.
From this point, you can insert the USB and begin your first test print.
One user mentioned that he's getting great printing results after learning how to properly support models, and is practically creating perfect prints every time.
I'd recommend watching some YouTube videos of other users who have experience so you can learn some of the basics and techniques to get some great models. One user made the mistake of overfilling their resin vat, as well as not using the recommended settings.
Pros of the Elegoo Saturn
Outstanding print quality
Accelerated printing speed
Large build volume and resin vat
High accuracy and precision
Rapid layer-curing time and faster overall printing times
Ideal for large prints
Overall metal build
USB, Ethernet connectivity for remote printing
User-friendly interface
Fuss-free, seamless printing experience
Cons of the Elegoo Saturn
Cooling fans can be slightly noisy
No built-in carbon filter
Possibility of layer shifts on prints
Build plate adhesion can be a little difficult
The Elegoo Saturn is a great choice of resin 3D printer for beginners, so get your own from Amazon today.
The Voxelab Proxima 6.0 is a well put together resin 3D printer that beginners are sure to love as an entry into resin printing. It covers all the basic necessities and adds a few ideal features that users find easy to operate.
You can get printing very quick after unboxing this machine.
Features of the Voxelab Proxima 6.0
6-Inch 2K Monochrome Screen
Single Linear Rail
Stable & Efficient Light Source
Simple Leveling System
Full Gray-Scale Anti-Aliasing
Integrated FEP Film Design
Supports Multiple Slicers
Sturdy Aluminum Vat with Max. Level
Specifications of the Voxelab Proxima 6.0
Build Volume: 125 x 68 x 155mm
Product Dimensions: 230 x 200 x 410mm
Operating Screen: 3.5-Inch Touch Screen
Max. Layer Height: 0.025 – 0.1mm (25 – 100 microns)
XY Axis Resolution: 2560 x 1620
Printer Screen: 6.08-Inch 2K Monochrome LCD Screen
Light Source: 405nm LED
Power : 60W
AC Input: 12V, 5A
File Format: .fdg (exported from .stl files in slicer)
Connectivity: USB Memory Stick
Supported Software: ChiTuBox, VoxelPrint, Lychee Slicer
Net Weight: 6.8 KG
User Experience of the Voxelab Proxima 6.0
I actually have the Voxelab Proxima 6.0 myself and it was definitely a positive experience. I'd recommend it for beginners because it focuses on simplicity. Many users who got this resin printer were beginners, showing it plenty of praise.
It has a rating of 4.3/5.0 on Amazon at time of writing, with 80% of reviews being 4 stars or above.
The most significant things here is the price, mixed with how many features it has. You can get the Proxima 6.0 for around $170 from Amazon, which still provides amazing quality prints.
Below are three prints from this machine that came out really well.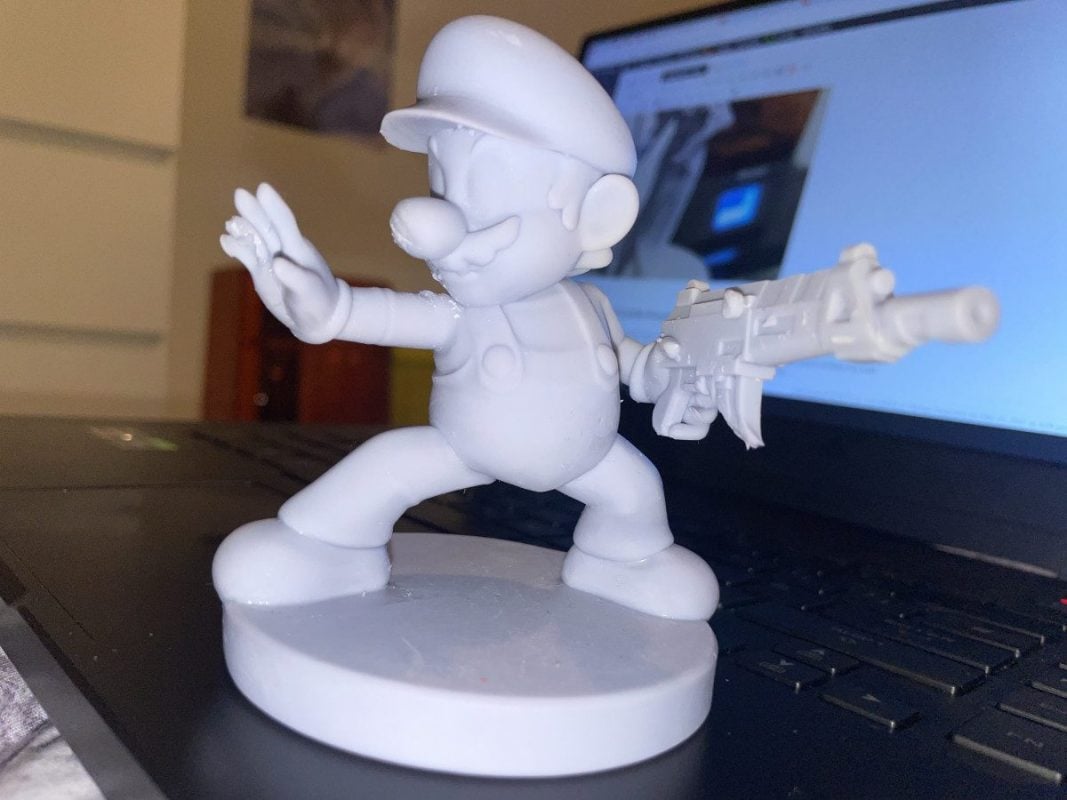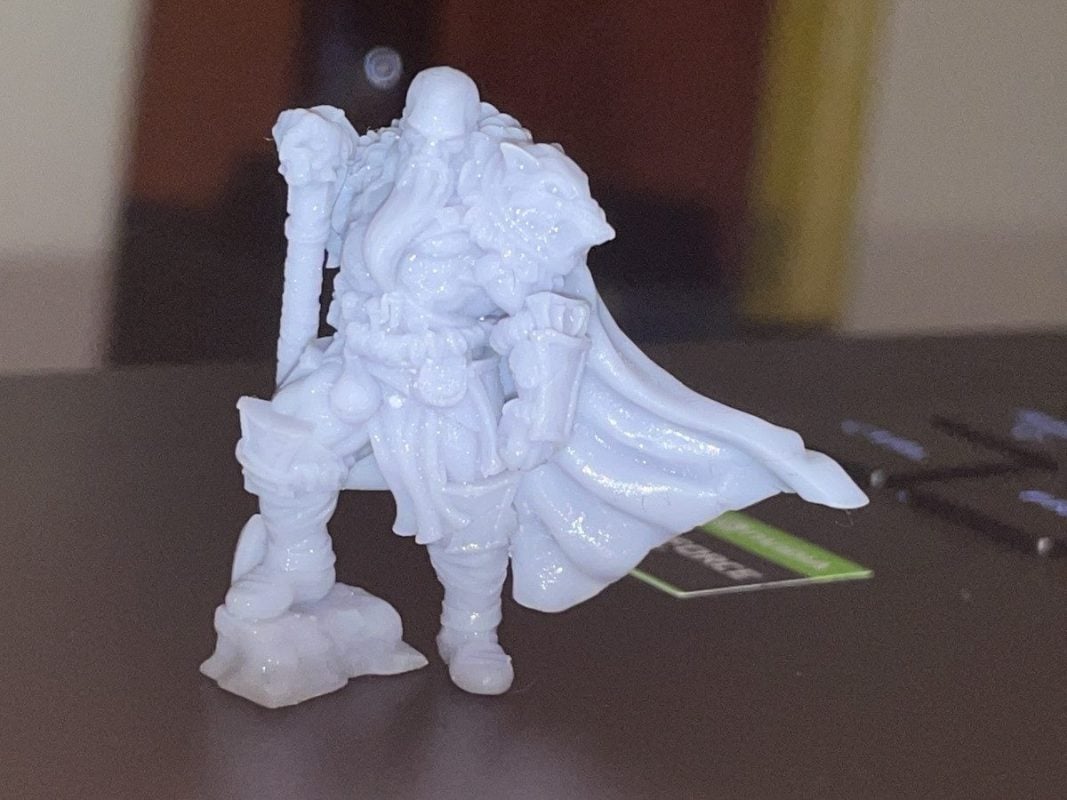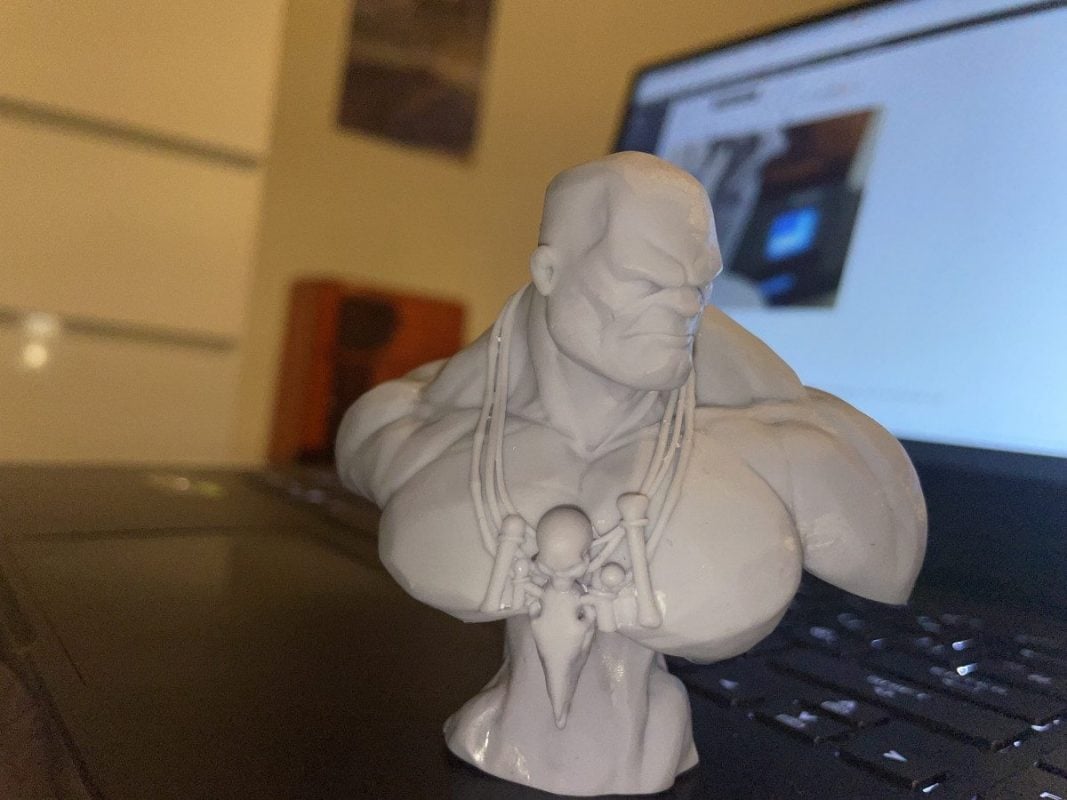 It has a respectable build volume of 125 x 68 x 155mm, along with a 2K monochrome screen that can create excellent models.
Voxelab isn't as popular as other brands, but they are linked to Flashforge's manufacturers so they have experience with creating 3D printers.
A few reviews have commented on how they reached out to customer service for issues of warranty on things like the screen and couldn't get a replacement. I'm not sure of the details behind it, but they weren't happy with the customer service they received.
Most reviews are positive but it's important to note these types of things..
Pros of the Voxelab Proxima 6.0
It's packaged up very securely and snug so it comes to you in one piece.
Decent instructions that provide the simple steps to set the machine up – though some parts aren't written too well
Overall setting up and operation of the machine is very easy to do and can be done quickly
The quality of the prints are top of the line and allows you to print at a 0.025mm layer height
Frame and sturdiness of the Proxima 6.0 is amazing compared to other printers out there
The touchscreen is great in terms of user experience
Good tight fit around the acrylic lid, so fumes don't spill out so easily
High quality USB to connect and print with
Really competitive price point for the quality and features you are getting
Leveling is very easy to get the hang of and doesn't need to be done so often
The plastic and metal scrapers that come with the printer are great quality
It's a perfect 3D printer for beginners who have never printed with a resin machine
Cons of the Voxelab Proxima 6.0
You can't change the settings and exposure time during the printing process
It is pretty loud compared to other resin 3D printers – mainly the up and down movements of the build plate.
The USB stick comes with STL files rather than a pre-sliced model so you have to slice the model yourself to test the printer.
Some users have mentioned that the VoxelPrint software could use some improvement
A few users couldn't follow the instructions too well so I'd recommend using a video tutorial
The package came with one set of gloves that were a different size unfortunately!
You can find the Voxelab Proxima 6.0 on Amazon for your first resin 3D printer.