Best 3D Scanners Under $1000 for 3D Printing
Looking for a 3D scanner under 1000 dollars? We got your list. As important as the 3D printers are to 3D Processing, 3D scanners are a viable component.
Thankfully, despite its less familiarity, 3D scanners come in a variety of forms, including mobile, handheld, desktop, and advanced metrology system scanners for all levels of expertise.
This is a list of the 3D scanners under 1000 dollars:
To dig a little deeper, we'll go through the specs to review which 3D scanner best suits your needs.
Since we are looking at scanners under 1000$, we'll narrow down our scanners to Desktop 3D scanners, Handheld 3D scanners, and a mobile 3D scanner.
Matter and Form has been putting desktop 3D scanners into the market since 2014. The 3D Scanner V2 is the second version of their first product, MFS1V1 3D scanner, that was released in 2018.
This scanner is advertised for its fast scanning, at just over a minute (65 seconds). This scanner is light, at 3.77 pounds and folds for easy carry. This Unit is friendly to beginners and hobbyists.
| Matter and Form 3D Scanner V2 | Details |
| --- | --- |
| Price Range | $500 - $750 |
| Type | Desktop |
| Technology | Laser Triangulation Technology |
| Software | MFStudio Software |
| Outputs | DAE, BJ, PLY, STL, XYZ |
| Resolution | Accuracy up to 0.1mm |
| Scanning Dimension | Maximum height for item is 25cm (9.8in) and a diameter of 18cm (7 in) |
| Included in Package | 3D scanner, calibration card, USB and power, the info booklet. |
The next on the list is the well-respect POP 3D scanner that has been producing great scans from day 1. It's a compact, full-color 3D scanner with a dual camera that makes use of infrared structured light.
It has a scanning accuracy of 0.3mm which seems lower than usual, but the quality of the scans are really well done, mostly likely due to the scanning process and technology. You get a scanning distance range of 275-375mm, and a 8fps scanning.
Many people have used it to create 3D scans of their faces, as well as scanning detailed objects that they can replicate with a 3D printer.
The scanning accuracy is enhanced by its 3D point data cloud feature. You can choose to use the POP scanner either as a handheld device, or as a stationary scanner with a turntable.
It even works well with smaller sized objects, being able to capture smaller details fairly well.
There is actually a new and upcoming release of the Revopoint POP 2 which shows a lot of promise and increased resolution for scans. I'd recommend checking out the POP 2 for your 3D scanning needs.
They give a 14-day money-back guarantee as stated on their website, as well as lifetime customer support.
Check out the Revopoint POP or POP 2 Scanner today.
POP 3D Scanner
Details
Price Range
$600 - $700
Type
Handheld
Technology
Infrared Scanning
Software
Handy Scan
Outputs
STL, PLY, OBJ
Resolution
Accuracy up to 0.3mm
Scanning Dimension
Single Capture Range: 210 x 130mm
Working Distance: 275mm±100mm
Minimum Scan Volume: 30 x 30 x 30cm
Included in Package
3D scanner, turntable, power cable, test model, phone holder, black scanning sheet
SOL 3D is another scanner in a similar price range that uses a different type of technology. It combines the laser triangulation technology with a white light technology, which also provides a resolution up to 0.1mm.
In addition, the SOL 3D scanner uses an automated 3D process, which helps scan items from close proximity and also far away. This provides the capability for finely detailed scans.
SOL 3D comes with its own software; the software is great as it provides auto mesh. If you want scans of the items from different angles, you can achieve an auto mesh to collect the full geometry.
SOL 3D Scanner is great for the hobbyist, educators, and entrepreneurs that are new to experiencing 3D scanning devices while achieving high-resolution products.
| Scan Dimension SOL 3D Scanner | Details |
| --- | --- |
| Price Range | $500 - $750 |
| Type | Desktop |
| Technology | Uses a hybrid technology – Combination of laser triangulation and white light technology |
| Software | Provided with Unit (provides auto mesh) |
| Resolution | Resolution up to 0.1 mm |
| Scanning Platform | Can hold up to a 2 Kg (4.4lb) |
| Calibration | Automatic |
| Included in Package | 3D Scanner, turntable, stand for scanner, Black-out tent, USB 3.0 cable |
Occipital's Structure Sensor 3D Mark II Scanner, as the name implies, can be seen as a 3D vision or a sensor addition to mobile devices.
It is a light and simple plug-in that provides 3D vision for scanning and capturing. It is advertised to provide the ability for devices to become spatially aware.
This Unit provides the capability ranges from indoor mapping to even virtual reality games. The features can extend from 3D scanning to room capturing, positional tracking, and a self-contained 3D Capture. These are great for hobbyists and more.
Get the Occipital Structure Sensor Mark II (UK Amazon link)
This Unit enables 3D scanning and comes with a downloaded app for an iPad or any iOS mobile device. It is small and light, 109mm x 18mm x 24mm (4.3 in. x 0.7 in, 0.95 in), and 65g (roughly 0.15 lb).
| Occipital Structure Sensor | Details |
| --- | --- |
| Price Range | $500 - $600 |
| Type | Mobile |
| Technology | Combination |
| Software | Skanect Pro, Structure SDK (computing platform) |
| Resolution | "High" – Not defined |
| Scanning Dimension | Scanning range is large, 0.3 to 5m (1 to 16 ft) |
For those projects that require windows or even an android user would like the option of the Structure Core from Structure by Occipital.
This Unit comes with 1 Structure Core (Color VGA), 1 Tripod (and Tripod Mount) for Structure Core, and 1 Skanect Pro license.
The USB-A and USB-C cable also come with a USB-C to USB-A adapter.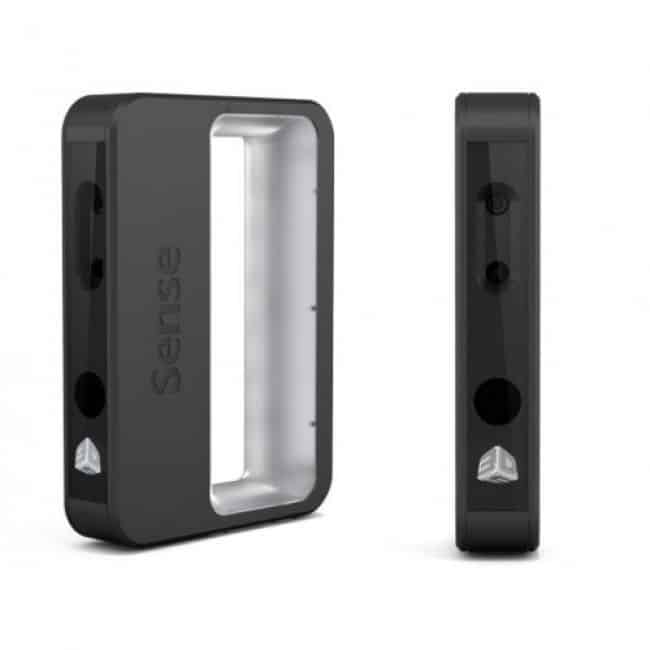 If you are a Windows PC owner and want to try something other than the Structure Core, the 3D System Sense 2 is a great option.
3D System is a 3D printing company that has been releasing 3D scanners with great value. This new version, Sense 2, is great for higher resolution and performance, but for short ranges.
The unique feature of the Sense 2 3D scanner is the two sensors, which capture the size of the object and the color. The Unit is a handheld scanner, and portable with its practical weigh just over a pound at 1.10 pounds.
3D System Sense 2
Details
Price Range
$500 - $600
Type
Handheld
Technology
Structured Light Technlogy
Software
Sense for RealSense
Resolution
Depth Sensor: 640 x 480 pixels
Color Camera/Texture resolution: 1920 x 1080 pixels
Scanning Dimension
Short range of 1.6 meters (roughly 5.25 ft); Maximum scan size 2 x 2 x 2 meters( 6.5 x 6.5 x 6.5 ft)
One of the most cost-friendly units is the XYZPrinting 3D scanner (1.0A). XYZPrinting offers a 1.0A and 2.0A version, while the 1.0A scanner offers a budget-friendly option.
This scanner offers four modes of scanning. It is a portable handheld scanner and can be used with laptops (or desktops) to scan people or objects.
XYZprinting 3D Scanner 1.0A
Details
Price Range
$200 - $300
Type
Handheld
Technology
Intel RealSense Camera technology (similar to structured light)
Outputs
XYZScan Handy (software to scan and edit models)
Resolution
1.0 to 2.6mm
Scanning Dimensions
Operating range of 50cm.

Scan area of 60 x 60 x 30cm, 80 x 50 x 80cm, 100 x 100 x 200 cm
This HE3D Ciclop DIY 3D Scanner is an open-source project. For that, it holds many benefits. All the information on mechanical design, electronics, and software are freely available.
It comes with a rotating platform, and all the structural parts and screws are 3D printed.
It includes a webcam, two-line lasers, a turntable, and connects with USB 2.0. Keep in mind this is an open source and "live" project that can come with new updates in the future!
| HE3D Ciclop DIY 3D Scanner | Details |
| --- | --- |
| Price Range | <$200 |
| Type | Handheld |
| Technology | Laser |
| Outputs (formats) | Horus (.stl and .gcode |
| Resolution | Will vary on the environment, light, adjust, and scanned object shape |
| Scanning Dimensions (Scan area capability) | 5cm x 5cm to 20.3 x 20.3 cm  |
Quick 3D Scanner Buying Guide
Now that we've reviewed the specs let's review what you're looking for. Depending on your project, you will want an application that has the features necessary to generate the appropriate 3D model.
For the Hobbyist
As a hobbyist, you may be using it occasionally, or regularly. 3D scanners can be used for fun activities, making replicas, or personalized items. You may want to look at something that can be easy to carry and affordable.
For the Professional
As a professional, you need good resolution and preferably a quick scanner. Size will also be a huge factor.
You may be using it for dental work, jewelry, and other small objects, while some professionals may be using it for large objects such as archeological finds, buildings, and statues.
Do I Need a 3D Scanner?
As a hobbyist of 3D scanning and printing, you may want to consider how much money you would like to contribute to a scanner.
Perhaps, you might also want to find alternative methods to scan an object instead of investing too much into it. Thankfully, our list has great budget-friendly options.
Photogrammetry vs. 3D Scan
So, what if you don't want a 3D scanner? If you want to start with a budget-friendly option, try heading to an accessible resource, your phone!
With your phone, and multiple software options (listed below), you can produce a 3D model by taking several pictures.
This is called photogrammetry. This method uses photos and image processing of reference points instead of light or laser technology of a 3D scanner.
If you ever are curious about how well a 3D scanner can benefit your hobby or professional project, check out the video below by Thomas Sanladerer.
He goes ahead and answers our question by comparing the quality and benefits of both photogrammetry (by phone) and an EinScan-SE (which is above the price we are looking at, but an excellent 3D scanner).
If you wanted to look at photogrammetry, here is a quick list of free software options that will help you jumpstart your scanning experience.
Autodesk ReCap 360
Autodesk Remake 
3DF Zephyr
3D Scanner Basics
Within a 3D scanner, there are several methods of 3D scanning to understand. As you may have been wondering, the "technology" of 3D scanning identified in the list above is in regard to the type of method the 3D scanner uses to obtain its data. The three types are:
Laser 3D Scanning
Photogrammetry
Structured Light Scanning
Laser 3D scanning
Of the three types listed, the most common is the laser 3D scanning technology.
Within a common laser-type 3D scanner, a laser probe light or dot is projected on the surface to be scanned.
During this process, a pair of (camera) sensors record the changing distance and shape of the laser as its data. Overall, this digitally captures the shape of the objects to real fine details.
These scans generate fine data points for computing through the software. These data points are called a "point cloud."
The combination of these data points is converted into a mesh (commonly, a triangulated mesh for the feasibility), then merged into the three-dimensional representation of the object that was scanned.
Photogrammetry
As quickly mentioned previously, photogrammetry is a 3D scanning method obtained by combining several pictures.
Typically taken in different points of view and mimicking the stereoscopy of the binocular human vision. This process is beneficial in collecting data regarding the shape, volume, and depth of the item.
These options can come with downfalls in regard to accuracy and resolution, but with a great selection of software, you'll be able to find clean edits to accomplish your goal in a clean model.
Structured Light Scanning
Structured light scanning is commonly used for facial or environmental recognition situations.
This method takes one of the camera positions with a light projector. This projector projects different patterns with its light.
Depending on the way the lights are distorted on the surface of the object that is being scanned, the distorted patterns are recorded as data points for the 3D scan.
Other Features of a 3D Scanner
Scan Area and Scanning Range
The dimensions and the distance of the scan will vary depending on your project. For example, a desktop scanner cannot 3D scan a building, while a handheld 3D scanner would not be the best option for a detailed jewelry scan.
This goes hand in hand with resolution. Resolution may be more of an importance for a professional than a hobbyist.
A resolution will be the determining factor on how detailed your final CAD model will be. If you have to model fine hair, for example, you will need a resolution that can read up to 17 micrometers!
Desktop vs. Handheld vs. Mobile
Overall, it rounds down to what kind of scanner to buy. As mentioned before, the different types of scanners will depend on what your scan will be but, most importantly, its functionality and scan area capability.
The scan area tends to go hand in hand with the type of 3D scanner you select.
Desktop
The best option for a small (detailed) part, a desktop scanner will be your best option. For either the hobbyist or professional, a desktop 3D scanner will be ideal for the stability and accuracy of small items.
Handheld
Handheld or portable, 3D scanners are suitable for a range of variable size scans but are ideal for large objects and hard-to-reach places.
Again, this may be a better selection for large scans as the stability of the portable scan may interfere with your desired resolution for small detailed parts.
Mobile 3D Scanning Apps
Lastly, if you're looking for something to jumpstart your hobby, a 3D scanning mobile app might be a great selection. It is much more affordable, and a great way to start playing with the 3D platform.
The resolution may not be as precise, but the friendly price tag helps to see what your most important features may be in 3D scanning for your projects.
What Else Do I Need?
To finalize your 3D scanning set up, especially if you are looking at detailed and high resolution set up, you will want to look into a few more items to make your life easier and the overall 3D scan accuracy better.
These items are things you will want, whether you will be stationary with a desktop scanner or mobile with a handheld or mobile option.
Lights
Turntable
Markers
Matting Spray 
Lights are an important component when it comes to 3D scanning. Although some scanners come with a built-in light option, or you may be able to do some scans outside on an overcast day, having a controlled light will come handy.
You will want LED lights or fluorescent bulbs, depending on your budget, that gives you a light temperature of roughly 5500 Kelvin.
Some options of lights can be very portable that are great for objects that will easily fit on your desktop.
You can use any small light kits that many photographers and videographers use for small items. The alternative will be to purchase a large light kit that can be used for full-body scans.
Lastly, if you are looking at purchasing a handheld or mobile 3D scanner for its portability option, you will also need a mobile LED light.
If you are using an iPad or a smartphone, you will be able to find light sources that can easily plug into your device or even solar-powered.
If you don't want to walk around your scanning item, nor want to risk confusing your 3D scanner with your wobbly scans, invest in a turntable. It'll make your life easier and scan much cleaner.
With slower control, you will have better resolution and a better sense of the depth of the objects (which is great for depth sensors).
Keep in mind, there are manual turntables, and automatic turntables (such as the Foldio 360), that are handy for all types of 3D scanners and especially for photogrammetry.
The steadiness is what you want.
If you want to do a full-body scan, look into bigger turntables that can hold a lot of weight. These can be pricey and may require some investigation into turntables for shop mannequins and photographers.
On a side note, if you invest in a turntable, this could also mean you need less light.
If you had to position light all-around a subject, now you can have one source of light in a fixed position relative to your scanner.
More for helping the software, a marker can help smooth out the scans by helping the software detect and understand which parts go where.
For this, you will want to look at high-contrast stickers such as simple fluorescent stickers from Avery that you can buy at any general office store.
Such as the last scanner we've mentioned, HE3D Ciclop scanner, your resolution, and accuracy of the scan can really be compromised when you have poor lighting and even worse, reflections.
For photogrammetry-based software, especially, the computer vision will require your aid in computing the algorithm correctly to estimate the depth of all images.
Unfortunately, most computer software cannot capture or understand a shiny object or see-through object. To overcome this, you can use a light-colored matte spray to provide opaque and matte surfaces.
If you feel like doing a simple and temporary spray, you can look at chalk sprays, water-soluble glue spray, hair spray, or even 3D scanning sprays as long as they will not harm your original product.
Conclusion
Overall, whether you are starting a new hobby, job, or looking for additions to your professional life, a 3D scanner is a great addition to the 3D processing family.
With budget-friendly options of using phone apps for photogrammetry, to desktop and handheld 3D scanners, you're off to a strong start. Set up your first 3D scanning studio and have at it.