Best 3D Printers Under $300, $500, $1,000, and $2,000
3D Printers today come in all ranges. They can even exceed the exorbitant price tag of $10000, and can also start as low as $200.
This article focuses on providing valuable information on the best 3D printers available under different budgets to help the buyer make the perfect decision, and ensure the purchase of a cost-efficient printer.
Under $300
Being labeled 'The Best 3D Printer Under $300', by All3DP, a highly renowned 3D printing magazine, the Ender 3 Pro (Amazon) is something that competes with the machines in the $1000 price range.
Creality, a top-selling 3D printing brand, never seems to disappoint with its huge lineup of top-class and highly capable 3D printers. One such exemplar of Creality's quality is the Ender 3 Pro which is nowhere near the impression it could leave with its price tag.
Instead, even professionals have shown their interest in this low-cost printer.
For such an economical cost, the Creality Ender 3 Pro comes with a large build volume of 220 x 220 x 250 mm that amounts to making larger prints. The quality, however, is what's the most surprising.
It is capable of producing prints of terrific quality as it is also compatible with the use of ABS filament, along with PLA.
For convenience, where most budget-friendly 3D printers could take multiple hours for setting them up, the Ender 3 just takes about 20 minutes. It arrives with clear instructions on how to assemble it, and doesn't pose any further problems.
It features a heated bed that only takes up to 5 minutes in reaching a temperature of 110°C. This, especially when printing PLA, is one of the most useful, and necessary qualities of a 3D printer that ensures proper adhesion to the printing platform, and prevents warping and curling.
The Ender 3 Pro is a robust machine. It has tremendous build quality, unlike the printers that cost around $300.
In addition, there's this new attribute of the Ender-3 that it's able to resume the printing automatically after being instantly shut down, may that be due to an unexpected power outage or an accidental sudden turn-off.
Despite the fact that the Ender-3 uses POM wheels when printing, which allows for higher precision, it is a highly recommended printer for anyone looking for amazing value for less money.
Under $500
Anycubic is a company based in Shenzhen, China, determined to make a difference in the grand scheme of 3D printing. So far, things are rocking for them with back to back production of super quality printers with great capabilities.
The Photon S (Amazon) is a major upgrade to Anycubic's Photon, which rose to success shortly after its release due to it being budget-friendly, and a printer that produced results much finer than its price.
Anyhow, the Photon S is a worthy printer to put in use under $500. It uses the technology of SLA (Stereolithography) which is the methodology of resin-based printing.
It comprises a plastic build that's above average in quality, however, users have reported a hint of flimsiness in the build. Upon enough force, the printer can easily be knocked off from a surface.
The bed leveling of the Photon S is manual, but is something very easy to accomplish. Since it comes ready to use right out of the box, this printer wouldn't scare off beginners from itself. Having an LCD screen mounted on the front of the printer, navigation is easy, and the operation is convenient.
The printer, quite opportunely, is compatible with 405 nm resins which provide flexibility in many different resin filaments to choose from.
With an improved general user interface, the Photon S is a class above in terms of print quality in this price range. It's known to produce prints of the finest detail and marvelous quality.
Upon wobbling complaints of the printing bed, the brains at Anycubic have acknowledged the issue and therefore, sent out the Photon S to ensure premium stability even during several, long rounds of printing.
The firmness of the Z-axis is the major change in the new edition, having two linear rails that allow a steady printing operation.
Photon S is known to hit big sales in the market mainly because of the level of prints it forms, all at a budget-friendly cost under $500. It sometimes has a coupon on Amazon that you can use, so click to check the updated price.
A great option when looking to buy a printer under $500 (with Amazon coupon) is the Creality CR-10S. Creality is a well-respected Chinese manufacturer, known to produce some of the finest 3D printers ever to exist. Therefore, the CR-10S has been labeled as one of the best printers to buy that won't be too heavy on the pocket.
This printer comes packed with numerous features that let it shine as the pride of Creality. It's a machine that outclasses printers even costing double the price of the S model of CR-10S.
The design is basic with an aluminum-made open-frame, lending the build its rigidity. It comes with a controlling box separated from the printer, and contains the traditional LCD GUI for easy navigation.
Moving on to the features of the printer, the CR-10S has a heated build plate so the printing bed adheres better to the prints, overall reducing any prospect of warping. Speaking of the glass printing bed, it's removable as well.
What truly makes the CR-10S stand out in its price range is its extraordinarily big build volume which, in accordance with the printer's capability, amounts to building bigger and better parts.
The performance of the CR-10S delivers even at low optimization. When tuned perfectly, the results are astounding.
The printer is also compatible with other filaments other than PLA, but not without an upgrade that allows it to withstand a high temperature that thermoplastics like ABS, and Nylon demand.
Although there's a heated print bed, it's normal for it to take a decent amount of time to fully warm up before it can welcome good printing.
The CR-10S has something new to offer, unlike the CR-10. For instance, there's an all-new automatic resume option which enables the printer to start exactly where it left the printing. This comes handy in case of an unexpected power outage that could potentially ruin days of hard work.
Not only the auto-resume, but there's a latest filament sensor that comes along with it as well. This attribute was really considerate of Creality to add to their new printer because this accommodating trait will tell you itself when the filament has run out.
This plays a key role in the user's benefit, especially when printing large parts whilst taking full advantage of the enormous build volume.
Check the most recent Amazon price for the CR-10S here.
Under $1,000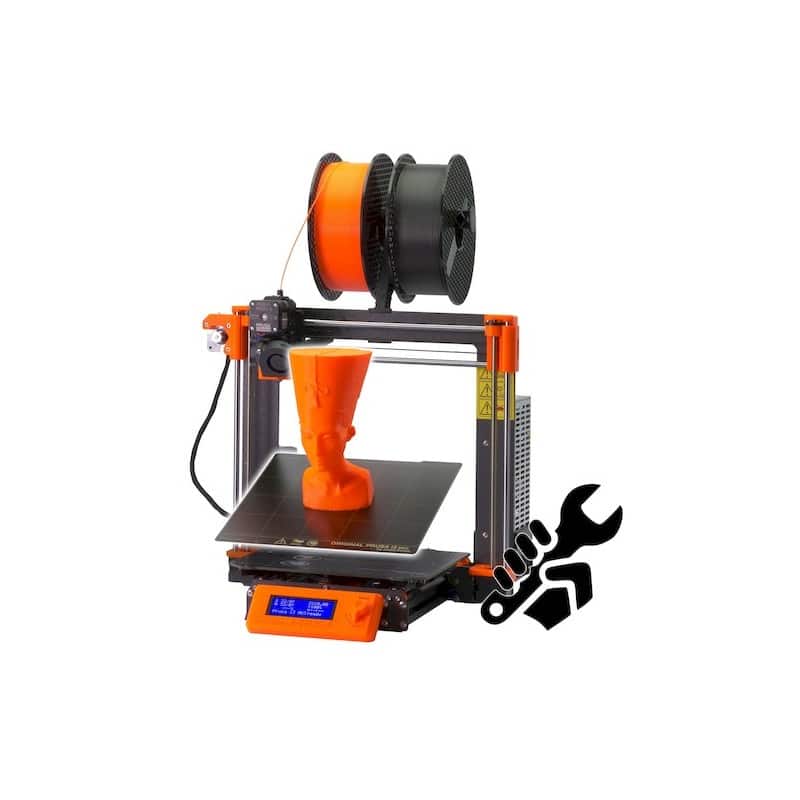 Venerated with the label of one of the best 3D printing brands out there, Prusa Research from the Czech Republic is known to produce premier machines. A specimen of their capability is the Prusa i3 MK3s which is one of the best printers out there in terms of price, quality, and value.
Having a build volume of 250 x 210 x 210 mm, the i3 MK3s specializes in delivering a sterling print quality, and that too without any form of tuning or modification. For someone who doesn't want to spend more than a thousand dollars for excellent prints, the MK3s is for them.
Boasting a wide range of features such as auto-calibration, heated print platform, the beast from Prusa Research has a solid build consisting of a rigid frame. Additionally, a removable magnetic print bed also makes it easier for prints to be taken off from the build plate with convenience.
It's predecessor, the Prusa i3 MK3 has also been a very notable printer with great history. It developed over time with multiple improvements as Joseph Prusa, the founder of Prusa Research, loves what his community has to say about his printers.
Capitalizing on this valuable feedback, the i3 MK3s was built right out of the consumer's heart, and includes all the enhancements added to the MK3.
Furthermore, the MK3s has an all-new extruder design which attributes to easier access to the nozzle for replacing the PTFE tubing.
The nozzle has been calibrated in close proximity with the X-axis, solely to eliminate any unwanted vibrations and increase the quality of prints. Another new feature is the automatic power resume in case the printer shuts down unexpectedly.
Prusa offers terrific customer support and is quick to respond to those in need. This makes the user a happy owner of the MK3s.
People can't just get enough of the QIDI Tech X-Plus (Amazon). Built with the motivation to deliver an amazing product at a lower price tag, the printer packs a ton of features that does a lot more than only justify the amount it costs.
For starters, the X-Plus is greatly praised for its ability to be compatible with a wide variety of filaments ranging from ABS, PLA, and to a flexible filament like TPU, and even high-temperature filaments like Nylon, and PC.
That's not all, this $1000 printer offers impeccable handiness as it comes equipped with a dual extruder, and two sections for the printing filaments. Arriving with a printing platform that double sides as well, the QIDI Tech X-Plus is all about making a difference.
A difference that allows users to have the least amount of difficulty in using the printer such as optimizing it manually with alternating filaments each time.
An enclosed print chamber makes it free of dust accumulation, and makes for effective, warp-free printing with all the heat that builds up inside.
A large build volume of 270 x 200 x 200 mm would mean that the printer holds a capacity to make bigger prints, but at the cost of decreased quality.
Quite surprisingly, that's not the case with the X-Plus as top quality is a given when it comes to this printer, no matter the size of the model under production. It's the detail that matters, and that's precisely what the X-Plus provides.
The mad machine from QIDI Tech is fairly easy to set up too. It's reported to be user-friendly, and beginners have no struggle in setting it up, despite it coming with poor instructions.
To talk in general, there are a few contenders out there, if any, that can match the level of the X-Plus. QIDI Tech has gone on to produce brilliant machines using its high-end technology.
Under $2,000
Hailing from Dremel's DigiLab Division, the Dremel 3D40 3D printer (Amazon) is a dedicated piece of innovation designed to provide a user-oriented experience to beginners, experts, and educators all the same. The 3D40 is considered a huge upgrade to the simple yet effective 3D20, which met with triumphing success in its time.
It has a build volume of  254mm x 152mm x 170 mm (10 x 6.0 x 6.7 in).
Structurally, the 3D40 is utterly sleek, with the trademark blue and white Dremel colors, and see-through glass panels in the front and top of the printer. The printing platform is also removable making the process not much of a hassle.
The 3D40 is also fully enclosed with an advanced cooling technique that maximizes the potential in preventing warping and curling of prints.
The extruder of this printer is protected and safe upon touch. As the printing bed isn't heated, the possibility of printing in an exceeding amount of temperature is not to be expected from the DigiLab 3D40. Therefore, it only paves way for the usage of PLA with the printer, and not any other thermoplastic.
Moving on to the print quality and overall performance, the magician of DigiLab is consistent in delivering highly refined prints that don't need as much post-processing as the print models of other printers do. Similarly, the 3D40 also performs well in terms of detailing the print.
Most beginners would be discouraged when they wouldn't be able to get the printing bed leveled and even.
In the case of the Dremel 3D40, there's a coordinated system of semi-automatic bed leveling whereupon detection that the printing bed isn't correctly even, it lays out proper, and easy to understand instructions on the printer's touchscreen to even the bed out in no time.
Users have got the printer up and running producing prints within 30 minutes with a very quick learning curve.
Almost every review of this 3D printer sings it praises, and very little errors so you can count on this machine to be reliable and produce some great quality prints for years to come. One person has been running it for 1 and a half years without it ever failing them.
---
This secret link for the Dremel 3D40 comes with 4 free spools of 3D Printlife's Pro PLA!
---
The MakerGear M2 (Amazon) is one of the best-selling printers out there with over a thousand models sold.
Talking about the physical appearance of this printer, the M2 is a dashing piece of tech that stands out when placed in a room. It's coated in black and welded with steel to ensure high endurance, and durability.
Moreover, the printing platform doesn't wobble, instead, it's steady and fixed, and makes certain that the quality of prints is stunning. This characteristic allows the MakerGear M2 to be an optimum choice for regular office use as it can withstand the daily roughening with ease.
The M2 comes out of the box in full mood for some serious, top-notch printing. Even when ordered as a kit, the assembly doesn't take much time, and is just a matter of minutes before put together as a whole.
Although having a printing platform of 203 x 203 x 254 mm which is considerably small compared to other products in this price range, the print speed, however, can go up to 200m/s, making it one of the fastest printers out there.
The filament compatibility of the M2 is also vast. From ABS to Nylon, it runs great with most of the common thermoplastics, enabling the user to explore other possibilities in the endless world of 3D printing.
With superb customer support, the representatives of MakerGear are always there to help with instant responses.
The MakerGear M2 is a veteran production. It's common for it to see usage up to 5+ years in the same place being the industrial-grade printer that it is.
In case of sufficient funds, the M2 is a worthy investment that's bound to stick around for many years, and in those years, prove to be very reliable, and the go-to choice for quality printing.Honorable Mentions
The following few printers didn't make the actual list, but are worthy of being included in the article.
This beast of a 3D printer has a build volume 450mm x 450mm x 470mm and a unique design that stabilizes the structure for high quality prints. It has a ton of features that you'll begin to love, making your 3D printing experience second to none.
It supports automatic leveling with an imported BL Touch (16-point fast leveling), has two power supplies with wide voltage in order to reduce electromagnetic inteference between the printer's parts, along with a top-tier extrusion system which includes the famous Capricorn Teflon tube.
Double drive gears in a 3D printer gives a reliable extrusion with most materials so you don't have to worry about elementary issues like filament slipping or being grinding up.
You get a rapid heating system and plenty more not even mentioned here, so check out all the features and benefits on the Creality CR-10 Max amazon page, as well as the competitive price.
Another reliable printer on the honorable mentions list, is the efficient LulzBot Mini.
It is a printer that's consistent and delivers on a daily basis, and it's a great choice for people who have just started out the experience of 3D printing.
With automatic bed calibration, and a self-cleaning nozzle, the LulzBot Mini boasts user-friendly operation, and a smooth printing process.
However, most people won't see eye to eye with its luxury price tag.
No doubt it's a machine that has been consolidated, but a single extruder along with the lack of an advanced curing software, the LulzBot Mini is not something for everyone.
All things considered, it's still a very good option for hobbyists and enthusiasts given its reliability and usability.
You'll get a 1-year warranty along with phone and email technical support around the clock. Very compact, very quiet and easy to use for anyone looking to get into 3D printing or to add to their current collection.
This cube-shaped 3D printing machine from FlashForge is a great contender for quality printing under a budget.
Placed in the under $500 category, the Finder came out more 4 years ago, but is still remembered due to the courtesy of its value.
It arrives loaded with cool features like a clear, colored touchscreen, along with Wi-Fi connectivity.
Printing with the FlashForge Finder is a quiet, smooth procedure, but with some limitations. These are, for instance, a limited build volume that cannot let large-sized prints be made, and the fact that it's only compatible with the PLA filament.
Moreover, it lacks auto-bed calibration, along with the option for the printing platform to be heated.
Nevertheless, for the price it sells for, the FlashForge Finder's good print quality makes it a must-have for a person who is yet to experience 3D printing. As the build plate is removal, newbies can have a great time looking at the awesome print quality the printer delivers.