7 Best Thingiverse Alternatives for 3D Print Files
Thingiverse is the most popular online platform that allows users to share, explore, and download 3D models for free. It has a large collection of models available, ranging from aesthetic pieces to functional prints and an active community of users.
However, there is a mix of both low-quality and high-quality models on the platform since there is no vetting process for the models uploaded. Also, on Thingiverse, there is no way for designers to make money off the models they upload, amidst other benefits that it does not offer.
This is why I've gathered the 7 best Thingiverse alternatives for 3D print files.
Best Thingiverse Alternatives for 3D Print Files
Let's now go into detail on each of them.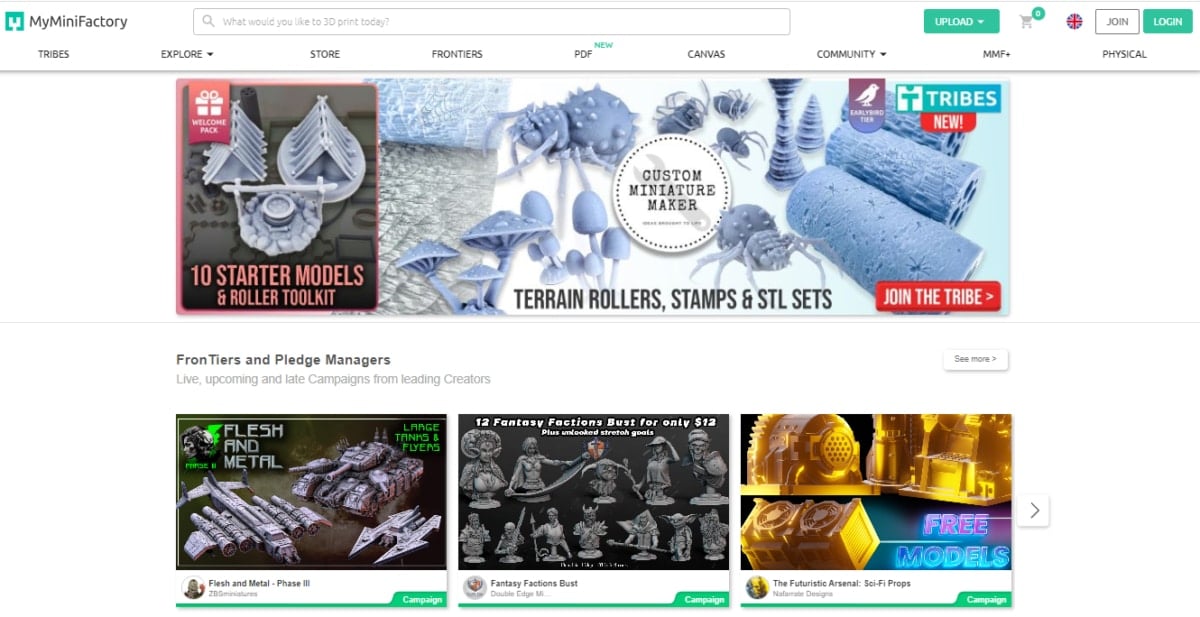 The first alternative to Thingiverse that many people love is MyMiniFactory. MyMiniFactory is an alternative popular online platform for sharing and downloading 3D printing files.
It was founded in 2013 and has since become one of the popular online sources for 3D printing files. It has a clean minimalist user interface, making it easy for a user to navigate across the various categories of designs.
Unlike Thingiverse, they have a smaller collection of models in their catalog (130,000+), many of which are free for download. Some of the categories in its catalog include miniatures, jewelry, props, board games, home decor, replacement parts, and so on.
The models on MyMiniFactory's website are of high quality. This is due to the rigorous review process the model is subjected to, by their in-house review team before it can be uploaded. As a result of this, the models are more reliable and easily printable.
Thingiverse does not have this measure in place and as a result, it has a mix of both low and high-quality models for download.
MyMiniFactory allows designers to sell their designs on the platform and earn a commission on sales, which is not currently possible on Thingiverse.
This has led to a high standard of quality on MyMiniFactory, as designers are given incentives to create designs that people are willing to pay for. Thingiverse, on the other hand, relies solely on ad revenue and partnerships for its revenue.
Also, MyMiniFactory has an active community that provides feedback on models to help improve the quality of the models. Thingiverse also has an active community, although much larger. It has more comments and feedback on designs.
MyMiniFactory also offers a "Printability" score for each model, which rates how easy the model is to print based on factors such as its geometry and support structures.
Check out this video from 3D Now on how to find models on MyMiniFactory.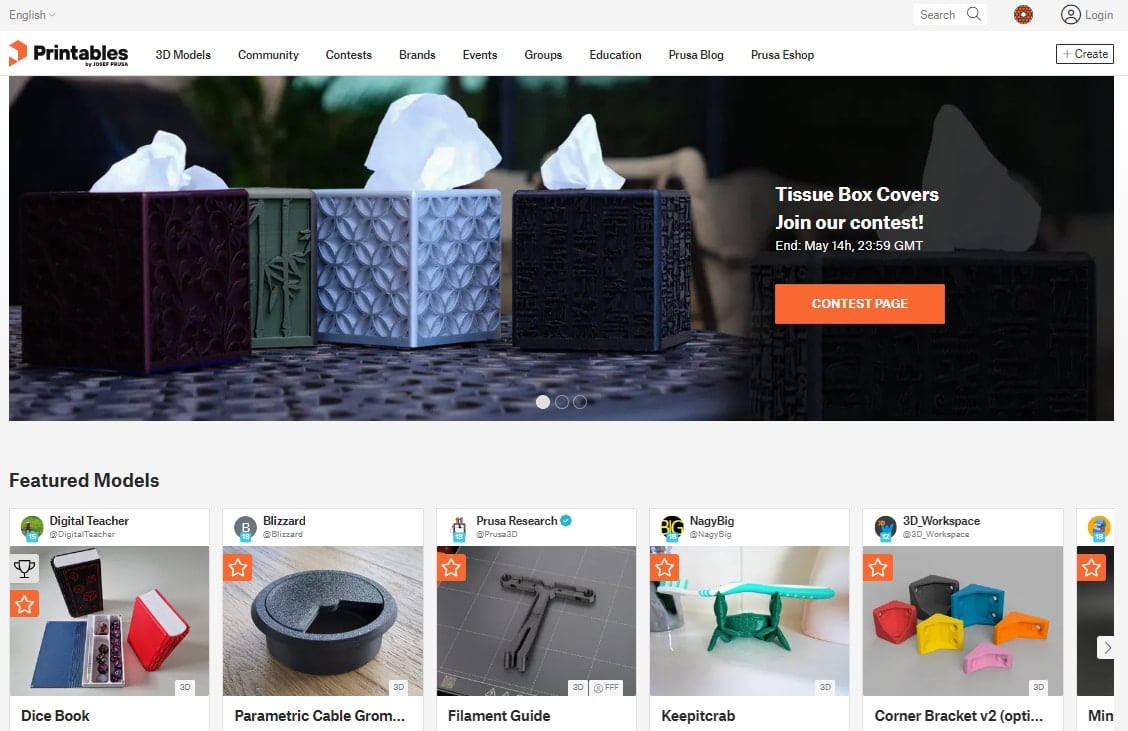 Printables, originally known as the PrusaPrinters.org webpage, is another online database for sharing 3D models. It has a large collection of 3D printing models with over 370,000+ unique designs.
Like, Thingiverse, Printables has a friendly user interface that is easy to navigate with models organized into categories.
They both also feature user reviews and comments which provide valuable information on the quality of the model. Although, Printables' webpage is not as polished as Thingiverse.
Once you have printed any of the models you have downloaded, you can upload pictures ("Makes") of the print for other users to see. Printables also has an inbuilt 3D viewer that can display models using either its STL, 3MF, or G-code files.
This allows you to view the model in different view modes and inspect it before you begin downloading it.
On Printables, there are no paid models, all models are free for download. You can even download designs even without signing up with them. However, if you do wish to sign up with them, you gain access to share your reviews and feedback about any model you print.
Also, you can connect with other users, and share your models and opinions. When you sign up, you can participate in community contests and win great prizes.
Even without engaging in community contests, you can also win prizes using the Prusameter reward system. When you upload a model, the system's algorithm begins to track its performance (likes and downloads) over 30 days.
The more engagements your model gets, the higher your Prusament points. These Prusameter points can be redeemed to get 100% discounts for filaments, hoodies, shirts, and other merch from their e-shop.
Thingiverse, on the other hand, does not have a reward system for its users, although there are occasional community contests for designers and users.
Here is a video from Josef Prusa that shows how Printables work.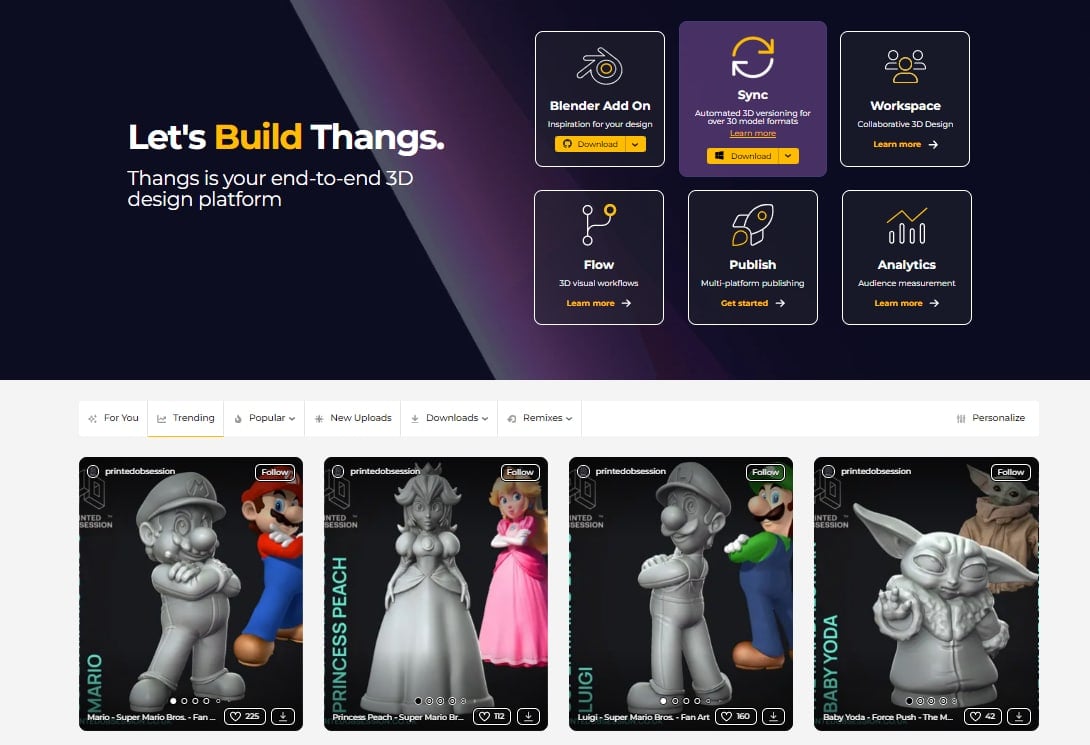 Another alternative to Thingiverse that users should try out is Thangs. Thangs is an online community that provides 3D models and CAD designs for downloads.
It is a search engine for 3D models by sourcing models from various 3D printing databases. It was launched in August 2020 to help hardware developers like engineers, designers, and architects access search and collaborative tools (models) to make them work more efficiently.
The user interface is simple and easy to navigate. Like Thingiverse, you can sign up and download all their models for free. So, if you are looking to make money from your designs, then Thangs may not be the best place for you. Also, Thangs supports 31 different file formats.
In situations whereby you want to modify a design, Thangs will not allow that except with the use of third-party software like Tinkercad. On Thingiverse, this is not the case. You can edit designs using its inbuilt Customizer app.
Here, you are allowed to set dimensions, define specific features, and so on.  However, this is only possible for models that have been set to be modifiable.
Both Thangs and Thingiverse allow designers to upload the results of what they have printed. They can upload pictures, describe the model, and have a comment box for them to interact with other users.
Thingiverse now takes this a step further by allowing users to share print settings, specifications, filament used, and so on.
Also, you can create a collection of your favorite 3D printable objects to easily sort out your designs for anyone who wants to check out your work. When you upload models to Thangs, it automatically appears in your collection.
You can now share the link to the model for others to access them.  Also, these collections are private unless you decide to make them public. This also applies to Thingiverse.
Check out this video from Zachary 3D Prints on how to get STL files from Thangs.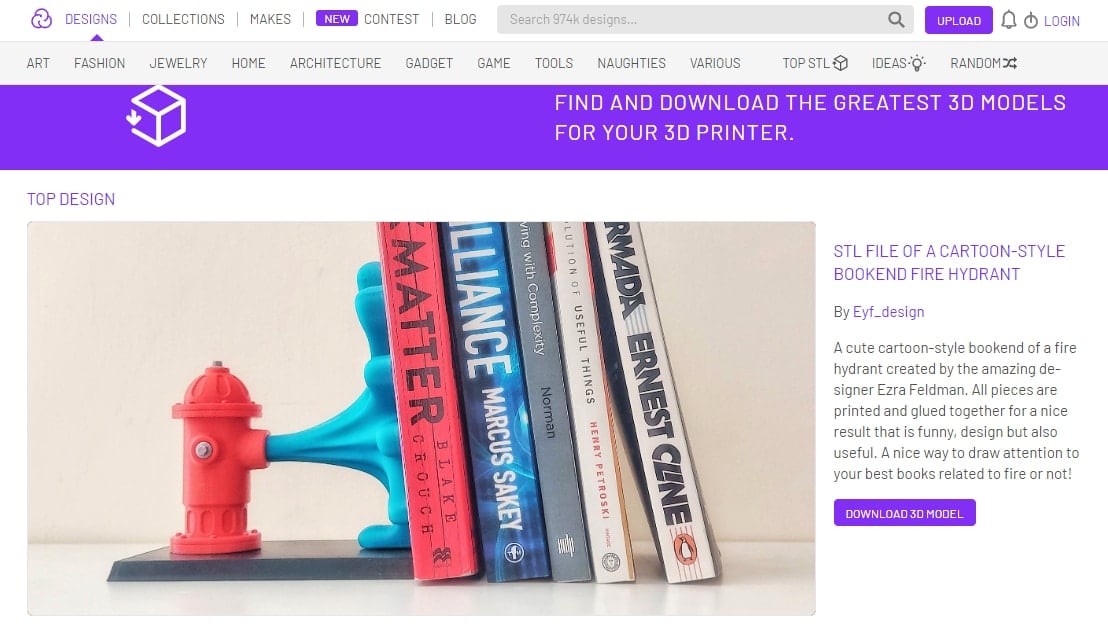 Cults3D is another alternative to Thingiverse for sharing 3D printing files between designers and users. It was first launched in 2014 and its repository has grown to be one of the leading online databases for 3D printing files, second only to Thingiverse.
While it is majorly a marketplace where designers sell their designs, there are a few models available for free. You can access these files by simply using the filter option when searching for models.
Designers take 80% of each model sold, while Cults3D takes a 20% commission. This makes it much different from Thingiverse, as all the files available there are for free.
Cults 3D has a large collection of models with over 900,000+ models available for download. However, the majority of the models available are aesthetic and decorative models.
They include jewelry, art, architecture, fashion, game pieces, and so on. However, Thingiverse has a wider range of designs in its catalog.
The files shared on Cults3D are printable as designers are required to share a photo of the 3D printed model of the file uploaded. This ensures the printability of the file.
On Thingiverse, you will find many 3D models but many are unfortunately not optimized for 3D printing.
Both Thingiverse and Cults 3D have user-friendly interfaces that are easy to navigate, with models organized into categories and searchable by keywords and tags. Thingiverse also features user reviews and comments, which can help determine the quality of a model.
Cults 3D has a more sophisticated search and discovery system, with advanced filters that allow users to search for models based on specific criteria, such as print time or filament usage.
Cults3D also hosts 3D printing contests where you can design a model according to the given guidelines to win a prize.
Here is a video from PrintStart3D on how to upload models to Cults3D.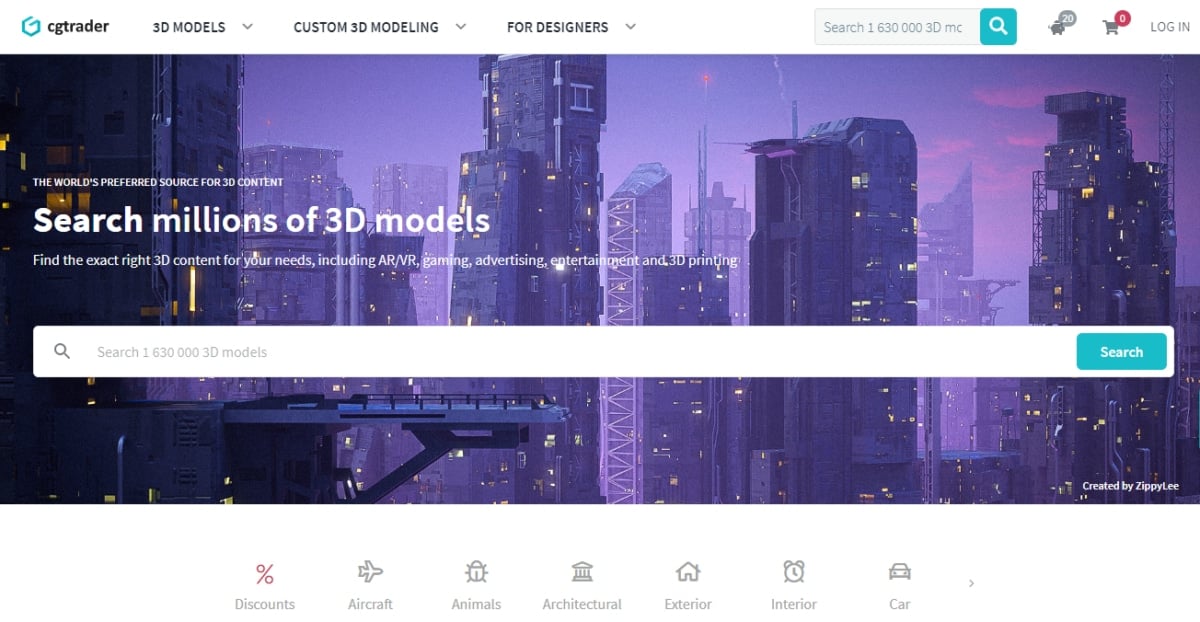 An alternative to Thingiverse that is becoming more prominent is CGTrader. CGTrader is an online marketplace where creators and designers share free and paid models. It was founded in 2011 and has been expanding ever since.
It has over 2 million models, with just a few thousand of them available for free. CGTrader has a wide range of models from various catalogs like architecture, transport, animals, household, plants, industry, etc.
It has a clean user interface with a nice layout and images. It also has filter options to help narrow down your search items.
An added feature on this website is that you can negotiate prices with the designer, i.e. if you find a model that you want and the price is pretty steep, you can contact the seller directly.
Unlike Thingiverse, designers have a means to monetize their models. They can earn between 70-80% of the income generated for each model. This motivates creators to upload high-quality designs that are printable.
However, CGTrader is mainly focused on professionals who use VR/AR and CG, but STL files and other formats are available.
If you are looking to create custom designs for a project, CGTrader can also connect you with designers to help you create it.
This feature is not available on Thingiverse, although you can still reach out to designers on the platform through the comments section or community rooms to discuss your project.
Also, for every purchase made on CGTrader, you earn loyalty points. The loyalty point gotten by each user depends on the value of order. This percentage of the money spent is converted to Loyalty Points and added to your profile.
You can spend your loyalty points by purchasing models (over $15 worth) marked with the piggy bank icon which will show the discount you can get with loyalty points.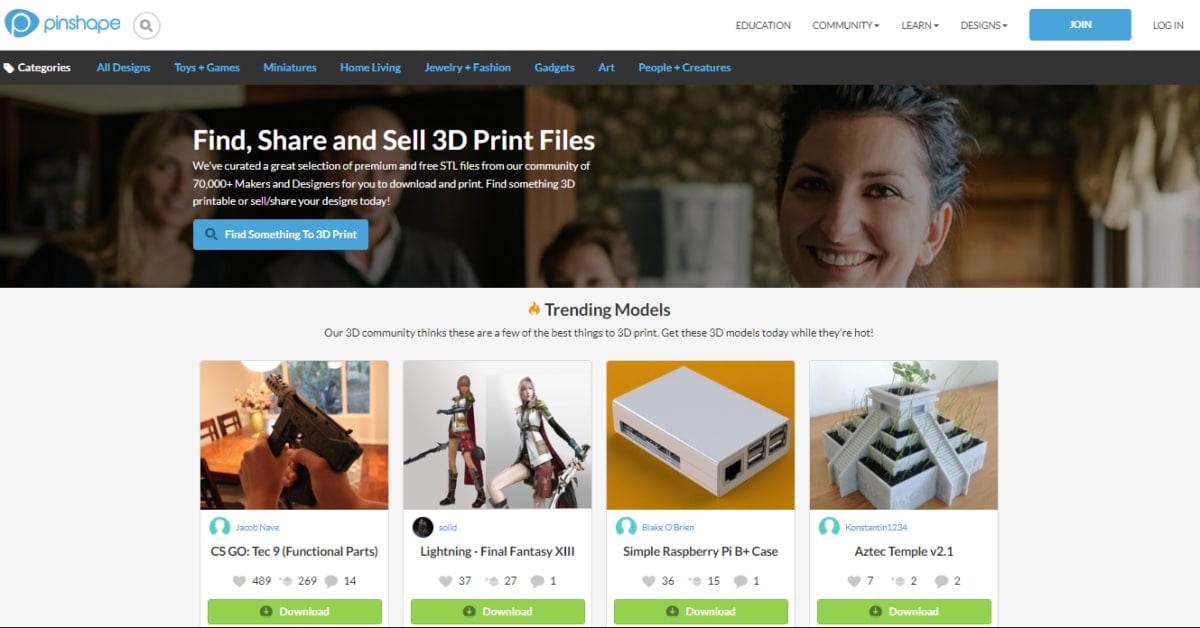 Another alternative for Thingiverse is PinShape. It was founded in 2013 and has been one of the platforms where creators share their work. It has a smaller collection of designs compared to Thingiverse.
Pinshape has both free and paid files available for download, unlike Thingiverse which has only free files. The site's filter makes it easy to access whichever category of models you want. Some of the categories include gadgets, miniatures, jewelry, etc.
Also, Pinshape allows you to use the rating function to filter models according to their popularity. It has a tab on the left side of the user interface that enables you to weed through designs by various factors.
Another important feature of PinShape and Thingiverse is that they have an educational hub with guides that cover software and hardware projects, post-processing, 3D printing materials, etc. They also provide lesson plans for teachers looking to introduce students to 3D printing.
PinShape offers a way for designers to monetize their designs on the platform through its "store" feature. Designers can choose to sell their models, with PinShape taking a commission on each sale. Thingiverse does not offer a way for designers to earn money from their designs on the platform.
Other important features available on the PinShape include community prints, likes, and collections, but unlike Thingiverse, there are no remixes. Designs are organized into categories and tagged with various keywords for licensing and printer type.
It also has a much smaller active community, making it a great place to find support and advice, as well as to share your designs and collaborate with others.
Check out this video playlist from PinShape that gives a detailed description on tasks you may want to carry out.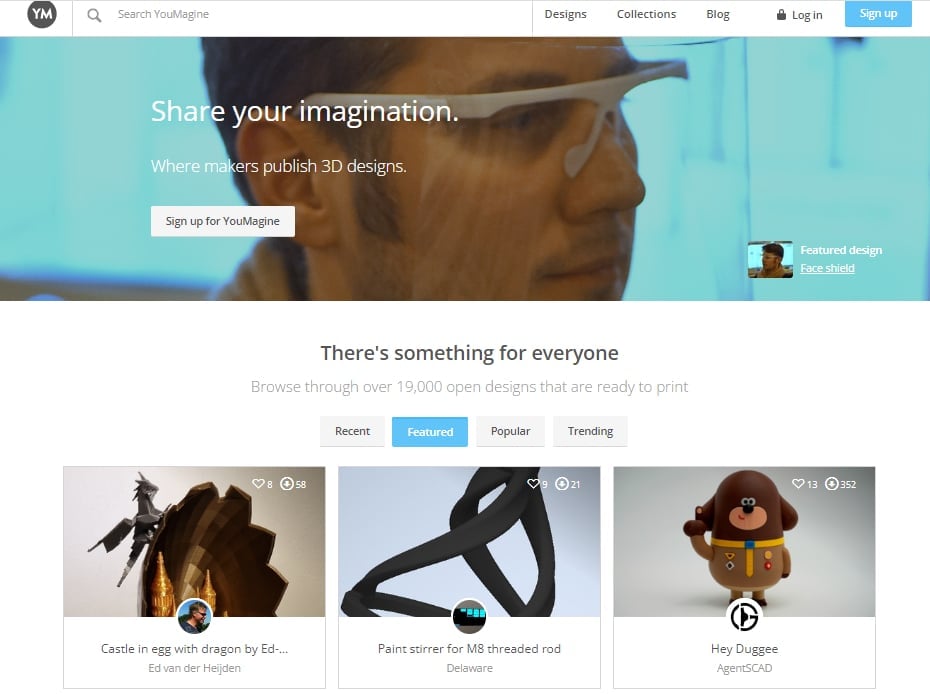 Another alternative to Thingiverse that people use is YouMagine. YouMagine was launched in 2013, YouMagine began as a companion database for Ultimaker. Just like Thingiverse, it grew beyond a single manufacturer in a few short years.
In 2017, the site went independent and now serves as a free resource to the larger 3D printing community.
You can find over 19,000 models on YouMagine which is far too small when compared to Thingiverse. While this may not be as much as Thingiverse, the quality of the models is much better.
Its models are completely free for all users. Like, Thingiverse's approach, the designs are available for download based on licensing. YouMagine suggests that all designs are open source, but designers can choose their preferred license when uploading.
YouMagine, like Thingiverse, highlights featured designs, top collections, remixes, and community prints. Each model has an "issues" page for users to track bugs, and make comments on prints. It also has an inbuilt 3D-file viewer to check models before downloading, just like Thingiverse.
On YouMagine, you can mix existing designs in new ways. This is done by creating a CAD model and the STL file to develop a new model. Under these custom designs, YouMagine ensures the protection of the licenses of the original composition.
This is done by ensuring the platform investigates and shuts down any form of copyright violation.
Also, it offers lessons to help newbies get started with 3D printing, essential maintenance advice, and manuals for a variety of 3D printers.
It features a blog area that offers helpful, current information, including new companies that designers have lately introduced. Users gain a lot from this since it enables them to acquire a higher degree of knowledge by improving their printer handling abilities.
Check out this video from Martin Vanecek that shows how to download models from YouMagine.