7 Best App for 3D Printing Designs
3D printing design can be done through CAD/Parametric modeling, sculpting, mesh modeling, script-based models, and even through 3D scanning. There are plenty of modeling software out there, but finding good apps is a bit difficult.
Since many users struggle with this issue, I have compiled a list of some of the best apps for 3D printing designs.
Here are the best apps for 3D printing designs:
Autodesk Fusion 360
Shapr3D
OnShape
Nomad Sculpt
SketchUp
Umake
TinkerCAD
1. Autodesk Fusion 360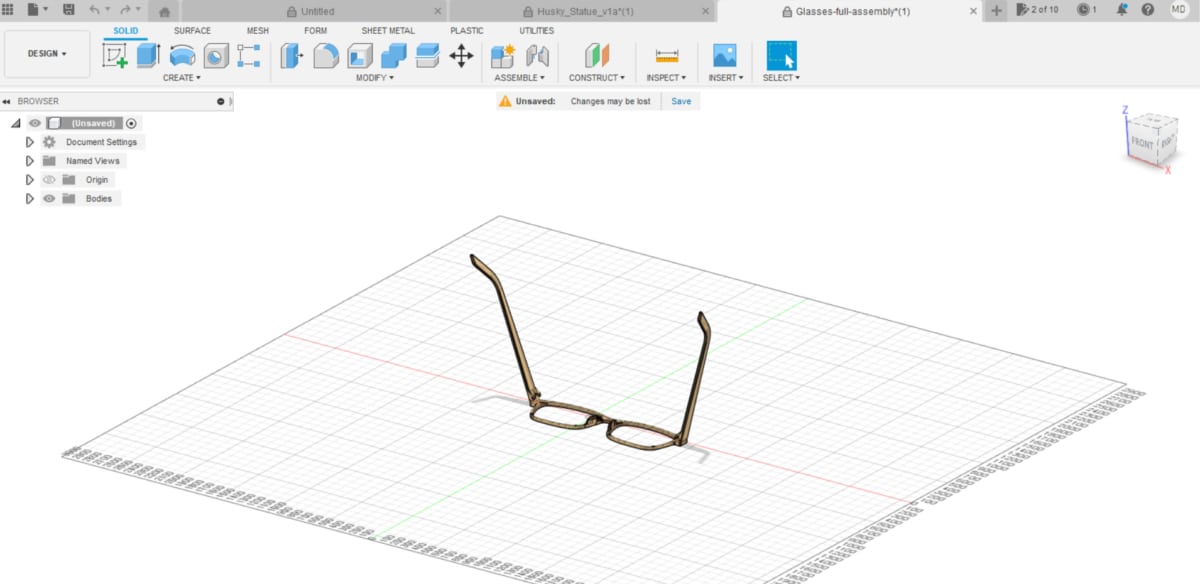 Fusion 360, a 3D CAD software application made by Autodesk, is an all-in-one tool for designing, sculpting, assembling, generative designing, and CAM (Computer Aided Manufacturing).
It is fully compatible with Windows, macOS, and Web Browsers while you can download the view-only iOS application for iPad as well.
It is cloud cloud-based which allows the users to collaborate with the community for design customization. The app also keeps a complete history of the design changes and operates flawlessly, preventing any data loss.
You can simulate the designs and test how it will handle stress when it's printed and used. This helps in finding the weak spots in models before printing. You can export your design in various file formats including IGES, STEP, STL, OBJ, F3D, SMT, and more.
Here is a detailed video of designing Spiral Vases and Plant Pots in Fusion 360.
Pros of Autodesk Fusion 360
Free for hobbyists, students, or startups with only a few limitations.
Generative design for optimization or creating complex models.
Wide range of integrated powerful designing features.
Comes with multiple modeling options such as freeform, solid, and mesh.
Parametric modeling saves time, ensures precision, and offers design flexibility.
Mesh editing to modify the shape, structure, and arrangement of the design for better 3D printing readiness.
User-friendly and easy-to-understand interface
Cons of Autodesk Fusion 360
$545/year for commercial license.
Internet-dependent, limited offline access.
Export file format limitations for free users.
User Experience of Autodesk Fusion 360
One user said that the free hobbyist license is enough for regular 3D printing. The tool is excellent for designing models with specific measurements. Another user with an AutoCAD background said that while it has a learning curve, a few good YouTube videos can help you get started.
Since free users cannot share workspaces or export files in multiple formats, one user recommended buying a commercial license. Especially, if you are a professional or industrial-level creator or want to share raw designs with your team.
One user recommended Paul McWhorter's "Learn Fusion 360 or Die Trying" videos. The videos have some of the most useful information for learning Autodesk Fusion 360.
Download the Autodesk Fusion 360 for iOS devices from the App Store today. It has a convincing 4.6-star rating with many positive user reviews.
2. Shapr3D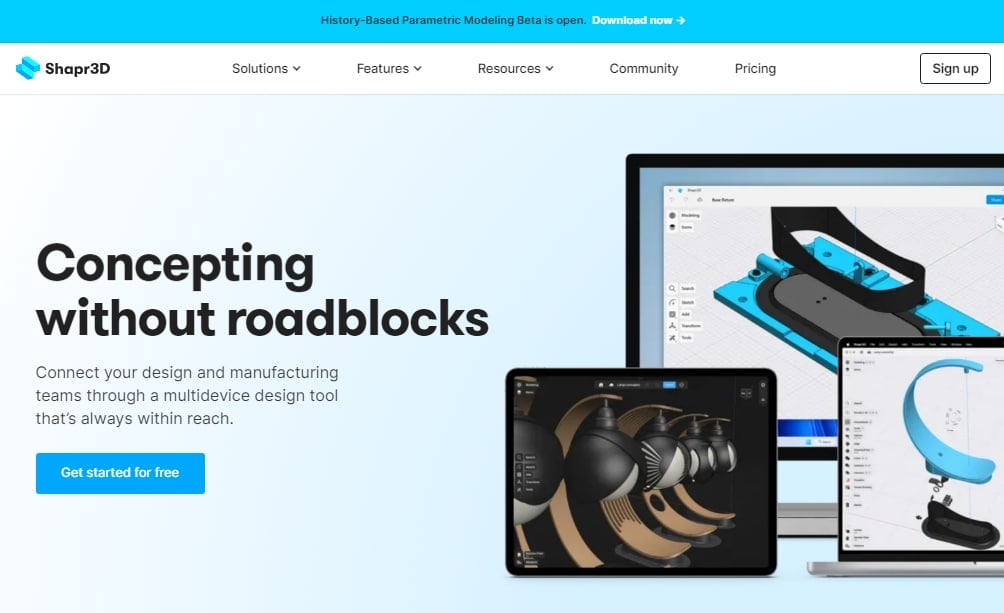 Shapr3D is a professional-level, solid modeling, CAD (Computer Aided Design) app specially developed for iPad Pro to design 3D models using Apple Pencil. It's also available for Windows and macOS and can keep the files synced over all devices.
It uses the same engine/virtual computer simulations that are in SolidWorks, a well-known 3D modeling software. It's free for personal use and hobbyists, while you need to pay $38/month or $299/year for the Pro version at time of writing.
While only being a mobile app, its powerful tools and features allow users to design even complex and functional models, without compromising the precision.
The paid version offers features like multiple workspaces and various export options. You can also import images and export them to other applications. Overall, it's a great app for beginner, creative, and industrial designers.
Thanks to the real-time Visualization feature, you can preview your design in AR (Augmented Reality) to ensure your print doesn't have any flaws.
Here is a video of Uncle Jessy designing on Shapr3D.
Pros of Shapr3D
Users can design and modify their model in offline mode
Includes "Parametric Modeling" with measurement tools for precise designing.
"Direct Modeling" allows adjusting the design directly by pushing, pulling, or stretching the model.
Integrated with many other 3D printing design tools for easy sharing.
Cons of Shapr3D
Limited compatibility of the iOS version as it only works on iPad Pro (or devices with powerful hardware).
Some advanced features can only be accessed on desktop applications.
Not many third-party plugins
User Experience of Shapr3D
Although they still have to make any curve or complex shape, one user found this app useful for creating simple parts but wishes it was more affordable for hobbyists and had assembly and surface modeling with 3D sketches.
One user used Shapr3D for a year to design kitchen and laundry room items/models. The user liked the fact that he could measure and design items while sitting in the kitchen. Despite the cost, its user-friendly interface, and efficiency on iPad Pro make it worth the price.
Some users find it frustrating that the free version allows the design to be downloaded in a bit low quality. Though it is good for most parts, it is still not the best compared to what you get from the pro version.
After using it for 6 months, one user was impressed with its many features, some unique ones like "Split Body". The only issue they faced was that once their entire model design disappeared during an operation, causing significant data loss.
Since there were mixed opinions on this topic, one user tried Shapr3D, and the video below has his thoughts about the app.
Get your Shapr3D CAD Modeling app today from the App Store.
3. OnShape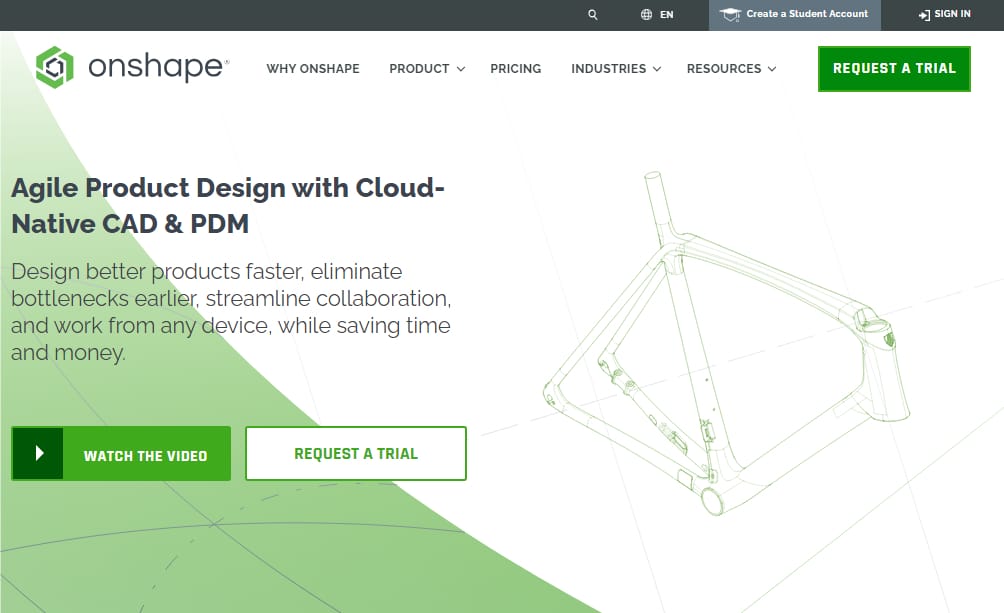 OnShape is one of the most popular apps released in March 2015. It's best for users who want to design mechanical parts, electronics, and various other products.
Thanks to the cloud-based version, you don't have to worry about data management or loss. It can simultaneously be used on all platforms and devices, such as your computers, browsers, phones, or tablets.
Professionals and engineers widely use it for 3D designing due to its compatibility with Android, iOS, and the Web. You are not even bound to any hardware specifications in most cases.
Users can create a sketch of their model on a mobile app and then perform the final touches on their computer.
However, you can collaborate with its huge community to learn or even get ideas for your next model. OnShape also solves the problem of version control and data loss which is common in most file-based CAD tools.
Check out the video of Maker's Muse designing Coins in OnShape.
Pros of OnShape
Completely free for makers, students, and educators.
Version control features keep track of all design changes.
Includes parametric modeling for design flexibility and customization.
Integrated tools for simulation and analyzing the model performance after its printing.
Easy to export files in multiple file formats including STL.
High-end data security through encryption
Cons of OnShape
$125/month for the Standard and $208.3/month for the Professional version with advanced features at time of writing.
Internet-dependent because of limited office access on mobile.
Slow processing with complex model designs.
Limited customization options.
You may sometimes lose the design changes history if done in offline mode.
User Experience of OnShape
Because of its capabilities, one user recommended the OnShape app to users who wanted to design accessories for tools and car-related items on Android mobile. It has a learning curve for beginners, but it doesn't take much time to understand with tutorials.
One user liked that OnShape is a free CAD app with parametric modeling which makes 3D model creation easy from 2D sketches. The app keeps a step-by-step history of design changes, making it easy for the designer to modify the model where needed.
Check out this tutorial playlist by Teaching Tech on how OnShape works.
The user also recommended using OnShape on Firefox if it's causing problems on a Mac in Safari.
You can check their plans on OnShape's Official Pricing Page or download the 3.6-star rated iOS app from the App Store.
4. Nomad Sculpt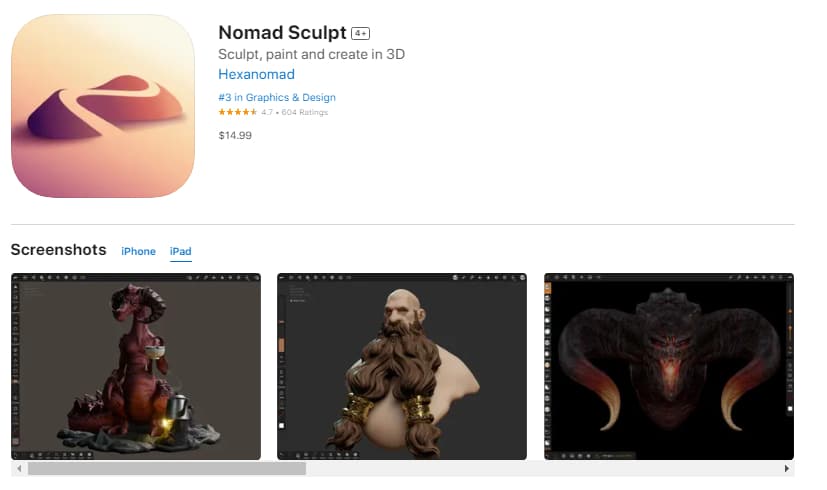 Nomad Sculpt is a sculpting and painting mobile application, fully compatible with Android and Apple devices. It is specifically designed as a mobile app with a fast interface having all the tools well organized on a sidebar.
It can work with Apple Pencil or Samsung Pen with export options including STL, OBJ, and glTF.
You have tools to smooth, flatten, and mask the sculpture as required. The tool also offers sculpting in various resolutions for enhanced design flexibility. PBR (Physical-Based Rendering) representation feature allows users to see how the models will look once 3D printed.
Here is a detailed video about designing in Nomad Sculpt by Uncle Jessy.
Pros of Nomad Sculpt
Multiple brushes such as Clay, Smooth, Mask, Crease, Trim, and more for versatility.
Alpha, Falloff, Pencil Pressure, and many other options to customize each stroke.
Dedicated Project Management section to keep and manage your designs.
Offers many vertex paints, colors, roughness, metalness, and textures, for sculptures.
It is regularly updated to meet user requirements.
Offering layer management features to organize complex design.
Cons of Nomad Sculpt
Performance can vary depending on the device hardware you are using.
No parametric modeling
Not very suitable for high-level engineers or industrial design.
User Experience of Nomad Sculpt
One user appreciates its easy interface, which is difficult to find in today's CAD software. The "Chamfer" and "Filet" tools are great for creating polished parts and increasing design structural strength.
Another user said that Nomad Sculpt offers impressive value for money at a one-time cost of about $15. It's good for designing jewelry and organic models. The user does the initial shaping in Shapr3D and finishes the model in Nomad.
The dimension doesn't change, and you can enhance the smoothness by increasing the "Voxel Count" or "Mesh Density" in Nomad. Using MakerBot's cloud-based slicer, you can even manage to 3D print your design directly from your iPad.
As suggested by a user, SouthernGFX on YouTube has a useful Video Tutorial Playlist that can help you learn how to build a sculpture.
Other good resources mentioned by the users include:
Despite being new to the Nomad Sculpt, one user successfully created a high-quality model. They exported the STL file directly from the iPad to the slicer for 3D printing and got excellent results.
Below is a video of the user sculpting his second model on Nomad Sculpt.
The Nomad Sculpt app has a whopping 4.7-star rating on the App Store and a 4.6 star on the Google Play Store.
5. SketchUp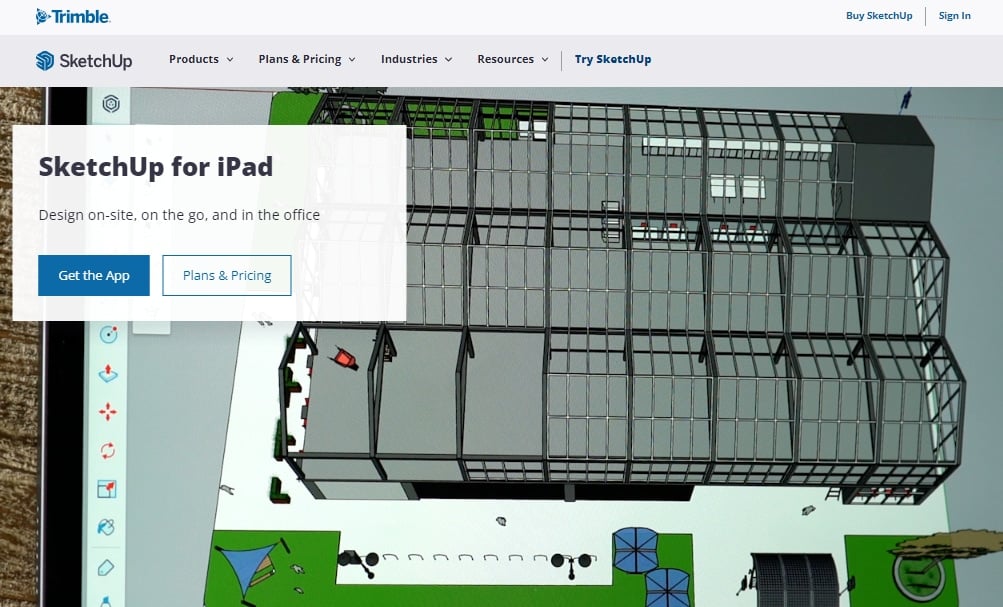 SketchUp was first released in 2000, making it one of the oldest 3D modeling and design programs. It is a two-in-one web-based application that can be used as a 3D printer modeling tool and an online gallery.
You can design your models and upload/share them with the SketchUp community with a few clicks. It supports STL file format exportation, which is the most common in 3D printing.
Since most users upload their designs, you can get ideas or ask queries to learn and understand new modifications for your models. The app is great for geometric design but not as good for free-form, organic shapes, or complex designs.
The app suits beginners because of its easy interface while its advanced drawing features make it a good option for professionals as well.
The app is available for Windows and macOS and can also be used as a design viewer on iPads. SketchUp offers various subscription versions/plans mainly including:
SketchUp Free
SketchUp Studio: $55/year (For higher education students/educators)
SketchUp Shop: $119.99/year
SketchUp Pro: $299/year
SketchUp Studio: $1,099/year
Here is a video of designing and 3D printing a vase with SketchUp and Cura.
Pros of SketchUp
Many 3D modeling tools including 3D drawing, push, pull, and extrusion.
Collection of pre-made 3D designs can save time as you can seek permission and modify those designs instead of creating from scratch.
Various customization options are available for modifying styles and templates.
Supports a wide range of extensions and plugins to enhance its functionality and generate complex designs.
Cons on SketchUp
It may lack precision for highly detailed models.
Sometimes creates non-manifold models, requiring additional work in other 3D designing software.
Limited rendering capabilities
User Experience of SketchUp
One user found SketchUp good for creating hard-edged models but less suitable for organic or curved shapes. They have designed various machine parts and figurines with excellent results. The STL files can sometimes have slicing issues, so correcting them in another app is recommended.
With the "Solid Inspector" plug-in, one user finds this app reliable as it ensures model integrity by identifying any weak or leaking areas before you export their STL files. Some other plugins mentioned by many users include:
STL Import & Export
CleanUp
Selection Toys by Thomas Thomassen
CLF Arc Centerpoint Finder by Chris Fulmer
You can search and install from SketchUp's Extension Warehouse or the SketchUcation.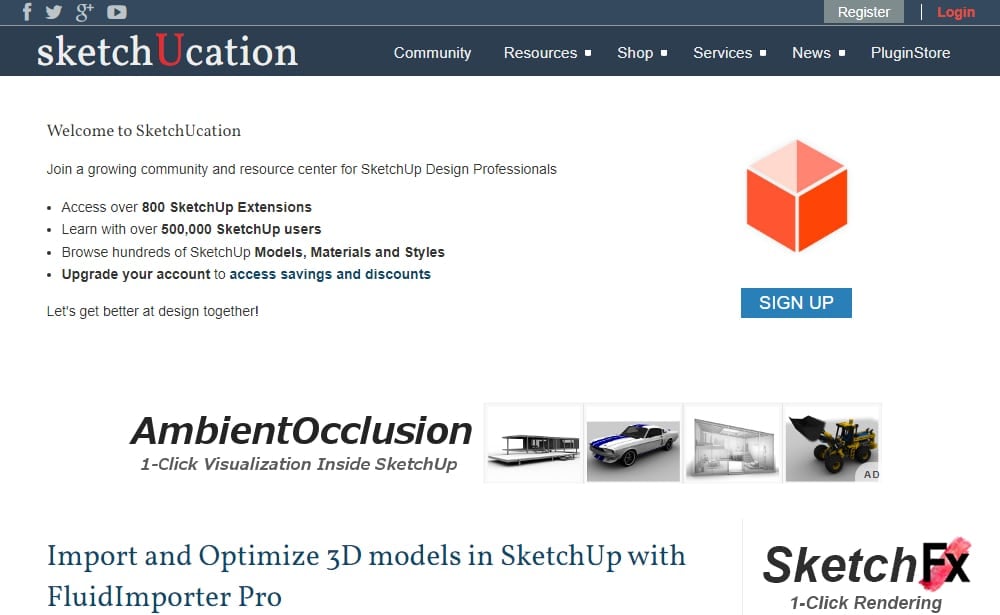 Since SketchUp can sometimes result in non-manifold models, one user recommended installing the "Solid Inspector" plugin and learning how to identify and adjust non-manifold geometry.
Here is a video on fixing non-manifold geometry. Though the video is for Autodesk Maya, the concept is the same.
Check out this Thingiverse page which has solid and manifold models designed by a user on SketchUp. They recommend using the Netfabb or Win10 3DBuilder to repair models if they are struggling with splitting and joining the meshes.
You can download the SketchUp iOS app from their Official Download Page or from the App Store, which has a huge rating of 4.5 stars.
6. Umake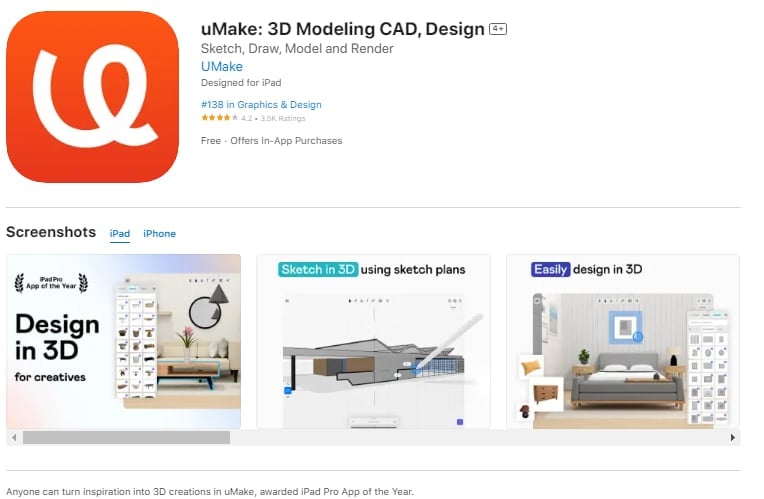 Umake is one of the simplest apps when it comes to 3D designing. It is a basic app where you use 2D sketches to form 3D shapes. This is unique since you feel like designing 2D which is a bit different, but once you understand the process, this can be really fun.
The app is currently only available for iOS with a 14-day trial and then at the price of $99 per year or $299 for a lifetime. The cloud-based integration allows users to save their files while making sharing easy.
The feature of viewing your models in AR is great to give you an idea of how your model will actually look, how much space it will cover, and much more.
Even though it is not a sculpting tool, it makes it easy to create organic shapes. After visualizing your idea or making a 3D sketch of your model, you can then export the file (in OBJ, STEP, or IGES format) into other software like Fusion360 for finishing.
The pro version has no limitations in terms of exporting.
Once you have a command on the app, you can make designs as good as you do on SketchUp. The app offers options like free sketching and simple texturing to make technical drawings or artistic designs.
Here is a short video of designing an iPhone stand on Umake for 3D printing.
Pros of Umake
Touch-based, colorful, interface makes sketching and 3D modeling a lot more fun.
Runs flawlessly on iPad and iPhone, allowing users to design on the go.
Users with 2D design experience can make designs as the app automatically converts 2D designs into 3D models.
Multiple accuracy features to ensure correct measurements and dimensions of the model.
Cons of Umake
Limited features and functionality for free users.
Some features can only be accessed if connected to the internet.
User Experience of Umake
One user said that the sketching part is great, but you need guidance or tutorials to create a proper 3D model. The user believes that once the in-app guides are included, Umake will become a standout app in 3D printing modeling or designing tools.
Responding to a user query, the representative of Umake said that since it's not CAD software, Umake is only recommended for 3D printing users who want to do surface-based modeling.
Initially hesitant due to some negative reviews, one user tried Umake and realized that many complaints were coming from users using outdated devices.
They believe that this app is designed for modern devices like iPad Pro with Apple Pencil. By upgrading the device, you can get the most optimal performance out of the Umake.
Umake has a shiny 4.2-star rating on its App Store download page. You may take a look at the user reviews.
7. TinkerCAD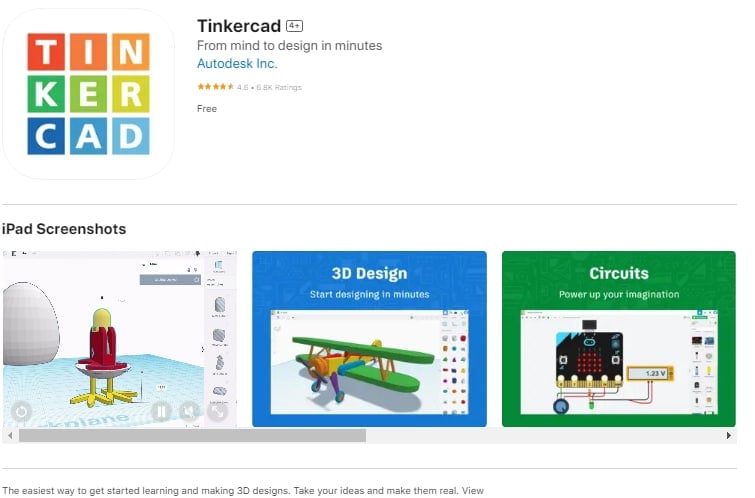 If you are new to 3D modeling and want to learn design, TinkerCAD is one of the best options for you. This 3D CAD designing browser-based application can run on almost all platforms and devices, including:
Web Browsers: Google Chrome version 50, Safari 10 or Newer, Microsoft Edge
Windows: Microsoft Windows 10 or Newer
macOS: Apple OS X 10.10 or Newer
iOS: 12 or Higher (iPad Mini, iPad, or iPad Pro)
Google Chrome OS: Chromebooks
Android
The app works on the concept of block-building where you use pre-existing shapes, adjust their sizes/shapes, and combine them to make new designs.
Although TinkerCAD has fewer top-notch features than other 3D printing design apps, it is still a great option if you want not-so-complex designs. You can easily make toys, jewelry, home decor, prototypes, and much more.
Multiple in-app tutorials and guides help you through the complete workflow from designing to exporting STL files. With over 300 million designs created, users can look for different shapes that suit their models and modify them as they like to create new designs.
Here is a video of designing the Pisa Tower on the TinkerCAD desktop app.
Pros of TinkerCAD
Completely free to use
User-friendly and extremely basic interface
Web-based accessibility allows users to use the app on any platform and device.
Users can create designs in 2D and then convert them into 3D designs for printing.
Huge library of pre-made shapes
In-app links to 3D printing services if you want the model to be printed and sent to you.
Offers features for real-time collaboration with your teammates or other designers.
Filled with educational resources including videos and guides.
Users can customize other user's designs (with permissions) to make a new one.
Regular updates based on the community's feedback.
Cons of TinkerCAD
Doesn't work offline
Struggle in handling large assemblies
Not the best suitable for organic or sculpted design
User Experience of TinkerCAD
For simpler designs, one user said that TinkerCAD is probably the best free 3D printing design app that you can use on your browser. It is great for beginners trying to learn 3D modeling, design, and workflow using shapes like cubes, spheres, cones, etc.
Another user said that he designs fun prints on Blender while for functional parts, he prefers TinkerCAD because of its user-friendly interface and easy workflow.
The quality of prints mainly depends on your 3D printer and settings, but this app is a great start before you move on to explore more advanced designing software.
Check out the video below of designing Gears in TinkerCAD using Apple Pencil 2.
TinkerCAD has a whooping 4.6 rating on the App Store download page and a 2.6-star rating on Google Play Store.