7 Best 3D Printers for Strong, Mechanical 3D Printed Parts
3D printing has come a long way from where it first started out. Today, this billion-dollar industry has become as multi-faceted as ever, having numerous applications that range from car parts to jewelry-making and a lot more.
This technology also plays a large role in making purpose-oriented prints having mechanical properties. The possibilities are just innumerable here, but not every 3D printer is capable enough to do this job.
This is why I decided to gather the 7 best 3D printers that you can buy today for making strong, mechanical 3D printed parts with a sense of reliability to their name.
I'll make sure to discuss their features, specifications, pros, cons, and customer reviews so you can decide which 3D printer suits you best. Without any further ado then, let's get right into it.

Artillery is a relatively new manufacturer whose first-ever 3D printer launch dates back to 2018. While the original Sidewinder was no joke either, the upgraded version that we have today is just genuinely top-notch.
The Sidewinder X1 V4 apart from having a cool name is priced competitively at somewhere around $400. The aim is to target the budget range and it seems that Artillery has done that just right.
This machine packs several features and has a professional-grade appearance on top of insanely good build quality. Its spacious build volume can accommodate a wide variety of prints for you, not to mention mechanical ones.
There's just a lot that this 3D printer has going for it positively. However, the machine does have its fair share of cons, such as people having problems with the ribbon cable and an inconvenient spool holder.
Still, the Artillery Sidewinder X1 V4 is one of the best 3D printers you can get right now to print strong and mechanical prints, considering all the benefits that this bad boy boasts.
Let's explore more about this 3D printer through the features and specifications.
Features of the Artillery Sidewinder X1 V4
Rapid Heating Ceramic Glass Print Bed
Direct Drive Extruder System
Large Build Volume
Print Resume Capability After a Power Outage
Ultra-Quiet Stepper Motor
Filament Detector Sensor
LCD-Color Touch Screen
Safe and Secure, Quality Packaging
Synchronized Dual Z-Axis System
Specifications of the Artillery Sidewinder X1 V4
Build Volume: 300 x 300 x 400mm
Printing Speed: 150mm/s
Layer Height/Print Resolution: 0.1mm
Maximum Extruder Temperature: 265°C
Maximum Bed Temperature: 130°C
Filament Diameter: 1.75mm
Nozzle Diameter: 0.4mm
Extruder: Single
Control Board: MKS Gen L
Nozzle Type: Volcano
Connectivity: USB A, MicroSD card
Bed Levelling: Manual
Build Area: Open
Compatible Printing Materials: PLA / ABS / TPU / Flexible Materials
Owning the Artillery Sidewinder X1 V4 (Amazon), one can effortlessly notice how feature-rich and well-built this 3D printer is. It sports a powerful Titan-style Direct Drive extrusion system with a Volcano hot end.
These two are simply top-of-the-line components that can be relied on for great and long-lasting performance. The hot end, in particular, can reach temperatures that go as up as 250°C thereby making it possible to work with high-temperature filaments for strong and mechanical prints.
In addition, the Sidewinder X1 V4 has an aluminum frame that provides unmatched stability and smoothness while printing. This is essential to make quality parts with high details and dimensional accuracy.
Casting a lens on the aesthetic side of things, this 3D printer looks terrific sitting on your worktable. It's not your average boring slug, but a fine piece of technology that turns heads on a regular basis.
It also uses a 3.5-inch color touchscreen operation that makes navigation uncomplicated and straightforward. Combine this feature with the X1 V4's beginner-friendliness, you simply cannot go wrong with this elegant workhorse.
User Experience of the Artillery Sidewinder X1 V4
The Artillery Sidewinder X1 V4 has a fairly decent reception on Amazon with a 4.3/5.0 overall rating at the time of writing. 71% of the people who bought it have left a 5-star review with lots to say about the pros of this machine.
A user who took the plunge and bought this 3D printer for making functional and strong parts says that he couldn't be any happier with his decision. The X1 V4 creates parts of amazing quality with a great degree of strength.
Additionally, it's easy to assemble and I highly recommend it for people who are looking to find an entry point into the vast world of 3D printing.
Another great feature of the Sidewinder X1 V4 is its ability to heat the bed up in just a few minutes. That way, you can get straight to printing incredibly fast. The same goes for heating the nozzle as well.
Having a Direct Drive extrusion system, users have tried multiple filaments with this machine and the results have been totally astonishing. This 3D printer does not compromise on quality, not at all.
Pros of the Artillery Sidewinder X1 V4
Heated glass build plate
It supported both USB and MicroSD cards for more choice
Well-organized bunch of ribbon cables for better organization
Large build volume
Quiet printing operation
Has large leveling knobs for easier leveling
A smooth and firmly placed print bed gives the bottom of your prints a shiny finish
Fast heating of the heated bed
Very quiet operation in the steppers
Easy to assemble
A helpful community that will guide you through any issues that come up
Prints reliable, consistently, and at a high quality
Amazing build volume for the price
Cons of the Artillery Sidewinder X1 V4
Uneven heat distribution on the print bed
Delicate wiring on the heat pad and extruder
The spool holder is pretty tricky and hard to adjust
EEPROM save is not supported by the unit
Final Thoughts
The Artillery Sidewinder X1 V4 is a top-quality 3D printer with several useful features, great build quality, and a wide community to help you along your 3D printing journey. For printing mechanical and strong parts, this machine is one of the best options you can purchase right now.
Get the Artillery Sidewinder X1 V4 for a great price on Amazon today.
The Anycubic Photon Mono X is an MSLA 3D printer that uses a liquid resin to make 3D printed parts. This machine comes from a trusted and reliable manufacturer that's known for producing top-quality resin 3D printers.
The Photon Mono X, therefore, is no different. It comes equipped with a big 192 x 120 x 245mm build volume, a sensational 8.9-inch 4K monochrome LCD, and a sanded aluminum build plate.
For an appreciable price of sub $750, the Photon Mono X is a game-changing MSLA machine. It offers great value for money and an array of convenient features to make printing a painless process for you.
Due to its high-quality, precision, and top-notch performance, this 3D printer is an amazing option to get for printing mechanical parts with stability and toughness.
You can use the Siraya Tech Blu Resin (Amazon) with the Photon Mono X to print strong and functional parts. If you'd like your mechanical prints to be flexible as well, you can mix the Blu resin with Siraya Tech Tenacious (Amazon).
Features of the Anycubic Photon Mono X
8.9″ 4K Monochrome LCD
New Upgraded LED Array
UV Cooling System
Dual Linear Z-Axis
Wi-Fi Functionality – App Remote Control
Large Build Size
High-Quality Power Supply
Sanded Aluminum Build Plate
Fast Printing Speed
8x Anti-Aliasing
3.5″ HD Full-Color Touch Screen
Sturdy Resin Vat
Specifications of the Anycubic Photon Mono X
Build Volume: 192 x 120 x 245mm
Layer Resolution: 0.01-0.15mm
Operation: 3.5″ Touch Screen
Software: Anycubic Photon Workshop
Connectivity: USB, Wi-Fi
Technology: LCD-Based SLA
Light Source: 405nm Wavelength
XY Resolution: 0.05mm, 3840 x 2400 (4K)
Z-Axis Resolution: 0.01mm
Maximum Printing Speed: 60mm/h
Rated Power: 120W
Printer Size: 270 x 290 x 475mm
Net Weight: 10.75kg
The Anycubic Photon Mono X (Amazon) comes with a sturdy metal chassis with an acrylic UV-blocking lid. The build volume is immense, as mentioned earlier, and there's a 3.5-inch touchscreen for navigation and controls.
This machine uses a matrix of LEDs instead of a single one situated at the center. The upgraded LED array, therefore, caters to even distribution of light top-class print quality.
The printer also supports Wi-Fi functionality, and this is a rare prospect in the budget to mid-range 3D printers. There's even a dedicated Anycubic app that you can download on your phone for quick access to your printer and showing helpful information such as print time, status, and more.
The Photon Mono X is one of the best 3D printers to get for high-quality mechanical parts. It comprises an anti-backlash nut and a dual-linear rail system on the Z-axis to provide stability at its peak.
There's also a sanded aluminum build plate that promotes bed adhesion and forms a solid foundation for your prints. Be sure to have your printer calibrated as well.
User Experience of the Anycubic Photon Mono X
The Anycubic Photon Mono X scores decently on Amazon with a 4.3/5.0 overall rating at the time of writing. It has been labeled "Amazon's Choice" and 70% of the people who purchased it have left a 5-star review.
Customers have used this machine for a variety of applications, ranging from jewelry items to mechanical parts, and the amount of quality and satisfaction has always been spectacular with the Mono X.
People love how responsible Anycubic is in terms of after-sales support. There's also a huge community online for the Photon series of 3D printers and it's nice having people who can guide you wherever you mess up.
Those who purchased the Mono X as their first-ever 3D printer have been left simply amazed by the overall quality. This is a printer that produces stunning details in prints and does not settle for anything less than the best.
Buyers have tried mixing the Siraya Tech Blu and Tenacious resin and what they got was a high-quality, insanely strong, and flexible print which was exactly what they were hoping for.
Pros of the Anycubic Photon Mono X
You can get printing really quickly, all within 5 minutes since it's mostly pre-assembled
It's really easy to operate, with simple touchscreen settings to get through
The Wi-Fi monitoring app is great for checking on the progress and even changing settings if desired
Has a very large build volume for a resin 3D printer
Cures full layers at once, resulting in quicker printing
Professional looking and has a sleek design
Simple leveling system which stays sturdy
Amazing stability and precise movements that lead to almost invisible layer lines in 3D prints
Ergonomic vat design has a dented edge for easier pouring
Build plate adhesion works well
Produces amazing resin 3D prints consistently
Growing Facebook Community with plenty of helpful tips, advice, and troubleshooting
Cons of the Anycubic Photon Mono X
Only recognizes .pwmx files so you may be limited in your slicer choice
The acrylic cover doesn't sit in place too well and can move easily
The touchscreen is a little flimsy
Fairly pricey compared to other resin 3D printers
Anycubic doesn't have the best customer service track record
Final Thoughts
The Anycubic Photon Mono X is a sensation MSLA 3D printer that checks all boxes when it comes down to it. Quality, convenience, features – you name it. If you're looking for quality and strength, this machine can help you achieve your goals.
You can get yourself the Anycubic Photon Mono X directly from Amazon today.
The X-Max comes from a brilliant Chinese manufacturer who's an industry veteran and a symbol of quality. Qidi Tech is popularly known for creating reliable and high-performance 3D printers, and the X-Max is an apple that didn't fall far from the tree.
Keep in mind that this machine is by no means a budget-friendly one and costs somewhere around $1,600. With that being said, the X-Max is the way to go if you're after top-tier mechanical prints with added strength and durability.
It has a sizable build volume that's able to host prints of varying sizes. Additionally, this machine is admired widely because of its capacity to handle different filaments exceptionally well.
This means that if you're trying to make the strongest mechanical parts out there, a 3D printer like the Qidi Tech X-Max would attribute to a near-perfect solution.
Having a fully enclosed print chamber, unlike the Artillery Sidewinder X1 V4, the temperature is better maintained and prints come out looking thoroughly immaculate.
Let's probe further with the features and specifications.
Features of the Qidi Tech X-Max
Solid Structure and Wide Touchscreen
Different Types of Printing for You
Dual Z-axis
Newly Developed Extruder
Two Different Ways for Placing the Filament
Qidi Print Slicer
Qidi Tech One-to-One Service & Free Warranty
Wi-Fi Connectivity
Ventilated & Enclosed 3D Printer System
Large Build Size
Removable Metal Plate
Specifications of the Qidi Tech X-Max
Build Volume: 300 x 250 x 300mm
Filament Compatibility: PLA, ABS, TPU, PETG, Nylon, PC, Carbon Fiber
Platform Support: Dual Z-axis
Build Plate: Heated, Removable plate
Support: 1-Year With Infinite Customer Support
Filament Diameter: 1.75mm
Printing Extruder: Single Extruder
Layer Resolution: 0.05mm-0.4mm
Extruder Configuration: 1 Set of  Specialized Extruder for PLA, ABS, TPU & 1 Set of a High-Performance
Extruder for Printing PC, Nylon, Carbon Fiber
There are quite a number of features that the Qidi Tech X-Max (Amazon) enjoys having. For starters, it comprises an all-metal CNC machined aluminum alloy to provide better stability than plastic builds.
It also has a 5-inch color touchscreen for easily controlling and navigating around your 3D printer. Then, there's the removable metal plate that makes filament removal undemanding.
A great feature of the Qidi Tech X-Max is that it comes with a dual extruder set-up. The first extruder can be used to print common filaments like ABS, PLA, and TPU whereas the second extruder deals with more sophisticated filaments such as Nylon, Polycarbonate, and Carbon Fiber.
This makes the X-Max an ideal option for printing mechanical parts. The flexibility in filament choice goes a long way in making this machine highly versatile.
You'll also receive unflinching support from the ever-responsive customer support service team of Qidi Tech, should you need any. This is a company that likes to care about its customers.
User Experience of the Qidi Tech X-Max
The Qidi Tech X-Max is rated quite high on Amazon with a 4.8/5.0 overall rating at the time of writing. 88% of the people who bought it have left a 5-star review with a great amount of praise and appreciation for the printer.
Right off the bat, it's easily noticeable how the machine comes packaged compactly with closed cell foaming to protect it from accidental damage. There's also a toolbox, 2 spring steel flexible build plates, and a full spool of red PLA. This is a gesture that customers have loved about Qidi Tech.
One user writes that after receiving their printer, they immediately messed up the print bed and clogged the nozzle. After contacting customer support, the response was insanely quick and replacement parts got sent promptly.
Ever since then, the same customer has printed dozens of functional parts that are used around the house, and not even once, the Qidi Tech X-Max has failed to impress.
Users cannot get enough of this 3D printer's build quality. It's seemingly built like a tank, is strong, sturdy, and highly stable. There's also minimal assembly required and the Qidi Tech X-Max works right out the box.
Pros of the Qidi Tech X-Max
Amazing and consistent 3D print quality that will impress many
Durable parts can be created with ease
Pause and resume function so you can change over the filament anytime
This printer is set up with high-quality thermostats with more stability and potentiality
Excellent UI interface that makes your printing operation easier
Quiet printing
Great customer service and helpful community
Cons of the Qidi Tech X-Max
Doesn't have filament run-out detection
The instructional manual isn't too clear, but you can get good video tutorials to follow
The internal light can't be turned off
Touchscreen interface can take a little getting used to
Final Thoughts
The Qidi Tech X-Max is a premium 3D printer with a hefty price tag. However, it offers great value for money and there's just a lot to love about this tireless workhorse. It's a solid recommendation for printing strong, functional, and mechanical prints consistently.
Check out the Qidi Tech X-Max for a 3D printer able to create stronger 3D prints.
The Dremel Digilab 3D45 comes from a reliable manufacturer whose Digilab division intends to target the education space with its line-up of highly capable 3D printers.
Speaking of capability, the Digilab 3D45 is a machine that's known for its consistency in delivering top-notch, functional prints with staggering details. It's a great choice if you're looking to print strong parts.
It does, however, costs accordingly and will probably stretch your wallet. Having a price tag of somewhere around $1700, the Digilab 3D45 is nothing but a luxury-grade machine that produces prints of amazing quality.
In addition, not many 3D printers are good enough to win dedicated awards. This one, on the other hand, is a completely different story and has won the 2018-2020 PCMag Editors' Choice Award and All3DP's Best 3D Printer for Schools Award as well.
There is a host of features that the 3D45 enjoys having. On top of that, you get awesome build quality and lifetime support from the manufacturer whenever you require technical assistance.
Let's check out how the features and specifications look on this 3D printer.
Features of the Dremel Digilab 3D45
Automated 9-Point Levelling System
Includes Heated Print Bed
Built-In HD 720p Camera
Cloud-Based Slicer
Connectivity Through USB and Wi-Fi Remotely
Fully Enclosed With Plastic Door
4.5″ Full-Color Touch Screen
Award-Winning 3D Printer
World-Class Lifetime Dremel Customer Support
Heated Build Plate
Direct Drive All-Metal Extruder
Filament Run-Out Detection
Specifications of the Dremel Digilab 3D45
Print Technology: FDM
Extruder Type: Single
Build Volume: 255 x 155 x 170mm
Layer Resolution: 0.05 – 0.3mm
Compatible Materials: PLA, Nylon, ABS, TPU
Filament Diameter: 1.75mm
Nozzle Diameter: 0.4mm
Bed Levelling: Semi-Automatic
Max. Extruder Temperature: 280°C
Max. Print Bed Temperature: 100°C
Connectivity: USB, Ethernet, Wi-Fi
Weight: 21.5 kg (47.5 lbs)
Internal Storage: 8GB
The Dremel Digilab 3D45 (Amazon) is the printer to get if you're after mechanically tough parts. It comes with a fully enclosed print chamber with a see-through window to help maintain a constant temperature and get high-quality prints.
Tired of leveling the bed yourself? The 3D45's 9-point automated leveling system does the job for you effectively, taking away all print errors that stem from an uncalibrated print bed.
The build platform comes with heating functionality as well, allowing you to heat filaments like Nylon for strong parts. The maximum heat bed temperature is 100°C.
The 3D45 is equipped with multiple connectivity options, such as Wi-Fi, USB, and even Ethernet. Being network-friendly and having a static IP, you can set the printer up in an effortless manner.
An all-metal Direct Drive extruder does all the magic for the 3D45. It can heat up to 280°C and print high-temperature filaments with ease and comfort, giving you in-exchange a high-quality part with extra strength.
User Experience of the Dremel Digilab 3D45
The Dremel DigiLab 3D45's reputation goes without saying. Decorated with the "Amazon's Choice" label, this phenomenal machine has a 4.5/5.0 overall rating at the time of writing. In addition, 75% of the people who bought it have left a 5-star review.
People have immensely admired how responsible the customer support team is for Dremel. They make sure to carry out whatever assistance is required, especially if there's a factory issue with the printer.
One of this printer's biggest selling points is its ease of use and ability to print right out the box. There's also a painless, guided set-up for its minimal assembly.
A mechanical engineer who bought the 3D45 commends how great their prints come out looking. The parts were required for a strong and functional purpose, and the 3D45 didn't fail to impress.
It may put a dent in your wallet, but with the number of features this machine has combined with the quality of results it produces, the 3D45 is a formidable 3D printer that can handle mechanical parts like a dream for your cause.
Pros of the Dremel Digilab 3D45
Print quality is very good and it's easy to use as well
Has powerful software along with being user-friendly
Prints through a USB thumb drive via Ethernet, Wi-Fi, and USB
Has a safely secured design and body
Compared to other printers, it is relatively quiet and less noisy
Easier to set up and use as well
Provides a 3D comprehensive ecosystem for education
The removable glass plate allows you to remove prints easily
Cons
Can only print with a limited number of filaments that are advertised
Some people have reported issues with the printer's touchscreen
Using third-party filaments can void the warranty of the extruder nozzle
The drive motor can perform inconsistently thereby causing print errors
Dremel's filament is costly as compared to filaments from other brands
Final Thoughts
The Dremel DigiLab 3D45 is an expensive yet sensational-quality 3D printer that comes packed with features and promises to settle for nothing less than the best. It's a great option to go with if strong and tough parts are what you require above the most.
You can find  the Dremel Digilab 3D45 on Amazon today.
The BIBO 2 Touch was released back in 2016 and has gathered its fair share of popularity and bestseller mentions over the years. It may not be as widely recognized as Creality or Qidi Tech, but this hidden gem has great potential.
The machine boasts sturdy construction and is put together extremely well. It has a metal frame with an all-red acrylic cover kit for providing a proper enclosure to your prints.
The BIBO 2 Touch is recommended for all those who need to print parts for their engineering projects where strength, durability, and resistance are nothing but essential.
At the same time, you don't have to be an expert in this field to operate this 3D printer. The BIBO 2 is beginner-friendly and is a breeze to get used to.
One of the best features of this printer that allows you to explore a world of possibilities is its dual-extruder. With the flexibility of two extruders at your disposal, you can print two objects at the same time or print one object with two different colors. Pretty neat, right?
Let's see what type of features and specifications this bad boy is packing.
Features of the BIBO 2 Touch
Full-Color Touch Display
Wi-Fi Control
Removable Heated Bed
Copy Printing
Two-Color Printing
Sturdy Frame
Removable Enclosed Cover
Filament Detection
Power Resume Function
Double Extruder
Bibo 2 Touch Laser
Removable Glass
Enclosed Print Chamber
Laser Engraving System
Powerful Cooling Fans
Power Detection
Open Build Space
Specifications of the BIBO 2 Touch
Build Volume: 214 x 186 x 160mm
Nozzle Size: 0.4 mm
Max. Hot End Temperature: 270℃
Maximum Temperature of Heated Bed: 100℃
No. of Extruders: 2 (Dual Extruder)
Frame: Aluminum
Bed Leveling: Manual
Connectivity: Wi-Fi, USB
Filament Materials: PLA, ABS, PETG, Flexibles, etc.
File Types: STL, OBJ, AMF
In terms of features, the BIBO 2 Touch is an excellent 3D printer. Users will benefit nicely from its full-color touch display with simple start and pause settings.
Then there's Wi-Fi connectivity that allows you to control your printer from a distance either using your laptop or mobile phone. Not many mid-range printers are blessed with this feature.
The BIBO 2 Touch (Amazon) is also open-source, meaning that you can use any slicer software you like to make your experience even more refined.
A feature that can greatly improve the quality of functional parts is the printer's acrylic enclosure that helps reduce print imperfections due to abrupt temperature changes.
Furthermore, this machine has a bunch of convenient features that always attribute to a better printing experience.
I'm talking about a power-resume function that allows you to recover your stopped print and a filament detection feature that prompts you beforehand whenever the filament is about to run out.
User Experience of the BIBO 2 Touch
The BIBO 2 Touch has a 4.3/5.0 overall rating on Amazon with fairly decent reviews at the time of scribbling down this article. 66% of the people who bought it have left a 5-star review.
Users who tried the BIBO 2 as their first 3D printer have been left greatly utterly satisfied. People love the array of features that it has, such as a heated bed, fully enclosed print chamber, a dual extruder, robust build quality.
BIBO offers first-rate customer service as well, getting back to the queries of customers timely and making sure no one has been left unanswered.
There's also a Laser Engraver that is shipped alongside this 3D printer. This fancy part can be installed to widen the capabilities of the BIBO 2, allowing you to carve wood, paper, cardboard, and other light-natured items.
All the functions and features of the highly versatile BIBO 2 Touch just come together so well to cater to a fantastic printing experience, especially if you're needing mechanical parts for strength and durability.
Pros of the BIBO 2 Touch
Dual extruder improves 3D printing capabilities and creativity
A very stable frame which translates to better print quality
Easy to operate with the full-color touchscreen
Known for having great customer support based in the US & China
Great 3D printer for high volume printing
Has Wi-Fi controls for more convenience
Great packaging to ensure a safe and sound delivery
Easy to use for beginners, giving out high performance and much enjoyment
Cons of the BIBO 2 Touch
Relatively small build volume compared to some 3D printers
The hood is quite flimsy
The location to put the filament is at the back
Leveling the bed can be a little difficult
Has quite a learning curve because there are so many features
Final Thoughts
Costing just about $750, the BIBO Touch 2 is a remarkable 3D printer that's truly jam-packed with features. If strong parts and mechanical engineering projects are your thing, you got to have a machine like this by your side.
If you want a 3D printer that can create strong 3D prints, you can get yourself the BIBO 2 Touch from Amazon today.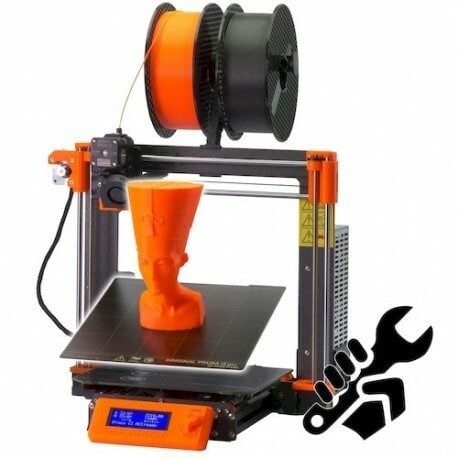 Prusa Research is a manufacturer who surely needs no introduction. Being an industry veteran, they've been consistent in making top-of-the-line 3D printers that pay attention to detail like no other machine on the market.
The Original Prusa i3 MK3S+ is an upgraded iteration of the first i3 MK3 that came out almost 2 years ago. This printer costs around $999 if you opt for the fully assembled version.
If you're mechanically inclined and trust your skills with assembly, then the kit version of the i3 MK3S+ will set you back for considerably less, almost $750.
Continuing the success of its predecessor, this marvelous 3D printer is built upon the same winning formula, but has a number of extra tweaks here and there.
For instance, a brand-new SuperPINDA probe for better bed layer adhesion is found on the MK3S+, along with Misumi bearings, a tighter filament path, and a few design improvements.
Let's explore more with the features and specifications.
Features of the Original Prusa i3 MK3S+
Fully Automated Bed Leveling – SuperPINDA Probe
MISUMI Bearings
Bondtech Drive Gears
IR Filament Sensor
Removable Textured Print Sheets
E3D V6 Hotend
Power Loss Recovery
Trinamic 2130 Drivers & Silent Fans
Open Source Hardware & Firmware
Extruder Adjustments to Print More Reliably
Specifications of the Original Prusa i3 MK3S+
Build Volume: 250 x 210 x 210mm
Layer Height: 0.05 – 0.35mm
Nozzle: 0.4mm Default, Supports Many Other Diameters
Max Nozzle Temperature: 300 °C / 572 °F
Max Heatbed Temperature: 120 °C / 248 °F
Filament Diameter: 1.75 mm
Supported Materials: PLA, PETG, ASA, ABS, PC (Polycarbonate), PVA, HIPS, PP (Polypropylene), TPU, Nylon, Carbon-Filled, Woodfill etc.
Max Travel Speed: 200+ mm/s
Extruder: Direct Drive, Bondtech Gears, E3D V6 Hot End
Print Surface: Removable Magnetic Steel Sheets With Different Surface Finishes, Heatbed With Cold Corners Compensation
LCD Screen: Monochromatic LCD
The features on the Prusa i3 MK3S+ are loaded to the brim. It has a good build volume that measures to about 250 x 210 x 210mm, a power-recovery feature, and quick-mesh bed leveling that evens the print bed in a jiffy for you.
However, that isn't all what makes this 3D printer an all-time great. This elegant machine comes with Trinamic 2130 drivers coupled with noiseless cooling fans for a whisper-quiet operation.
The build quality is outright superb as well. Plastic holders are used to secure the rods for the Y-axis carriage, leading to smooth and stable 3D printing.
There is a comprehensive array of filaments that you can use with the i3 MK3S+. Since it sports a tighter filament path now, you can use flexible materials like TPU and TPE to make strong yet versatile functional parts.
The magnetic PEI spring steel print bed can be removed to take out prints with comfort and ease. In addition, this 3D printer uses a top-quality E3D V6 hot end as its nozzle where the maximum temperature can go as up as 300°C.
User Experience of the Original Prusa i3 MK3S+
The Original Prusa i3 MK3S+ isn't available on Amazon for purchase and can only be bought from the Prusa store. However, judging from the reviews on the marketplace, the majority of the customers have lauded this printer with praise.
People call this machine a "masterpiece" simply because of its far-reaching capabilities. Users say that there's no chance ever that this printer is going to have a failed print, it's just so consistent and reliable!
Aside from its stunning print quality and feature-rich build, this compelling printer is extremely easy to use. People have owned many 3D printers but this one tops everything else in terms of user-friendliness.
The plus side is that Prusa has a great user-base online and an immense community where people help each other out with their 3D printers. Popularity is always a good thing to look out for when purchasing a 3D printer.
Several customers bought this machine for their strength-test projects and testing the mechanical function of various prints. After dialing in the proper settings, they couldn't believe how strong and tough their parts actually were.
Pros of the Original Prusa i3 MK3S+
Easy to assemble with basic instructions to follow
Top level customer support
One of the largest 3D printing communities (forum & Facebook groups)
Great compatibility and upgradability
Quality guarantee with every purchase
60-day hassle-free returns
Produces reliable 3D prints consistently
Ideal for either beginners and experts
Has won many awards for best 3D printer in several categories.
Cons of the Original Prusa i3 MK3S+
No touchscreen
Doesn't have Wi-Fi in-built but it's upgradable
Fairly pricey – great value as stated by its many users
Final Thoughts
The Prusa i3 MK3S+ is a high-end 3D printer that costs somewhere around $1,000 for the assembled version. However, in terms of value for money, you're looking at a beast machine with a capacity to handle all kinds of printing projects, not to mention mechanical ones.
You can get the Original Prusa i3 MK3S+ directly from the official Prusa website.
The Ender 3 V2 comes from an experienced manufacturer who has quite a reputation in the 3D printing community. Creality is best known for its array of high-quality, affordable, and reliable 3D printers.
That's exactly the case with the Ender 3 V2, as it's one of the best 3D printers you can get right now for printing strong parts that are required for mechanical use.
The V2 comes after the original Ender 3 but brings multiple upgrades over its top-selling predecessor. For instance, this FDM machine has a tempered Carborundum glass platform and a 32-bit silent motherboard for whisper-quiet printing.
It comes for pretty cheap as well and is a great choice for beginners and experts alike at a solid price of somewhere around $250. A spacious build volume, power recovery, and a heated build platform are just a few of this machine's several features.
The quality of the print is one of the things that matter the most for people, and this is an area where the Ender 3 V2 shines. Parts come out looking detailed, smooth, and exceptionally strong for all your mechanical projects.
Let's check this 3D printer out further with the features and specifications.
Features of the Ender 3 V2
Open Build Space
Carborundum Glass Platform
High-Quality Meanwell Power Supply
3-Inch LCD Color Screen
XY-Axis Tensioners
Built-In Storage Compartment
New Silent Motherboard
Fully Upgraded Hotend & Fan Duct
Smart Filament Run Out Detection
Effortless Filament Feeding
Print Resume Capabilities
Quick-Heating Hot Bed
Specifications of the Ender 3 V2
Build Volume: 220 x 220 x 250mm
Maximum Printing Speed: 180mm/s
Layer Height/Print Resolution: 0.1mm
Maximum Extruder Temperature: 255°C
Maximum Bed Temperature: 100°C
Filament Diameter: 1.75mm
Nozzle Diameter: 0.4mm
Extruder: Single
Connectivity: MicroSD Card, USB.
Bed Levelling: Manual
Build Area: Open
Compatible Printing Materials: PLA, TPU, PETG
The Creality Ender 3 V2 is an upgraded iteration with multiple new features. It is equipped with a brand-new textured glass print bed that makes sure print removal is a breeze and bed adhesion is at its best.
Two of those traits make it possible to print mechanical and strong parts effectively. Adding to the convenience is a silent motherboard that does a whole better job at making the V2 print silently.
The same cannot be said about the original Ender 3, however, since it's fairly noisy during printing. I even wrote an article on how to reduce the noise of your 3D printer because of it.
There's also a filament run-out sensor that shows you how much filament is left and an auto-resume function that automatically starts your right where you left off in the case of an accidental shut-down.
The Ender 3 V2 handles strong parts and mechanical engineering projects exceedingly well, allowing you to use several filaments to help create purpose-oriented parts.
User Experience of the Ender 3 V2
The Creality Ender 3 V2 has fairly decent reviews on Amazon and a 4.5/5.0 overall rating at the time of writing this article. 75% of the people who bought it have left a 5-star review with positive feedback.
People describe this 3D printer as a great all-rounder with manifold capabilities. Engineers who bought the V2 can confirm that this machine is a great option for strong and mechanical prints.
Customers have loved the build quality and firmness of the V2. This is a cheap, affordable, and high-quality 3D printer that gets you into the 3D printing business at a low cost.
Users say that feeding the filament to the hot end is easier than most other 3D printers, and the fact that you can use different kinds of filaments such as Polycarbonate and Nylon with the V2 is just more value for your money.
There is a learning curve involved, but it isn't something that beginners cannot get the hang of in due time. This is a machine that hobbyists and experts alike are fond of, and it's easy to see why.
Pros of the Ender 3 V2
Easy to use for beginners, giving out high performance and much enjoyment
Relatively cheap and great value for money
Great support community.
Design and structure look very aesthetically pleasing
High precision printing
5 minutes to heat up
The all-metal body gives stability and durability
Easy to assemble and maintain
The power supply is integrated underneath the build-plate unlike the Ender 3
It is modular and easy to customize
Cons of the Ender 3 V2
A bit difficult to assemble
Open build space is not ideal for minors
Only 1 motor on the Z-axis
Glass beds do tend to be heavier so it may lead to ringing in prints
No touchscreen interface like some other modern printers
Final Thoughts
The Creality Ender 3 V2 is an incredibly affordable 3D printer that brings a host of convincing features to the table. You can use it on a consistent basis to print high-quality mechanical parts without breaking a sweat.
Get yourself the Ender 3 V2 from Amazon for some amazing mechanical parts.