6 Ways How to Fix Cura Plugins Not Showing Up
Some Cura users have previously complained about their Cura plugins not showing up or functioning normally.
I wrote this article to give you some common fixes to finally solve this problem. Keep on reading to learn more about this issue.

How to Fix Cura Plugins Not Showing Up
To resolve this, here are some fixes you can try:
Restart Cura
Check the sidebar and print settings
Uninstall and reinstall Cura
Change the plugin's name
Update Cura
Wait for a developer upgrade
1. Restart Cura
After installing a plugin on Cura, you have to restart the software before you can use the plugin. Most users often forget to do this, so the plugin will not appear in the Extensions menu or the settings.
So, always remember to restart your slicer after installing a plugin.
2. Check the Sidebar and Print Settings
Most users often expect to find the plugins under the Extensions tab on the top toolbar. However, some extensions aren't installed here.
For example, the Custom Supports and Tab+ AntiWarping plugins are installed on the sidebar. Also, the Z offset plugin installs to the print settings.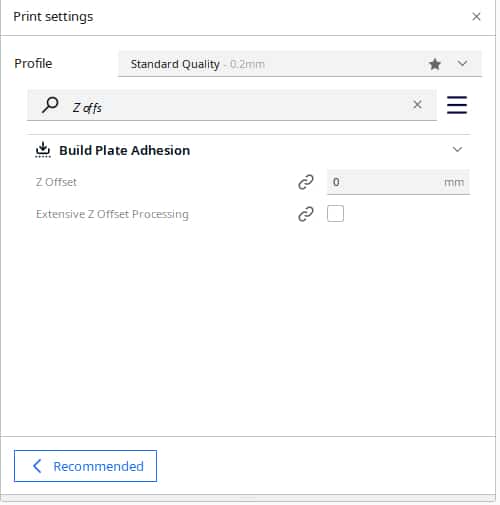 So, check other locations for these plugins.
3. Uninstall and Reinstall the Plugin
Sometimes, Cura might have issues downloading and installing plugins from the Cura marketplace. This can be due to poor internet connection or low memory/storage.
To fix this, you can try uninstalling and reinstalling the plugin from Cura Marketplace.
4. Change the Plugin's Name
Many macOS users have had a peculiar issue with Cura plugins. They reported that plugins whose names started with the word "Settings" weren't showing up.
The developers later discovered that macOS removed those plugins automatically. To get around this, they changed the name of the plugins.
Plugins like the Settings Guide and Settings Visibility Set were affected. However, their developers have fixed these issues in their latest releases.
5. Update Cura
Some Cura plugins do not work in some versions of the Cura software. You must upgrade Cura or roll back to a supported version to fix this issue.
For example, this user who upgraded to Cura 4.1 with a Creawesome Mod discovered that the custom supports weren't working in the version.
To fix the issue, they had to upgrade their Cura software to Cura 4.4.1
6. Wait for A Developer Upgrade
Anytime Cura goes through a major update, developers have to update and get their plugins approved for the new Cura version.
For example, many users complained about their plugins not being available after Cura went from V4 to V5.
This was because most plugin developers still needed to update their plugins to a version compatible with Cura V5. Gradually after some time, the plugins became available again on Cura V5.
If you do not want to wait for the plugins to be available on the Cura marketplace, you can install them manually. Here's how:
Search for the plugin on GitHub.
Download the program in a Zip format, or you can also clone it.
Once downloaded, extract the folder and copy it to Cura's plugin directory.
On Windows, the directory is: C:\Users\[Your Username]\AppData\Roaming\cura\5.0\plugins
ON Linux, the directory is: ~/.local/share/cura/[YOUR CURA VERSION]/plugins
On MacOS, it is: ~/Library/Application Support/cura/[YOUR CURA VERSION]/plugins
If you're using Cura 5.0 upwards, there's an easier way you can do this.
Go to the plugin's GitHub page and download the .curapackage
Once you've downloaded the file, simply drag and drop it into Cura.
The package will install and be available for use after you restart Cura.
However, plugins installed this way might not work properly. So, waiting for the official, approved version on the Cura marketplace is better.
Well, those are some of my favorite Cura plugins! I hope they help you as they've helped me in my 3D printing journey.
You can also return to Cura Marketplace and check for more interesting and useful plugins. There are many others available that will make 3D printing easier for you!
Good Luck and Happy Printing!