3D Printer Heated Bed Max Temperatures – Real Examples
Even though the heated bed temperature is usually enough for printing most filaments, people are curious to know how far they can go with the bed temperature on their 3D printers.
Most heated beds on 3D printers can reach up to 110°C, which is more than enough for printing filaments like ABS, PETG, TPU, and Nylon. On average, the maximum temperature ranges between 90-120°C for regular 3D printers. However, some expensive printers, like Ultimaker, can achieve higher temperatures, such as 140°C.
Let's dive in to learn about users' experiences with achieving or increasing the maximum bed temperatures on their 3D printers.
Heated Bed Max Temperatures on 3D Printers
Here are the maximum range of heated bed temperatures on different 3D printers:
Ender 3 (V2, Pro, Neo & S1)
Prusa i3 (MK2S, MK3S & MK3S+)
Ultimaker (S3, S5, & S7)
Anycubic (Mega Zero 2.0, Kobra Neo/2, i3 Mega, & Mega X)
Ender 3 (V2, Pro, Neo & S1)
The maximum bed temperature for Ender 3, Ender 3 Pro, Ender 3 V2, and Ender 3 Neo is typically 100°C. However, the Ender 3 S1 can go up to 110°C. Although Creality advertises these limits (maybe for safety purposes), all the models can effectively reach and print well at 110°C.
This makes Ender 3s good for printing filaments like ABS, PETG, TPU, and Nylon.
As tested by a user, it takes 3 minutes and 7 seconds for an Ender 3 heated bed to go from room temperature (18°C) to 60°C and about 2 minutes from 100°C to 110°C. Overall, it shouldn't take more than 15 minutes to reach 110°C.
Some people say that the Ender 3 heated bed starts losing its magnetic capabilities when the temperature exceeds the 80°C limit.
However, this rumor has been proven wrong in the video below.
Even though 150°C is mostly the max temperature limit in configuration (BED_MAXTEMP 150), reaching even 110°C is challenging due to factors like heat loss, air circulation over the bed, and cool surroundings.
Many users recommend using an Aluminum Insulation Mat under the bed and installing an enclosure. This limits heat loss, making it easy for the bed to reach a higher temperature and stabilize as well.
Creality's FireProof & DustProof Warm Enclosure is a great choice with a 4.6/5.0 rating at Amazon.
To achieve higher temperatures, some users suggested upgrading your 3D printer with E3D's High-Temperature Heated Bed which you can buy from their Official Website.
It has an apparent operating temperature of up to 200°C while only taking 80 seconds to hit the 100°C mark.
Ensure you wear protective gear to prevent burns and ensure your 3D printer setup is fully compatible with this new bed.
Prusa i3 (MK2S, MK3S, & MK3S+)
The maximum heated bed temperature for Prusa MK3S+ is 120°C. Founder Josef Prusa says that their 3D printers have minimal insulation on top of the heating element, ensuring efficient distribution of heat throughout the bed.
By turning off the nozzle fan, one user achieved a steady 100°C bed temperature in 6.5 minutes. They successfully printed a Raspberry Pi Bed Mount using PETG filament at 80°C.
One user also printed ABS with 110°C bed temperature for the 1st layer. The heated bed easily reaches 110°C in about 13 minutes. However, it can be reached in 12 minutes by adding a Cork Tile/Sheet underneath the bed.
The user also said that the temperature remains stable at 110°C unless the fan is running at higher settings.
Without an enclosure, another user printed a 6+ hour print with the Prusa i3 MK3S at 95°C. So, 122°C should easily be achieved with an enclosure to limit air contact with the bed while maintaining a consistent temperature inside.
The user also said that you may be able to achieve 135-150°C as claimed by MatterHackers with an enclosure.
If you are concerned about the power supply, replacing the stock PSU with a Mean Well LRS-350-24 is recommended. The user installed this power supply on Ender 3 and it works great.
Here is a detailed video on replacing the stock power supply with a Mean Well power supply.
Ultimaker (S3, S5, & S7)
The maximum heated bed temperature for the UltiMaker S3, UltiMaker S5, and UltiMaker S7  is 140°C which is much more than most other 3D printers.
You can be sure that bed temperature won't be an issue for you if you decide to print even the hardest 3D printing materials like ABS or Polycarbonate.
One user successfully printed industrial-grade fixture blocks using ABS with bed temperature at 130°C on their Ultimaker S5.
There was some discoloration on their 5-day print but using Cura's Draft Shield feature under Experimental settings got them the success.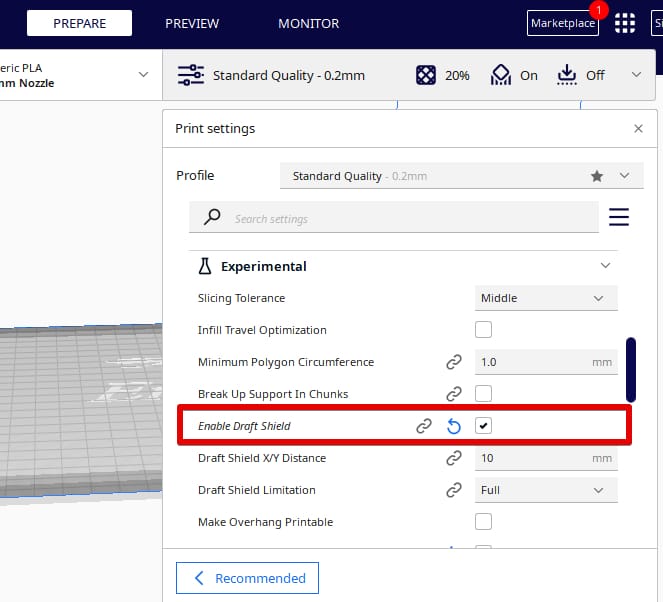 Anycubic (Mega Zero 2.0, Kobra Neo/2, i3 Mega, & Mega X)
The max heated bed temperature for Anycubic Mega Zero 2.0, Anycubic Kobra Neo, Kobra 2, and i3 Mega is 110°C while the Anycubic Mega X can only go up to 90°C.
One user wanting to print PC filament was able to reach 110°C on Anycubic Mega Zero 2.0. Since they wanted to go higher, people recommended buying an E3D High-Temperature Heated Bed to get the job done without burning anything.
One user achieved a higher bed temperature between 115-120°C for ABS printing on Anycubic i3 Mega by placing the 3D printer inside a wooden enclosure and insulating the underside of the bed.
For insulation, the user glued the aluminum insulation pad with the 3D printer bed and now it can heat up to 110°C within 10-15 minutes. You can reduce this time by adding another insulation pad on top, with the aluminum side facing the bed.
Remove it before starting to print.
However, if you want to go even higher, upgrading the power supply or using a higher-wattage silicone heat pad is recommended. You may also need an external Mosfet for DC or an SCR for AC pad.