12 Best OctoPrint Plugins You Can Download
One of the best parts about OctoPrint is how extendable and customizable the software is. You can install various plugins within the OctoPrint software to add different functions to its dashboard and improve its functionality.
To install plugins, click on the wrench icon to open up the settings menu. Once you're in the settings menu, click on the Plugin Manager to open it then click "Get More" to open a list of plugins. They will each have an "Install" button next to each one that you can click.
You can check out the video below to see how it's done.
Here are the best OctoPrint plugins you can download:
Obico [Previously The Spaghetti Detective]
1. OctoLapse
OctoLapse is a media plugin that will take snaps of your prints at certain points. At the end of the print, it then combines all the snapshots to create a stunning video called a time-lapse.
This plugin is very helpful if you're someone who loves visualizing the printing progress, or if you want to share videos of your print online.
To install OctoLapse, go to the plugin manager, search for OctoLapse and install it. After installing it, you'll see an OctoLapse tab on OctoPrint's main screen.
Open the tab and configure your settings. You'll be required to select your printer model, choose a camera and input your slicer settings.
Once you're done with all this, the plugin is good to go and you can start creating awesome videos with it.
2. Obico [Previously The Spaghetti Detective]
Obico is one of the most helpful plugins on OctoPrint. Using AI-powered computer vision, it helps you detect when your print is failing and automatically stops printing.
This helps save filament, especially on long prints when you leave the printer alone. The spaghetti detective also notifies you when the failure occurs, so you can come and reset or restart the print.
The Spaghetti Detective has added new features and undergone a rebranding to Obico. This new version adds more features like live-streaming of your print, full remote access (even outside your home network), and mobile apps.
The best part is that it includes a free tier, so you can test and use its features before you decide to make a purchase.
Before you install it, make sure you have a camera and a light source for your 3D printer for the best image resolution. Next, search for Obico on the plugin manager and install it.
After installing it, follow the onscreen instructions to set up your account and link your printer. Now you're going to be able to monitor your print from anywhere.
3. Themeify
OctoPrint's default green and white theme can get boring really fast. To help you fix this, OctoPrint offers a plugin called Themeify filled with several colorful themes that you can choose from.
You can even use the built-in color palette to customize the themes to your liking. To install it, go to the plugin manager and search for Themeify and install it.
After installing it, look for it under the plugins section in the settings menu. Click on it and select Enable Them and Enable Customization.
After this, you can choose any color or theme you want for your OctoPrint interface.
4. Emergency Stop
The Simple Emergency Stop plugin adds a stop button to your OctoPrint navigation bar. Using the button, you can easily terminate your print with one click.
This is very helpful if you notice through your webcam feed that your print is failing or turning to spaghetti.
You can install it through the plugin manager in settings. After installing it, if the button is too small for you, you can change the button size to a larger one in the plugin's settings.
5. Bed Visualizer
The Bed Visualizer is a powerful plugin that creates an accurate, 3D topographical mesh of your print bed. It works with automatic bed leveling systems like the BLTouch and CR Touch to scan the bed and produce the mesh.
Using the mesh it provides, you can see the high and low points on your bed so you can determine whether the bed is warped, level, etc.
Note: You must have an auto bed leveling system for this plugin to work.
6. Touch UI
The Touch UI plugin is pretty much a necessity for those that want to access their OctoPrint dashboard through mobile devices. This plugin converts the OctoPrint layout to suit a miniature, touch-friendly display on your smartphone.
With this, you can control and monitor your printer on small screens via OctoPrint quite effectively. You can install the plugin from the plugin manager.
After you install it, it will automatically come on once you launch OctoPrint on any device with a display smaller than 980px or a touch device. You can modify its themes and even add a virtual keyboard in its settings.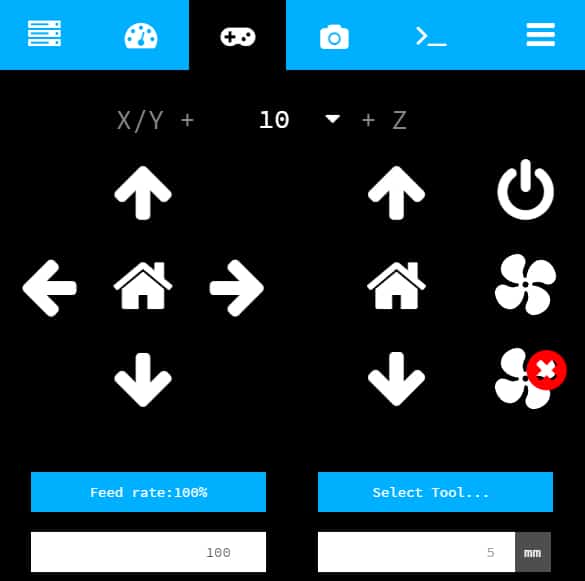 7. Pretty G-Code
The Pretty G-Code plugin transforms your G-Code viewer from a basic 2D tool to a full 3D print visualizer. Even better, it syncs up with your printhead so you can track your print's progress through the OctoPrint dashboard.
It shows the actual model in a high quality and shows extrusion lines.
You can also choose between a tab and a full-screen view to display your print's progress.
8. Octo Everywhere
The Octo Everywhere plugin is sort of a poor man's spaghetti detective. It gives you full access to your webcam's feed so you can monitor your print even when you're not on the same network as the OctoPrint device.
It also comes with a suite of tools, apps, and alerts that you can customize to provide a great remote printing experience. It basically gives you your entire OctoPrint dashboard on a remote device that's not on your network.
9. Exclude Region
The Exclude Region plugin is useful if you are 3D printing multiple parts and one of them fails. What you can do with this is basically exclude a specific region for your 3D printer to give instructions to.
It will give you a visual of the print bed and you can draw a square then reposition it to exclude that area. You can save plenty of time and material if you do experience a partial print failure.
10. HeaterTimeout
The HeaterTimeout plugin simply turns off the heat if your 3D printer has been left without doing anything for a while. This is especially handy if you forget to turn it off manually after some kind of filament change or a cleaning.
Many people have preheated their hotend of bed and forgot to start a print for example. You can specify a timeout period for the heaters to turn off after no print has been started.
11. PrintTimeGenius
The PrintTimeGenius plugin provides users with a better print time estimation, even down to a few minutes of your actual print time. It calculates your print time after the G-Code has been uploaded and will show on the file entries.
The plugin works by analyzing the G-Code, as well as a combination of your printing history. It can also consider the heat up times for your nozzle and bed. If your original time estimate was wrong, there's an algorithm that can re-calculate the new accurate print time.
The developers state an accuracy that's often with 0.2% of your actual print times.
12. Spool Manager
The Spool Manager plugin in OctoPrint can help you keep track of how much filament you have in each spool, as well as estimate the cost of each print based on the price of your spool.
You can even scan the spool labels to populate information about the spool of filament you are using.
You can install all these plugins and more from the OctoPrint manager. Anything you need to customize your OctoPrint dashboard to suit you better, you'll be sure to find it there.
Good Luck and Happy Printing.